We grill a lot. Which is weird because I have a food blog and only like one real "grillin" recipe. There is a really simple explanation.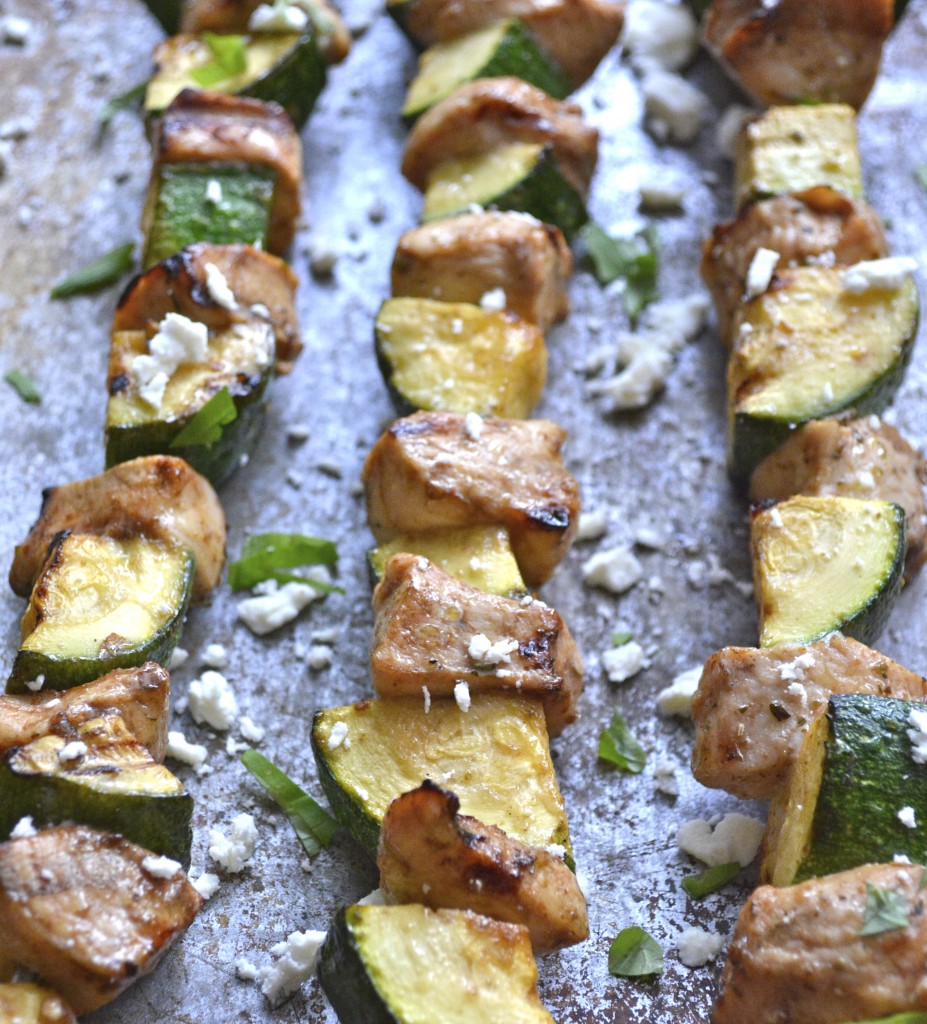 I cannot operate our grill.
It is a charcoal smoker/grill and I just don't get it. There is some sort of science behind lighting a charcoal grill and it makes no sense to me. The placement of the coals, the air flow…I know all of those things matter, but I don't know why. After about year five, Mr. Maebell stopped trying to teach me and just accepted the fact that the grill is just his territory.
Do you see me complaining? Nope.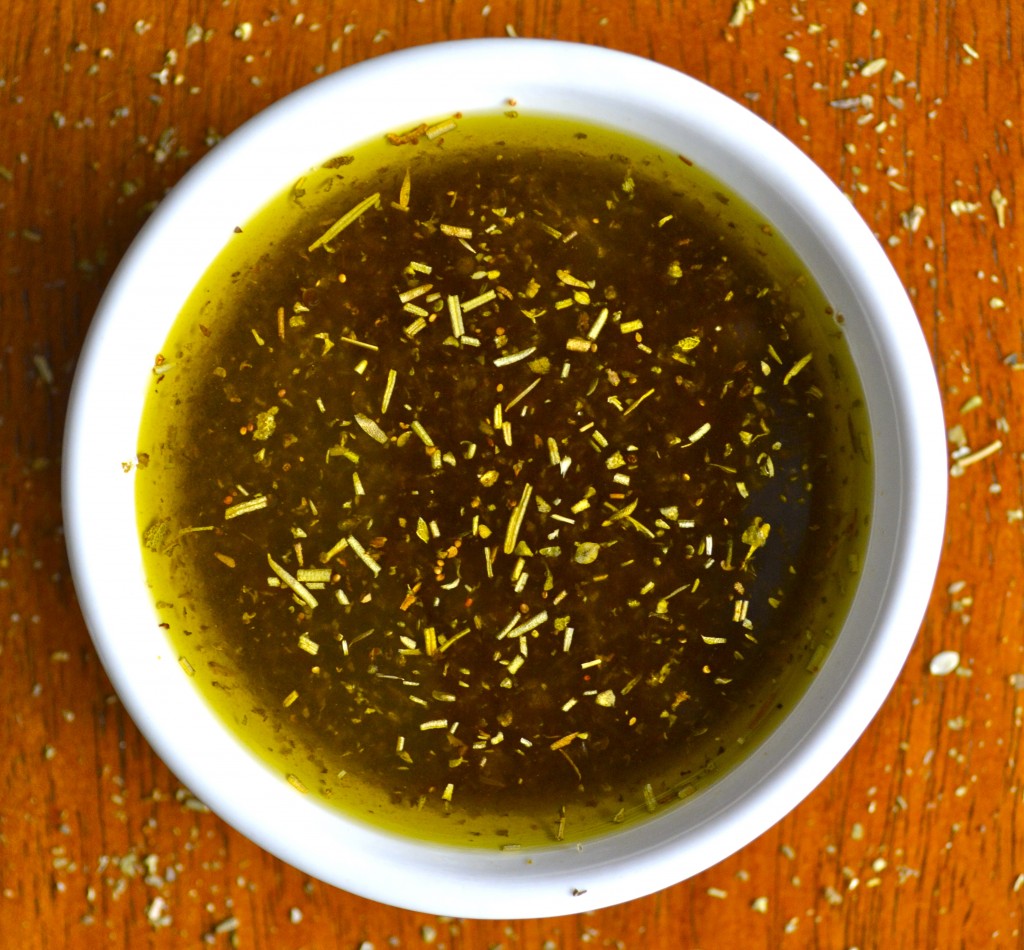 The only time it is inconvenient is when I want to grill something for the blog, and he isn't around. Which has been the case lately. Fortunately, we had the same night off and I put him to work. I actually had no idea what I was making when I started this meal. I had chicken and zucchini so I just kind of rolled with it. I marinated all of the ingredients in a mixture of balsamic vinegar, olive oil, a little dijon and a handful of spices. I put the chicken and zucchini on skewers, grilled them, and topped with crumbled feta and freshly chopped basil.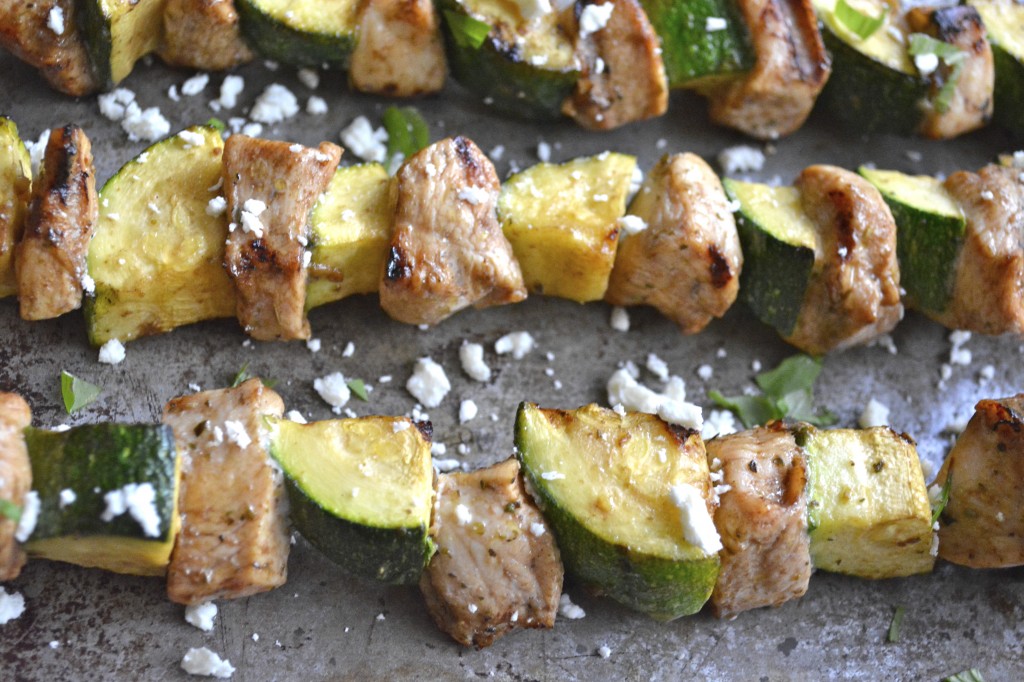 It was fantastic! It had a ton of flavor, it was super easy, and made a quick healthy meal. Usually, when I make kabobs I use different meats and lots of different veggies. This was a less fussy version with simple well chosen ingredients.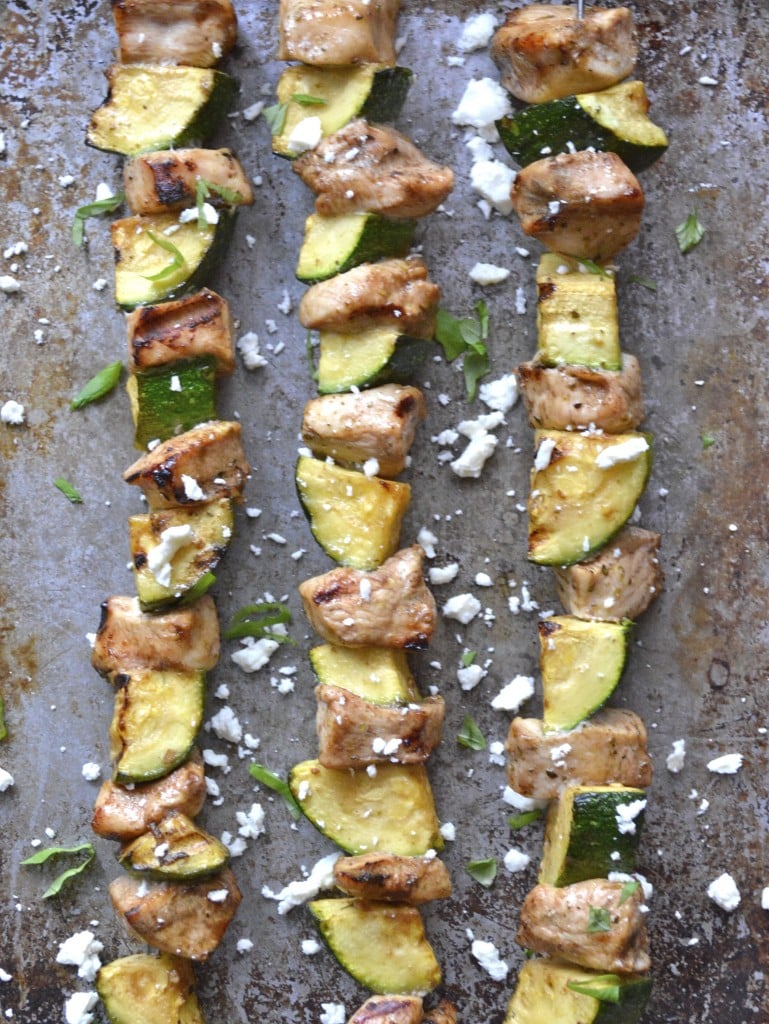 Sometimes less is more!

Balsamic Vinegar Grilled Chicken and Zucchini Skewers
Prep time:
Cook time:
Total time:
Ingredients
¼ cup balsamic vinegar
¼ cup olive oil
2 teaspoon minced garlic
2 teaspoons sugar
1 teaspoon dijon mustard
1 teaspoon Italian seasoning
¼ teaspoon garlic powder
¼ teaspoon onion powder
¼ teaspoon salt
1 pound chicken breast, cut into small chunks
2 medium sized zucchini, cut into small chunks
Instructions
In a measuring cup or bowl mix the first nine ingredients (balsamic vinegar-salt). Make sure your marinade is well combined.
Place your cut up chicken breast into a plastic bag and pour in half of the marinade.
Place the zucchini pieces into a plastic bag and pour in the second half of the marinade.
Let your meat and veggies marinate for at least 30 minutes.
Heat your grill to 400 degrees.
(If you are using wooden skewers, soak them in water for at least 20 minutes before assembling your kabobs.)
Assemble your skewers, alternating chicken and zucchini.
Grill for 5-6 minutes on each side.
Garnish with freshly chopped basil and crumbled feta cheese.