Every weekend, like most of you, I go to the grocery.
I stand in line at the deli counter and peer out at the vast assortment of breads at the bakery section next to me. Truth be told, I don't just look…I lust.
I lust for the focaccia, ciabatta, the baguettes, and the french bread. I dream of sandwiches piled high on yeasty dinner rolls and jam spread over English muffins. And the bagels, the bagels nearly bring me to tears.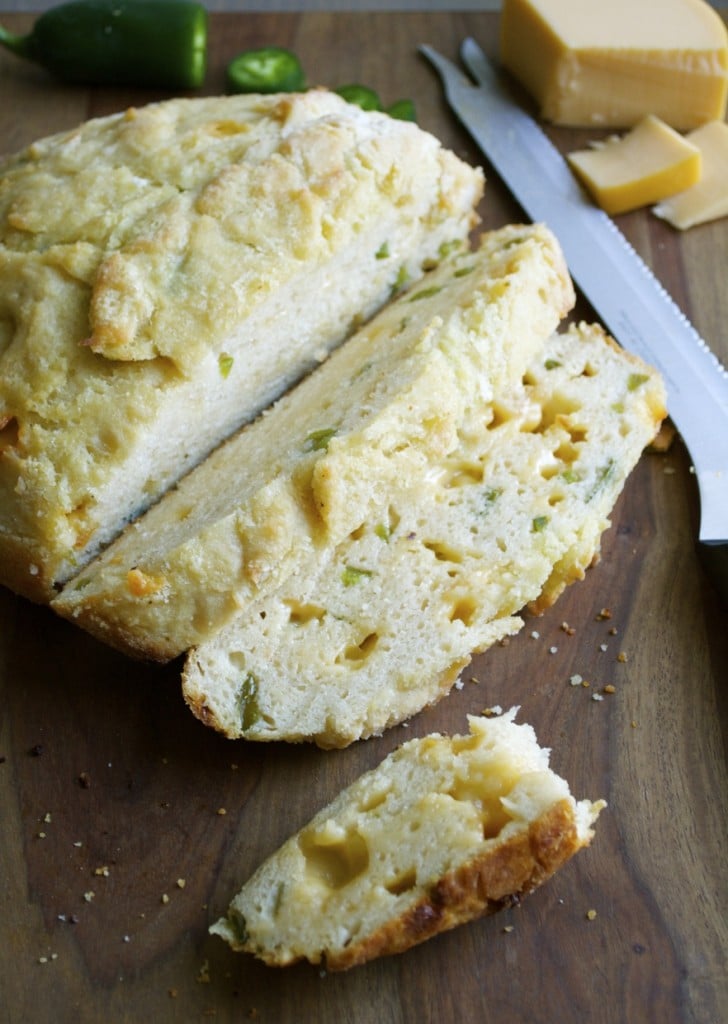 Alas, my fate awaits me in the frozen food section with a loaf of Udi's gluten free bread.
Generally speaking, I have come to terms with this. But sometimes, my longing for a good crusty bread is just beyond my control. This was just the case over the weekend. Now keep in mind I have tried for ages to come up with a good artisan bread. Each and every time it is a waste of time and expensive gluten free flour. However, my inner rebel was not willing to accept defeat so I decided to go a different route with a yeasty beer bread.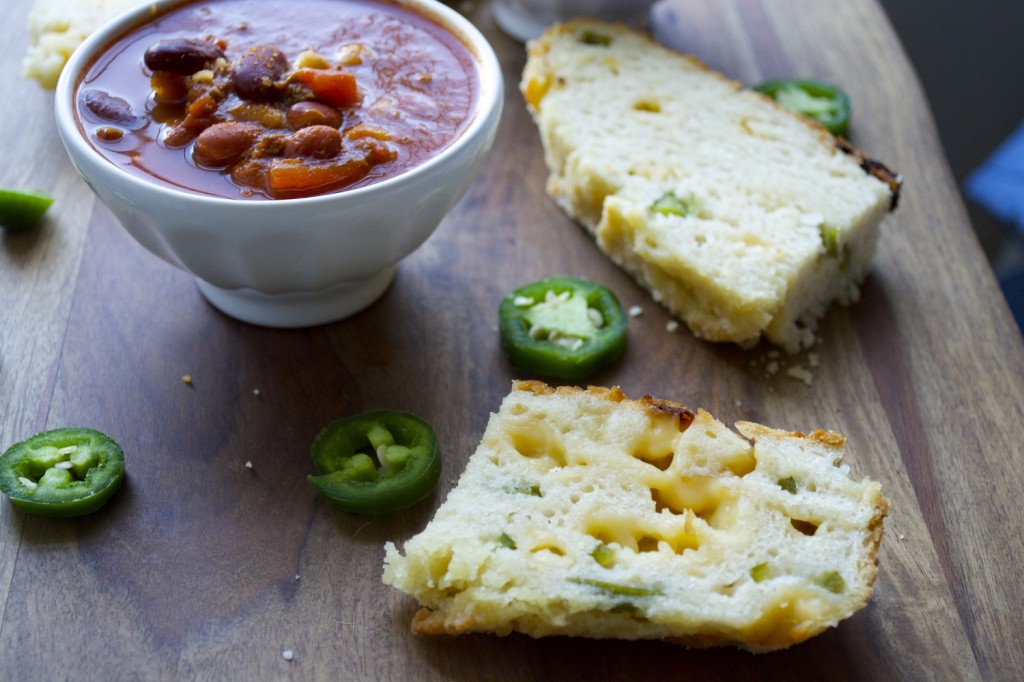 Whyyyyy didn't I think of this sooner?! It was amazing! I mean look at it! Perfectly thick, chewy and gooey Smoked Gouda and spicy jalapeno!
I served this with chili, and it was perfectly dippable. I can think of so many more flavor variations and soup combinations I want to try for the fall!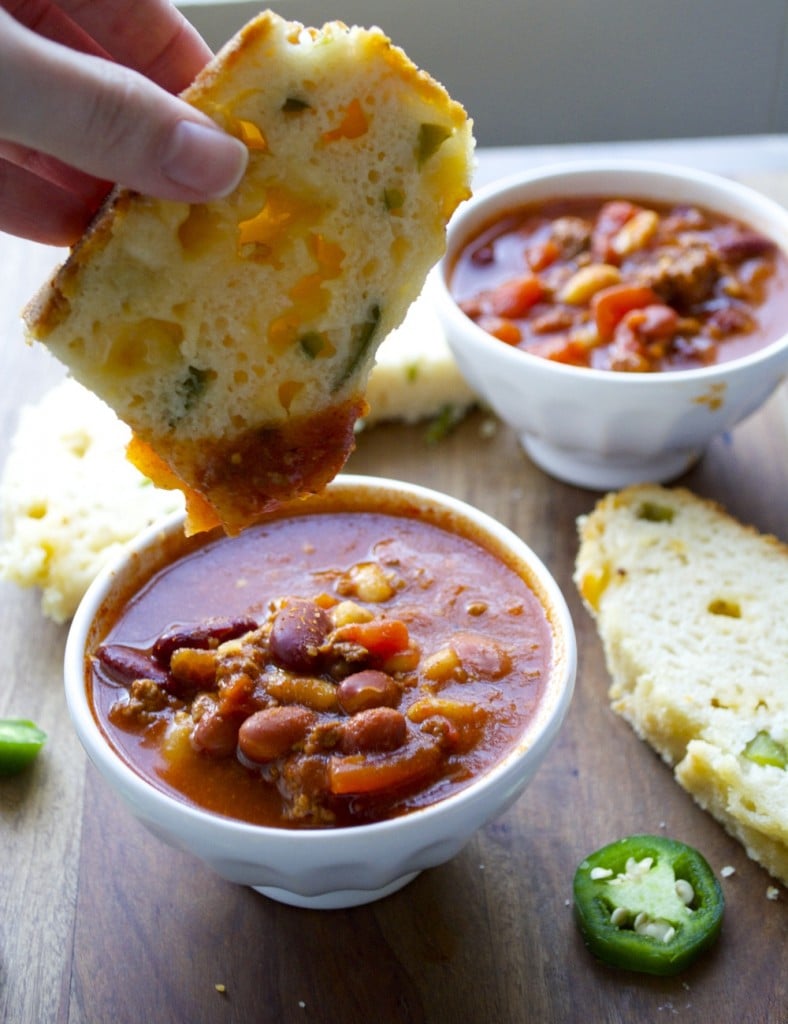 The process was actually super simple. I just added warm water and yeast together and let it sit until it got all bubbly. Then I mixed the yeast, flour, and beer together until a super thick, very sticky dough formed. Then I added the cheese and chopped jalapeno. Covered, and let it sit all day.
When I got ready to bake it I turned the oven to 425 and put my dutch oven inside, so it gets super duper hot. Then I turned the dough out onto a floured surface and made a big ball. I took my dutch oven out of the oven, sprayed it with cooking oil, and added a little olive oil (for good measure) and dumped the ball of dough right in there! I drizzled a little more olive oil on top (why not?!) put the lid back on and baked it for 20 minutes covered, then 10 more minutes uncovered.
No kneading, no wresting with sticky dough. Just mix, rise, dump, and bake!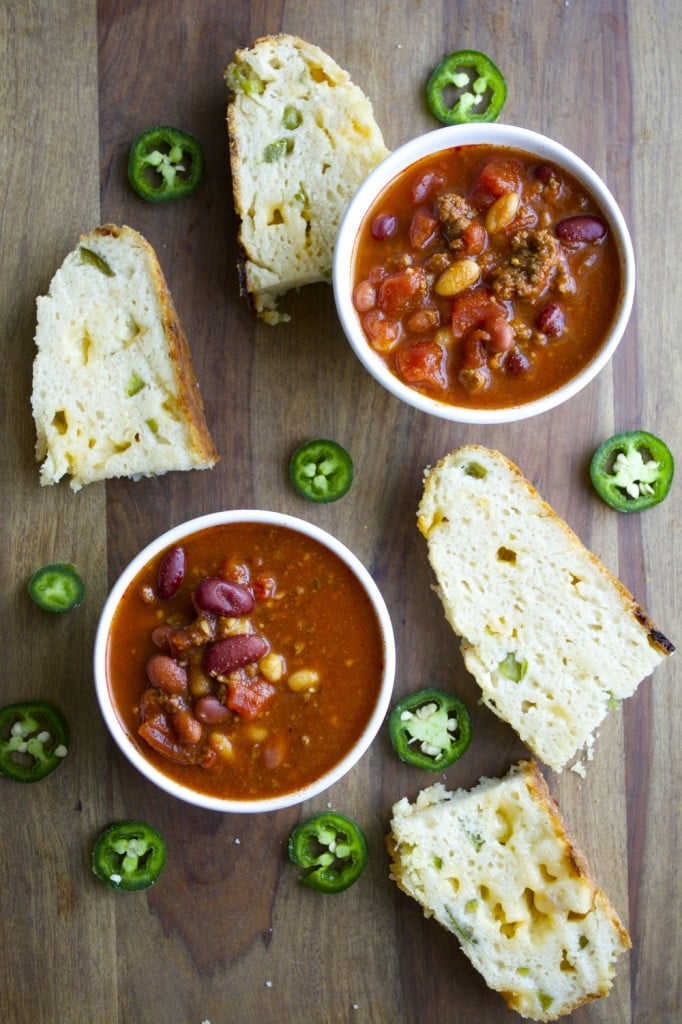 The Best Gluten Free Bread: Smoked Gouda + Jalapeno Beer Bread
Recipe type:
Bread, Side Dish
Prep time:
Cook time:
Total time:
Ingredients
3 cups all purpose gluten free flour (I use cup4cup brand)
¼ cup warm water
2 teaspoons rapid rise yeast (one ¾ ounce package)
1 12 ounce gluten free beer (I used Redbridge)
1 cup smoked gouda cheese, cubed
2 jalapenos, seeded and diced
2 teaspoons olive oil
Instructions
In a small bowl or measuring cup combine the warm water and the yeast, mix well and let sit for about 5 minutes until little bubbles form.
In a large mixing bowl combine the flour, yeast, and beer. Mix well until a thick, sticky dough forms. (This is easiest if using an electric or stand mixer)
Add the cubed cheese and the diced peppers. Stir so they are evenly distributed.
Cover dough and let sit for at least four hours.
When ready to bake place dutch oven with lid in the oven and preheat oven to 425 degrees.
Dump dough out onto a well floured sheet of wax paper and form into a ball.
When oven is up to temp remove dutch oven and spray well with cooking spray (bottom and sides) and add one teaspoon of olive oil.
Pick up the sheet of wax paper with the dough and carefully slide it into the dutch oven.
Drizzle last teaspoon of olive oil over the top.
Place lid on oven and bake for 20 minutes covered.
Remove lid and bake for 10 more minutes.
As always, I made this using gluten free ingredients. However, if you are not gluten free simply sub regular all purpose flour and regular beer!