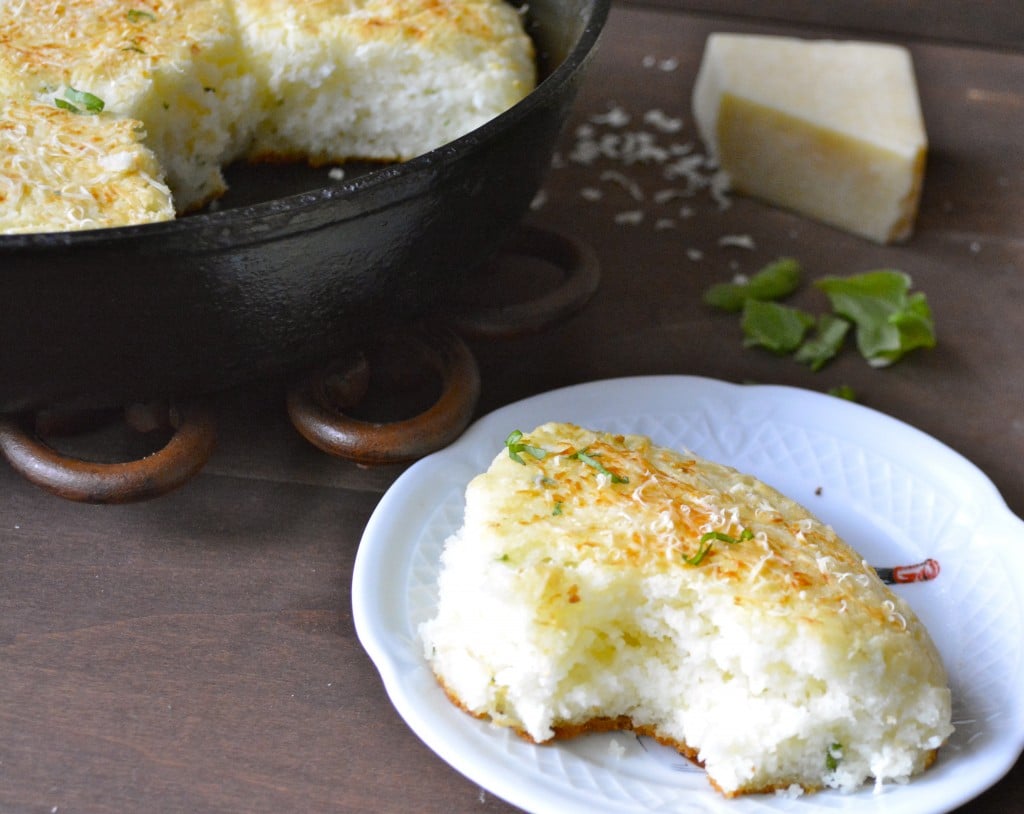 It is kind of a pet peeve of mine when I hear other people talk about a gluten free lifestyle as a fad. I feel like I am always coming across news articles that talk about people jumping on the gluten free bandwagon. Or when someone who isn't really familiar with our situation will say "Well gluten free isn't even healthy" or something silly like that.
Let me just kind of put it in perspective, for some people they choose to avoid it because they feel better without it. Some people avoid it because they have to. Both reasons are valid enough for me. But if Mr. Maebell didn't have celiac, there is no way we would do this. I would order Pizza Hut right now, or crack open a can of cinnamon rolls. Seriously, I am so not kidding. And I can totally guarantee you he would be drinking a beer he doesn't have to struggle to swallow. We do it because I kinda sorta really like him, and I want to keep him healthy.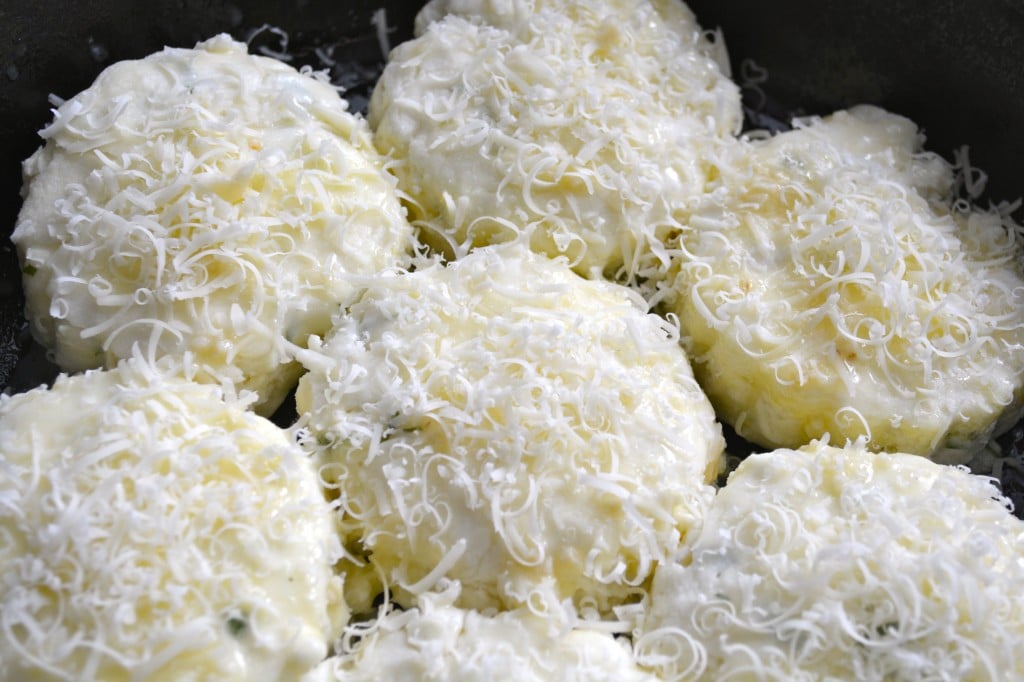 Fortunately, we do have to deal with it and I think in a lot of ways it has saved us from making unhealthy choices. I do feel like we have really found a nice balance. I feel like a large portion of our diet is healthy, but another portion is indulgent. Which, in my opinion, is exactly how it should be. Everything in moderation. Thankfully for me, some of the indulgent foods come in the form of bread. We have some sweet breads like this, this, and this little gem, some fantastic buttermilk biscuits, and these Three Cheese Basil Biscuits.
Holy cow. I have no words.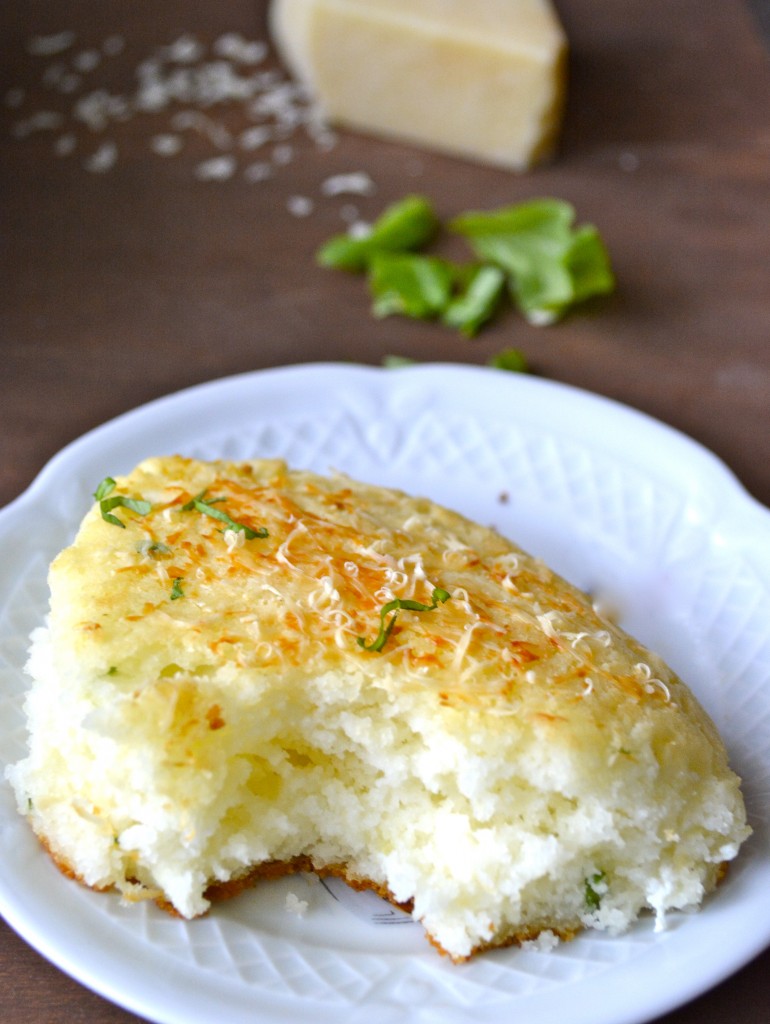 So. Good.
These little guys are packed with ricotta cheese, goat cheese, and fresh basil leaves, and then topped with freshly shaved Parmesan. They baked up into these massive, beautiful, fluffy biscuits that were perfect. Better yet, there isn't a speck of gluten in them.
So just in case you know someone who is gluten free invite them over and bake up these biscuits. They are a game changer.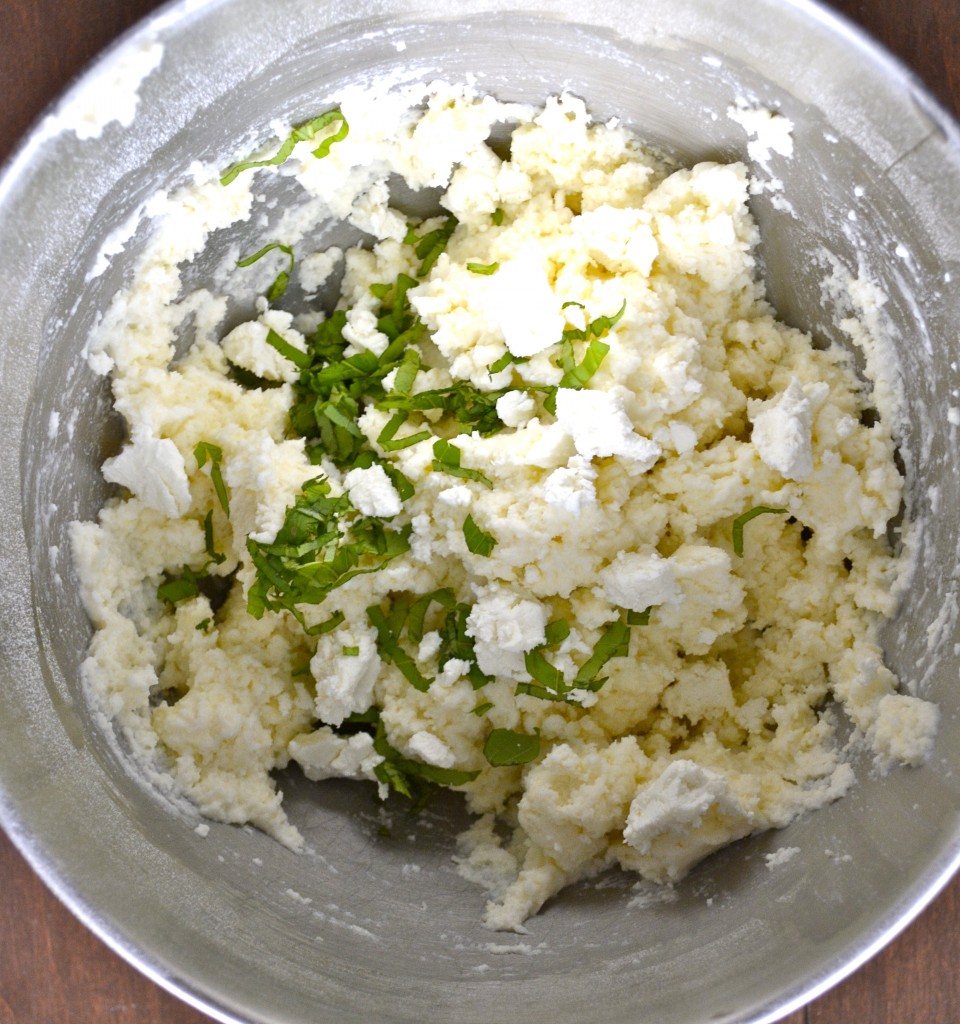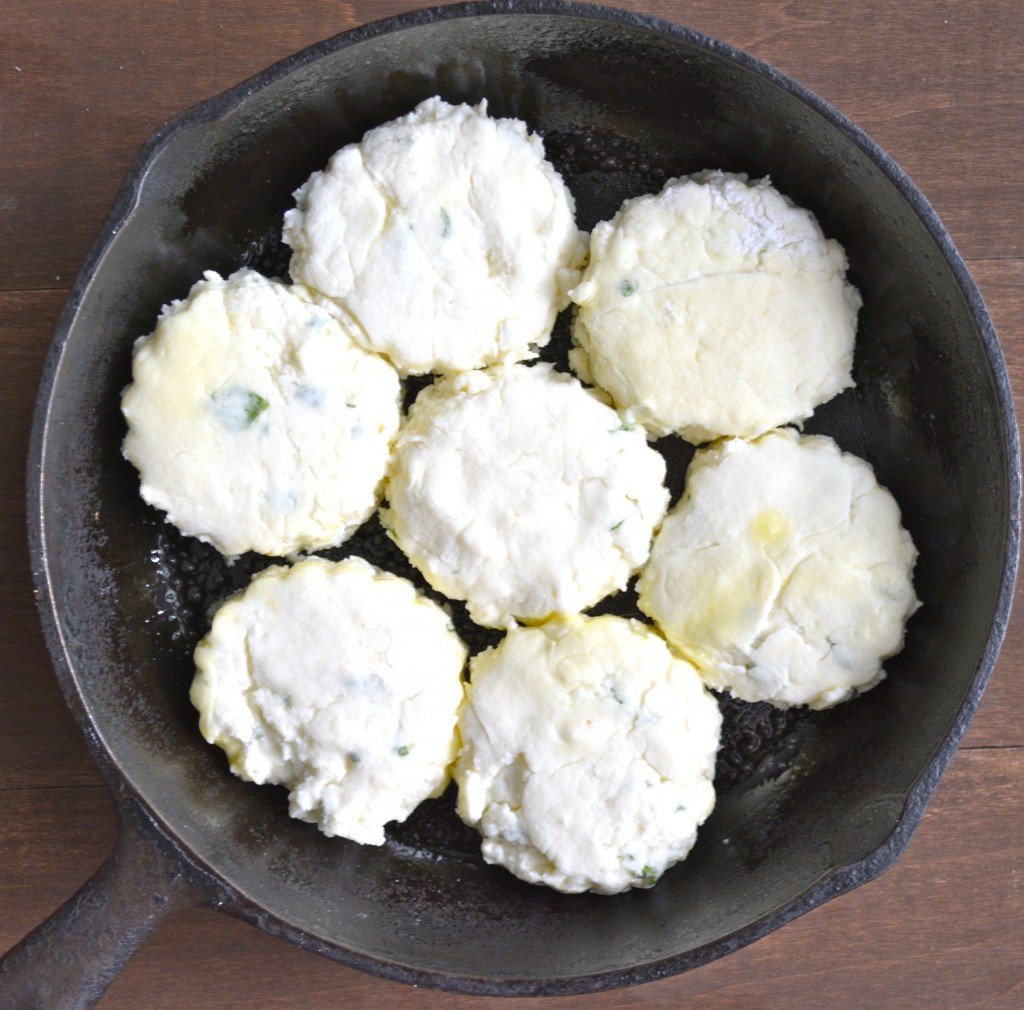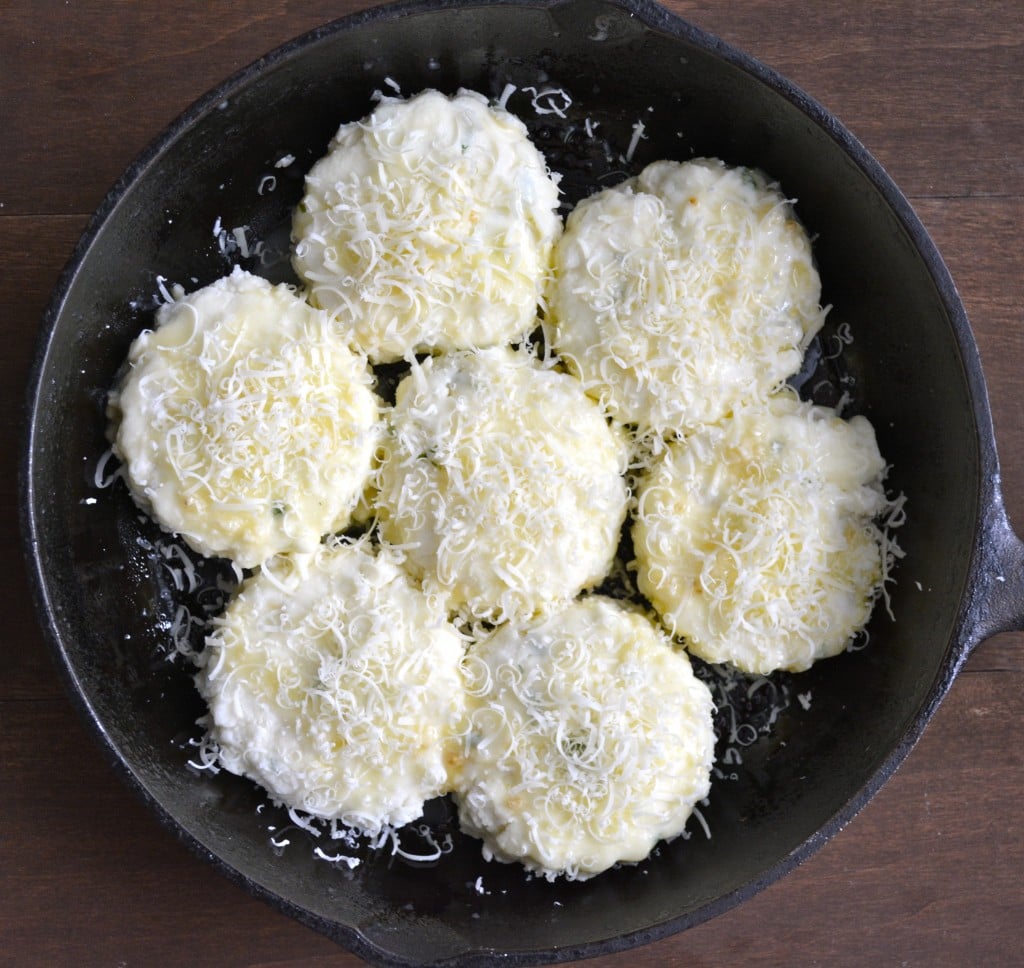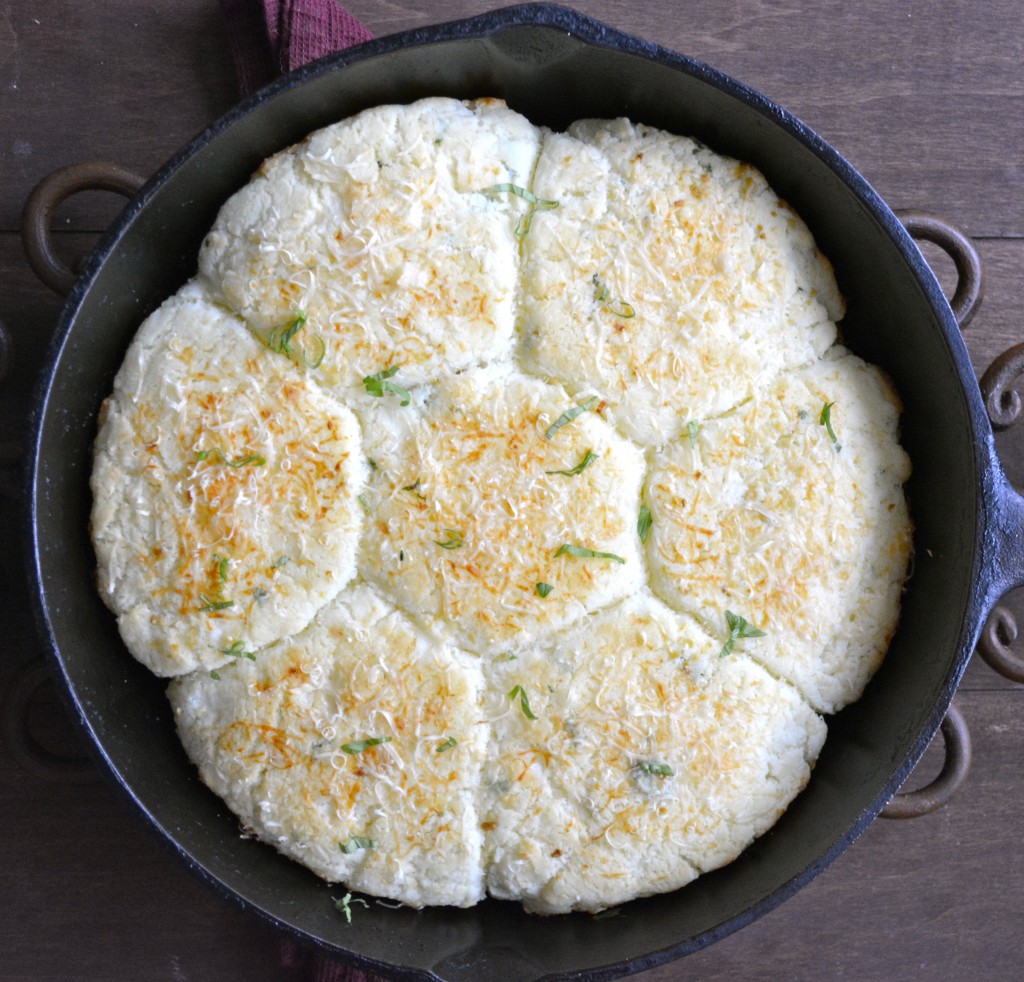 Three Cheese Basil Biscuits
Prep time:
Cook time:
Total time:
Ingredients
For the Biscuits
2 cups Bisquick (I used GF Bisquick)
2 teaspoons baking powder
½ teaspoon salt
4 tablespoons butter
¼ cup ricotta
1 cup milk
1 egg, beaten
2 ounces of goat cheese
⅛ cup freshly chopped basil
For the Topping
1 tablespoon butter
½ teaspoon minced garlic
¼ cup parmesan
Instructions
Preheat oven to 400
Combine flour, baking powder and salt until blended.
Using a fork, pastry blender, or stand mixer cut the butter into the flour mixture until the butter is incorporated well. The mixture will be course and crumbly.
Add in the ricotta, beaten eggs and slowly add in milk as you stir.
When the dough seems well incorporated lightly fold in the basil and the goat cheese.
The dough should be soft and slightly fluffy.
Flip dough onto floured work surface. Use a biscuit cutter or the top of a mason jar to cut out biscuits. Place biscuits in a greased cast iron skillet or other oven proof dish. Just be sure to place biscuits close together.
Melt the remaining one tablespoon of butter and combine it with the minced garlic. Lightly brush or spoon the garlic butter over the biscuits.
Top with Parmesan cheese.
Bake 15 minutes until fluffy and golden brown. Garnish with additional basil if desired.