I don't know about you guys but it has been a week and a half around here. And it is Thursday…Thursday morning to be exact. How we will make it to Saturday I have no clue. I am thinking I might have something to ease the pain though.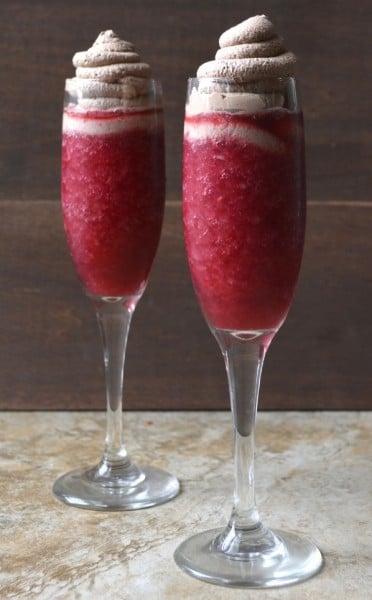 Slushy anyone?!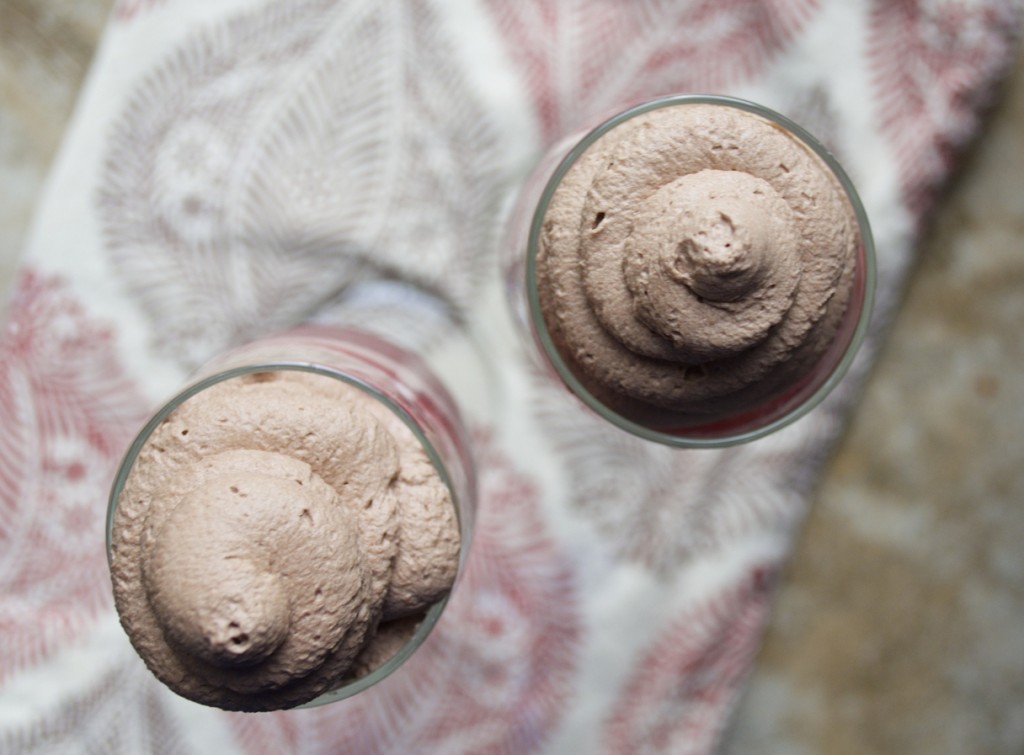 Let's face it. Drinks are way more fun with whipped cream.
Want to know what makes fun drinks even more fun? Chocolate whipped cream.
Want to know what makes it super fun? If it is a wine slushy topped with chocolate whipped cream.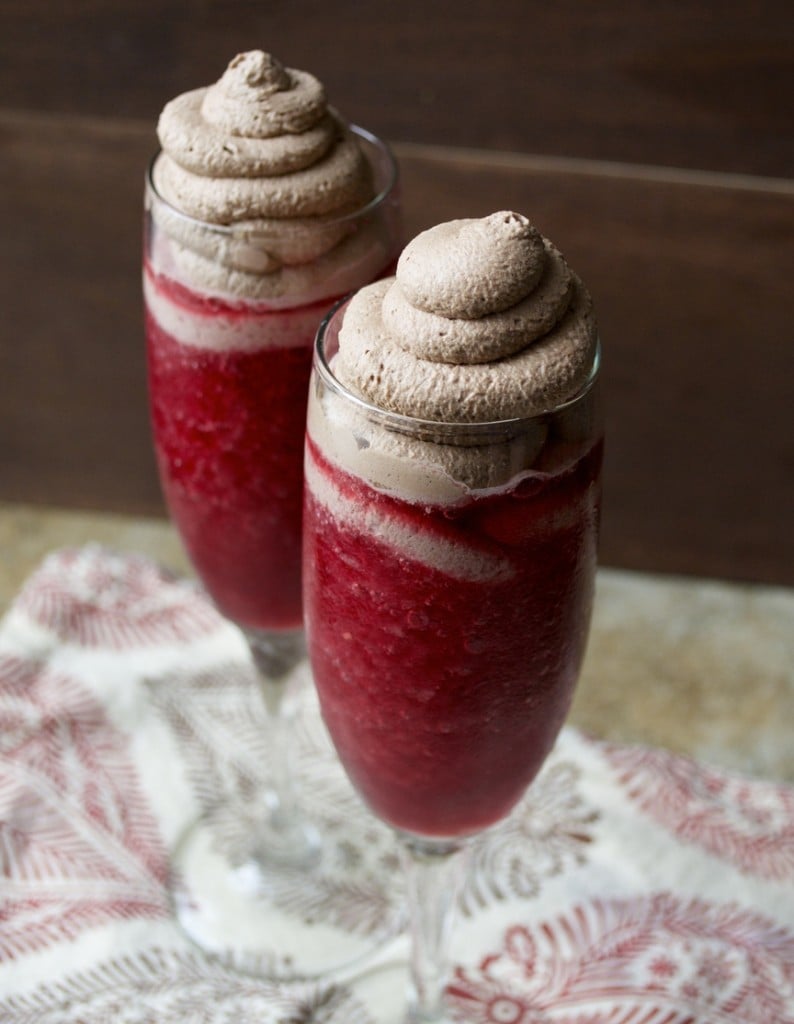 After I made the Mango Moscato Smoothies I was totally hooked on the idea of a wine slushy. I have never liked slushies before but I was fairly sure I could get on board with the idea of wine+fruit+ice in a nice, ice cold drink. After all, we still have two official weeks of summer left!
So I tried and failed at a red wine slushy several times. I tried strawberries, blueberries, a mixture of the two, and a couple different wines until I settled on a sweet red wine and frozen raspberries. Ah-mazing! Totally what I had been searching for, but something was missing. It needed a little extra oomph.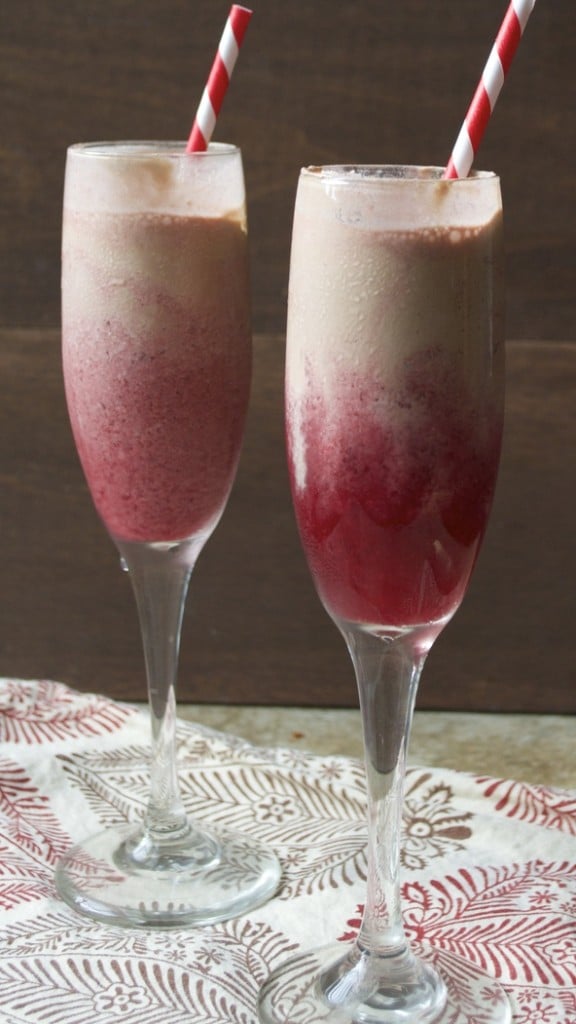 When in doubt add whipped cream. Always, always add whipped cream.
So I beat some heavy whipping cream, sugar, and cocoa powder in the mixer, topped these babies off, and called it a day.
Perfection my friends. Complete and total perfection.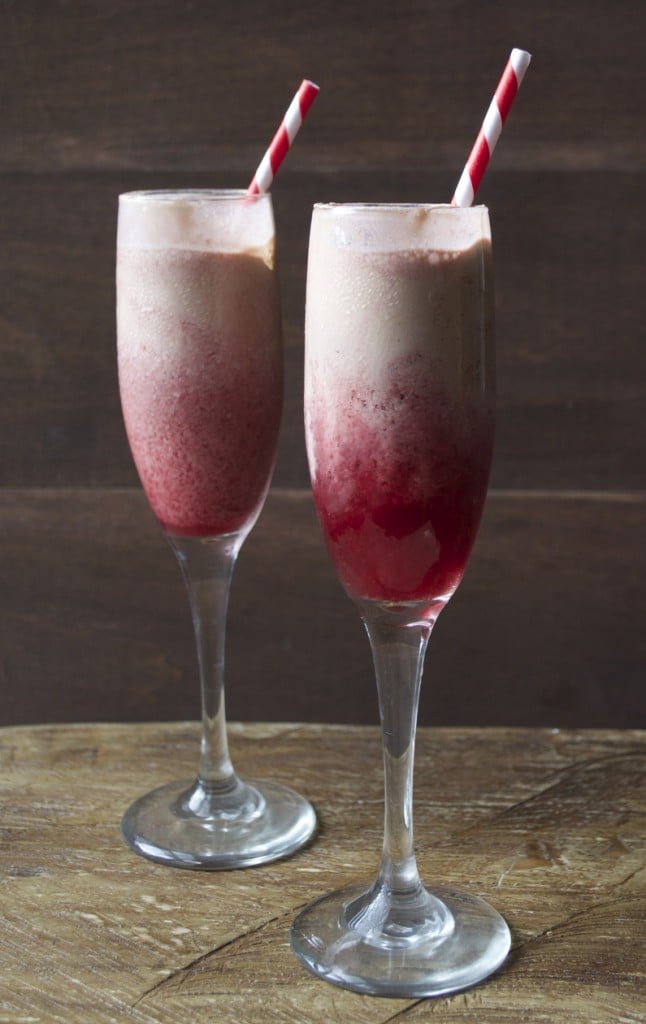 What are you waiting for?! Drink up!

Raspberry Red Wine Slushy with Chocolate Whipped Cream
Ingredients
For the Slushy
1 cup sweet red wine
1 cup frozen raspberries
1 teaspoon sugar (optional)
1 cup ice
For the Chocolate Whipped Cream
½ cup heavy whipping cream
1 teaspoon sugar
1 tablespoon cocoa powder
Instructions
To make the slushy blend the wine, frozen raspberries, and sugar (optional) for 30 seconds. Strain slushy mixture through a mesh strainer to remove any raspberry seeds. Place the strained slushy mixture back in the blender with one cup of ice. Blend 30 more seconds. Place mixture in freezer while you make the whipped cream.
For the chocolate whipped cream: Beat the heavy cream, sugar and cocoa powder with an electric mixer for approximately 5 minutes or until stiff peaks form.
To assemble, pour slushy into glasses and top with whipped cream.