I know it is September, I know that everyone is all apples and sweat shirts and let's drink Pumpkin Spice Lattes but if you are south of the Mason Dixon or my friend Natalie in California it is still hot. Like summertime hot.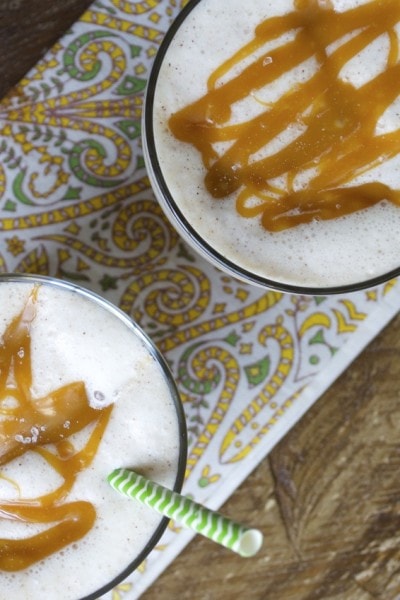 So I am having a hard time getting into the fall recipes. But since October is only like a week away I figured I needed to get on board. So, today I have the perfect compromise Salted Caramel Apple Cinnamon Smoothie, all of the wonderful flavors of fall, fresh apples, brown sugar, cinnamon, caramel, in a light ice cold smoothie that works if the weather won't cooperate!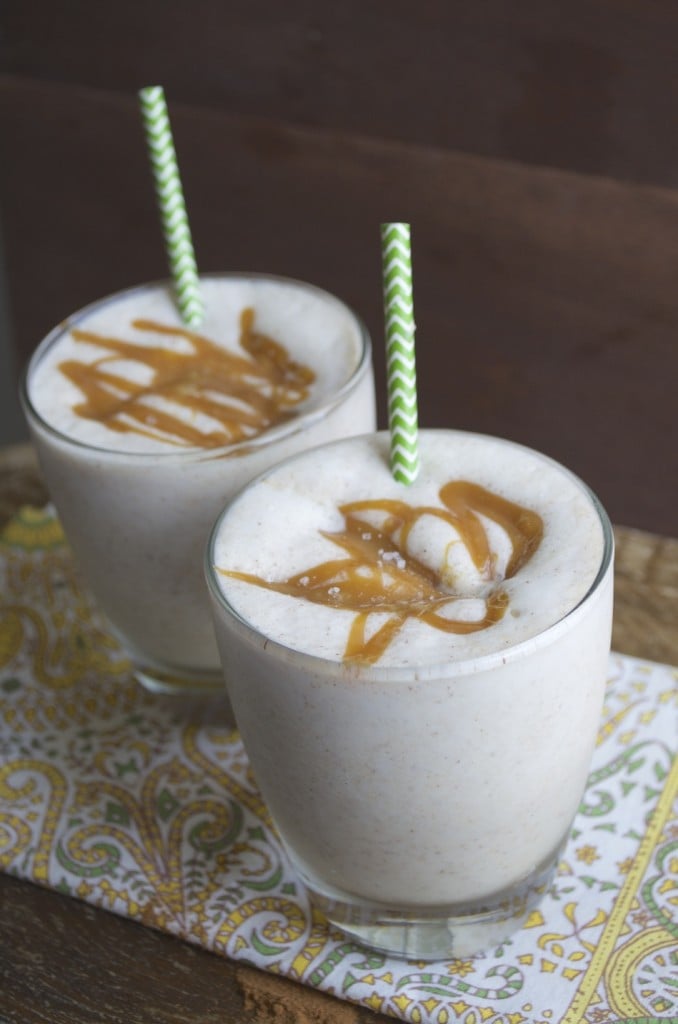 The major flavor comes from caramelizing freshly chopped apples, this doesn't take that long but it adds a ton of flavor. I let the apples simmer in a little butter, cinnamon, and brown sugar until tender. Then let them cool. I added them to the blender with ice, milk, frozen fat free cool whip and gave it a whirl. I topped it with caramel sauce and sea salt.

It's that simple!
Wouldn't it be nice to be sipping on one of these smoothies and playing on a brand new iPad Mini?! Some of my awesome blogger friends and I are giving away an iPad Mini to celebrate our friend Kelley's Birthday!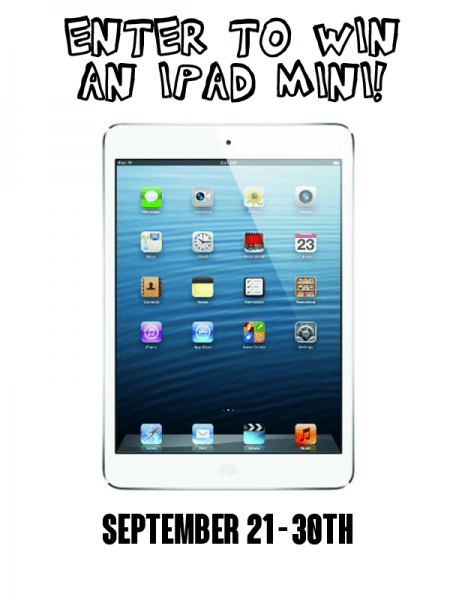 She is turning the big 3-0 today! So hop over to her blog and wish her a happy birthday and follow the link below the recipe to enter to win!

Salted Caramel Apple Cinnamon Smoothie and a GIVEAWAY!
Serves:
2 large, or 4 small
Ingredients
2 Honeycrisp apples, peeled and chopped
1 tablespoon butter
1 teaspoon brown sugar
½ teaspoon cinnamon
2 cups frozen fat free cool whip (you can use vanilla ice cream, I just wanted to lighten it up)
1 cup milk
1 cup ice
2-4 tablespoons caramel sauce for drizzle
sea salt (to taste)
Instructions
Heat a small sauce pan to medium heat.
Melt butter in skillet, when butter is melted add chopped apple, brown sugar, and cinnamon. Stir well so apples are evenly coated with sugar and cinnamon.
Reduced heat to medium low, cover and let simmer for 5 minutes.
After five minutes, stir and let it simmer another 5 minutes.
Remove apples from heat and let cool.
When apples are cool scrap apples and juice into a blender. Add frozen cool whip, milk and ice.
Blend for 30 seconds or until smooth.
Pour drinks into glass and top with caramel sauce and sea salt.