Over the weekend I asked my dear Facebook followers what kinds of recipes they look for. The general consensus was that you want quick and healthy dinner recipes. I also had a couple requests for healthy lunch ideas, slow cooker recipes, and things with normal ingredients.
Amen to that.
There is nothing worse than coming across a great looking recipe and then realizing it has a billion ingredients, half of which you cannot pronounce and don't know where to find. My goal here is to give you exactly what you asked for. So I thought, lets put some permitters on this.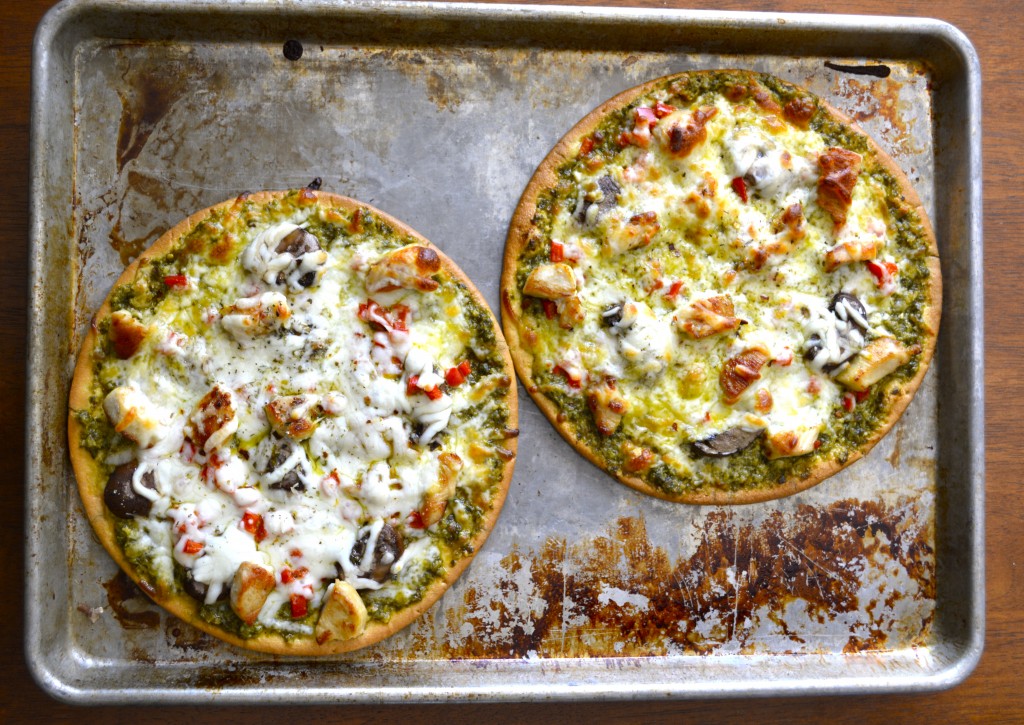 You asked for quick, easy and healthy recipes. Okay good deal. If a recipe qualifies as "quick" it requires 15 minutes or less of prep time. A dish may have to actually cook longer, but the amount of work you put in is in the 15 minute or less category.
If I classify a recipe as "easy" it has regular ingredients, most likely pantry staples you already have your hands on, no major prep work required.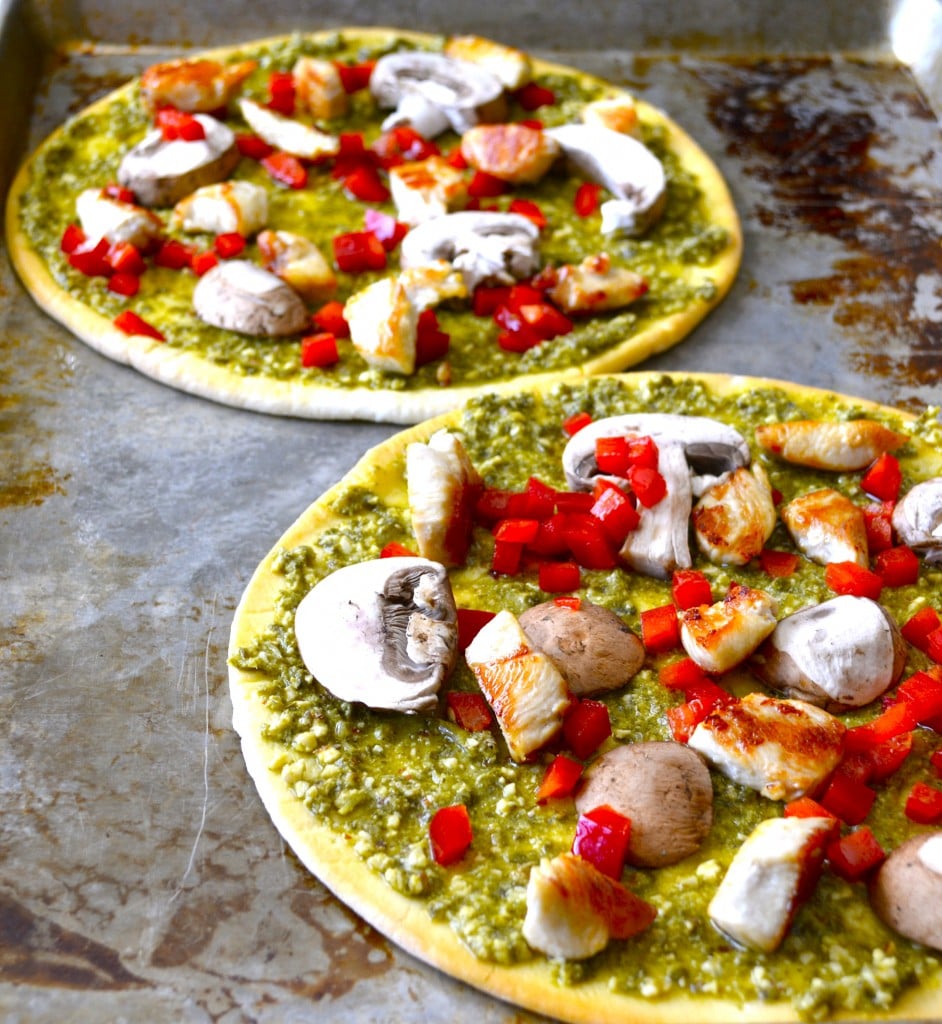 "Healthy" is kind of a relative term.


I am categorizing a recipe as healthy if it contains several food groups, protein, grains, vegetables, etc. And has fairly low fat content.
Today's recipe, Pesto Chicken Pizza fits perfectly in those categories. Quick, easy, and healthy (for pizza at least). It is probably our favorite flavor combo at the moment. There is something about tangy pesto, tender chicken, fresh mushrooms and red bell pepper that make me swoon. It took me years to convince Mr. Maebell to actually try pesto and now he is a total addict.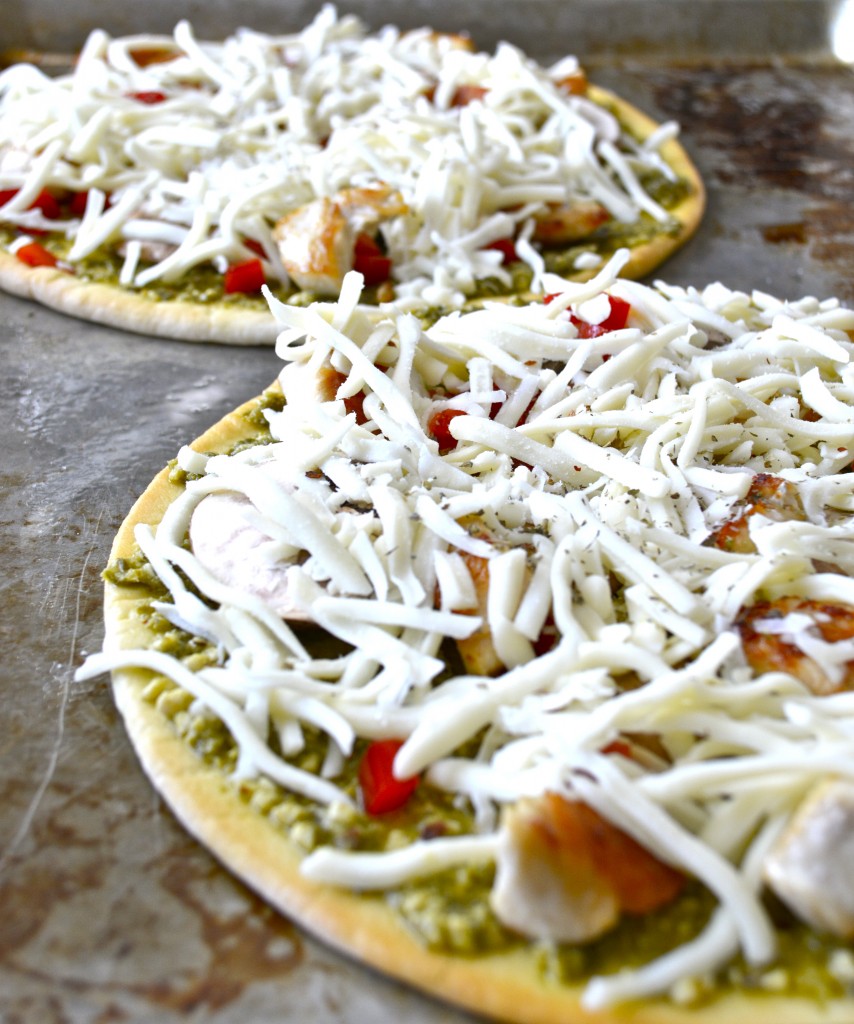 I use jarred pesto, and pre made pizza crust which makes this meal a cinch to prepare. You can also play around with the vegetables you add based on your own preferences.
One thing is for sure, this is sure to be a crowd pleaser and a good change up from regular old pizza.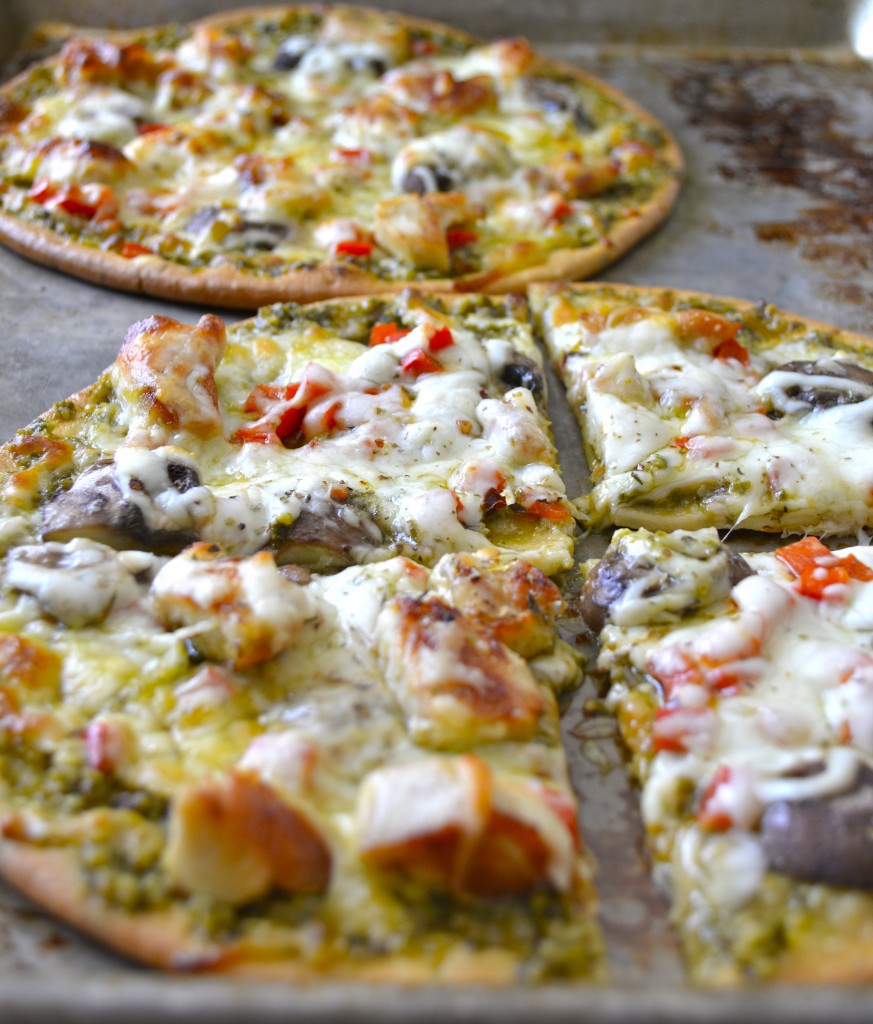 Pesto Chicken Pizza
Ingredients
Prepared pizza crust, I use two 10 inch Udi's crust
1 jar pesto (Mezzetta brand is my favorite)
1 cup of cubed or shredded cooked chicken*
½ cup fresh mushrooms
¼ cup diced red bell pepper
1-1.5 cups shredded mozzarella cheese
Instructions
Preheat oven to 400
Spread pesto on pizza crust.
Top with cooked chicken, mushrooms, bell pepper, and mozzarella.
Bake 10-15 minutes until golden brown.
Let cool 3-5 minutes before serving. Enjoy!!
*I like to just throw fresh chicken breast in my smallest crock pot, and shred when I get home from work, but rotisserie, or pan seared chicken works great too.