Apple Pie Donuts! Totally gluten free and packed with apples and cinnamon! The perfect Fall breakfast!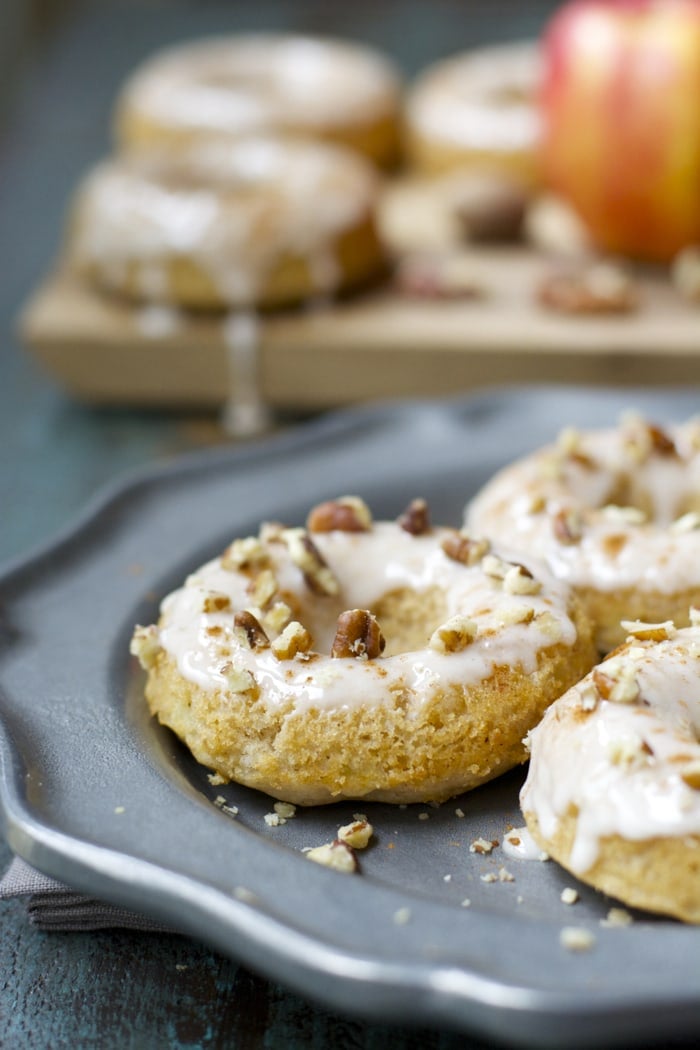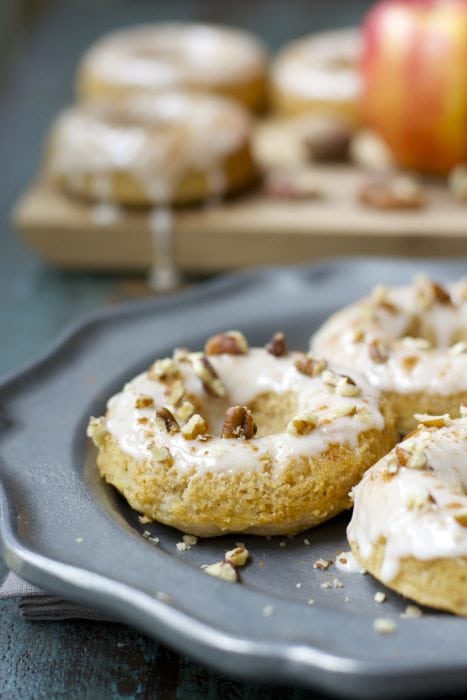 So there is this guy that is following me. He is quiet and kind of sneaky, he has beautiful brown eyes, four legs and a tail. And he is stalking me with a tennis ball.
His name, is Copper.
We have two dogs, Copper the lab and Zink the husky. He is totally mine. He is a Momma's boy if there has ever been one. Zink sits with me, sleeps on my side of the bed and stands right next to me every night when I brush my teeth. He's my boy.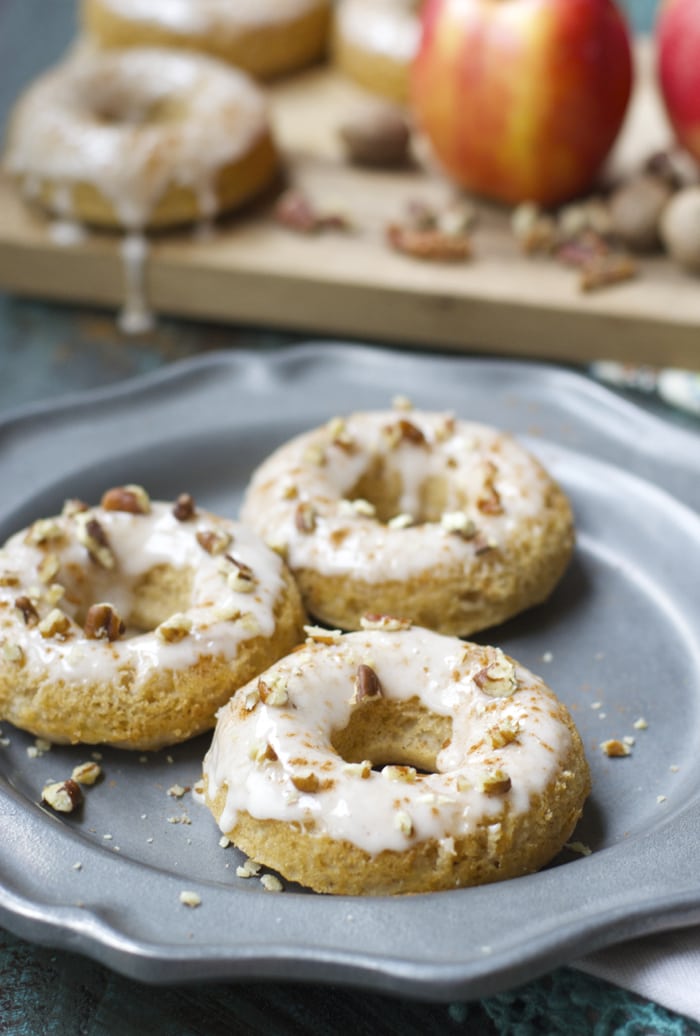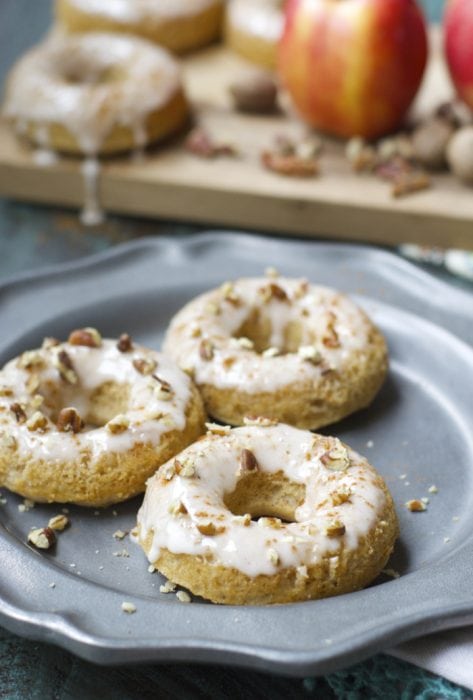 Copper has the exact same relationship with Mr. Maebell. He adores him and follows his every move. Zink is on team Mom. Copper is on team Dad.
Except now, I work from home and our whole world has been turned upside down. Copper is under my feet constantly. When I am cleaning he's right there. Laundry, yup, I've got a buddy. Shower, mhm, not alone. Blogging (like now) you guessed it- right there. When I am cooking, he actually lays on my feet while I am standing at the stove. All the while he has a tennis ball in his mouth.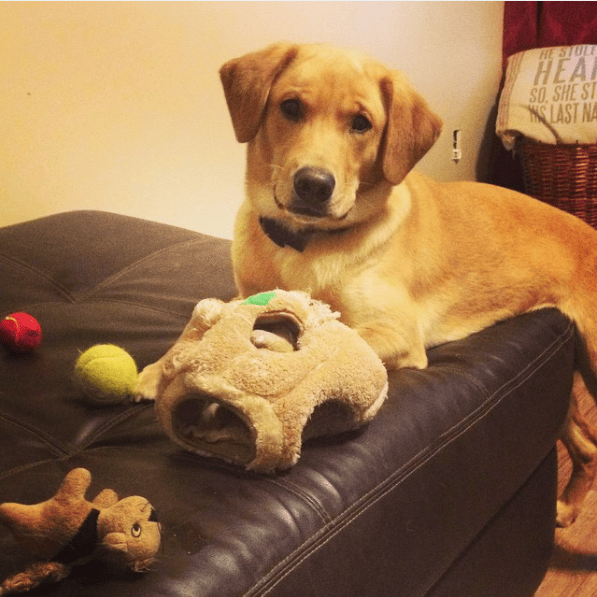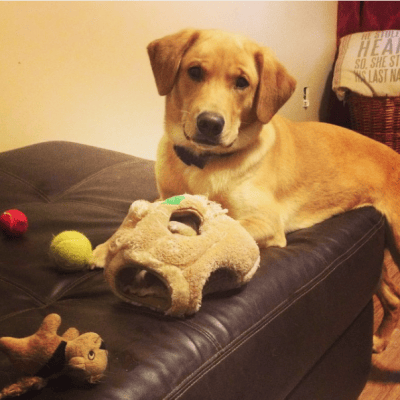 Clearly, life with a lab is a never ending game of fetch. He is there, every moment of every single day waiting for the second I will throw the ball. Well, most of the time he waits. For instance, sometimes he gets impatient and will roll the ball across the floor to me and I kick it back. Similarly, if I am sitting at the desk or on the couch he will toss it at my head. It never stops.
We were struggling particularly badly while I was making these delicious Apple Pie Donuts. He was under my feet- actually, on top of my feet, while I was baking. And threw a tennis ball into the photo shoot while I was working.
Without a doubt, If he wasn't so darn cute, I'd have a problem. 🙂
Ingredients for Gluten Free Donuts
As always, here is a quick overview of the ingredients used to make our Apple Pie Donuts. For the complete recipe, just keep scrolling.
Dry ingredients- Gluten free flour (I used Bisquick), baking powder, apple pie spice, salt, brown sugar, powdered sugar, apple pie spice, crushed pecans
Wet ingredients- Milk, chopped apple, vanilla yogurt, egg, coconut oil (or butter), almond extract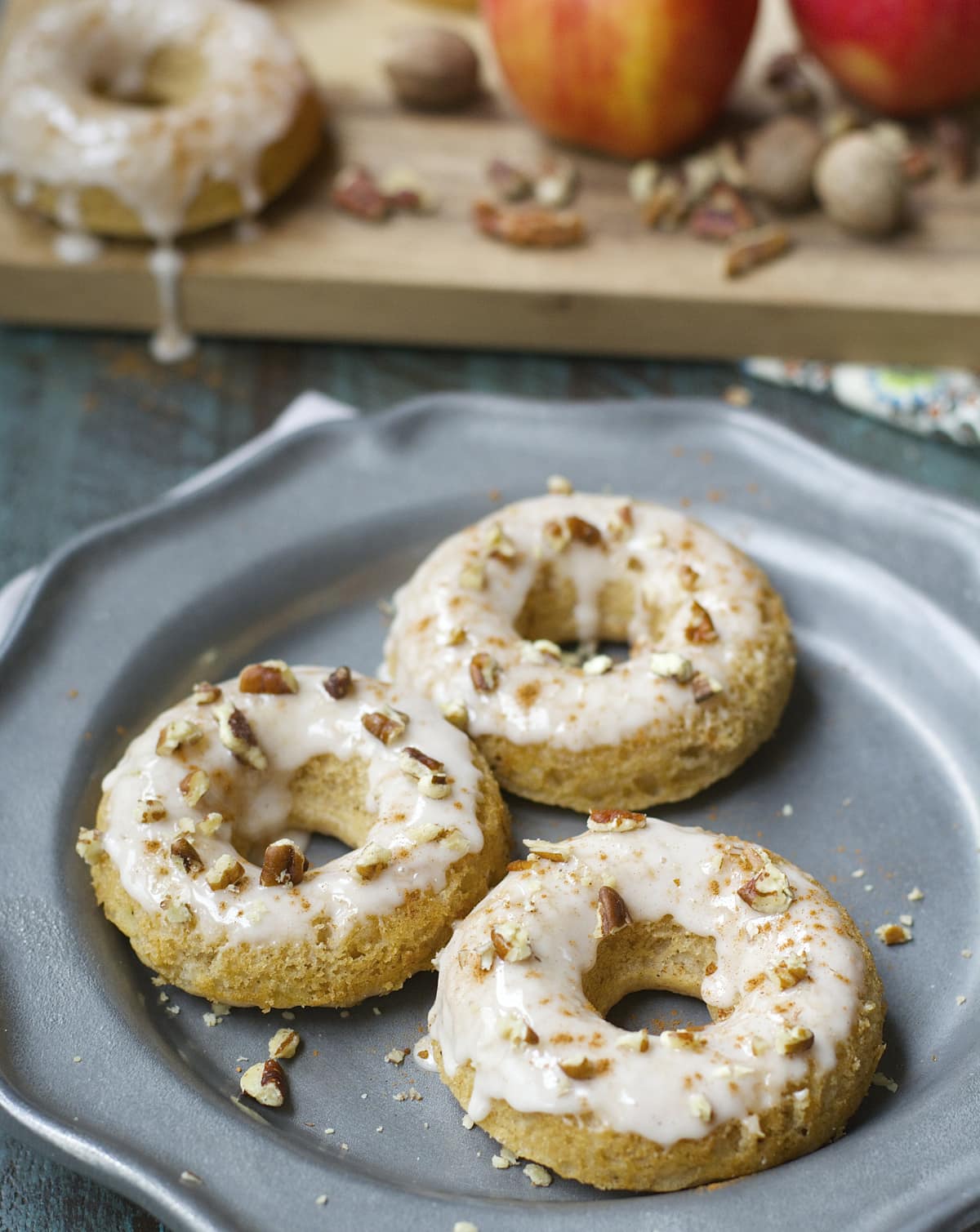 Fall Donuts that are Baked, not Fried!
Fortunately, these Apple Pie Donuts were worth the work! These donuts are baked, not fried, and they are packed with chunks of fresh apples, yogurt, and apple pie spice. They are loaded with all the flavor in a traditional apple pie but in a soft and airy donut perfect for a Fall breakfast!
These donuts are delicious enough on their own, but to make them extra special I dunked them in a sweet almond glaze and topped them with a light sprinkling of apple pie spice along with a pecan pieces for a little extra crunch! For more fun fall recipes, check out this list of 20+ Easy Fall Desserts!
Do I have to make these Apple Donuts gluten free?
Absolutely not! If you aren't gluten free in your house, then feel free to use whatever flour you prefer, or just regular Bisquick.
How do I make Apple Pie Donuts?
First, heat your oven to 350 degrees and spray a donut pan with nonstick spray and set aside. In a large mixing bowl, combine your Bisquick, sugar, baking powder, salt and apple pie spice together and mix well. Next, add in the milk, chopped apples, yogurt, egg and oil (or butter) and mix until a thick batter forms.
Following this, bake 10-12 minutes and allow to cool completely on a wire rack. Last but not least, to make your glaze! At this time, combine the powdered sugar, milk, almond extract and apple pie spice in a bowl.
If your mixture is too thick, add milk in teaspoon increments until your desired consistency is reached. Finally, dunk your donuts into the glaze and top with chopped pecans and there you go! A perfect Fall breakfast!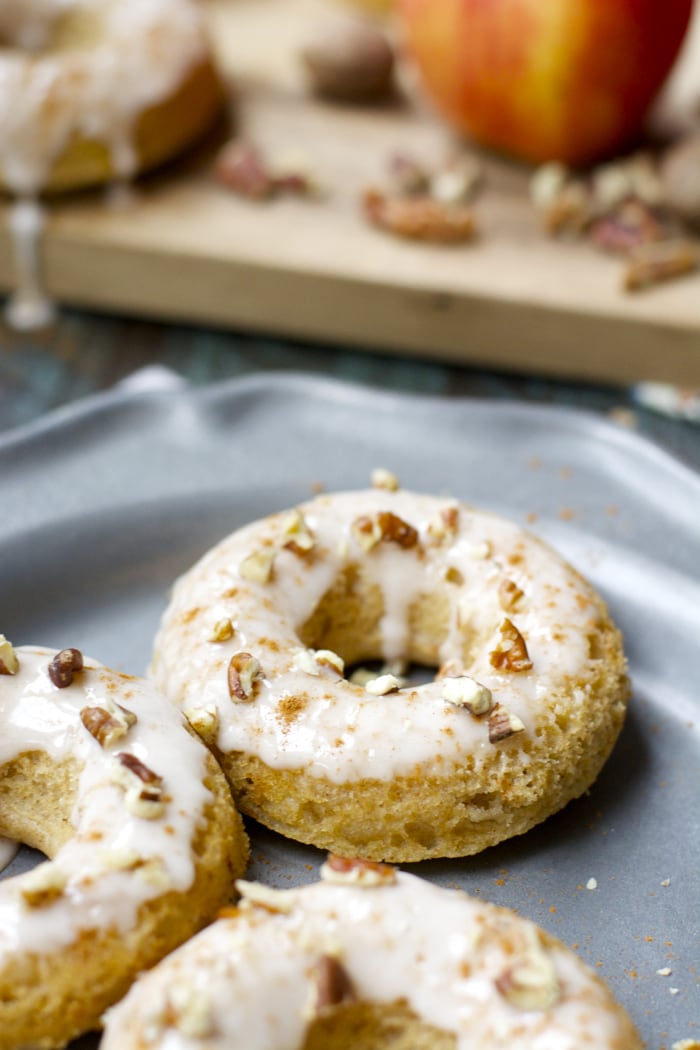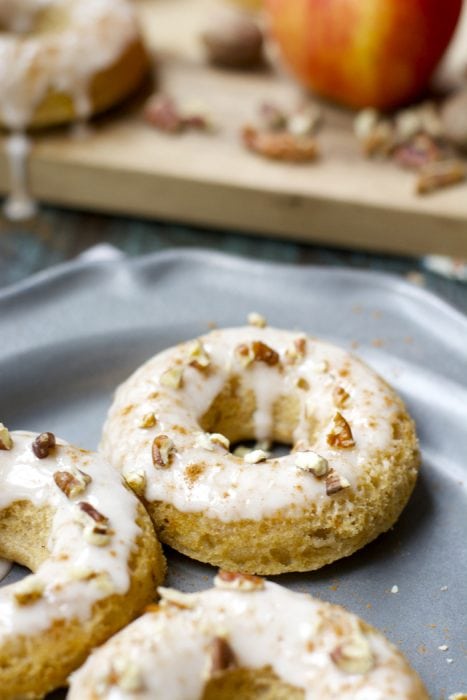 Can I make these Apple Pie Donuts without a donut pan?
Personally, I do not recommend doing so. The dough needs the structure of the donut pan for the donuts to hold their shape.
How to Store Gluten Free Apple Donuts
I recommend storing these donuts in a single layer in either a pastry (or bread) box, or a large paper bag. These donuts will stay fresh at room temperature for two days.
Check Out These Other Gluten Free Breakfast Recipes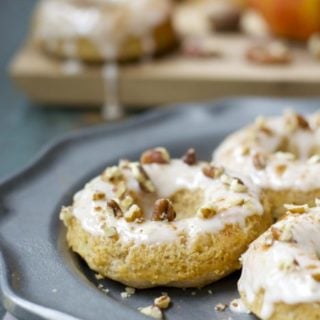 Apple Pie Donuts
Apple Pie Donuts! Totally gluten free and packed with apples and cinnamon! The perfect Fall breakfast!
Ingredients
3/4 cup Gluten Free flour (I used GF Bisquick)
1 teaspoon baking powder
1/2 teaspoon apple pie spice
1/4 teaspoon salt
1/4 cup brown sugar
1/4 cup milk
1/2 cup finely chopped apple
1/2 cup vanilla yogurt
1 egg, beaten
3 tablespoons of melted coconut oil (you may substitute butter if you wish)
1 cup powdered sugar
1 tablespoon of milk
1/4 teaspoon apple pie spice
2 drops of almond extract
3 tablespoons crushed pecans
Instructions
Preheat the oven to 350.
Spray a donut pan with cooking oil and set aside.
In a mixing bowl, combine the flour, sugar, baking powder, salt and spices together. Add the apples, milk yogurt, egg and oil and mix until a thick batter forms.
Using a small spoon carefully place your dough in the donut pan fulling 3/4 of the way full. Be careful not to overfill.
Bake 10-12 minutes.
Carefully remove the donuts and let cool completely on a wire rack.
To make the glaze, combine the powdered sugar, milk, almond extract and apple pie spice. If your mixture is too thick, add one teaspoon of additional milk at a time until it is the right consistency.
Dunk the donuts in the glaze and sprinkle with the crushed pecans.
Nutrition Information:
Yield:

12
Serving Size:

1 donut
Amount Per Serving:
Calories:

145
Total Fat:

5.1g
Cholesterol:

15.9mg
Sodium:

128mg
Carbohydrates:

23.5g
Net Carbohydrates:

23g
Fiber:

0.5g
Sugar:

16g
Protein:

1.6g