Try these soft and fluffy Banana Nut Waffles for a simple and delicious brunch!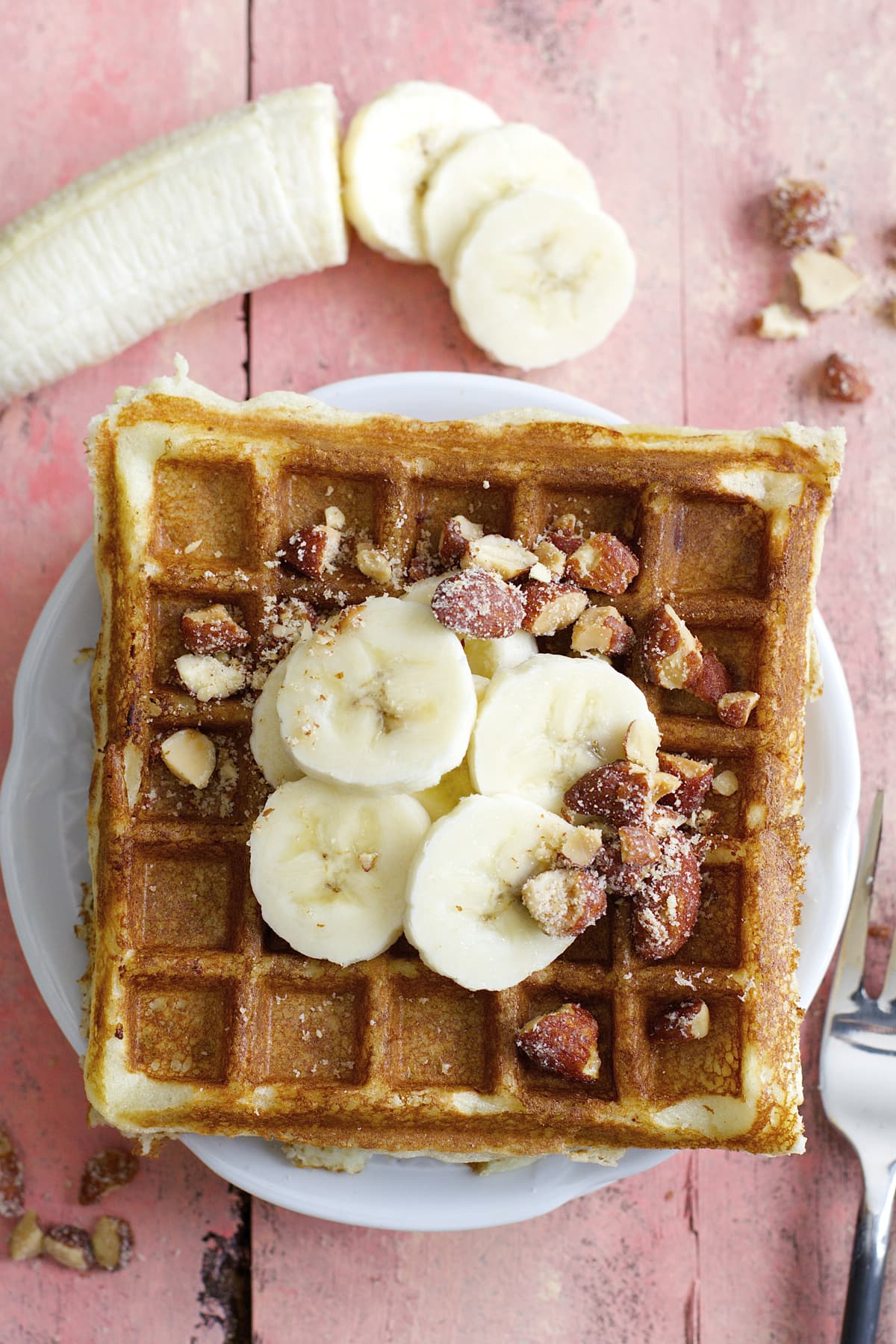 Let's declare this brunch week! First we had Citrus Vanilla Coffee Cake and now these super delicious and very easy Banana Nut Waffles!
I'm not sure what it is but there is something about Spring that just screams "brunch" doesn't it? Summer is all about cook outs, fall is about fire pits, and winter is about nice big holiday dinners, but Spring is definitely the season for brunch!
It seems like everyone is so happy during brunch… Maybe because you don't have to get up early for it, or because it's early enough that there's little chance something disastrous has already happened. Or maybe it's just the bottomless mimosas, I don't know!
What I do know is that these Banana and Almond Waffles will make you happy because they're easy to make, they're sweet-but-not-too-sweet, and they're nutritionally solid! Take out the blender and the waffle iron–We've got brunch to serve!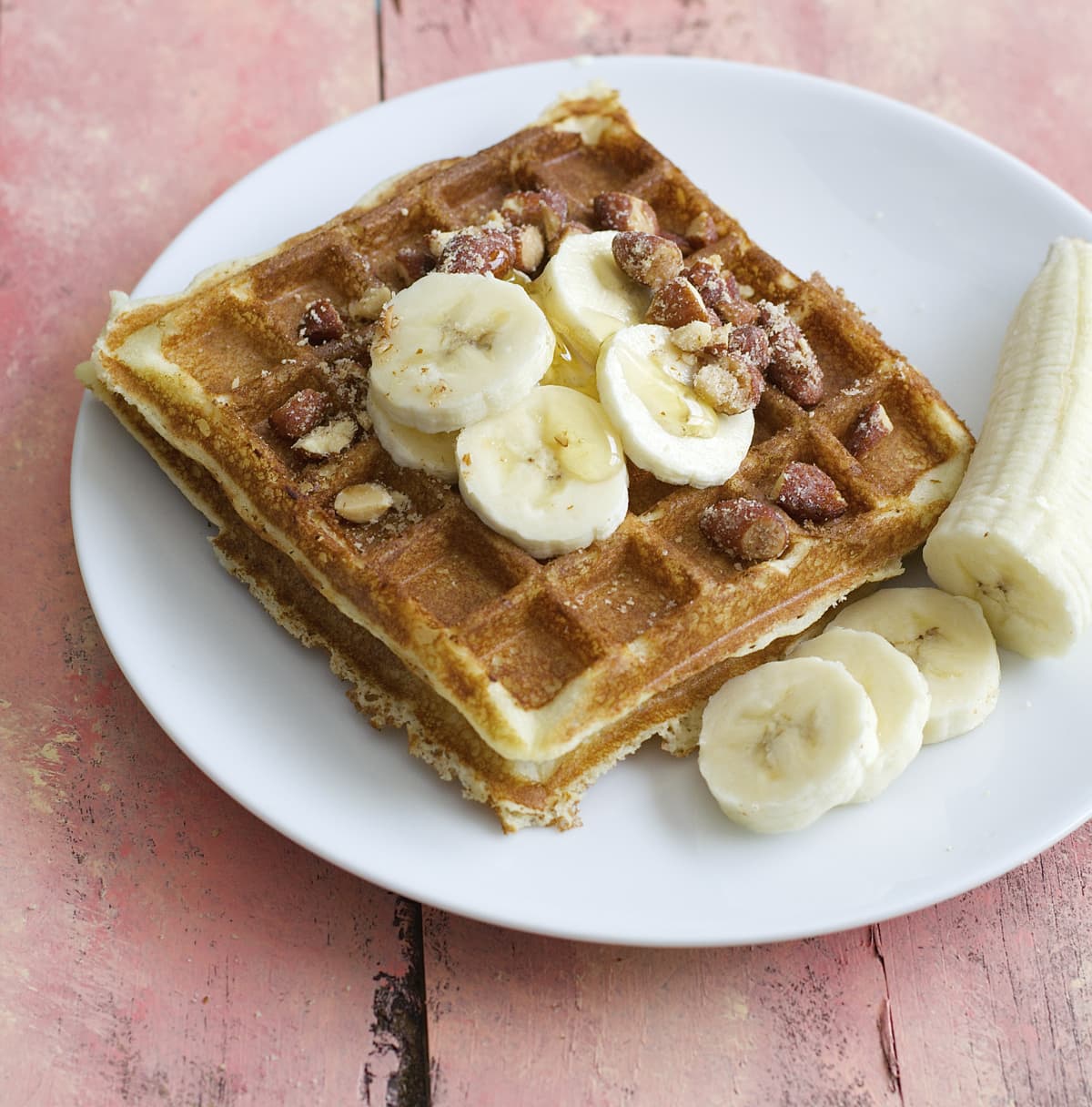 Ingredients for Banana Waffles:
Bisquick (gluten free version)
Baking powder
Salt
Bananas (Older bananas are sweeter and softer, but you can use bananas of any ripeness.)
Buttermilk (If you don't have buttermilk, you can use dairy or non-dairy milks instead.)
Honey (You could use maple syrup, agave, or other sweeteners, but I loved this combination with the almonds)
Egg (large)
Honey roasted almonds (You can use plain roasted or raw almonds, but I love the honey roasted flavor with the bananas!)
How do I make Banana Nut Waffles?
These are super simple! To make these soft and fluffy waffles, you simply toss your ingredients into the blender and give it a good spin! No mixing, hardly any measuring, just blend and pour into the waffle iron! Talk about simple!
The temperature and time to cook entirely depends on your waffle iron. If you have a small iron, it likely will cook very quickly (mine was in 2 minutes on medium heat). If you have a larger one (like a Belgian waffle maker), it will likely take longer.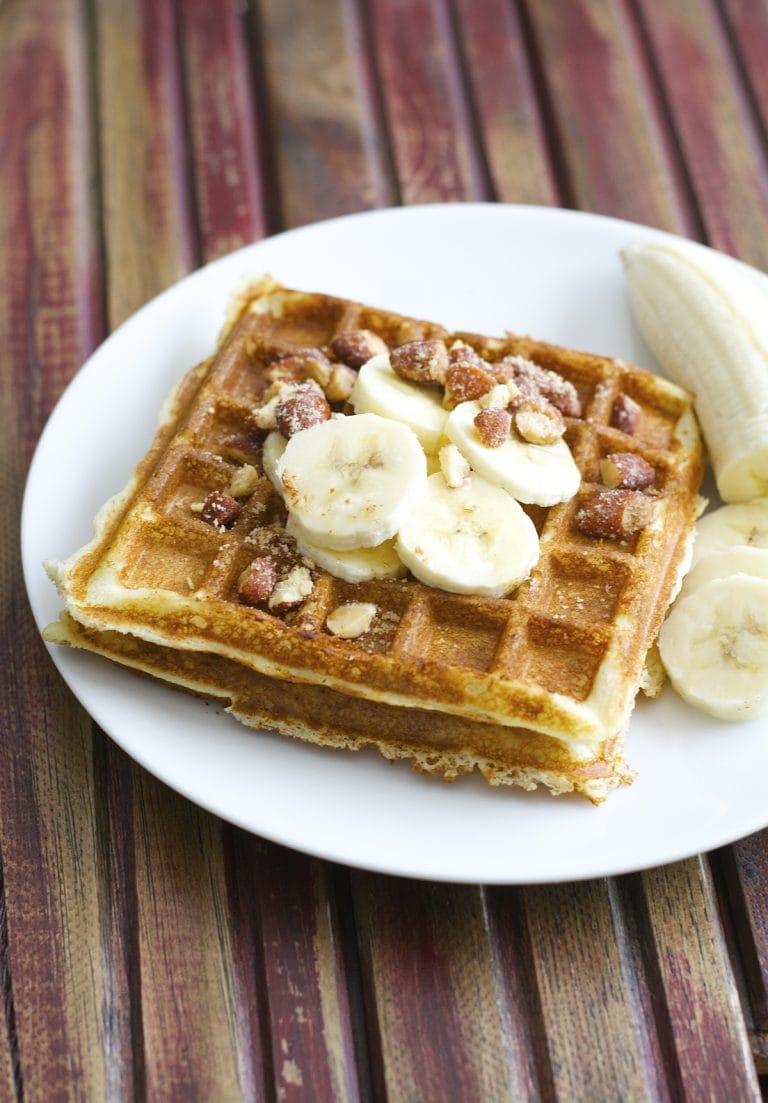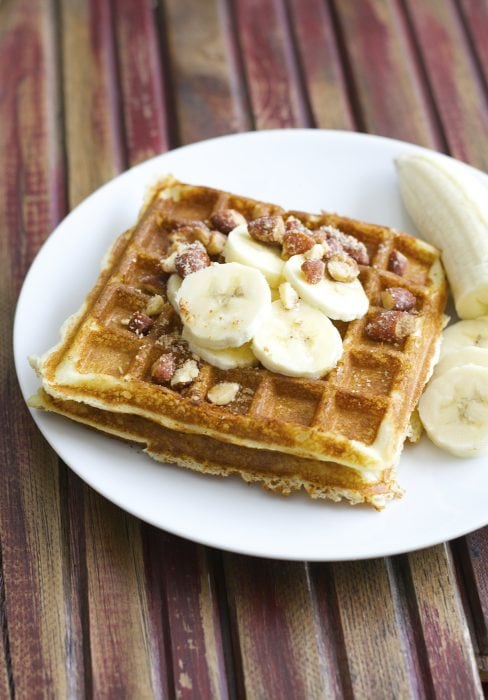 Can you meal prep waffles?
Absolutely! Waffles are the perfect meal-prep breakfast because they can be frozen or refrigerated, they can be eaten warm or cold, and you can eat them plain or decked out in toppings! If you're prepping for a large family, everyone can grab and warm their waffles the way they prefer, too.
Waffles can be kept 4 days in the refrigerator or 3 months in the freezer. To freeze, place cooked, cooled waffles so that they are not touching one another on a baking sheet.
Place the pan in the freezer for at least 2 hours. Then transfer waffles to a freezer-safe air-tight container. You'll be able to pull out what you need, so everyone in the family can make themselves a healthy snack or breakfast!
What is the best way to reheat waffles?
Reheating can be done in several ways, depending on what is most important to you: Speed, Quantity, or Texture.
Quickest: Microwave — Place waffles in a single layer on a plate and microwave in 45-second intervals until waffles are warm throughout.
Quick-ish & Crispiest: Toaster or Toaster Oven — Place waffles in toaster for 1 minute, then check every 30 seconds until you reach your desire level of crispiness.
Crispy & Easy for a Crowd: Oven — Place waffles in a single layer on a baking sheet and cook for 10 minutes (15 if frozen) at 300 degrees F.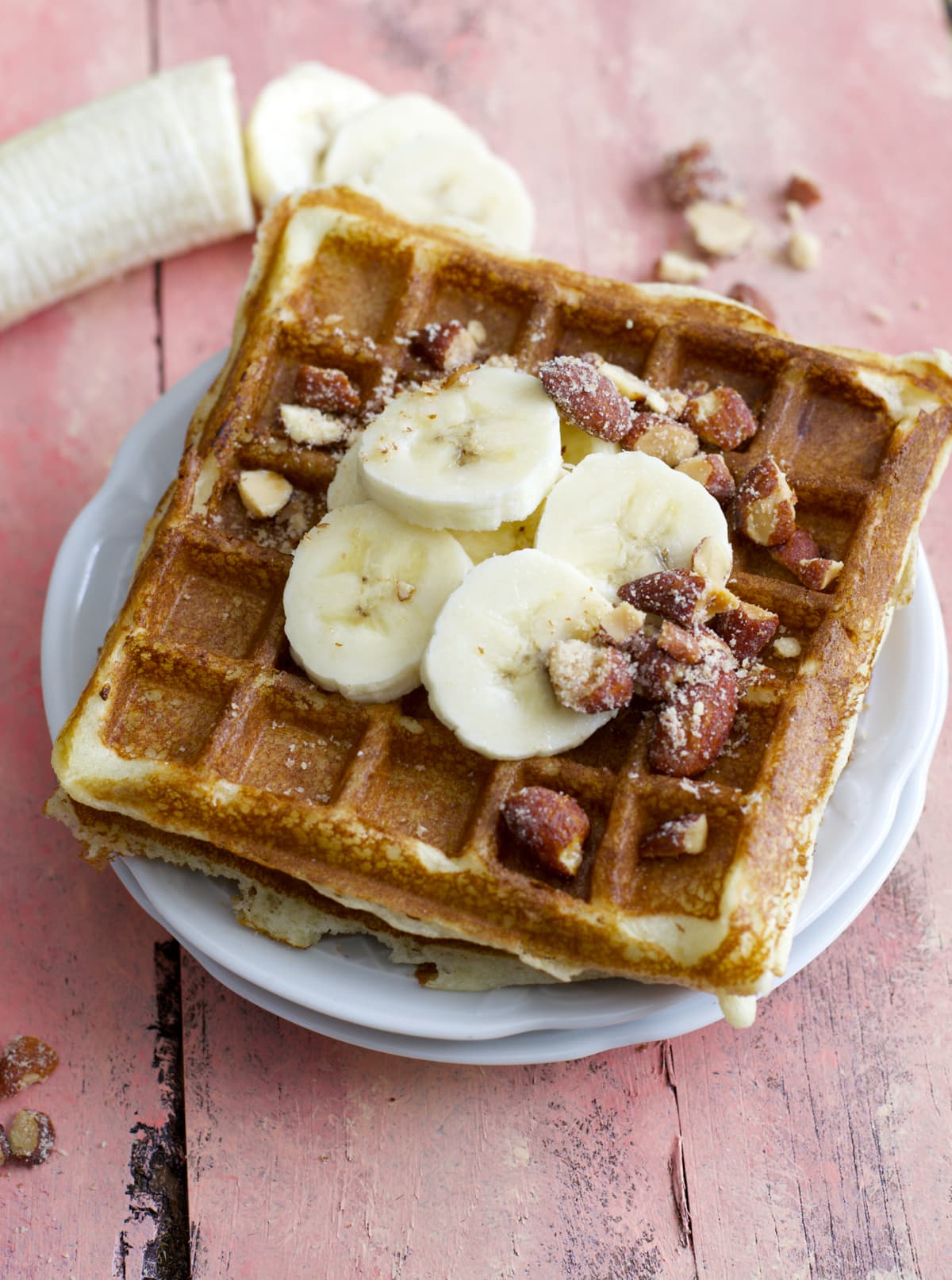 More Gluten-Free Brunch Ideas:
Savory Brunch Recipes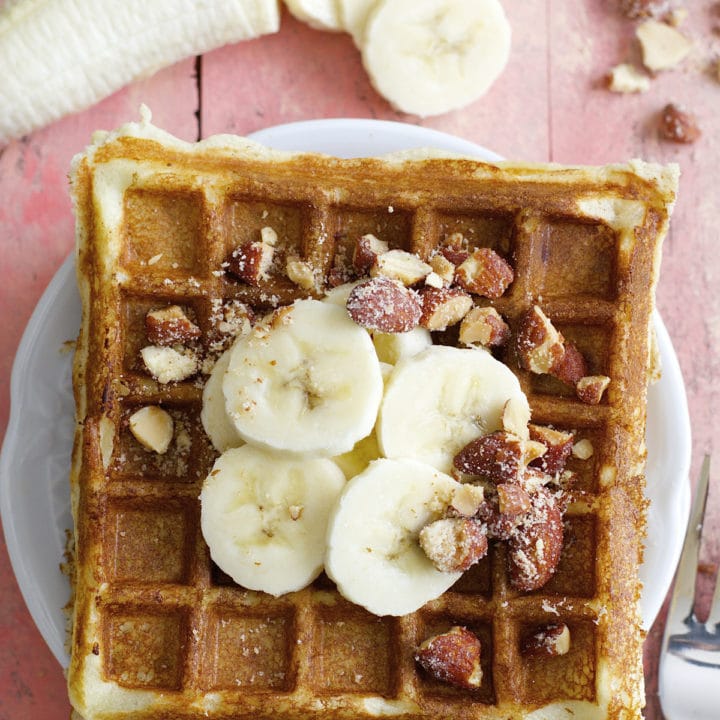 Banana Nut Waffles
Try these soft and fluffy Banana and Honey Roasted Almond Waffles for a simple and delicious brunch!
Ingredients
1 cup gluten free bisquick
2 teaspoons baking powder
1/2 teaspoon salt
2 bananas
1 cup buttermilk
2 tablespoons honey
2 eggs
1 cup honey roasted almonds, roughly chopped
Instructions
Add all ingredients except the Honey Roasted Almonds in a blender and blend until smooth.
Fold in the roughly chopped Honey Roasted Almonds.
Heat a waffle iron according to the manufactures directions.
Carefully pour the batter into the waffle iron and cook according to your waffle makers directions (I did medium heat for 2 minutes--If you have a large waffle iron, this will make fewer waffles & will take longer to cook)
Garnish with sliced bananas, honey and more almonds!
Enjoy!
Notes
I used a small waffle iron to make these. If you have a large iron (like a Belgian waffle maker), this will make fewer waffles and will likely need longer to cook.
Nutrition Information:
Yield:

6
Serving Size:

1 small waffle
Amount Per Serving:
Calories:

268
Total Fat:

11g
Cholesterol:

66.5mg
Sodium:

435.9mg
Carbohydrates:

37.4g
Fiber:

3.5g
Sugar:

14.8g
Protein:

8.1g