I am going to go ahead and warn you, I just purchased a new waffle maker, so get ready for waffle overload.
I don't know about you, but I thought I didn't like waffles for a long time because all I had ever had were frozen waffles. In my opinion, frozen waffles leave a lot to be desired, at least the gluten free versions do. But real homemade waffles. Holy cow. I am so in love.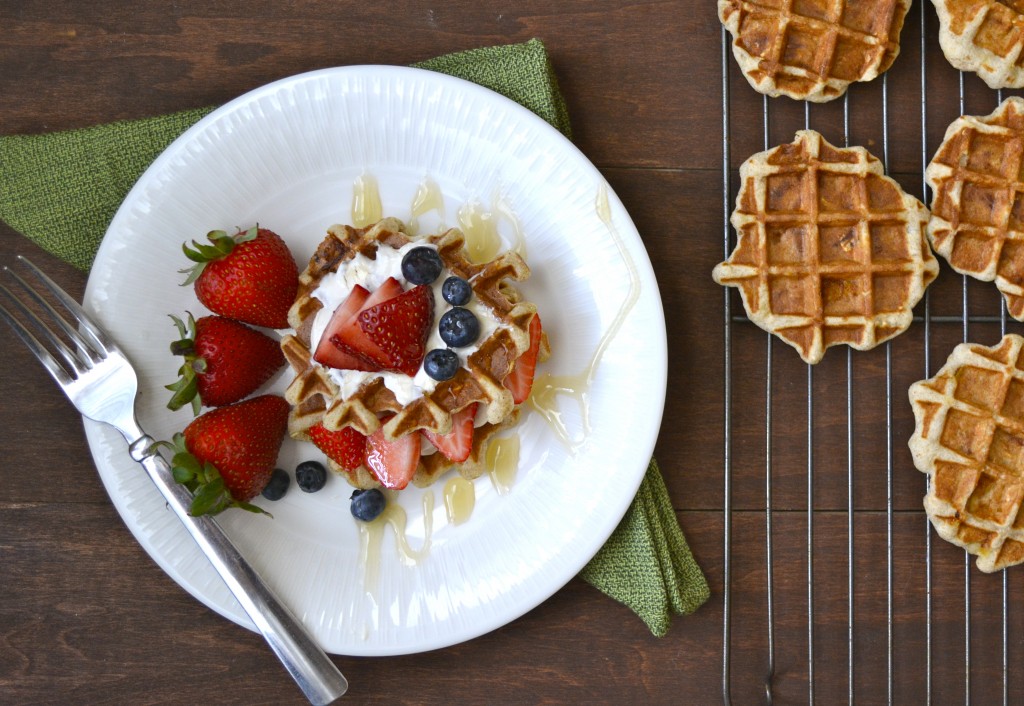 The first couple waffles I made were all savory, throwing in things like jalapenos, cheddar, diced ham, sweet peppers all kinds of fabulous things. When it comes to breakfast I will nearly always choose savory over sweet. Until I created these Banana Nut Waffles. These are filled with mashed bananas, oats, pecans, a bit of vanilla, and a dose of cinnamon for good measure. These Oatmeal Waffles have no added sugar, or anything artifical, making them the perfect, healthy way to start your day.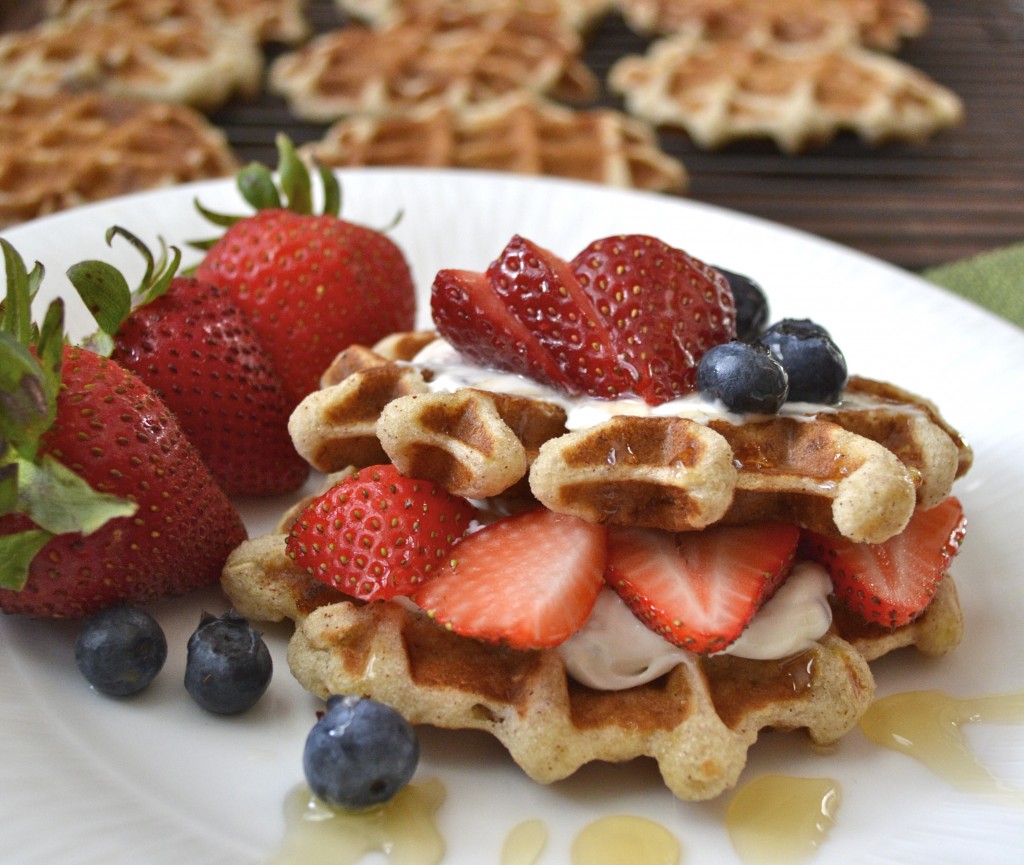 I can think of a ton of different ways you could eat these, spread with peanut butter, or dowsed in syrup. However, I prefer mine with a little honey nut cream cheese, fresh fruit, and a drizzle of honey. Look at that! Perfection!
I also didn't make mine full on big square waffles for two reasons. 1. I can't for the life of me, get the right amount in a waffle maker, I over fill or under fill every time. Is that just me? What am I doing wrong? 2. One big waffle is not enough for me and two is too many. So, baby waffles are the answer to my problem. I may be over thinking this.
So since I am pretty new to this whole waffle thing I want to know. What do you like? Sweet or savory? Full of stuff or plain and simple? Syrup or no syrup? And most importantly, how the heck can you tell what the right amount of batter is to make them perfect and square? I want to know your waffle making secrets!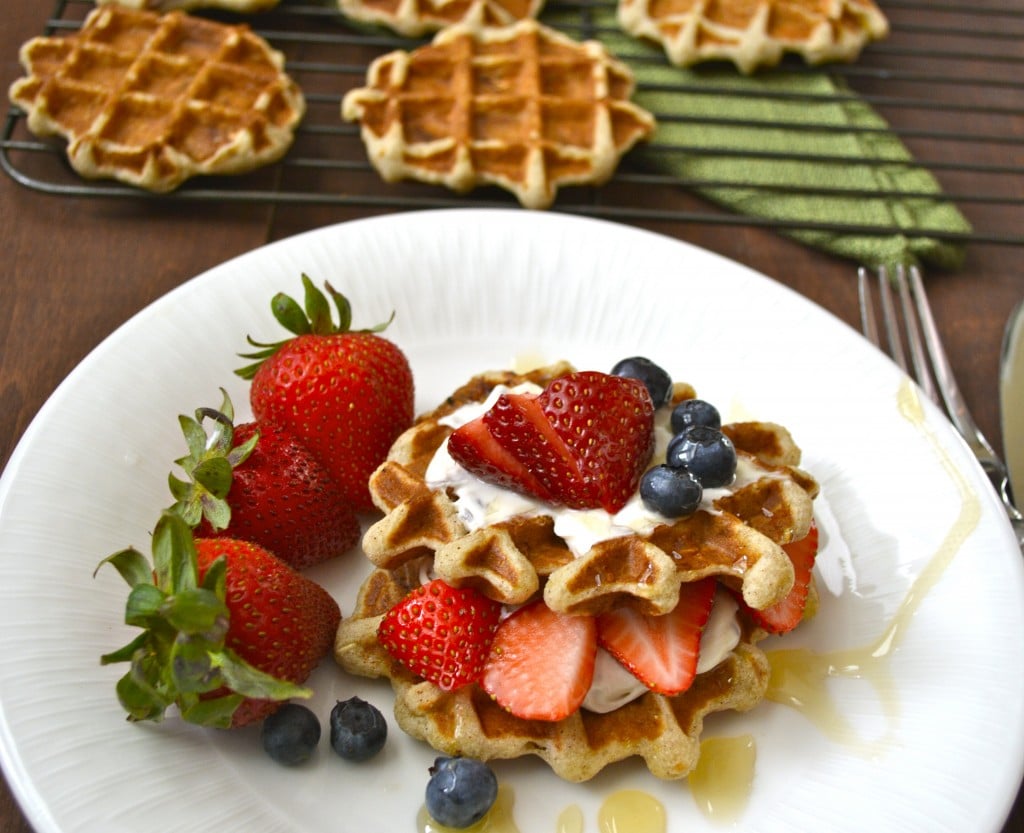 Yields 6
Banana Nut Waffles
5 minPrep Time
20 minCook Time
25 minTotal Time
Ingredients
2 brown bananas, mashed
1 cup AP flour or Bisquick (I used GF Bisquick)
1/2 cup old fashioned oats
1 teaspoon baking powder
1/2 teaspoon salt
1/2 teaspoon cinnamon
1 teaspoon vanilla extract
1/4 cup sour cream
1 egg
1/2 cup milk
1/3 cup pecans
Instructions
In a large mixing bowl combine the flour, oats, baking powder, salt, and cinnamon. Stir mixture until well incorporated.
Add in mashed bananas, vanilla extract, sour cream, beaten egg, and milk. Stir until everything is combined well.
Lightly sir in pecans.
Heat waffle maker according to manufactures instructions. When it is ready, place a heaping spoonful of batter in the center the plate, close lid until waffles are golden brown and steam has stopped coming from your waffle maker. (about 2 minutes with mine)
Great served warm or cold.
Makes approximately 16 small waffles, or 8-10 large waffles
7.8.1.2
65
https://www.maebells.com/banana-nut-oatmeal-waffles/
As always, I made this dish using gluten free ingredients. I use Glutino Gluten Free Pantry All Purpose flour or Gluten Free Bisquick in place of flour. I also use Bob's Red Mill Gluten Free Oats.