These Coconut Crusted Eggnog French Toast Waffles are the ultimate gluten and dairy free holiday breakfast!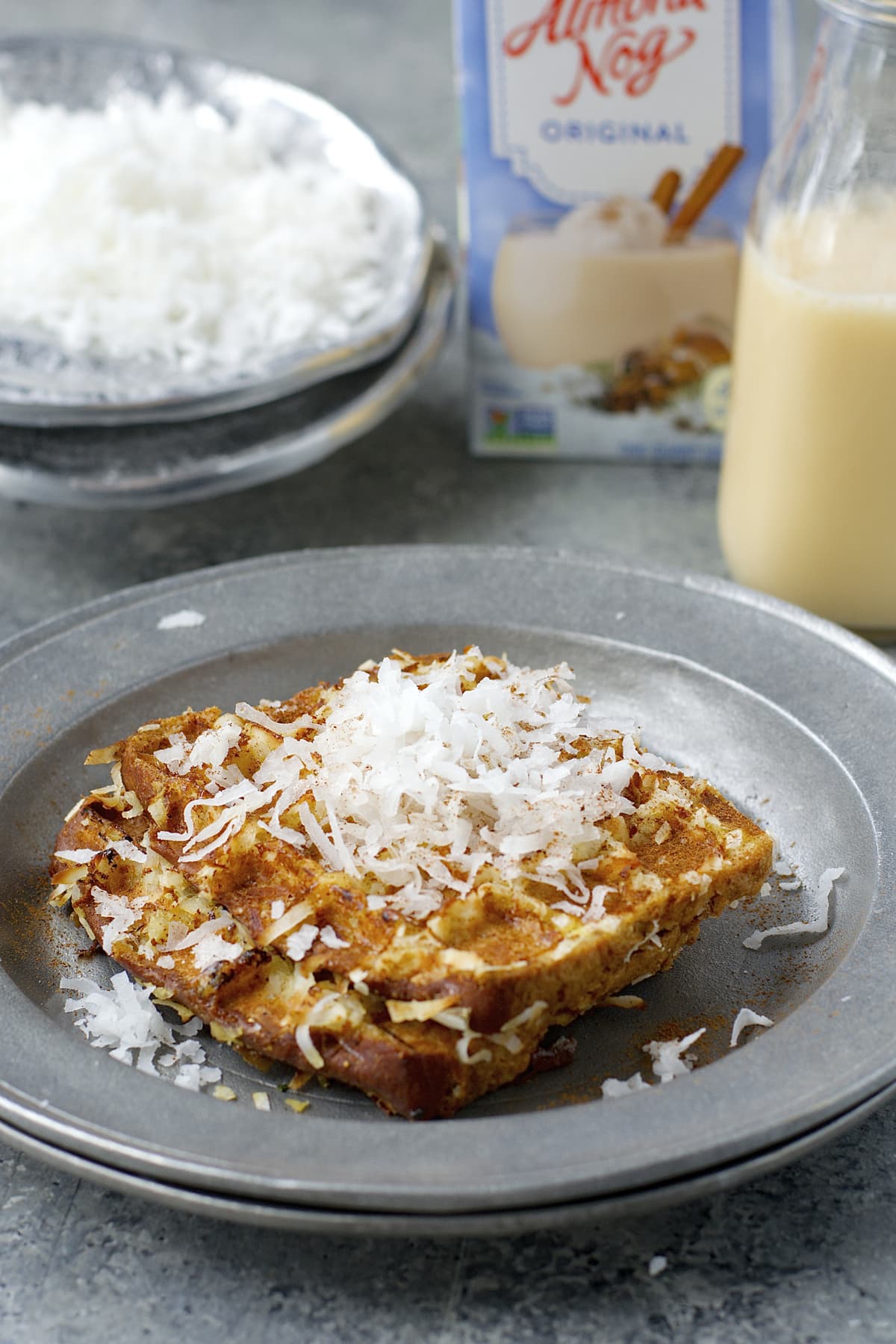 Around age six or seven I started to have this feeling that maybe Santa wasn't real. Warning: Spoiler alert 😉
I wasn't totally sure, but I was starting to see holes in this whole Santa story. A flying sleigh I could still wrap my brain around. I mean airplanes fly and I didn't really get that so why not sleighs? The flying rain deer I could even understand because I grew up on a farm and had seen tons of cows get out when we had no idea how so who knows?! Maybe animals do fly when nobody is looking.
It was the toys that got me. How did all the toys for all the kids fit into the one bag? So I formulated a plan, I was going to tell Mom and Dad I asked Santa for the Barbie with the matching horse and tell Santa I wanted the Barbie camper (which is what I truly wanted) and see which one came on Christmas morning.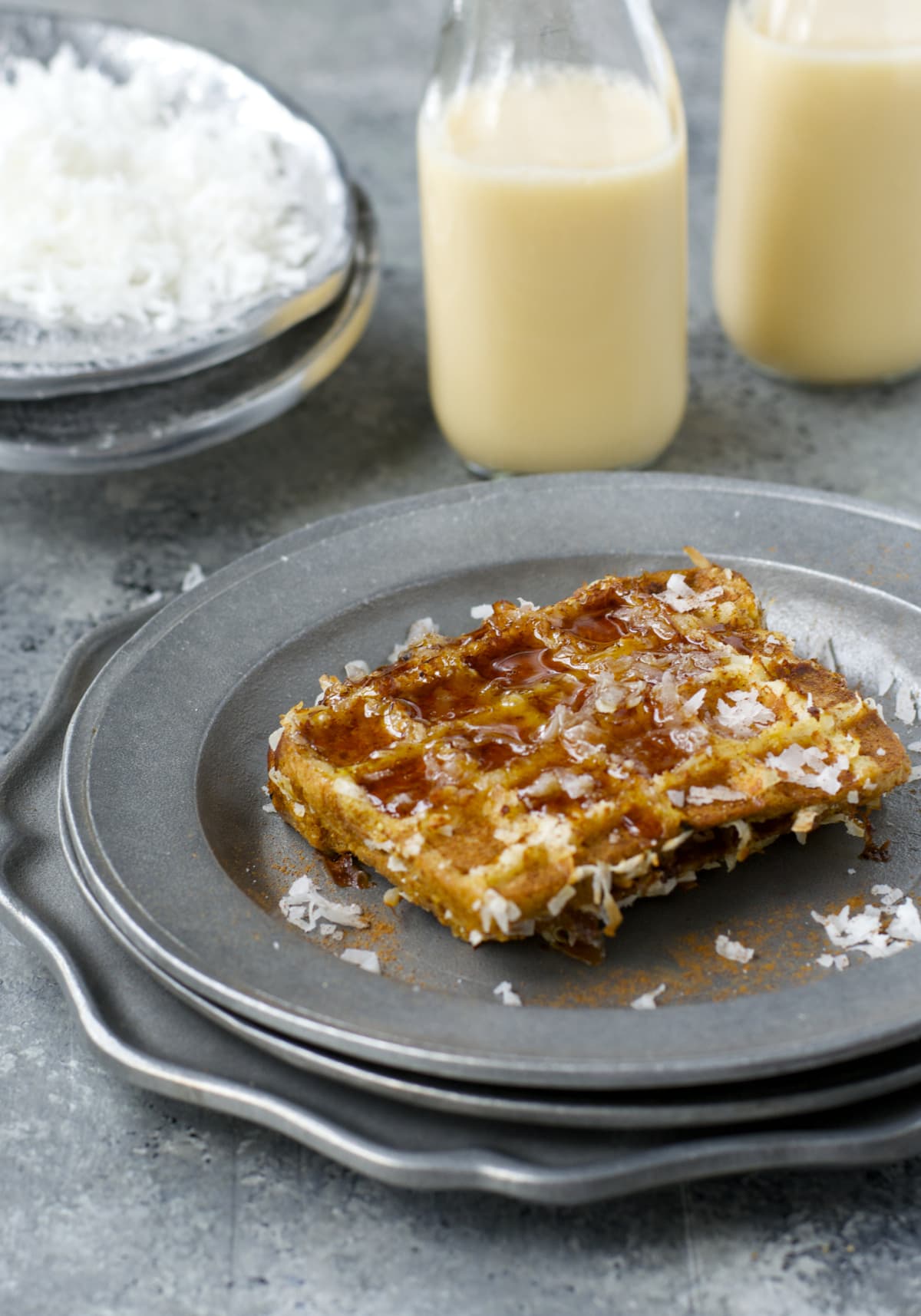 Well lo and behold when I ripped the paper off a big box there was a big picture of Barbie next to a walking horse. I remember eyeing my parents after that and wondering if I should tell them I knew the truth, but I had three younger siblings so I decided to play along. Christmas morning is such a fun morning full of excitement and wishfulness, especially when you are a kid, how can you not want to play along!
There is another thing that makes Christmas morning memorable. The food! We always had big breakfasts and Mom would make snack mixes and chocolate covered pretzels and eggnog and we would snack all day in our pajamas. Those are great memories!Now that we are all older and the air of mystery about the holidays is gone we all sleep a bit later and open our presents a little slower but we still celebrate with a big feast!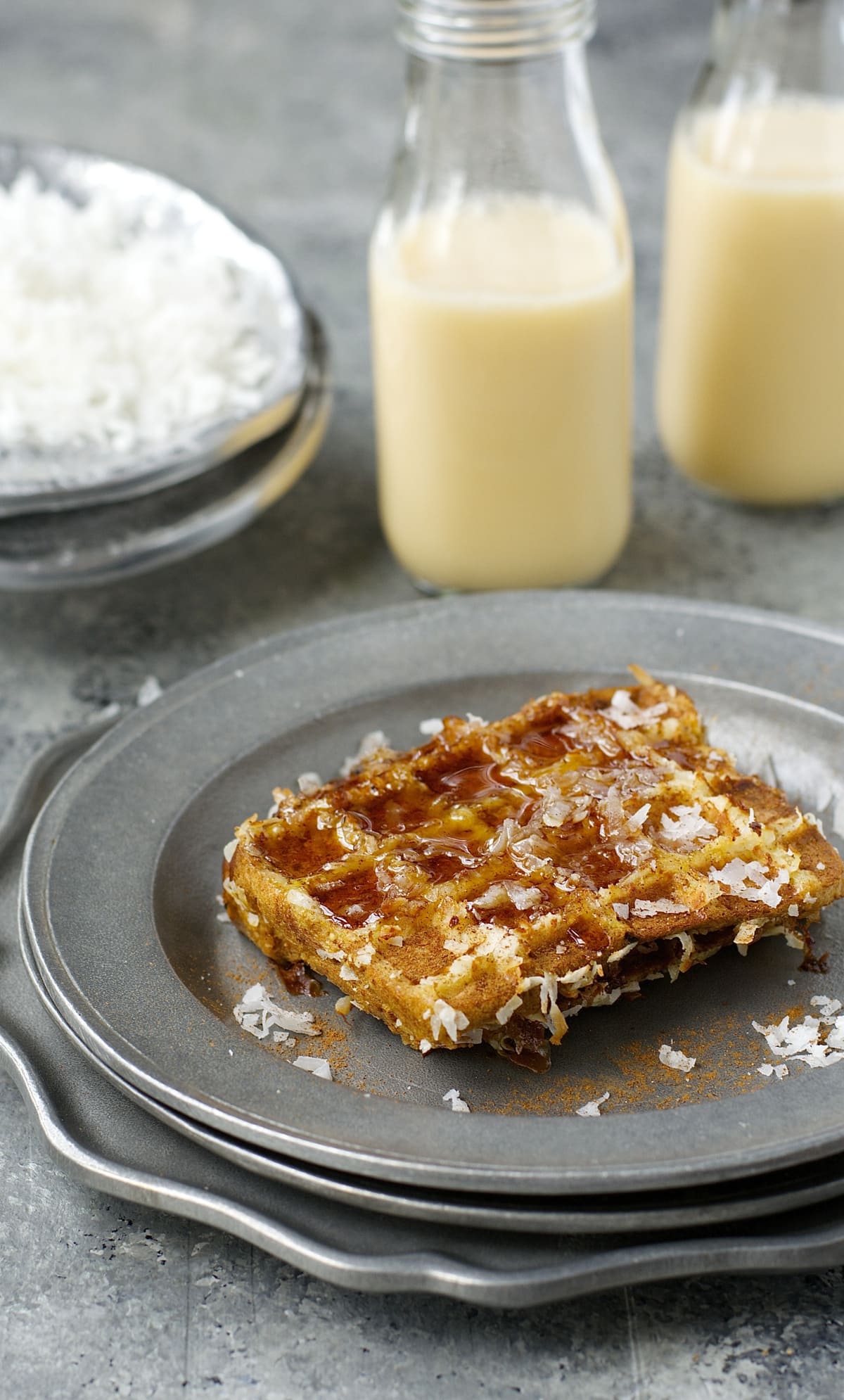 This Coconut Crusted Eggnog French Toast Waffles is an incredible holiday breakfast! It is simple to make and completely gluten and dairy free! For the eggnog I use Silk Holiday Almond Nog, it is made without eggs, dairy or saturated fat so it is a nice alternative to traditional eggnog and a great option for your guests with dietary restrictions. While the title is a mouthful and may sound complicated this is actually a super easy breakfast to whip up! You just combine Silk Holiday Almond Nog, eggs and a bit of cinnamon in a shallow bowl. Prep another bowl with shredded coconut and dip your bread into the eggnog mixture then dredge into the coconut and pop into your hot waffle maker! After about 2 minutes you have warm and delicious Coconut Crusted Eggnog French Toast Waffles!
Silk Holiday Nogs have 80 calories or less per serving. They are a delicious yet dairy free seasonal nog. You can enjoy three great holiday flavors including Silk Soy Nog Original, Silk Almond Nog Pumpkin Spice, and Silk Almond Nog Original. To see more recipes, download a free digital holiday recipe book and a coupon visit Silk!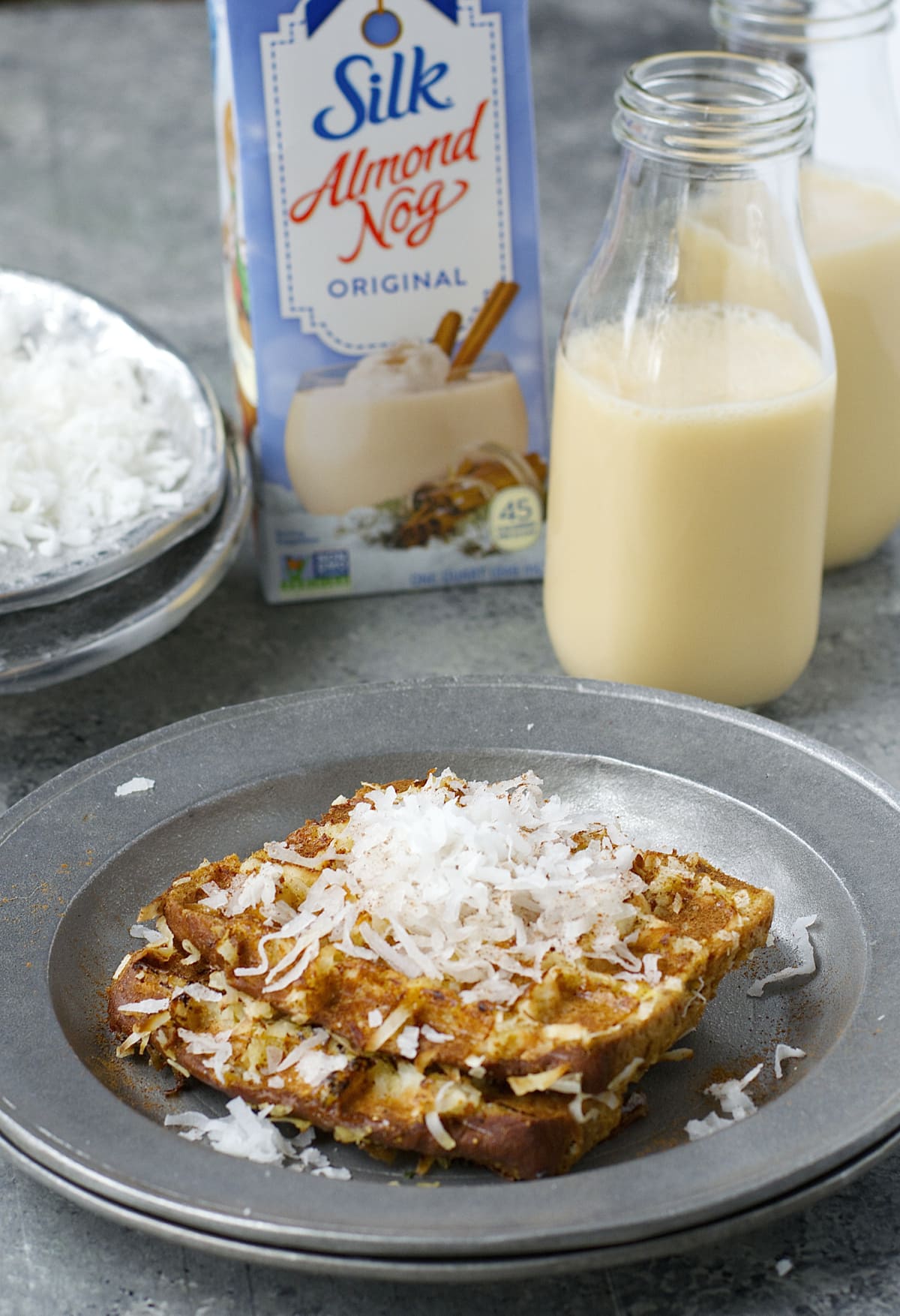 This is a sponsored conversation written by me on behalf of Silk . The opinions and text are all mine.