This Dark Chocolate Espresso Bread is packed with rich chocolate flavor and hints of espresso! An easy gluten free quick bread you will love!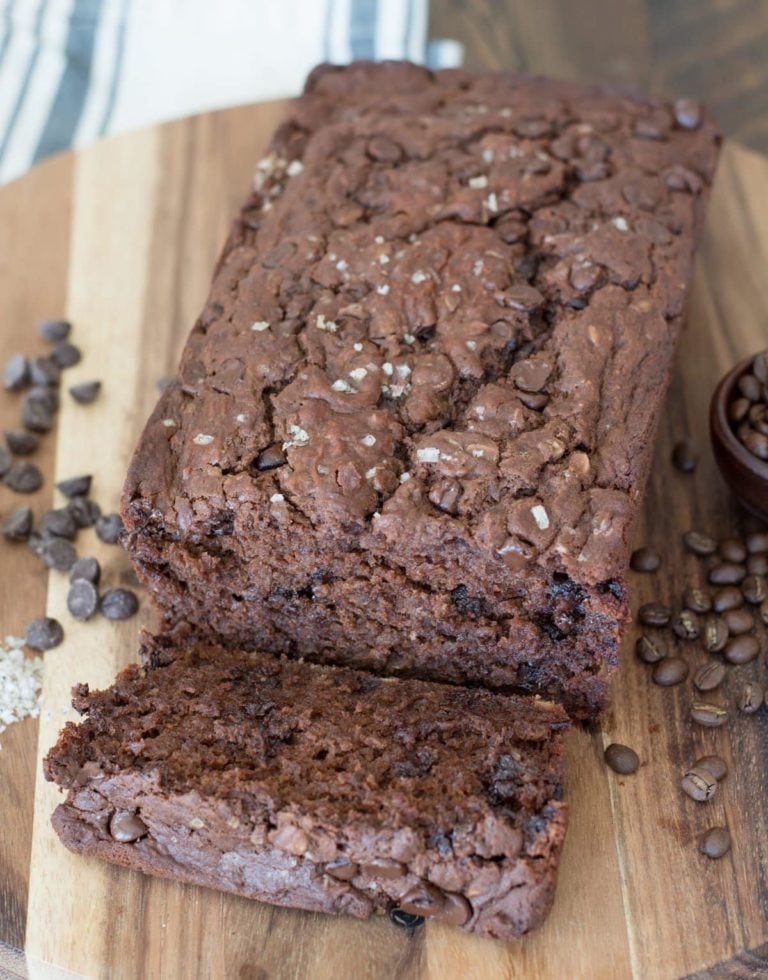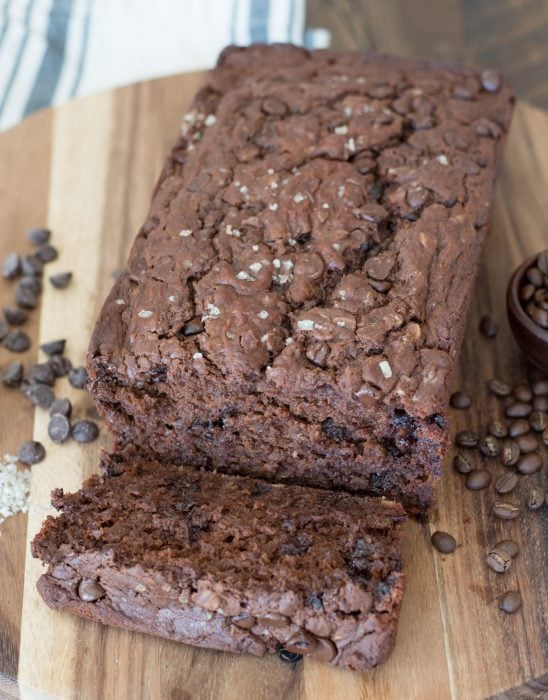 The mind is a powerful thing. We tell this funny story in my family about my Mom and her memory. It isn't so good. A couple years ago Mr. Maebell thought he left his ipod in my Mom's car. We mentioned it to her and she made all of these faces and said all of these things like "um…yeah"…"hmmm…I do remember that." Eventually she went from kind of sort of remembering it to "Oh, yes. I saw it. I actually used it. I remember walking around listening to it!" Mr. Maebell found it a few months later in his backpack. Had Mom ever had it? Nope. But she was pretty darn sure she had! See, the mind is a powerful thing.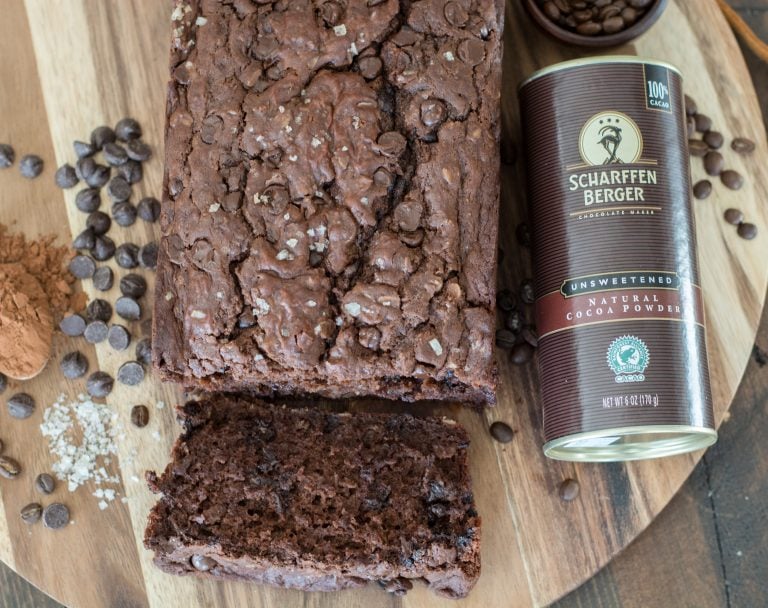 When I am craving something really decadent like fudgy dark chocolate brownies I try to make it in bread form instead.. I can say oh I will just have a slice of bread for a snack, or I have hardly had anything at all today, just a couple pieces of bread. Now mind you, my bread is topped with chocolate chips and if you put it in a muffin tin they would then be called cupcakes, but to me it is bread all the same. That is how this Dark Chocolate Espresso Bread came to be. I was craving "bread", you know the kind with lots of coffee and chocolate in it, and this fit the bill perfectly. It is a super easy, one bowl and done kind of snack. You will love it!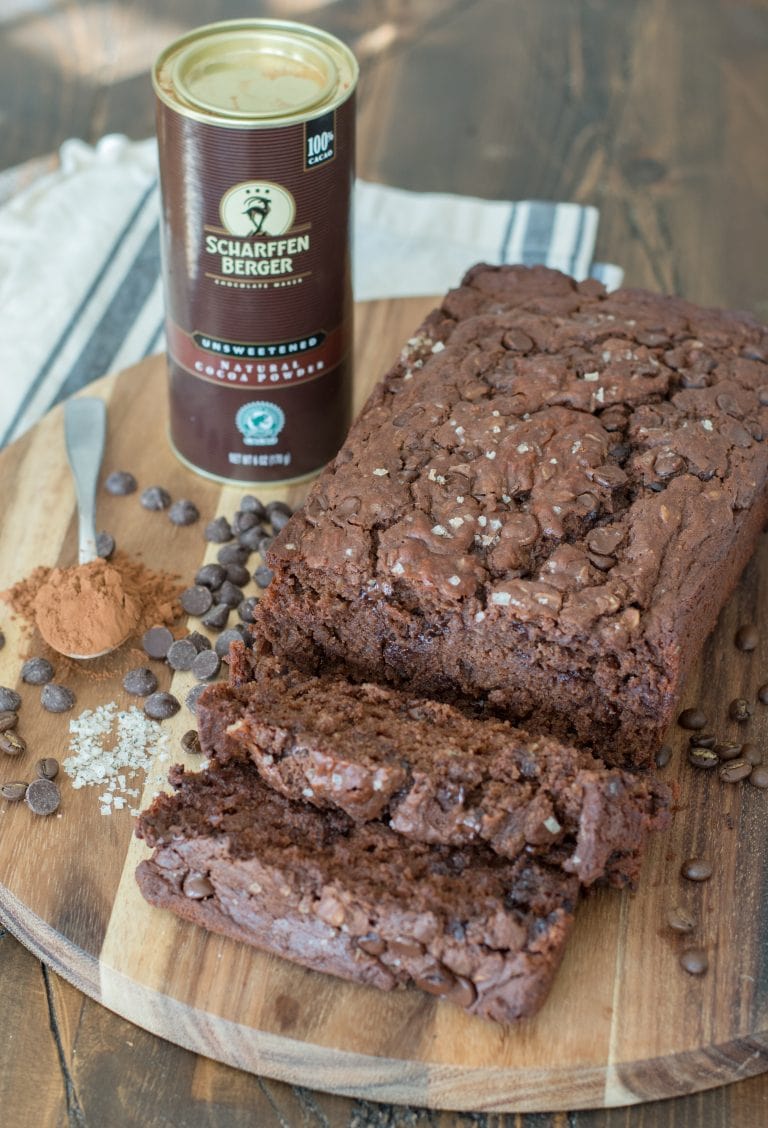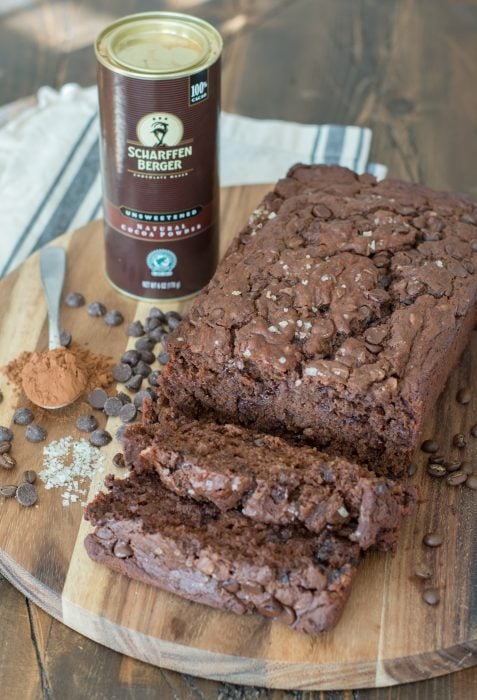 For this recipe I used SCHARFFEN BERGER 100% Unsweetened Dark Chocolate Cocoa Powder which adds an intense rich chocolate flavor perfect for this bread. It is organic, non-GMO, certified kosher, and gluten free which is perfect for our gluten free household. They are Rainforest Alliance Certified™ which means they craft deeply satisfying chocolate in a socially responsible way. SCHARFFEN BERGER Chocolate is made with cacao from Rainforest Alliance Certified™ farms. Which means this is a product that doesn't just taste delicious, but a product you can feel great about using. SCHARFFEN BERGER is not just focused on creating an amazing product created from the finest cacao beans from around the world, they are focused on doing it in a responsible, sustainable way.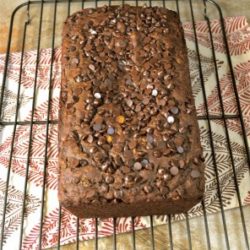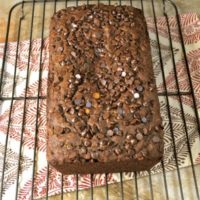 Dark Chocolate Espresso Bread
 This Dark Chocolate Espresso Bread is packed with rich chocolate flavor and hints of espresso! An easy gluten free quick bread you will love!
Ingredients
1 1/2 cup Gluten Free Bisquick
1 cup Gluten Free Old Fashioned oats
1/2 cup Cocoa Powder
2 teaspoons baking powder
1/2 teaspoon salt
1 package vanilla instant pudding mix (3.25 ounce)
1/2 cup lightly packed brown sugar
1 tablespoon instant espresso powder disolved in one tablespoon hot water
3/4 cup oil
1 1/4 cups buttermilk
2 eggs, beaten
1 cup dark chocolate chips, divided.
Optional: sea salt for sprinkling on top
Instructions
Preheat oven to 350
Mix flour, oats, Cocoa Powder, baking powder, salt, vanilla pudding mix, and sugar, combine well.
Add wet ingredients and half of the chocolate chips to dry ingredients, mix well.
Pour into greased loaf pan, top with remaining 1/2 cup of chocolate chips.
Bake for 1 hour.
Nutrition Information:
Yield:

12
Serving Size:

1
Amount Per Serving:
Calories:

269
Total Fat:

20g
Saturated Fat:

5g
Trans Fat:

0g
Unsaturated Fat:

16g
Cholesterol:

34mg
Sodium:

510mg
Carbohydrates:

26g
Fiber:

3g
Sugar:

17g
Protein:

6g
To avoid any confusion I remove erythritol from the final carb count and net carb count, as it is not known to affect blood glucose levels. To calculate Keto recipes listed on this site carbs - fiber = net carbs. I use Nutrifox as my nutrition calculator. This nutrition information is an estimate based on the information provided by Nutrifox and the specific ingredients I used.