I've gathered our best Easy Keto Pumpkin Recipes in this roundup to make your low-carb Autumn as delicious as ever! Every recipe has just 5 net carbs or fewer, allowing you to eat what you love while staying keto!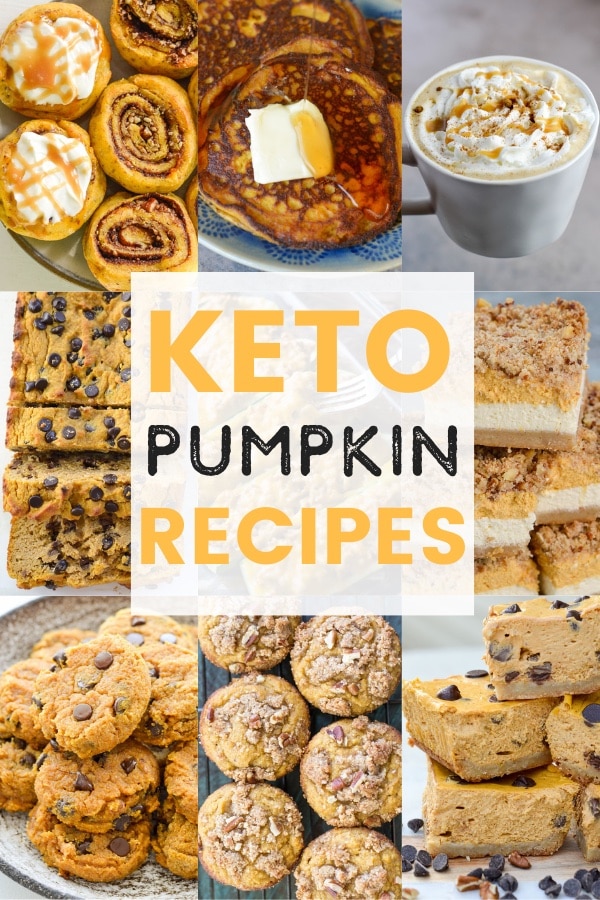 These pumpkin keto recipes make fantastic gifts, party foods, breakfasts, snacks, and desserts. You'll love these so much, you'll keep a can of pumpkin in the pantry year-round!
Can you have pumpkin on keto?
Absolutely! Pumpkin is a winter squash that is relatively low-carb. The trick is all in making sure the things you add to it are low in carbs as well. You're still going to want to use sugar substitutes like Swerve or Monk fruit.
When buying canned pumpkin, make sure you are not purchasing cans that have additives. A 1/2 cup serving of canned pumpkin has 7 net carbs while raw pumpkin has 6.9 net carbs in a full cup.
Should I use raw pumpkin or canned pumpkin?
In these recipes, I've used canned pumpkin, but you can use pumpkin you prepare yourself! Depending on the time of year, it might be difficult to find fresh pumpkins, so canned is always going to be more convenient.
Even if you buy a fresh pumpkin, you still have to roast it and blend it before using it in these recipes. Making your own pumpkin puree isn't super convenient, but it does have its benefits!
Obviously one huge positive is that you know, without a doubt, what's in your food. In addition, you can create a puree with different types of winter squash to provide more complex flavors or even add seasonings you already know you may want.
How do I prepare pumpkin puree?
There are some very detailed guides for making your own pumpkin puree, but I'll just give you a quick rundown. First, you'll need a 3.5+ pound pumpkin for 2 cups of puree.
Cut the pumpkin into quarters, then scoop out the insides, just like you do for making a jack-o-lantern. Once the innards are scooped out and discarded (or maybe the seeds saved for roasting), place the pumpkin quarters on a baking sheet. Roast them (skin side up) at 300 degrees F for 1.5 hours or until fork tender.
Scoop out the tender "meat" of the pumpkin and leave the rind. Place the pumpkin meat into a blender or food processor and blend until smooth. At this point, you're free to add seasonings if you'd like!
Now, let's see those pumpkin keto recipes!