These no bake Double Chocolate Protein Bars with Coconut and Pecans are packed with oats, puffed rice, fruit, nuts, protein powder and chocolate! They are a cinch to make and give you a boost to get through the day!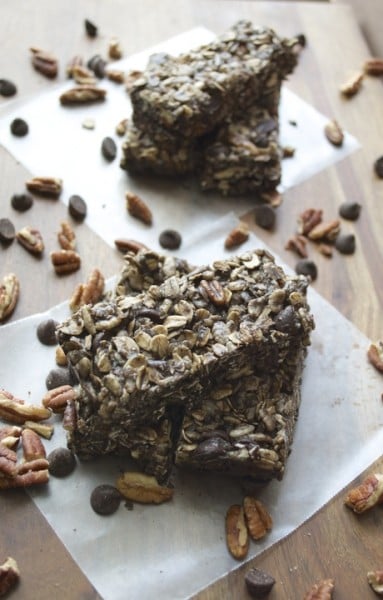 I go through fazes.
I can go from ninety to nothing in a day. I can be so totally all into one thing, then totally uninterested the next day. Urgh. I really hate that about myself. I am trying very hard to change. To be a finish what you start-always do what you say you will do-make it happen kind of person. I feel like I am about 75% of the way there, but not quite where I want to be.
Two years ago we started revamping our house. Yes, two years. We tackled the floors, tiling, painting the walls and cabinets, new furniture, and new lighting, and then I hit a wall. I didn't want to look at paint colors, carpets, cabinets, tile, light fixtures…no, just no. I was over it.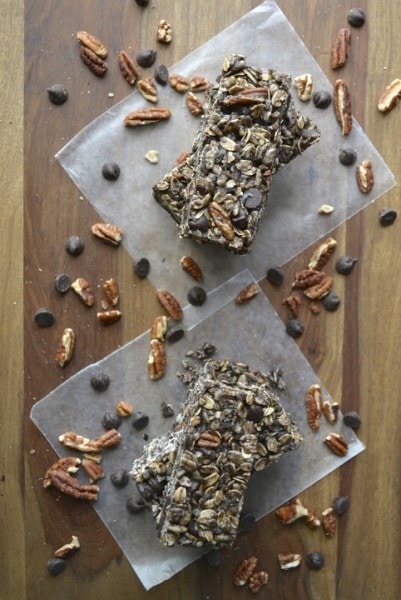 So our little remodel never made it past the front rooms of our house. Leaving the bedrooms and bathrooms untouched. You know what? I didn't care. Not one bit. I just kind of thought..okay if we have house guest I will just close the doors or something. For two years my I don't care attitude stayed. We had bedrooms with bare white walls and all was right with the world.
Until last week.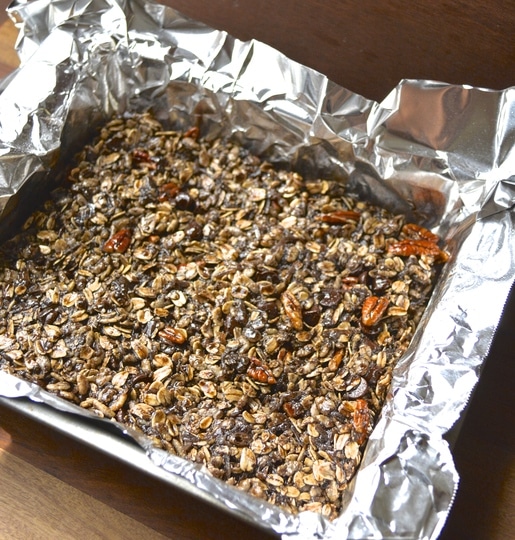 I woke up and on my way to the kitchen glanced into one of the guest rooms. Urgh…I hate you, I thought. White walls, plain carpet, cheap blinds. I walked to the front of the house, made a cup of coffee and looked at my pretty kitchen. Everything was in its place. Everything was exactly how I wanted because I had done it. Then I remembered I had once hated this kitchen. The cheap, stained laminate flooring, the ugly cabinets, the plain light fixtures. I peeked around the corner into the living room. My nice living room with pretty barnwood floors and lovely drapes. The living room that once had dingy carpets and an Ikea coffee table. It was a nice living room because I had made it nice.
A seed had been planted.
I stood in the door way of the plain, untouched guest room, coffee in hand and the wheels started turning. Suddenly, paint colors and light fixtures seemed interesting again! The humble little room in front of me had so much more potential than I had ever thought!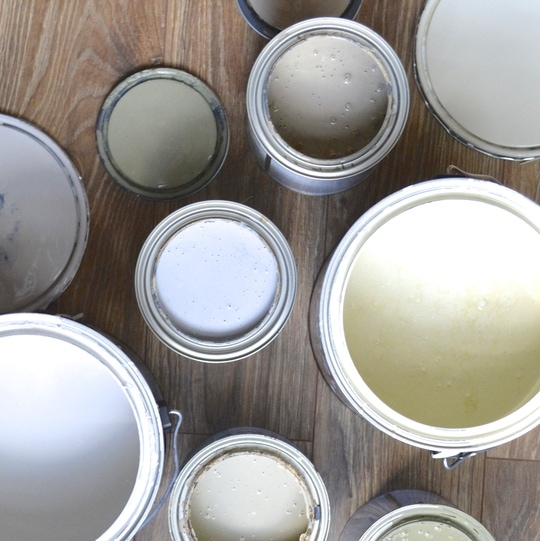 So, as I mentioned on Monday, I spent an entire weekend covered in paint. The room is far from finished. There is still a lot I want to do, but this morning I woke up, walked to the front of the house and glanced into the guest room. The pretty, freshly painted room with new furniture, new curtains, and new picture frames and I smiled.
It is pretty because I made it pretty. It is just how I want it, because I did it.
Sometimes we need to be reminded the only thing standing in our way is ourselves. Sometimes you just need to make it happen.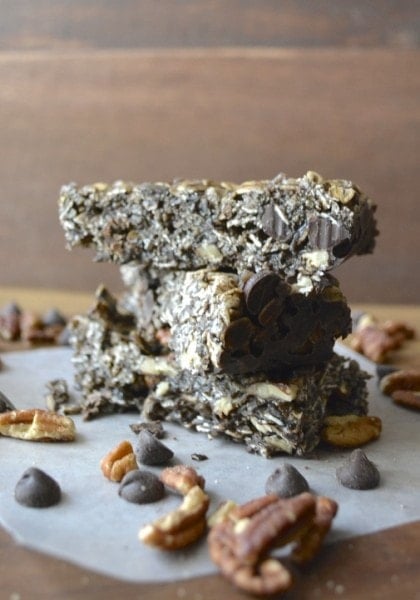 Of course a little help is never a bad thing! I made these Double Chocolate Protein Bars with Coconut and Pecans to give me something to snack on during the weekend. They take all of five minutes to make and require no baking. They are the perfect little pick me up that is totally guilt free!