Truth be told, I resisted the Quinoa bandwagon for a long time. I have no idea why. It can be kind of expensive. I didn't really think it had much flavor…I don't know. I just didn't get it.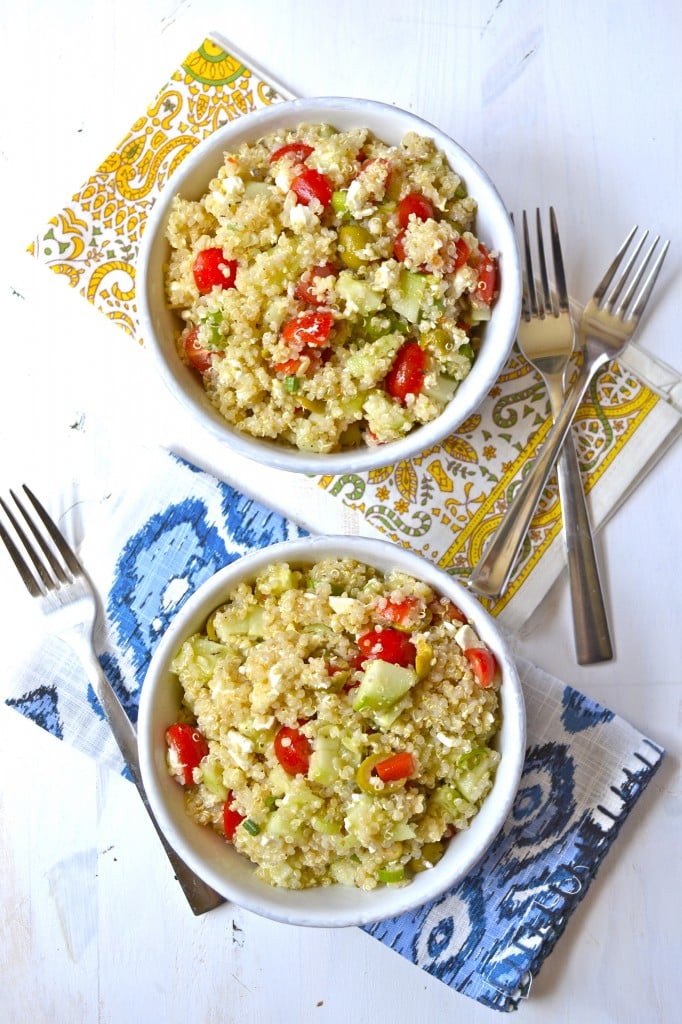 Then it dawned on me. It has pretty much zero flavor, but it is a super food. So just put whatever flavors you actually want in there and the quinoa will soak it right up. This lead me to doing a bit of experimenting.
One of my all time favorite salads is a nice, big Greek salad. You know what I mean, big chunks of fresh crunchy cucumber, little tomatoes bursting with juice, freshly crumbled Feta cheese, throw in a handful of olives and I am in heaven. So, I decided Greek Quinoa salad was the way to go!
This was really lovely and took just 15 minutes to prepare! So here is how I did it. Just bring a couple cups of water to a boil. Then throw in some quinoa and let it do its thing. Meanwhile, chop whatever vegetables you prefer. I used cucumbers, tomatoes, green onions, and then added feta and some roughly chopped olives. When your quinoa has absorbed all of the water just throw it into a big bowl, toss with your favorite Greek or Italian salad dressing, throw in your fixings and that is it!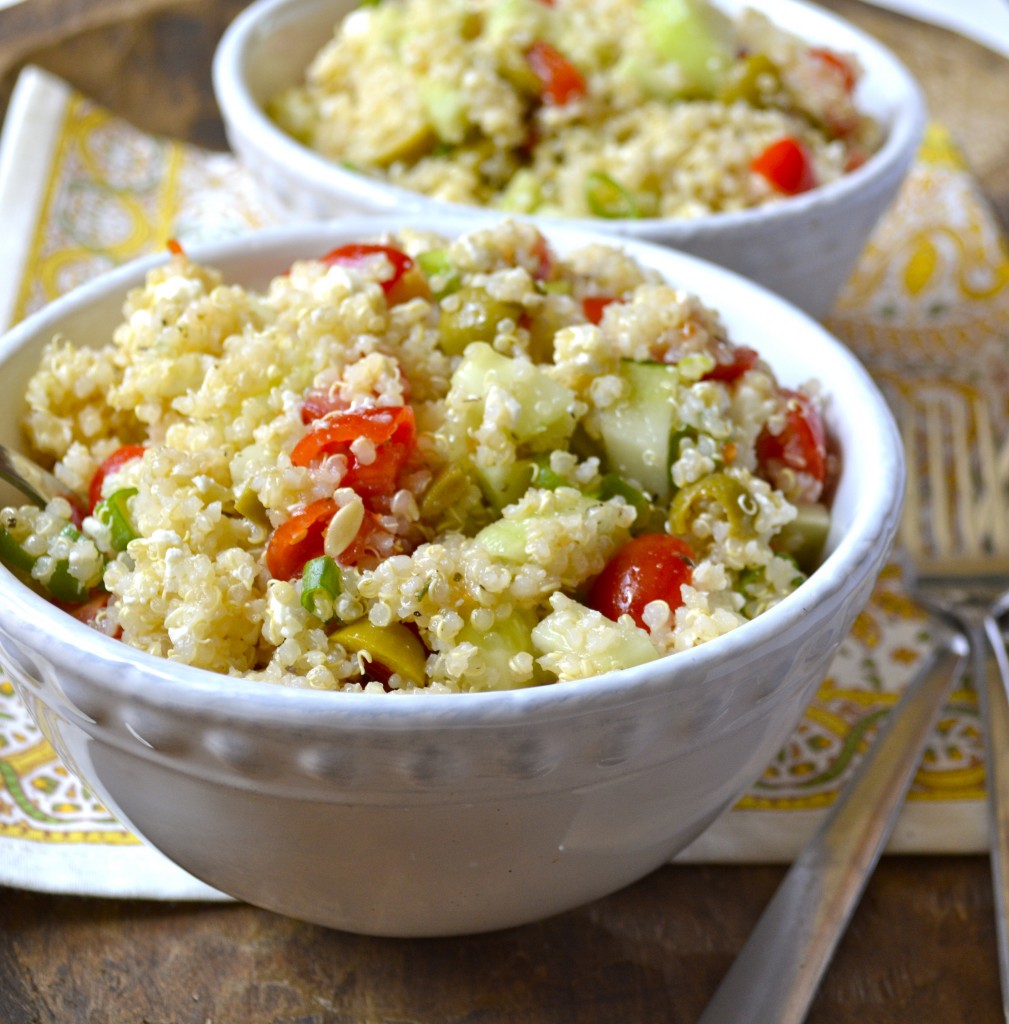 A big healthy dinner that requires very little effort, hardly any time at all, and no sinkful of dirty dishes to clean up!
I brought this as lunch almost everyday last week. I actually preferred to eat this over a bed of baby spinach, instead of just by itself. I liked the texture the spinach leaves added, but it is totally up to you. And of course you could just eat this as a side dish instead of the main event. This does make a generous amount though. So, if you are feeding less than 4 or using as a side dish you may want to half the recipe.
This is great served with a Grilled Zucchini Hummus Wrap, Greek Salad Wrap, or these super easy Chicken and Zucchini Skewers!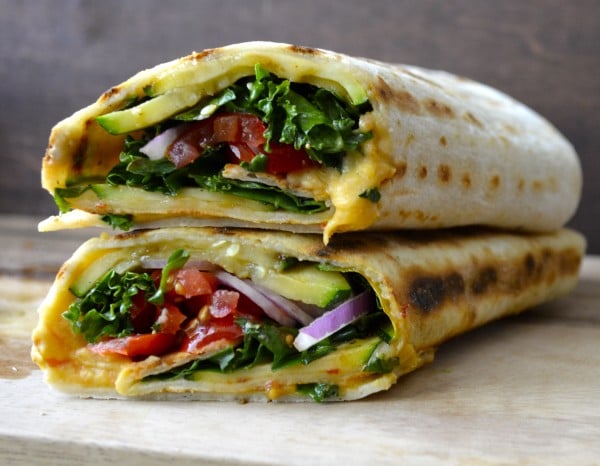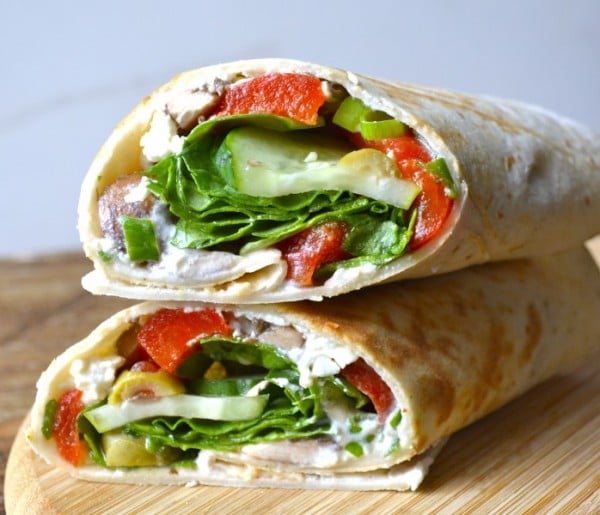 Greek Salad Wrap with Roasted Red Peppers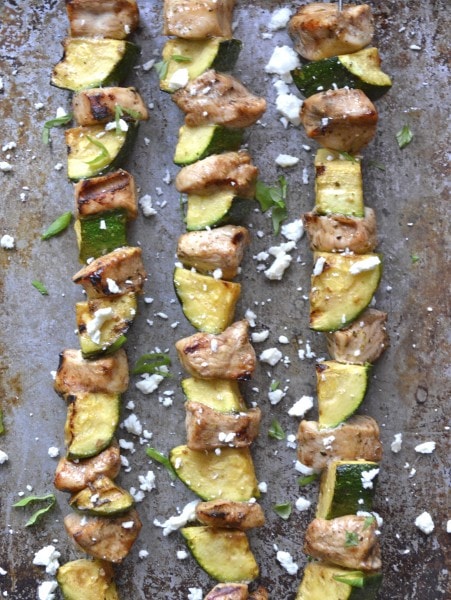 Grilled Balsamic Chicken and Zucchini Skewers with Feta