Ham and Swiss Puffs are the perfect dinner for busy weeknights! Easy to meal prep, versatile, quick to make, and gluten-free!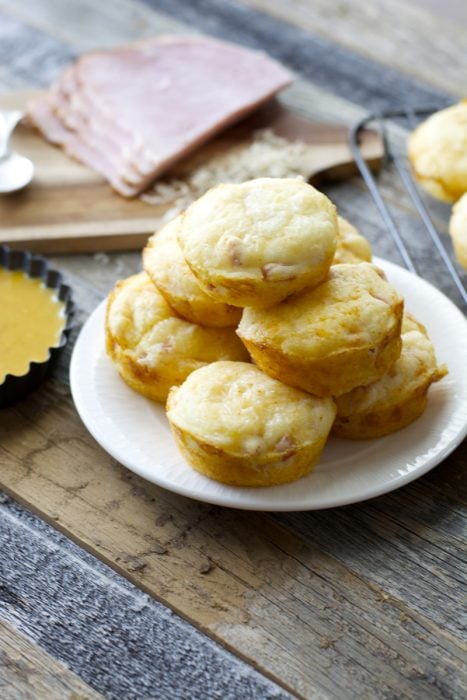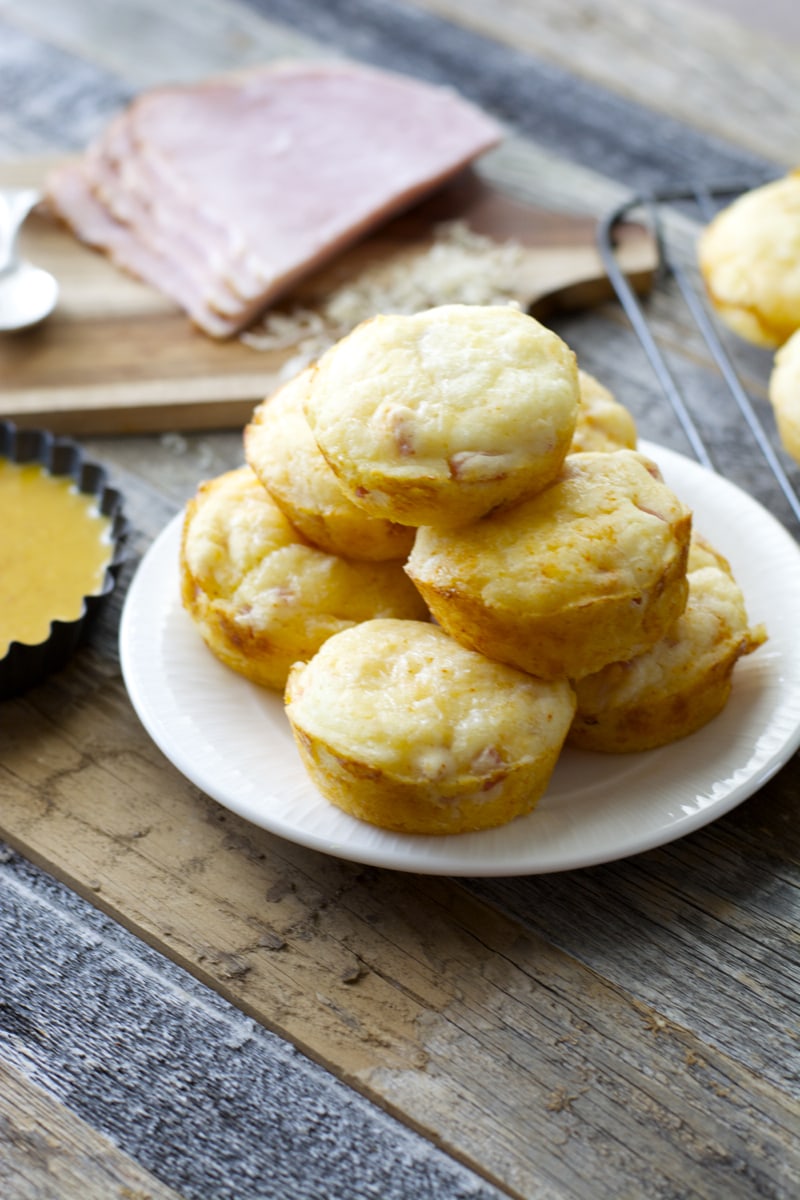 Somehow, my husband can take the exact same thing to work every single day and not think twice about it. A sandwich, some chips, and some form of chocolate, and he is good to go. Undoubtedly, he is a creature of habit.
On one hand, it is kind of wonderful considering that he has Celiac so his options are limited. I am glad he doesn't complain or get tired of things easily. I, on the other hand, am super high maintenance.
Packing different things for lunch every day makes me happy. Sometimes hot, sometimes cold, but always something different. If I had to eat the same thing two days in a row I would go crazy.
For that reason, I love to make any sort of Puff recipe! The versatility, ease and simplicity of bringing them to-go makes them a lunch favorite for me. Some of my favorites are BBQ Chicken Puffs, Spinach and Havarti Puffs and Supreme Pizza Puffs.
Seriously, I can't get enough of these things! One of my favorite tricks is to make the puffs and scoop them into the muffin tins, then add extras to them. A little chopped bell pepper, some feta, or a bit of chopped basil or spinach.
That way, even if I take these for lunch a few days in a row, they taste different. Pepperoni one day, supreme the next, spinach and feta, etc. You get the picture.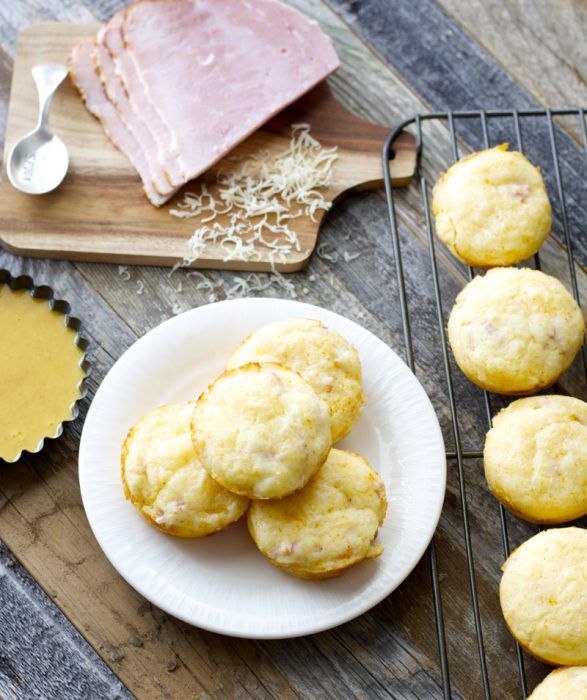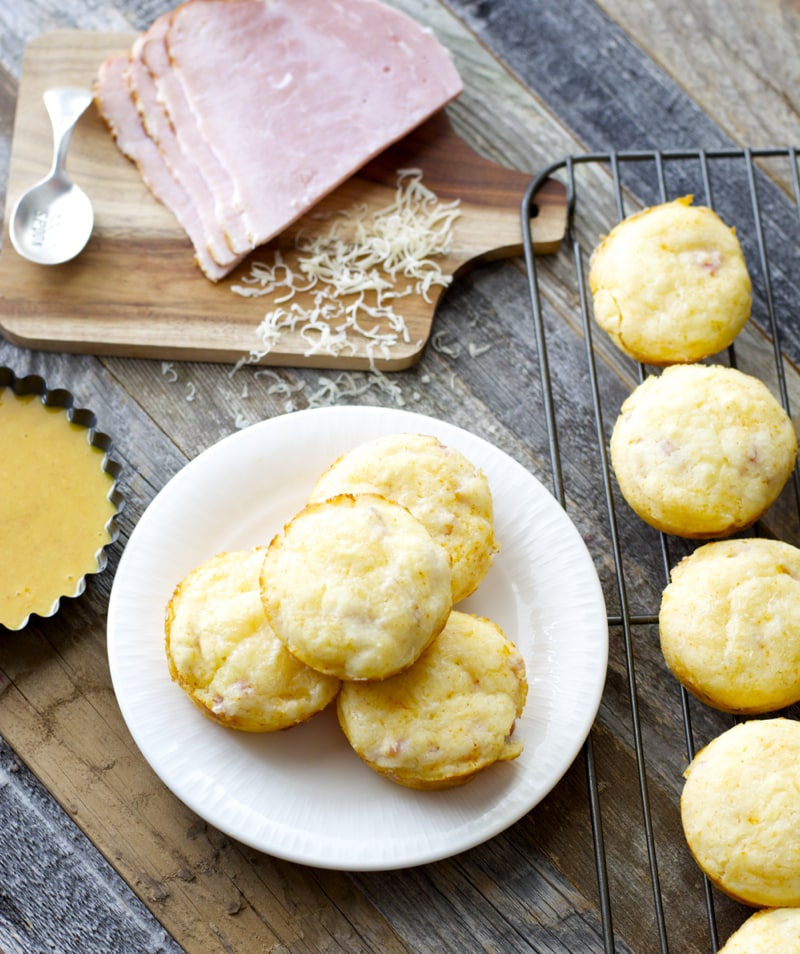 But even with all that variety, I still like to change up the flavors completely. That is how these Ham and Swiss Puffs came to be! Personally, a good warm and toasty ham and swiss is probably my favorite sandwich. I loved the idea of turning it into a nice and easy portable puff.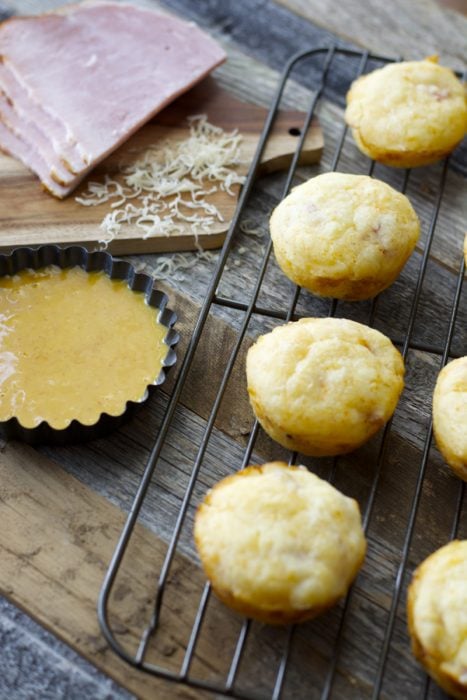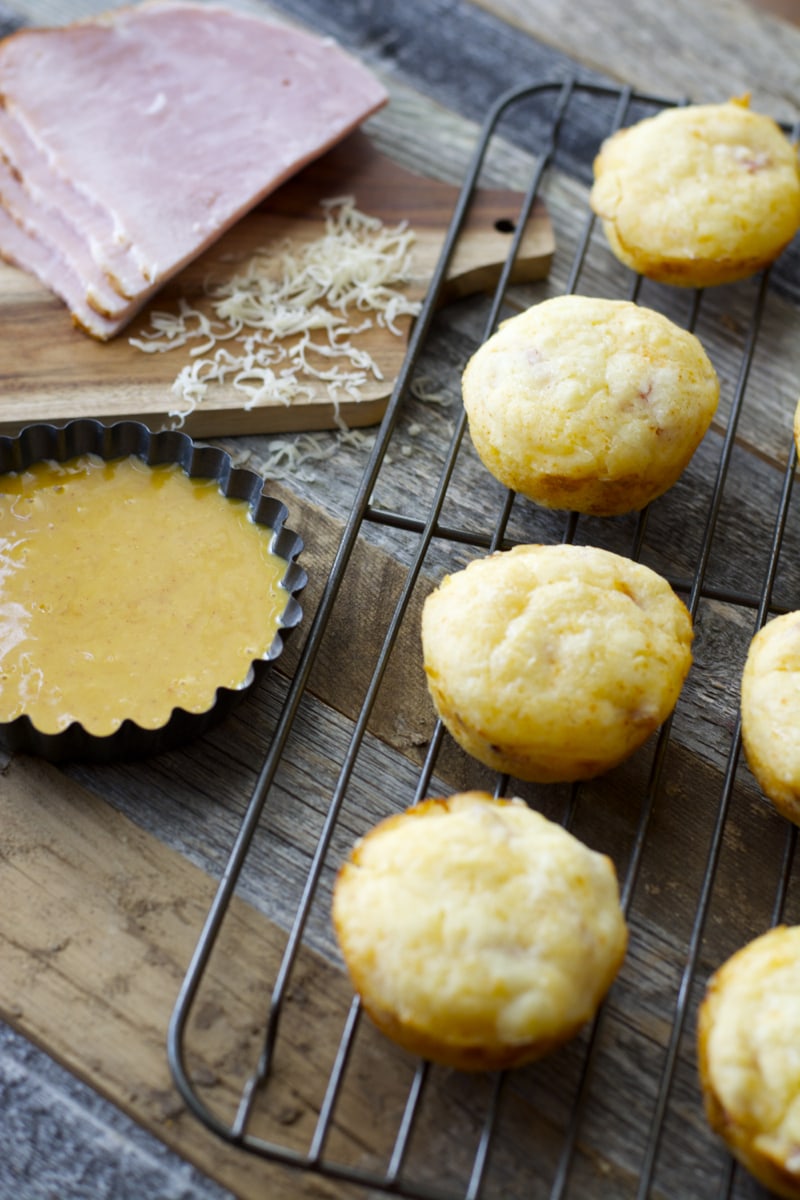 Ingredients for Ham and Swiss Puffs
As always, here is a quick overview of the ingredients used to make Ham and Swiss Puffs. For the complete recipe, just keep scrolling.
Gluten Free Bisquick- this is what we use in our house, but feel free to use a regular Bisquick mix
Baking powder
Salt
Swiss cheese- shredded
Ham- chopped
Egg- size large
Buttermilk- I do not recommend using a different type of milk in this recipe
This little snack comes together really quickly- it would be perfect for a quick weekend lunch or a busy weeknight. I also whipped up a Smokey Honey Mustard sauce, because, hello you have to have dipping sauce, right?
Ingredients for a Smokey Honey Mustard
Honey
Mayonnaise- I used reduced fat
Dijon mustard
Yellow mustard
Paprika- you could also use a smoked paprika here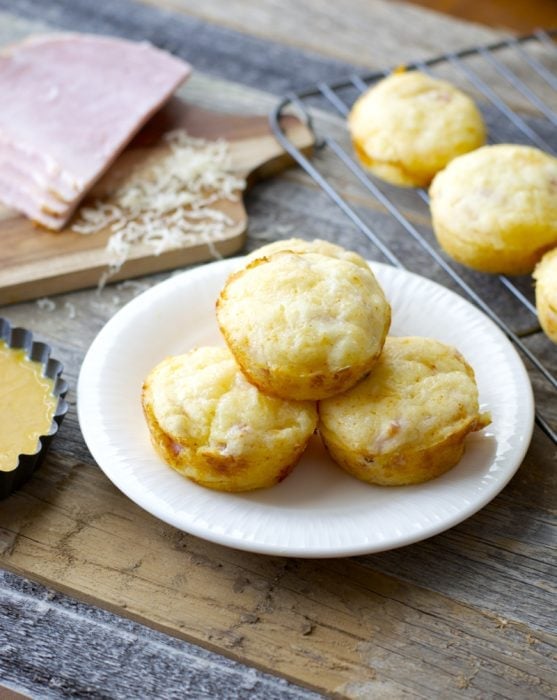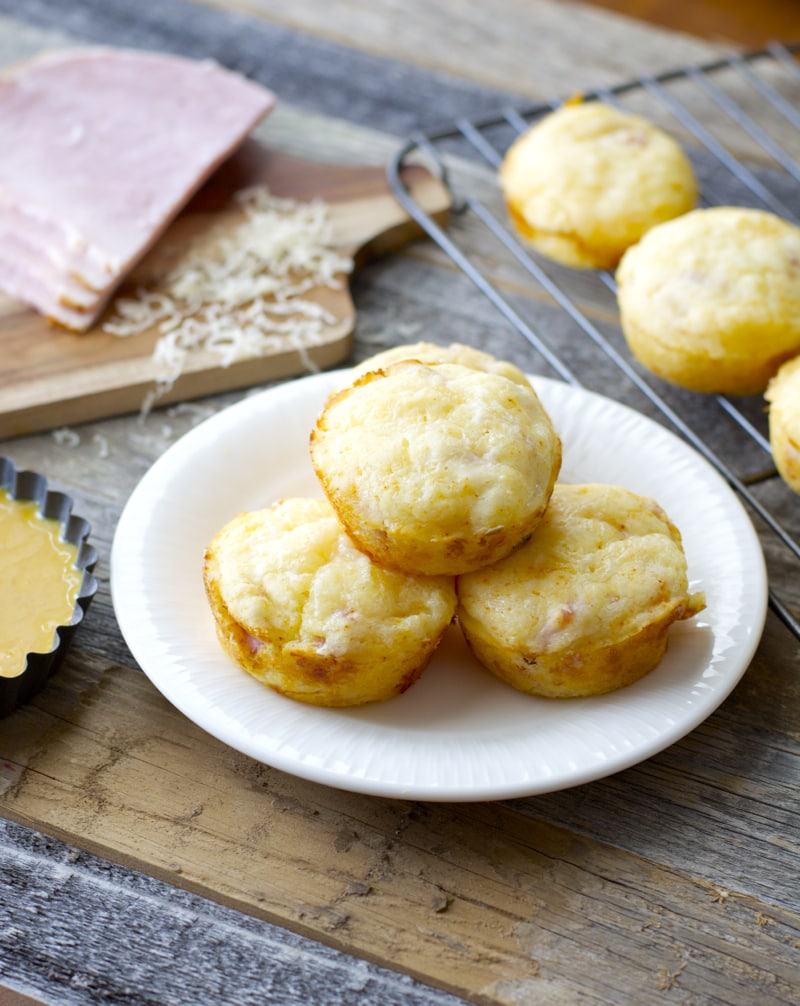 How to make Ham Puffs
First things first, go ahead and set your oven to 375 degrees. Spray a muffin tin with nonstick spray and set to the side. Secondly, grab a medium mixing bowl and combine the flour, baking powder and salt.
Add your swiss, chopped ham, egg and buttermilk and stir everything together until well combined. Next, scoop into the muffin tin. You can use an ice cream scoop or a spoon, just be careful to not overfill the tins. Bake for 15 minutes.
If you want to make the Smokey Honey Mustard, combine all the ingredients in a mixing bowl until blended. That's it! Give these a try the next time you need to add a little variety, you won't regret it!
Can you freeze Ham and Swiss Pastry Puffs?
Absolutely! I love to have a tray of Puffs in the freezer for either a quick breakfast or snack. To freeze, just put the Puffs into a freezer safe bag and seal tightly. To reheat from frozen, simply pop a few into the microwave for 20 second increments until they are to your preferred temperature and you are good to go!
How to Store and Reheat Ham Bites
To store, simply place your Ham and Swiss Puffs in a single layer in either a resealable bag or a glass or plastic container with an airtight lid. Place in your fridge. These Puffs will stay fresh for up to four days.
To reheat, you can either place them back in the oven set to 350 degrees and warm for 5-10 minutes, or until they're warm enough for you. Or you could place the Puffs on a microwave safe plate and warm in 15 second increments until your desired temperature is met. Either way, your pastry Puffs will come out great!
If you're looking for other Puff recipes, check out my Cheesy Ham and Jalapeno Puffs or Spicy Buffalo Chicken Puffs. Do I have an obsession with making Puff recipes? We can let the evidence speak for itself here, I think.
Check Out More Easy Snack Ideas!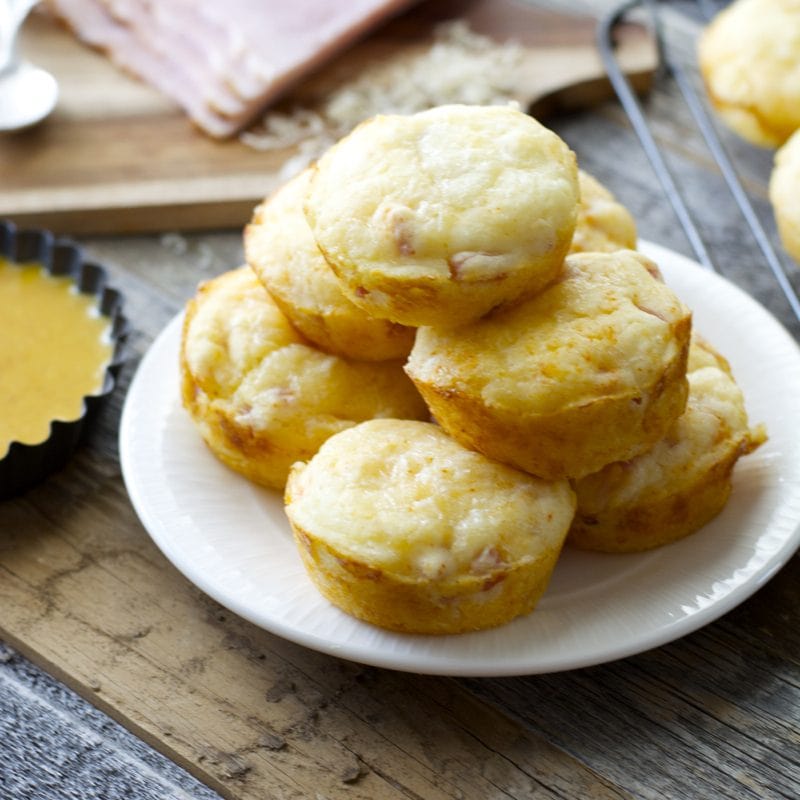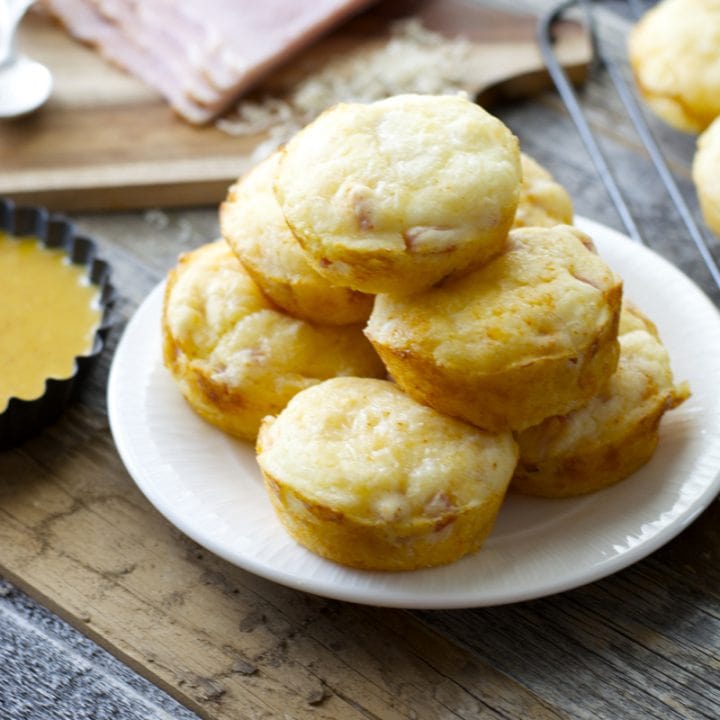 Ham and Swiss Puffs
Ham and Swiss Puffs are the perfect dinner for busy weeknights!
Ingredients
For the Ham and Swiss Puffs:
3/4 cup Gluten Free Bisquick
1 teaspoon baking powder
1/4 teaspoon salt
1/2 cup shredded swiss cheese
1 cup chopped ham
1 large egg, beaten
2/3 cup buttermilk
For the Smokey Honey Mustard:
1 tablespoon mayonnaise
2 tablespoons honey
1 tablespoon Dijon mustard
1 tablespoon yellow mustard
1/8 teaspoon paprika
Instructions
Preheat oven to 375 degrees, spray a muffin tin with cooking spray and set aside.
In a medium size mixing bowl combine the flour, baking powder and salt. Add the swiss, ham, egg and buttermilk and mix until well combined.
Scoop into muffin tins and bake for 15 minutes.
To make the Smokey Honey Mustard, combine all ingredients until blended.
Nutrition Information:
Yield:

4
Serving Size:

1
Amount Per Serving:
Calories:

298
Total Fat:

13.1g
Cholesterol:

83.7mg
Sodium:

913.6mg
Carbohydrates:

31.2g
Net Carbohydrates:

18.7g
Fiber:

1.1g
Sugar:

12.5g
Protein:

13.3g