Just in case you missed it, part one of my home improvement journey can be found here. 
Please excuse my grainy cell phone pictures, I didn't know I would be sharing this with my imaginary internet friends. 🙂
So there I was, ready to go. I tore open everything I had just purchased and laid it out on the counter top. My thinking was if everything is already open and I can't return it, I won't chicken out. Good thing I did because about fifteen minutes later I was ready to throw in the towel.
I ripped into the Smart Mat, measured a piece, then stuck it to the wall. I peeled the plastic off the other side which exposed the super sticky section. I grabbed a sheet of tile and slowly placed it on the wall. I used the floater to press the tile into the mat so it would firmly hold.
Okay, first step, not so bad. Actually, not bad at all! I stepped back and admired my work. Hey, I am pretty good at this! I repeated the steps again, second sheet up! I was on fire! I grabbed the third sheet and just when I held it up I realized I hit my first obstacle.
Electrical outlet.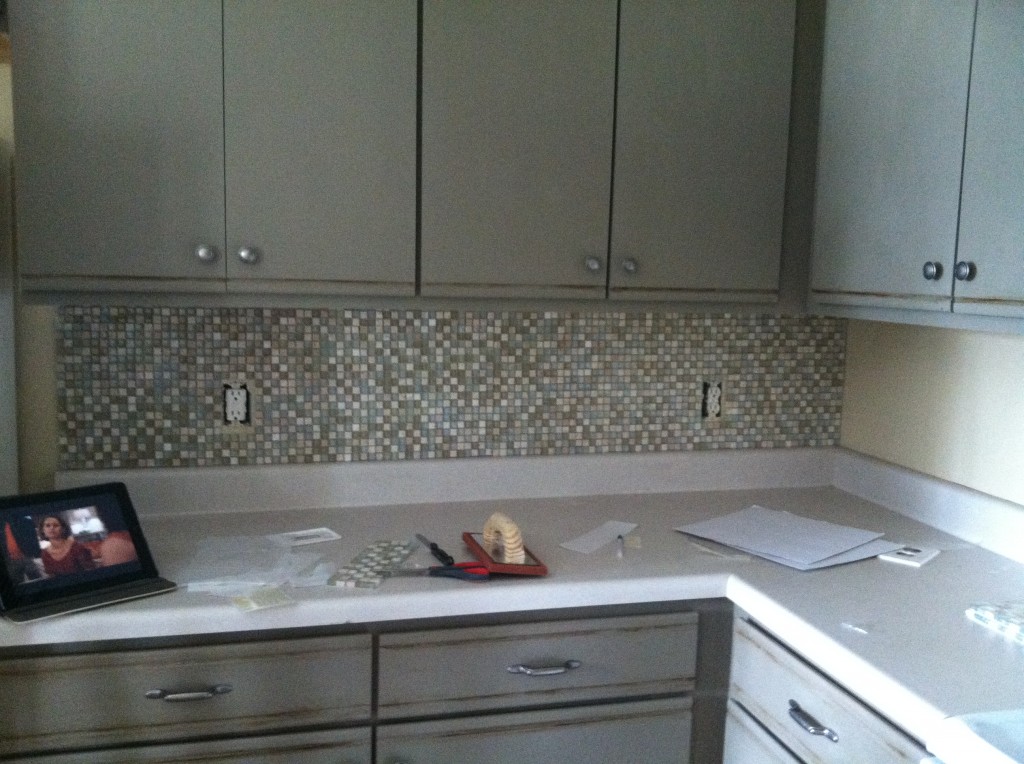 I had not thought this far ahead. Okay, no big deal. This is one of those measure twice, cut once kind of situations. Except my math skills leave a lot to be desired, so this could be a problem. This happens to be one of the reasons I keep Mr. Maebell around.
After a lot of measuring, guessing, praying, and one unfortunate flashback to 6th grade Math, I cut a section out of the sheet of tile. This was actually pretty easy, I just pretended the tile was grid paper and counted my blocks off and cut it out with a box cuter. Once I had the sheet on the wall, I placed an outlet cover over it to be sure I measured right. Yep, looked good.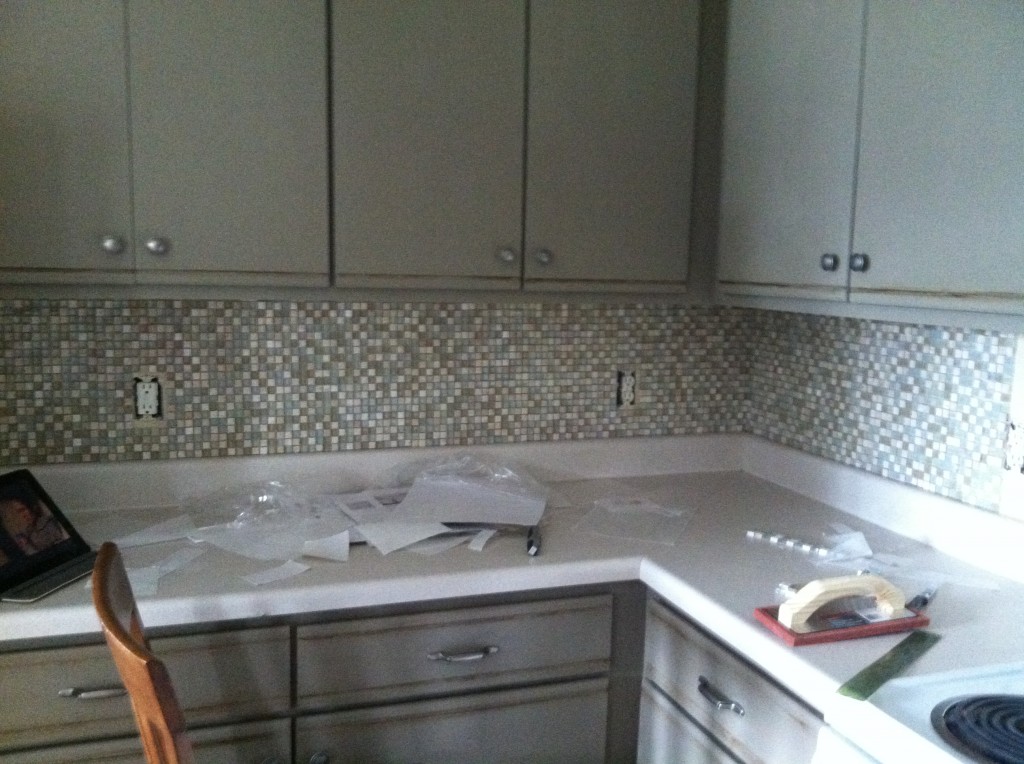 In no time at all I was at the end of the wall, and almost out of tile. Remember, I bought 10 square feet of tile while planning to tile 40 square feet of wall. I had a decision, I could go get more supplies or try to pull this off as some sort of accent wall and be done with it. Unfortunately, I couldn't think of a way to convince Mr. Maebell that I meant to only do a fourth of our kitchen and not that I had started a project I wasn't going to finish, so off to Lowes I went.
Five hours later, the kitchen walls were covered, I had downed two Iced Caramel Machiatos, and there was only grout standing between me and a big fat "I told you so." I was starting to see the light at the end of the tunnel. I grabbed the bag of grout, a bucket and a paint sick and started stirring. This seemed like it took forever to get the right consistency, my little arms (that can rarely open a pickle jar on their own) were ready to fall off. All of this before I even started grouting!
Eventually, I had the mixture correct and started grouting the tile, which is SO much harder than it looks. I shoved it in every teeny little crevice, and then wiped the wall down with clean water. I repeated this process over and over and over until my arms were numb and my back was aching. Then I stepped back, finally, my first real glimpse of the finished product.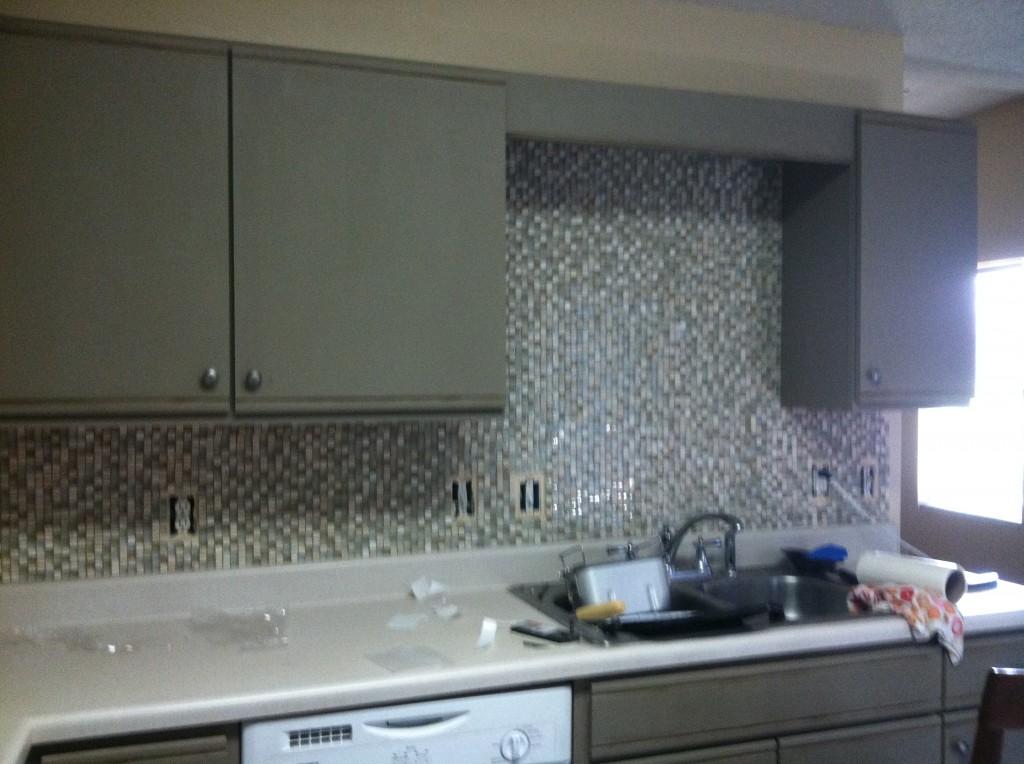 My kitchen looked good. My kitchen looked really really good. No, my kitchen actually looked freaking amazing!
Even though the tile was up and the grout was on the wall I knew I was running out of time. Right about then I knew Mr. Maebell would be headed home from work any minute. I pushed on and made my sore, tired arms keep wiping the haze off the tile. There is no way I was going to come this far and not have it look amazing when he came in! My adrenaline was pumping!
Before I knew it, I heard Mr. Maebell drive up. Yes! I was so excited I couldn't stand it. I flung the front door open, "What happened to you?!" he asked. Come to think of it, I was looking pretty rough, crazy hair, grout all over my face, and arms, not to mention the fact my bangs were completely plastered to the side of my head. My clothes were covered with powder from mixing the grout. I was, by all accounts, a hot mess. "Look!" I pointed to the kitchen. His mouth dropped open, "What did you…" there was really no reason to ask the question, it was clear what I had done. Then he turned and looked at me and smiled.
And there it was, that little smile that started this whole stupid thing.
Except this time, the smile wasn't a challenge. Suddenly, I realized it had never been a challenge in the first place. He didn't smile when I said I could do the tile because he doubted me, he smiled because he knew all along I was stubborn enough to actually make it happen.
And there we were, standing in a filthy, messy kitchen with a brand new backsplash. The smell of grout heavy in the air.
I had been busy competing with him, trying to prove him wrong all day and he had absolutely no idea.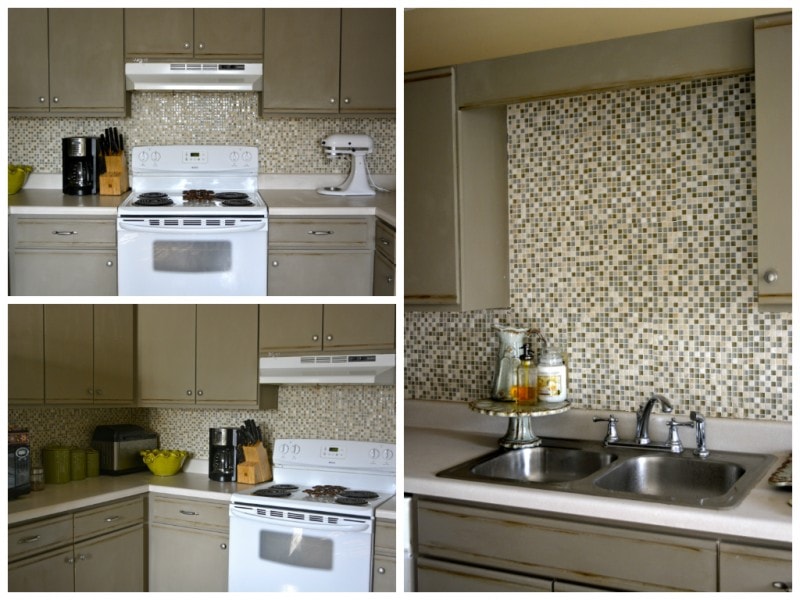 Today, our kitchen is back in order. The grout is dry, the counter tops are clean and installing the backsplash is a funny story I get to tell. I never got my "I told you so" and he never said "I was wrong." And you know what? I am okay with that, because, as it turns out, he believed in me all along. But I proved I could do it to the one person I needed to.
Me.