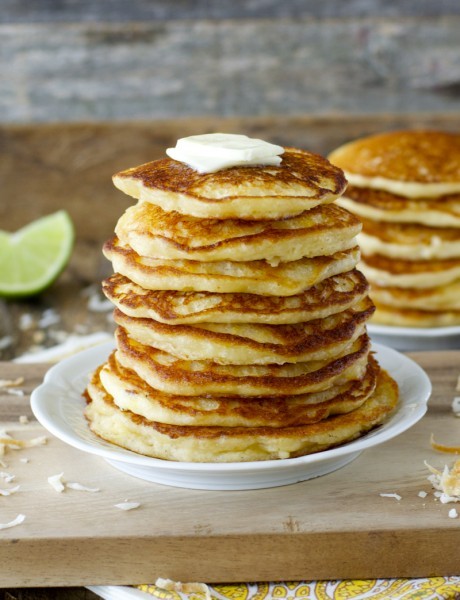 It is kind of amazing how the weather can influence everything about you. It can alter your mood, the colors you wear, the decor in your house, and of course, what foods you crave.
This past weekend started as very blustery and cold. Actually, Saturday morning I woke up to snow on the ground! I craved a bowl of warm oatmeal for breakfast and sat in front of the fire place huddled in a blanket sipping coffee. Gradually, the weather started to change and by Sunday I had the windows open! The burst of slightly warmer weather has made me crave spring. I want sunshine and tropical flavors and to dress in pastels.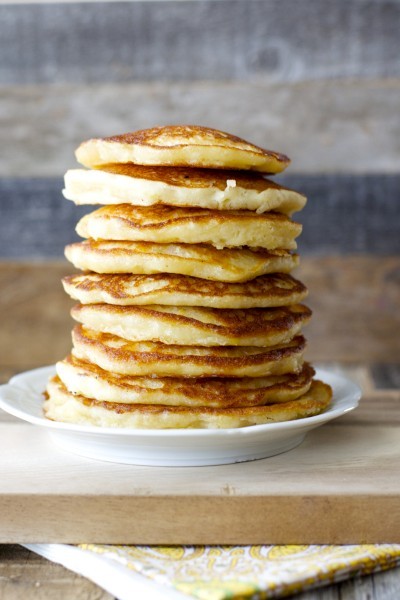 These Pina Colada Pancakes were prompted by my longing for warmth. I love the flavors of pineapple and coconut together. It is one of my favorite combinations and there isn't a much better way to start the day than with a big stack of pancakes!
These are really easy to throw together and have mostly cabinet staples you probably already have on hand. I love making a batch of pancakes to keep on hand for quick weekday breakfasts!
One thing is for sure, these Pina Colada Pancakes help make Monday feel a little less like a Monday.