These Savory Sausage and Squash Waffles are the perfect healthy meal prep breakfast! Full of protein, veggies, and carbs these waffles will keep you fueled all morning long.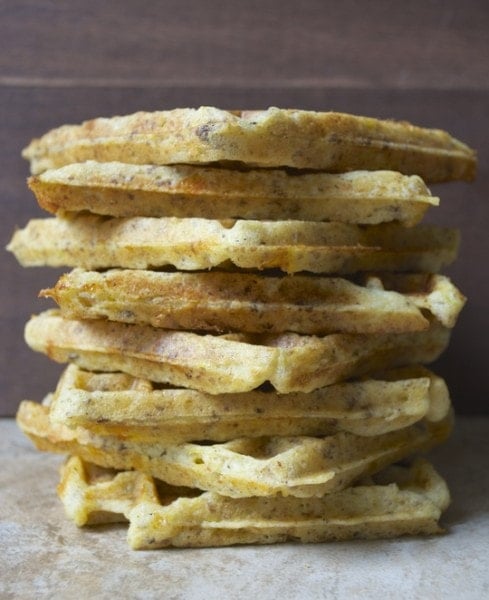 These. Waffles. Omg. There are just no words. Cornmeal + baking mix + cheddar + sausage + squash = a pretty impressive lineup if you ask me!
I made these as part of my meal prep for the week. I needed a breakfast dish that could be made ahead of time and reheated quickly for a grab-and-go breakfast. However, I didn't want it to be packed full of sugar like a lot of the breakfasts I reach for on a busy morning.
I wanted to try to incorporate everything you would want in a full breakfast like protein, veggies, and carbs. These totally fit the bill!
This week in particular I only prepped our breakfast and lunch for the week because our evenings won't be too busy. For breakfast, I made these waffles, these Strawberry Muffins, and chopped a big bowl of fruit. For lunch, I made these Pizza Puffs, then washed and chopped a bunch of vegetables for easy salads.
It just makes life so much easier. Breakfast is ready and lunch just needs to be packed. I generally feel more on top of things when I do a little extra work on the weekends. In my opinion, it is a small amount of work that goes a long way.
Anyway, these waffles. Do it my friend! They are delicious!

Ingredients for Sausage Waffles:
Here's a quick overview of what you'll need to make these tasty waffles. They're packed with great ingredients!
Bisquick (I used gluten free)
Cornmeal
Baking powder
Sausage
Squash
Cheddar
Eggs
Milk
Salt
Pepper
How do I make Sausage Waffles with Squash?
This recipe isn't very complicated, but you do want to add ingredients in a specific order. This is to make sure things are evenly incorporated–We want to make sure every bite has the good stuff in it!
Firstly, we'll add all of our dry ingredients (the Bisquick, cornmeal, baking powder, and seasonings) and mix well. Then you'll add the "bulky" things–Your sausage, drained and shredded squash, and shredded cheese–Then mix well.
Finally, add your milk and eggs and stir to make your batter. Now we're ready to cook!
Every waffle maker works a bit different, so use your best judgment and the instructions for your appliance. I sprayed mine with cooking oil, poured the batter in, and the waffle was perfectly crisp in about two minutes!
This recipe made 8 waffles for me, so I needed to keep the finished waffles done while I was still cooking the rest. To do this, I warmed my oven to 200 degrees F. I put a baking sheet with a rack, then let the waffles rest there until all the batter was cooked.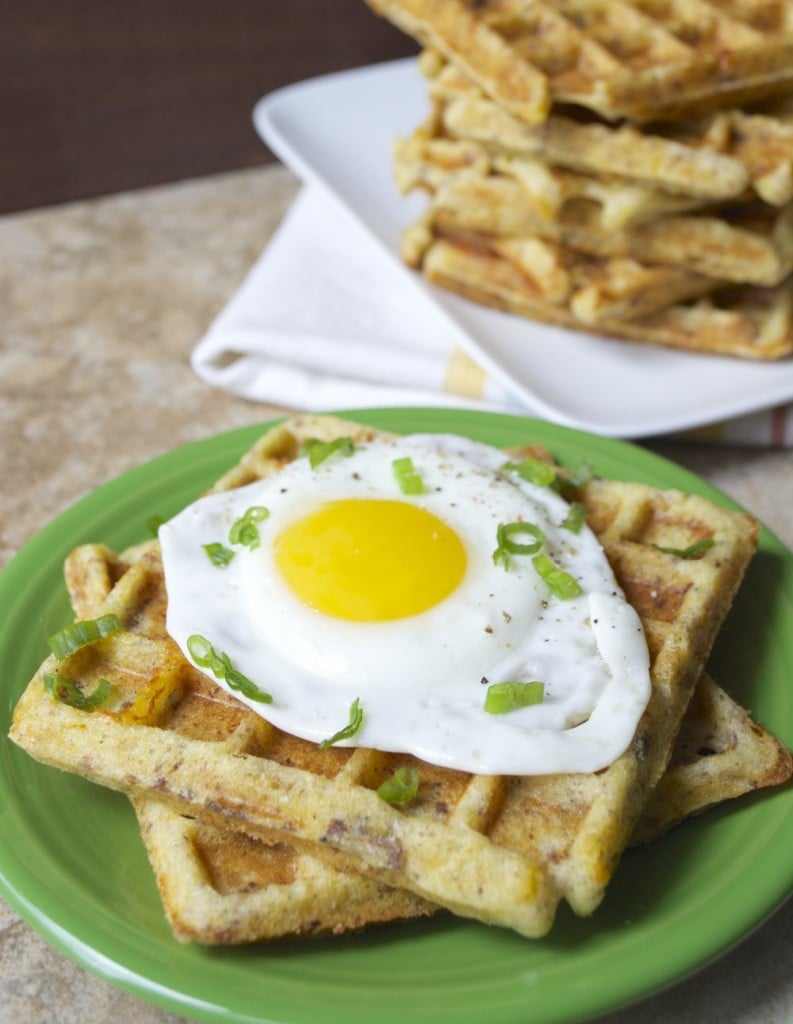 Do I have to use shredded squash?
Squash has a super high water content, so we shred and dry the squash for this recipe. If you skip this step, the squash will release its water while the waffle is cooking, making it take way longer (and possibly causing some parts to be undercooked while some bits are burned).
I know that shredding and drying the squash takes a little extra time, but I promise it is worth it for the great texture and nutrients it provides!
What's the best way to reheat waffles?
There are several ways to reheat the waffles–Which one you choose depends on your preference! If you like your waffles to be soft (similar to a pancake), microwaving each waffle for 20 seconds is your best bet.
I like my waffles to be crispy, so I reheat in the oven or toaster oven. In the oven, I set it on a low temperature like 200 degrees F and give the waffle 5 minutes or so to crisp up. In the toaster oven, I set it to the 'medium toast' setting.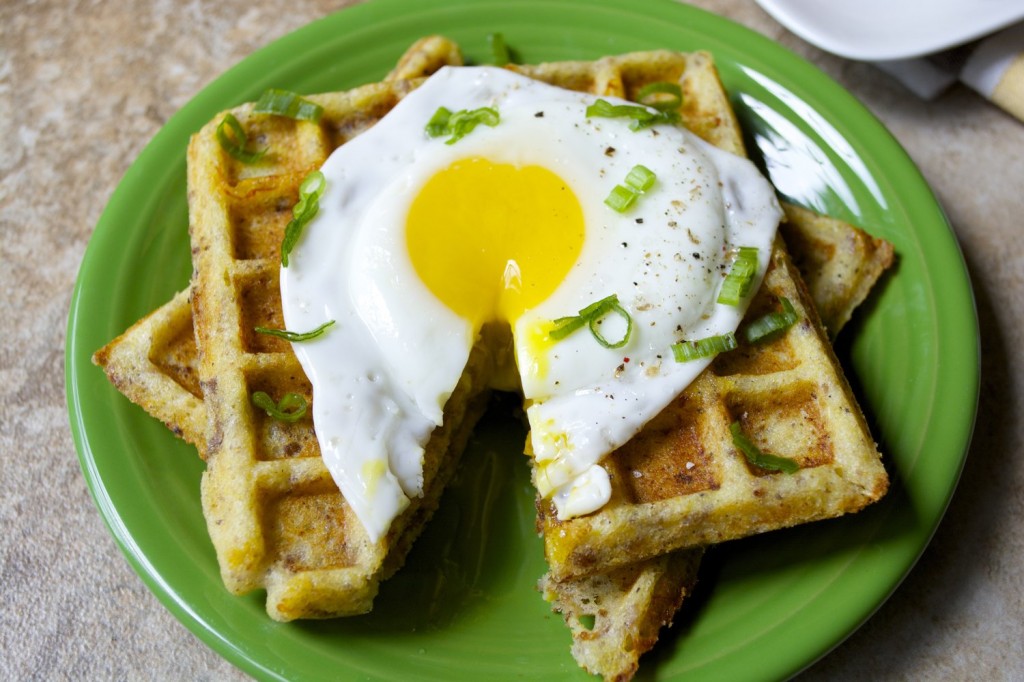 More Meal Prep Breakfasts: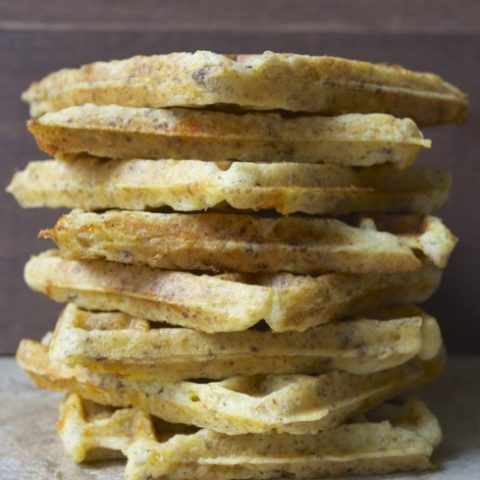 Savory Sausage and Squash Waffles
These Savory Sausage and Squash Waffles are the perfect healthy meal prep breakfast! Full of protein, veggies, and carbs these waffles will keep you fueled all morning long. 
Ingredients
3/4 cup gluten free Bisquick
1/4 cup cornmeal
1 teaspoon baking powder
1/4 teaspoon salt
1/4 teaspoon black pepper
1 cup cooked sausage, crumbled and drained
1/2 cup shredded squash, as much water removed as possible
1/2 cup shredded cheddar
2 eggs, beaten
1 1/4 cup milk
Instructions
Shred the squash (2 small) and place in a small mesh strainer. Using your hands, push as much water as possible from the squash. When you have removed as much water as you can it should measure about half a cup.
In a mixing bowl combine the flour, cornmeal, baking powder, salt and pepper.
Add the cooked sausage, shredded squash, and cheddar cheese. Stir so it is evenly distributed.
Add the beaten eggs and milk.
Stir very well. Mixture will be thick and lumpy.
Heat a waffle iron according to manufactures directions.
Place batter in the middle of each waffle iron, close and cook according to your waffle makers directions. (Mine took about 2 minutes each)
Notes
To keep the cooked waffles warm while you finish cooking the rest of the batter, place them on a baking sheet in the oven at 200 degrees F.
Nutrition Information:
Yield:

8
Serving Size:

1 waffle
Amount Per Serving:
Calories:

148
Total Fat:

8.3g
Cholesterol:

63mg
Sodium:

339mg
Carbohydrates:

9.3g
Net Carbohydrates:

8.6g
Fiber:

0.7g
Sugar:

2.7g
Protein:

9.2g