Chickpeas are paired with crunchy celery, fresh bell pepper, chopped green onions in a spicy Dijon mustard sauce!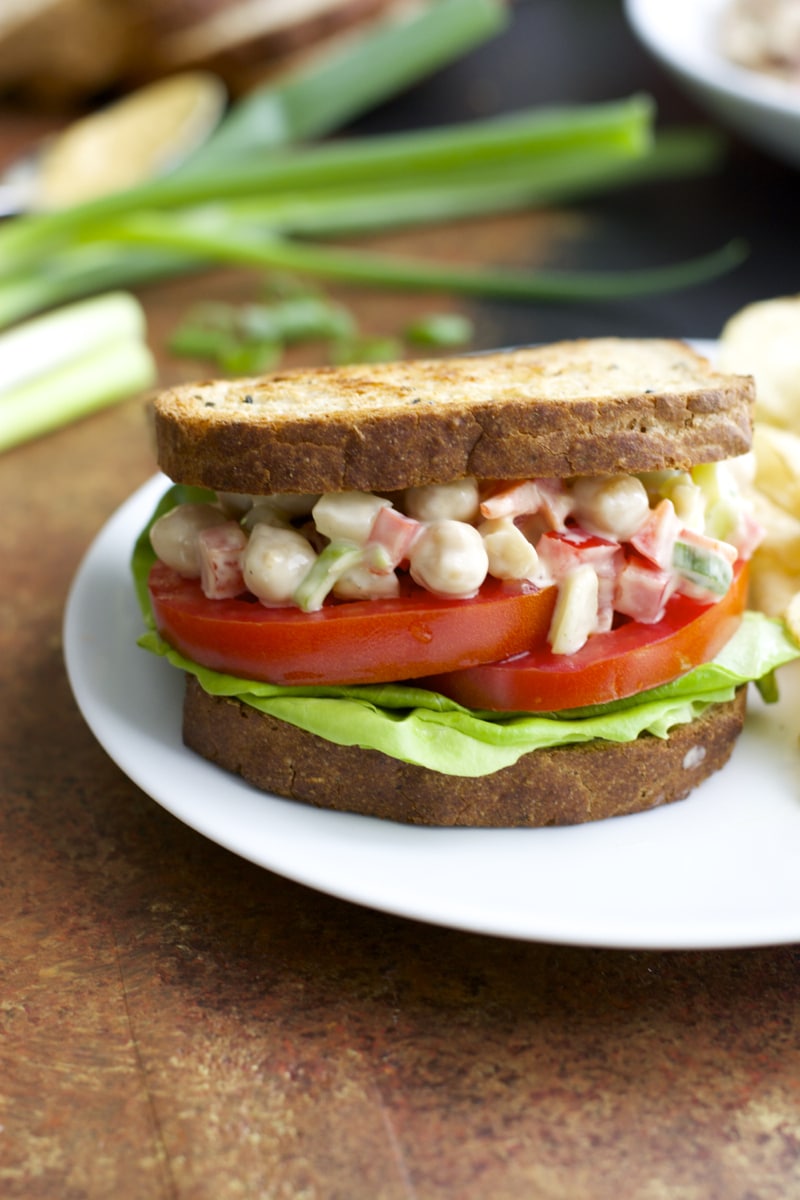 I was a vegetarian for almost ten years. It all started in Jr. High with a lamb named 'Clue'.
Eventually, almost a decade later, I did start eating meat again while I was in college. It was mostly because with Mr. Maebell having Celiac is was just really hard to fix two totally different meals everyday.
But sometimes, my inner vegetarian just cannot be contained. That is how this Spicy Dijon Chickpea Salad came to be!
I love a good meatless meal! My favorite go-to meals are this Grilled Hummus and Zucchini Wrap and this Spicy Avocado and Spinach Quesadilla. These are the kinds of meals I make when Mr. Maebell isn't home.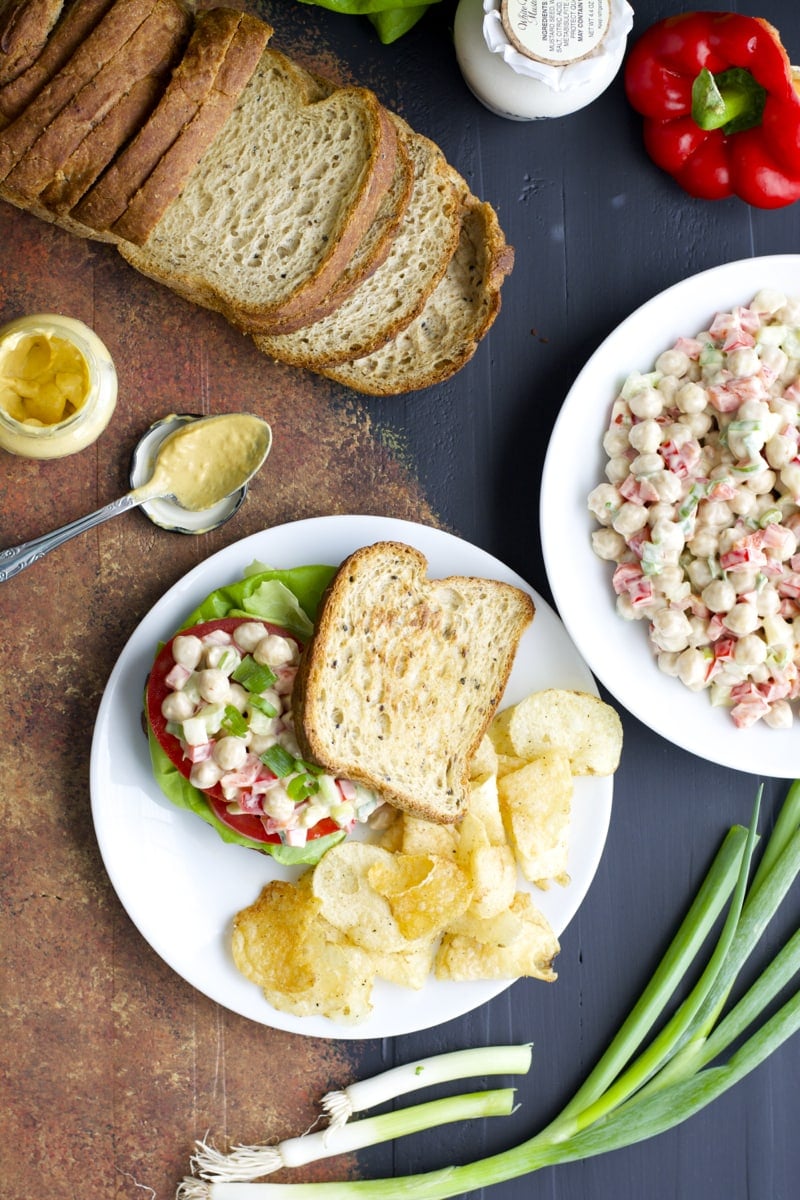 Lately, I have been craving something new and different. I scoured my cabinets for ingredients and decided to make a chickpea salad.
This isn't just your regular old bland chick pea salad though. This Spicy Dijon Chickpea Salad is packed with tender chickpeas, crunchy celery, fresh red bell pepper, chopped green onions and a spicy Dijon mustard sauce. It is the perfect cool Summer salad.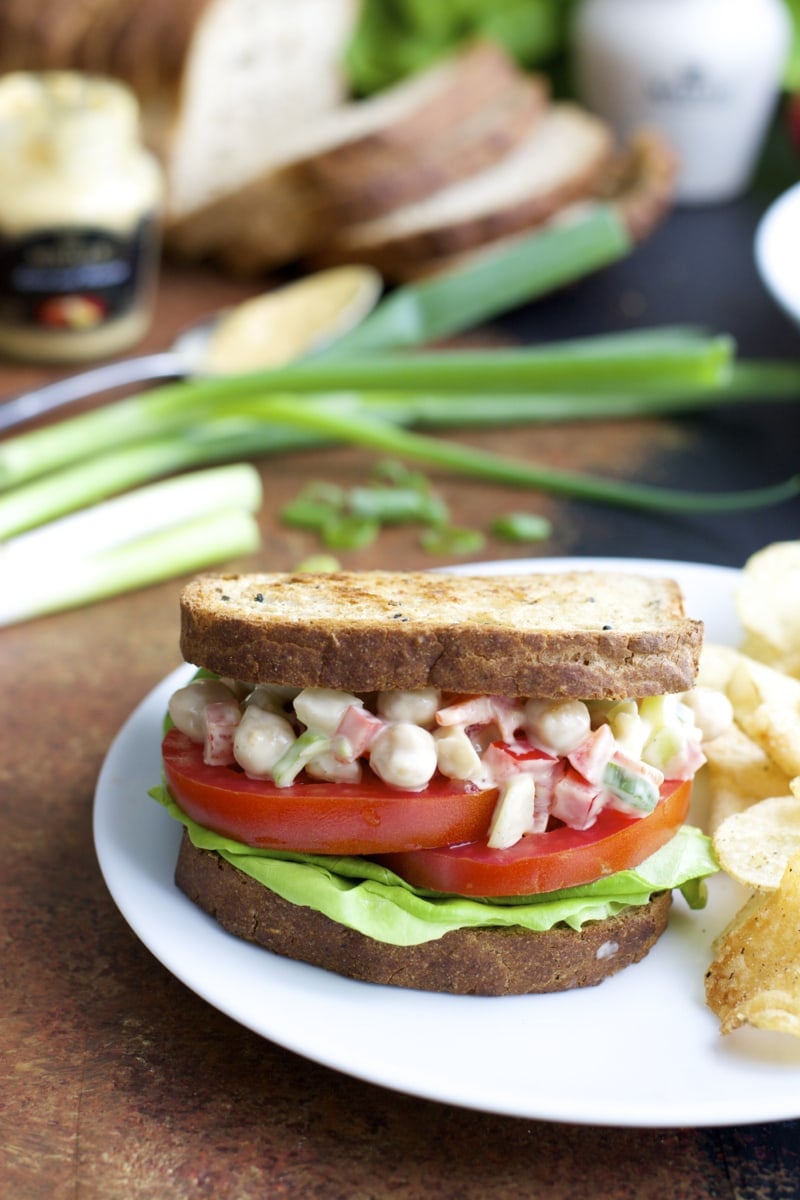 Ingredients for Spicy Dijon Chickpea Salad
Canned chickpeas
Red bell pepper
Celery
Green onion
Mayonnaise
Maille Lemon Harissa Mustard
Garlic salt
Black pepper
What should I serve with Spicy Dijon Chickpea Salad?
This Chickpea Salad is a show stopper on it's own, but this could easily be a delicious side dish to a more substantial meal! If you decide to serve this Spicy Dijon Chickpea Salad on it's own, we love it on gluten free bread or crackers.
I love this Salad in the summer, and summer to me always means grilling out. At your next barbecue, serve this Spicy Dijon Chickpea Salad with these Orange Sesame Chicken Skewers! Add these Marinated Mozzarella Balls to make this meal complete!
If you're looking for a more indulgent twist to a healthy dinner, pair this Spicy Dijon Chickpea Salad with my Chicken Bacon Ranch Zucchini Boats.
A great dessert option with any of these dishes are Cheesecake Stuffed Strawberries. These Strawberries are indulgent enough to satisfy your sweet tooth while also keeping you from feeling too full!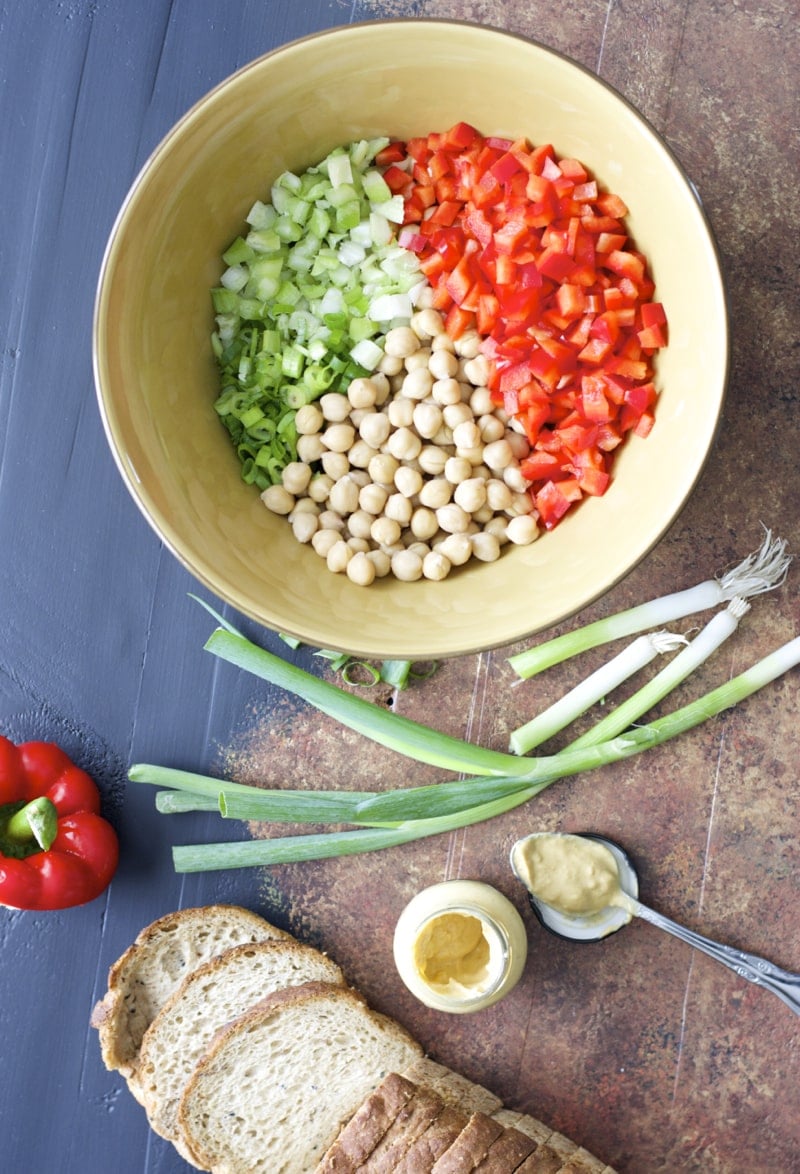 How do you make Spicy Dijon Chickpea Salad?
This salad comes together in a matter of minutes! Here is how we make it.
Just rinse your chickpeas really well and pat dry. Combine with all of the chopped veggies in a big bowl.
Next, add some garlic salt, pepper, mayonnaise, and a heaping scoop of Lemon Harissa Dijon Mustard from Maille. I love the spicy twist and hint of lemon with the Dijon, it is the perfect way to take a dish from ordinary to extraordinary!
Give all of your ingredients a good stir. Do a little taste test (or a large one!). Depending on your flavor preferences you might want to add a bit more salt and pepper or a tad more mustard for an extra kick.
I ate this spread on lightly toasted gluten free bread with fresh lettuce and ripe tomato slices. But I think my favorite way to enjoy this was piled high on crackers, or by adding a big spoonful to a simple salad. There is just something about a spoonful of spicy chickpeas paired with fresh veggies that is super refreshing.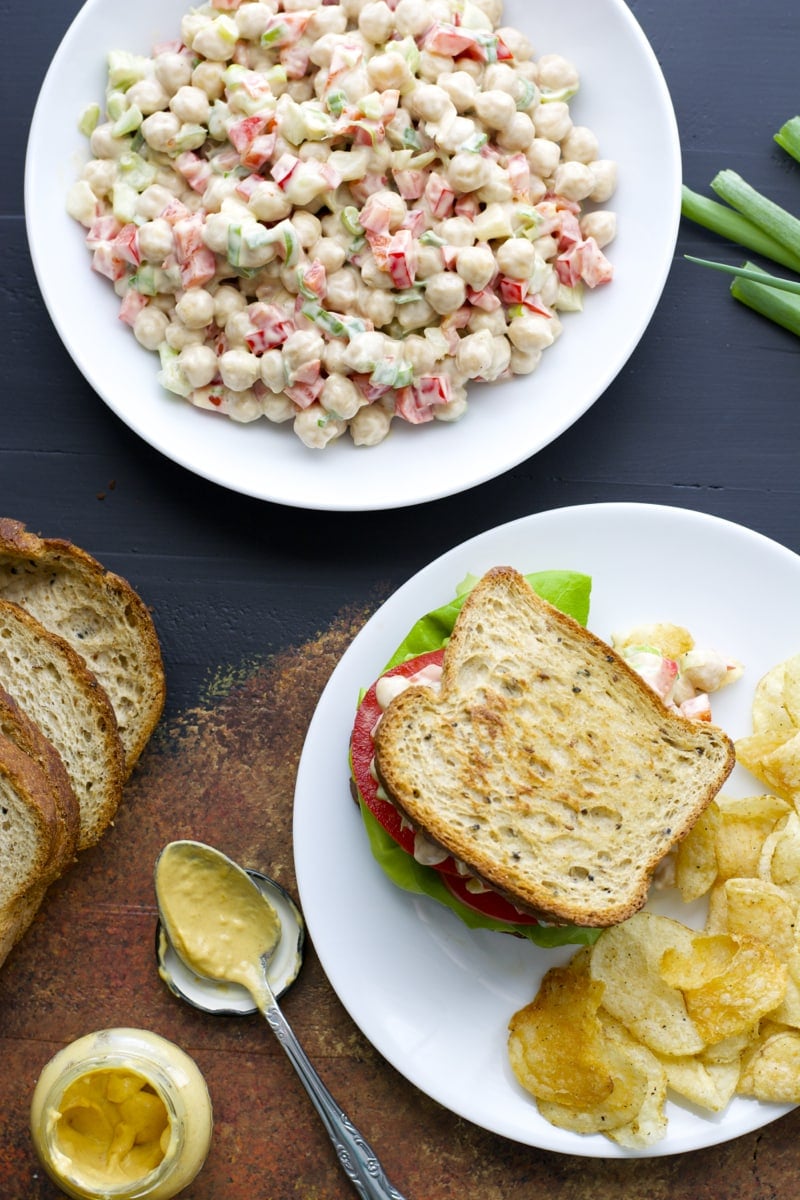 This is the perfect simple salad for a quick and easy lunch or a great addition to your Summer BBQ menu! Your vegetarian guests will thank you!
Check out these other Healthy Snacks!
This post has been compensated by Maille via Honest Cooking. All opinions are my own.
For my Celiac readers: Though this mustard does not actually contain gluten it is manufactured in a location that also processes wheat containing products. Please use your best judgement.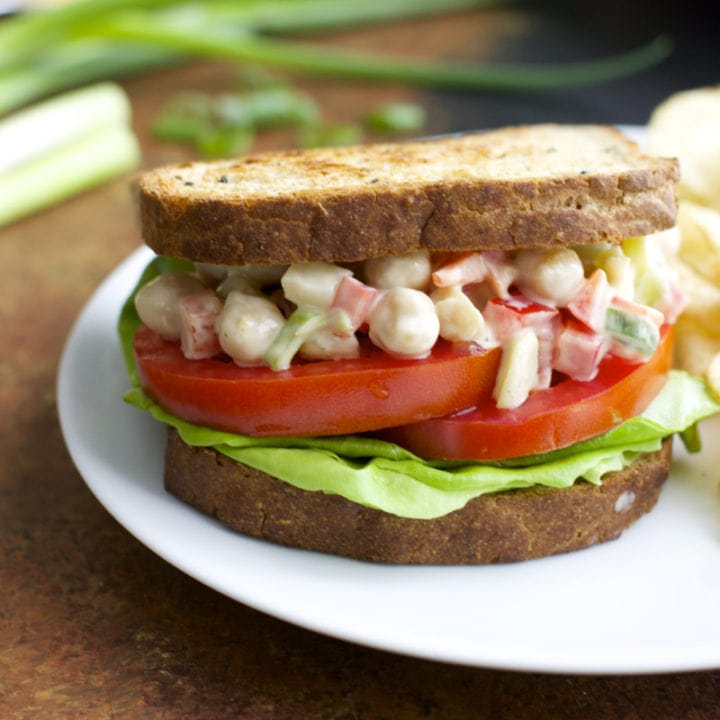 Spicy Dijon Chickpea Salad
Chickpeas are paired with crunchy celery, fresh bell pepper, chopped green onions in a spicy Dijon mustard sauce! 
Ingredients
2 (15 ounce) cans chickpeas, drained and rinsed
1/2 cup chopped celery
1 red bell pepper, seeded and chopped
1/2 cup mayonnaise
1 tablespoon plus 1 teaspoon Maille Lemon Harissa Mustard
1/8 teaspoon garlic salt
1/2 cup chopped green onion
1/8 teaspoon black pepper
Instructions
Combine all ingredients in a large mixing bowl and stir well.
Serve on bread or crackers.
Store in the refrigerator in an air tight container.
Nutrition Information:
Yield:

6
Serving Size:

3/4 cup
Amount Per Serving:
Calories:

270
Total Fat:

16.8g
Cholesterol:

7.7mg
Sodium:

652mg
Carbohydrates:

22.4g
Net Carbohydrates:

20.9g
Fiber:

7.3g
Sugar:

1.5g
Protein:

7.9g