Oh man, this is a good one.
A very, very good one.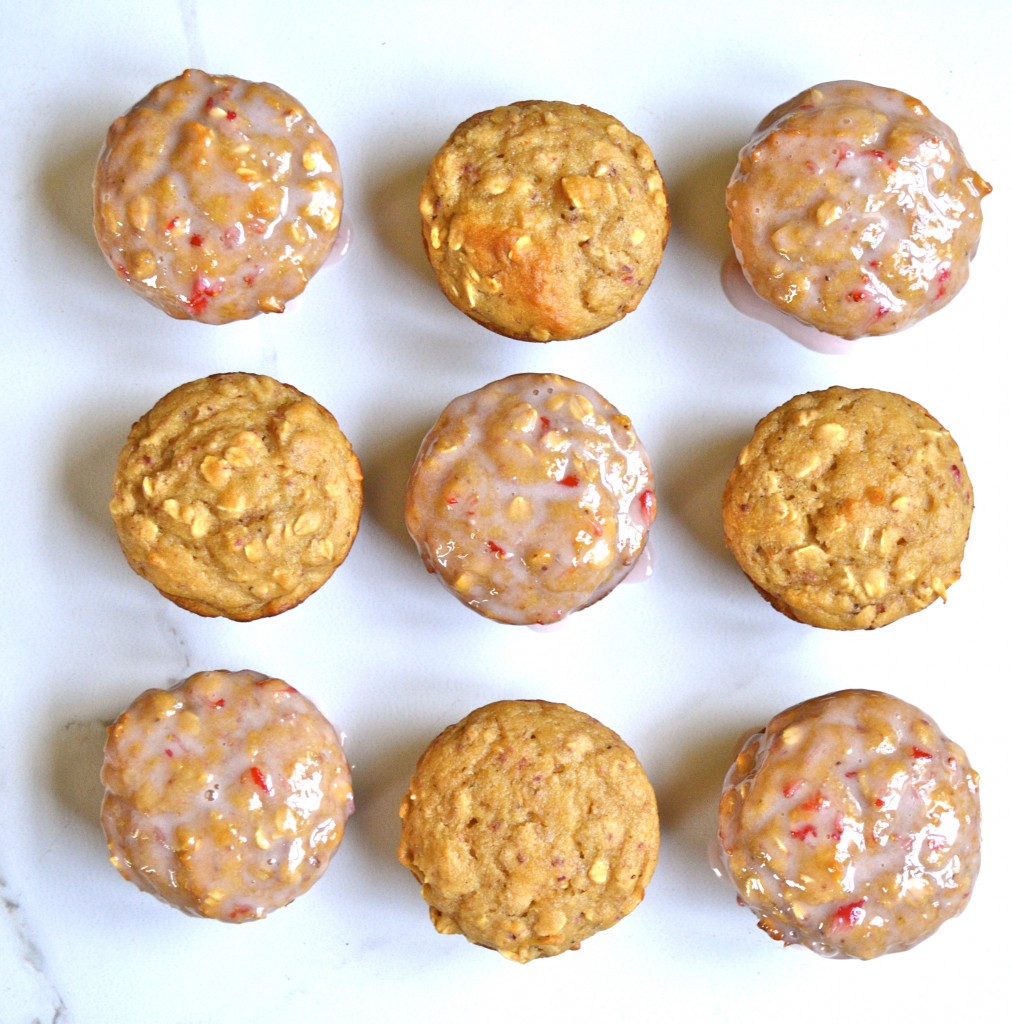 Confession: I used to sneak fruit or vegetables into meals by pureeing them, then adding them to a dish. For example, my marinara sauce had mushrooms, bell pepper, onions, all blended right up in there. My mashed potatoes? Half cauliflower, half potatoes. Yep. It's true. Mr. Maebell used to be SO picky he wouldn't eat anything that was actually good for him. So, desperate times call for desperate measures.
Fortunately, as we have braved adulthood together his taste buds have grown with us. For the most part, I no longer have to hide ingredients or sneak things in. However, the if-you-hide-it-he-will-eat-it mentality is still there. So this weekend I whipped up a batch of muffins that have a whole pound of strawberries in them! Yes, an entire pound of beautiful fresh berries baked up in twelve fresh mega muffins. Talk about a great way to start your day!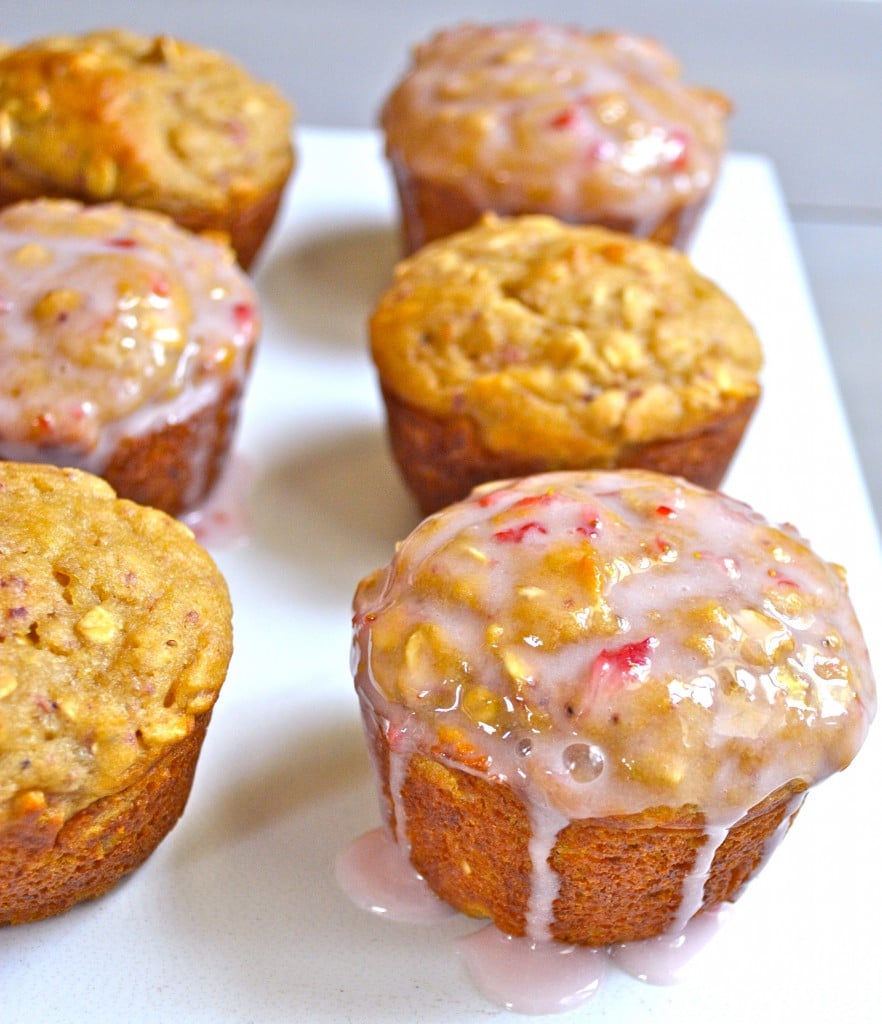 Besides all the fruit, I wanted these to have some real sustenance to them. I know muffins may not traditionally be considered a healthy breakfast, but I really wanted these to seem indulgent but back a big nutritional punch, so instead of just loading the batter up with flour I used part flour, part old fashioned oats. The result? An awesome, soft, healthy muffin that is sure to keep you full until lunch!
I also made a simple strawberry glaze. Now the glaze is totally optional, the muffins are fantastic without it, but if you want something really special make the glaze too! It is just made up of crushed strawberries, a little milk, vanilla, and of course some powdered sugar. I dunked my muffins in the glaze once, but if you want them to be really coated (like a scone) dunk once, let the glaze set on the muffins, then dunk again.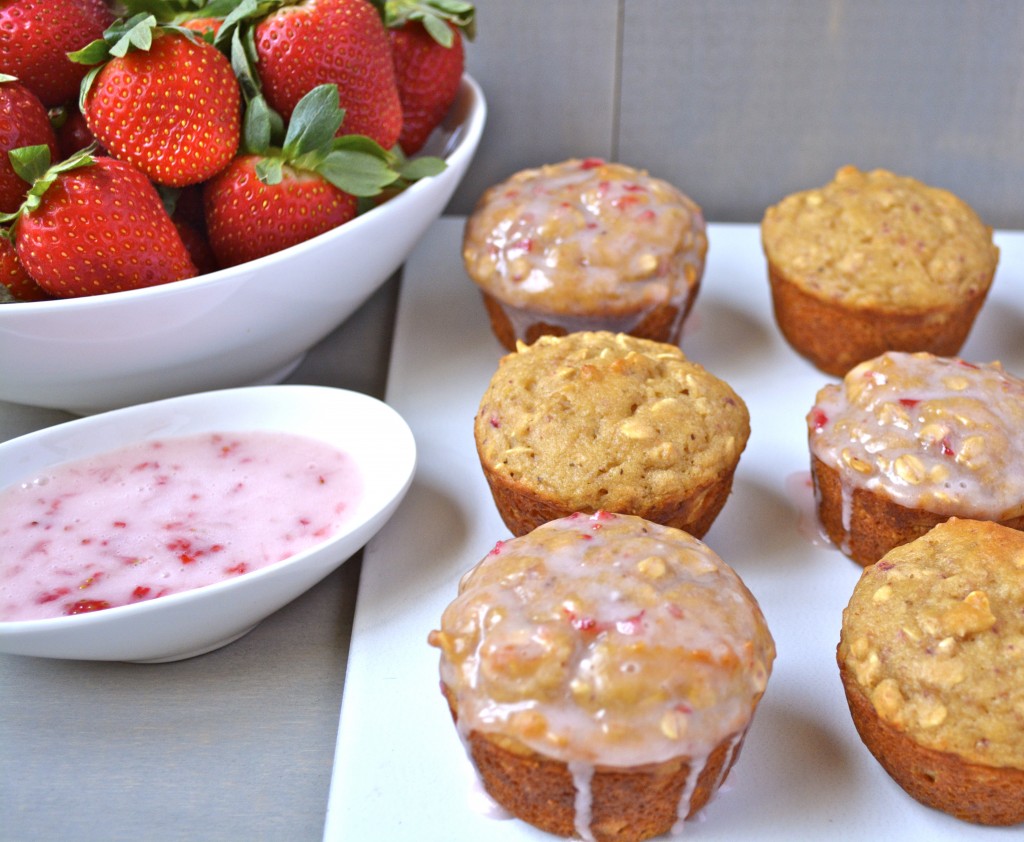 As always, I made this dish using gluten free ingredients. I use Glutino Gluten Free Pantry All Purpose flour or Gluten Free Bisquick in place of flour and Bob's Red Mill Gluten Free Oats.