This Sweet and Spicy Sesame Snack Mix is packed with pretzels, cereal, and nuts! The perfect Asian inspired snack you will love!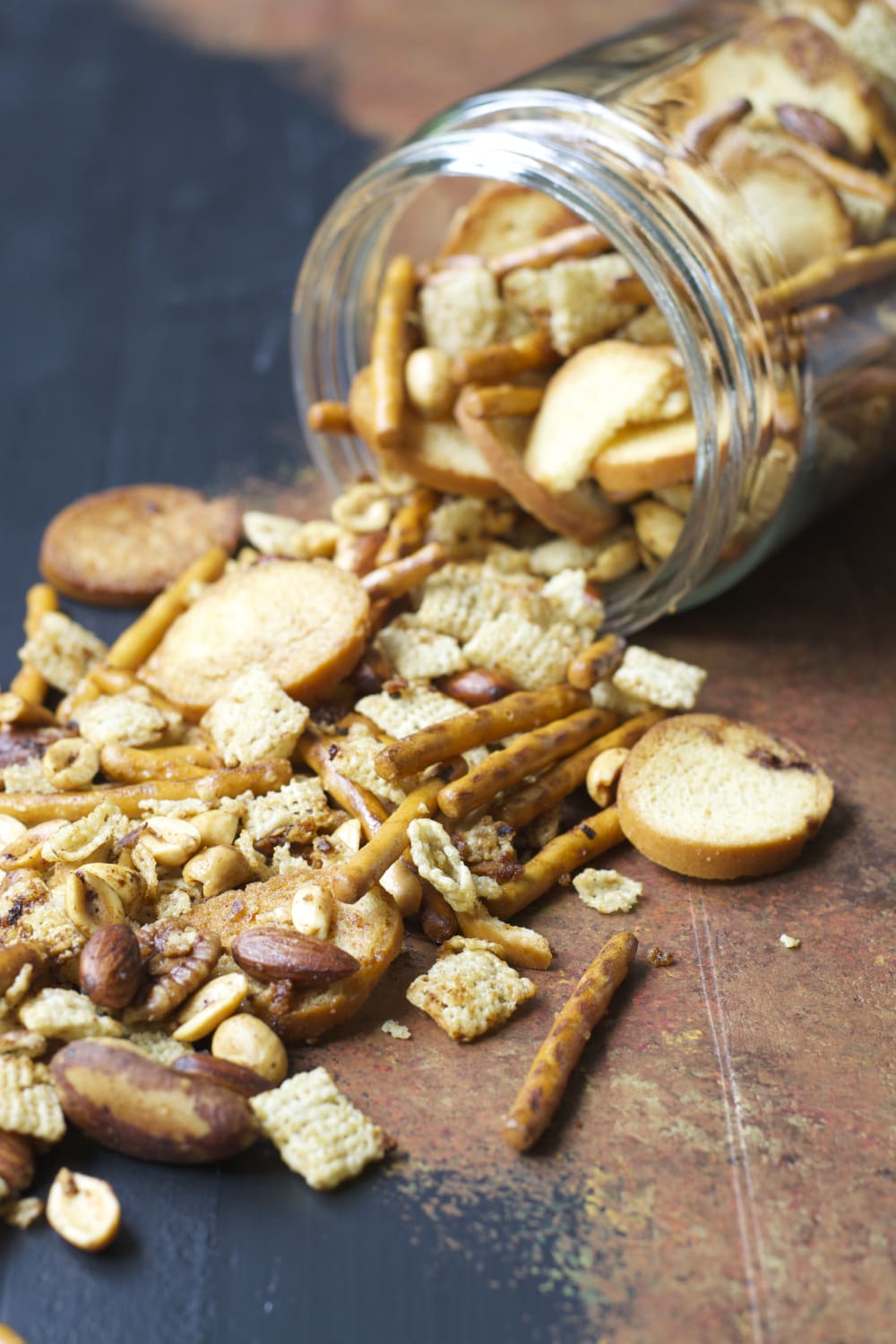 Let me preface this entire post with one sentence.
I am a terrible car rider.
Like, really really bad. I get so antsy. I do not want to sit there for hours at a time. Mr. Maebell and I do not agree on the temperature of the car or the music. I sit in a car and revert to a child. And if I happen to be hungry, oh Lord. It is not pretty. I cannot help it. I am a big baby.
Mr. Maebell on the other hand, is fine. He loves road trips. He looks out the window and talks about whatever foliage he sees (I see weeds) he tells me about the animals (the buzzards?) and heaven help us if we go over a bridge or get anywhere near water. We HAVE to slow down and look for ducks (what ducks? and why are we looking for them?)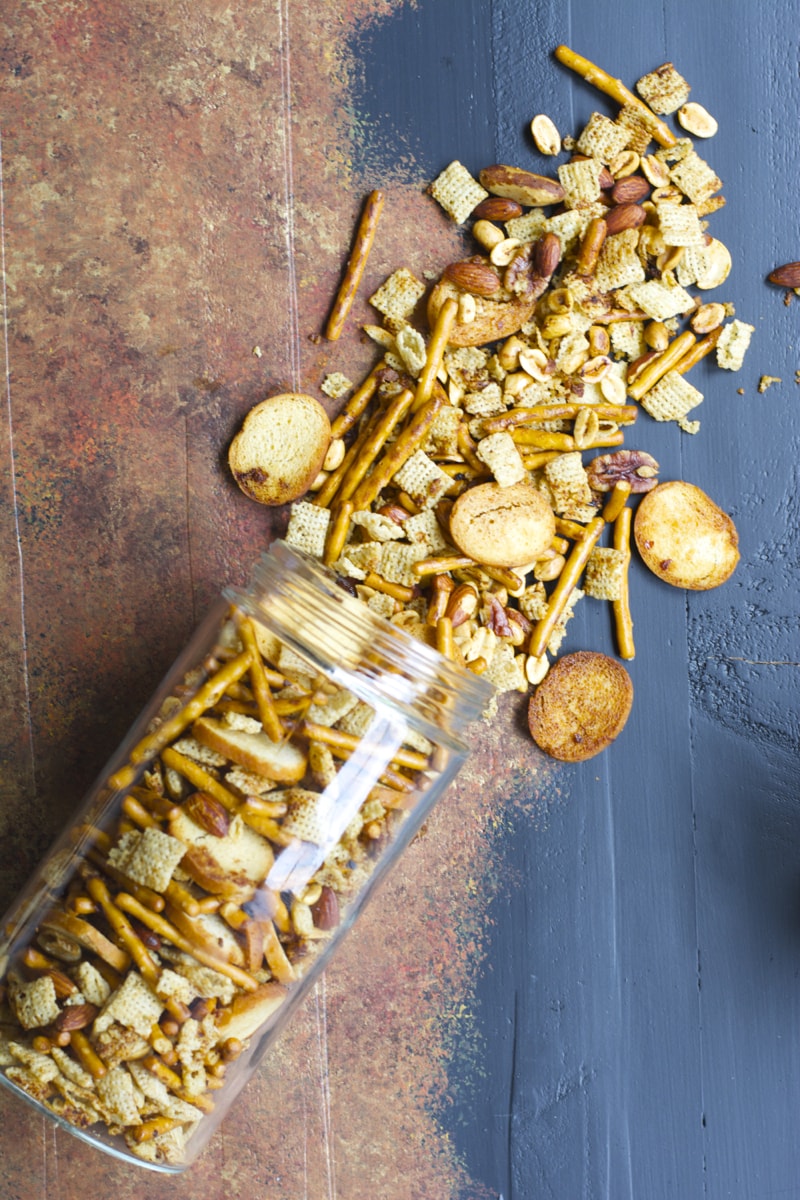 The only time he gets even remotely irritated is when he has to go without food. Since he has Celiac, and depending on where we are going and what we are doing, gluten free foods may not be easily accessible. For this reason, and the fact that we have been driving back and forth across the great state of Tennessee for years, I have become somewhat of an expert at road tripping gluten free.
So, today I am taking you through the basics. Even if you aren't gluten free, keep reading! I try to keep all of the snacks reasonably healthy, which can be hard for anyone to do when planning a trip. So here we go!
For this particular trip we were headed to a wedding for the weekend. There would be no accommodations for him and even though there were a couple chain restaurants that offered gluten free menus he was part of the wedding party and there wasn't really going to be an opportunity to go out and get something. So I needed to pack a weekends worth of meals and snacks.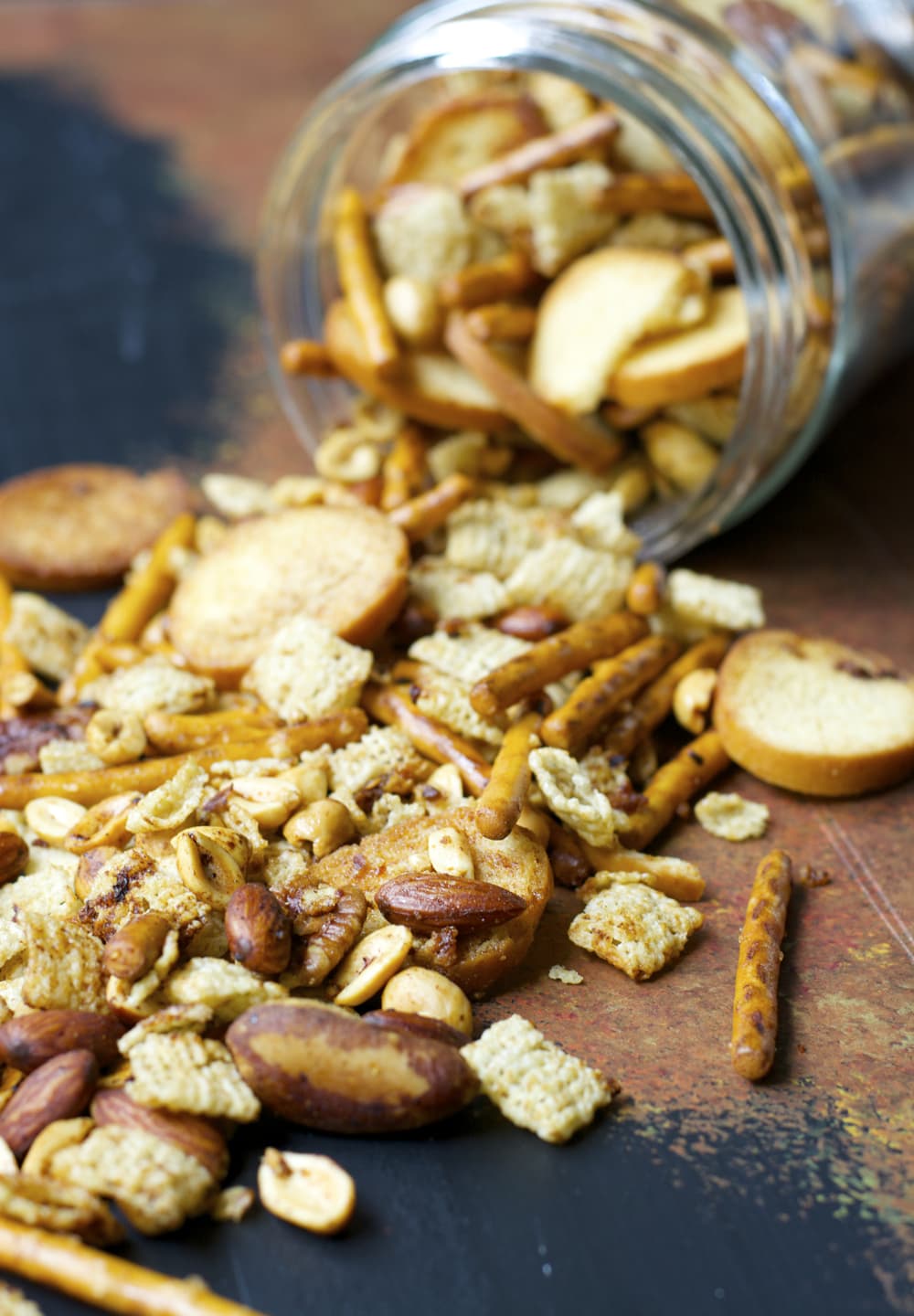 I started with breakfast. I packed Dark Chocolate Chunk Protein Muffins, and Sausage Balls. The muffins are a great grab and go breakfast or snack and because my husband can't eat a meatless meal the sausage balls worked well because we had a microwave in the hotel.
For snacks I packed Honey Nut Power Bars, sliced fresh fruit, carrots and hummus, and this Sweet and Spicy Sesame Snack Mix. I put everything in little individual bags because even though I was only supposed to be feeding the two of us, I knew our friends would know I had food and come running.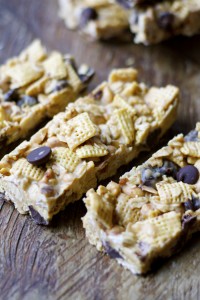 Lunch and dinner proved to be a little trickier. I didn't think we would have a microwave handy in the afternoons or evenings so I needed things that could be kept cold, and in case you haven't ever eaten gluten free bread that has been kept cold in a cooler I will go ahead and tell you. It is gross. Crumbly and dry and just bad. So I opted for these little puffs. I packed Pizza Puffs and Ham and Swiss with Honey Mustard.
And just in case you are thinking that is an insane amount of food for a weekend I would agree, but Mr. Maebell is a bottomless pit!
The weekend was successful, everything fit in the cooler and we had plenty of food that was easy to pack. And a really great assortment of sweet, salty, crunchy snacks that made the weekend much less stressful then trying to explain our situation or worry about cross contamination.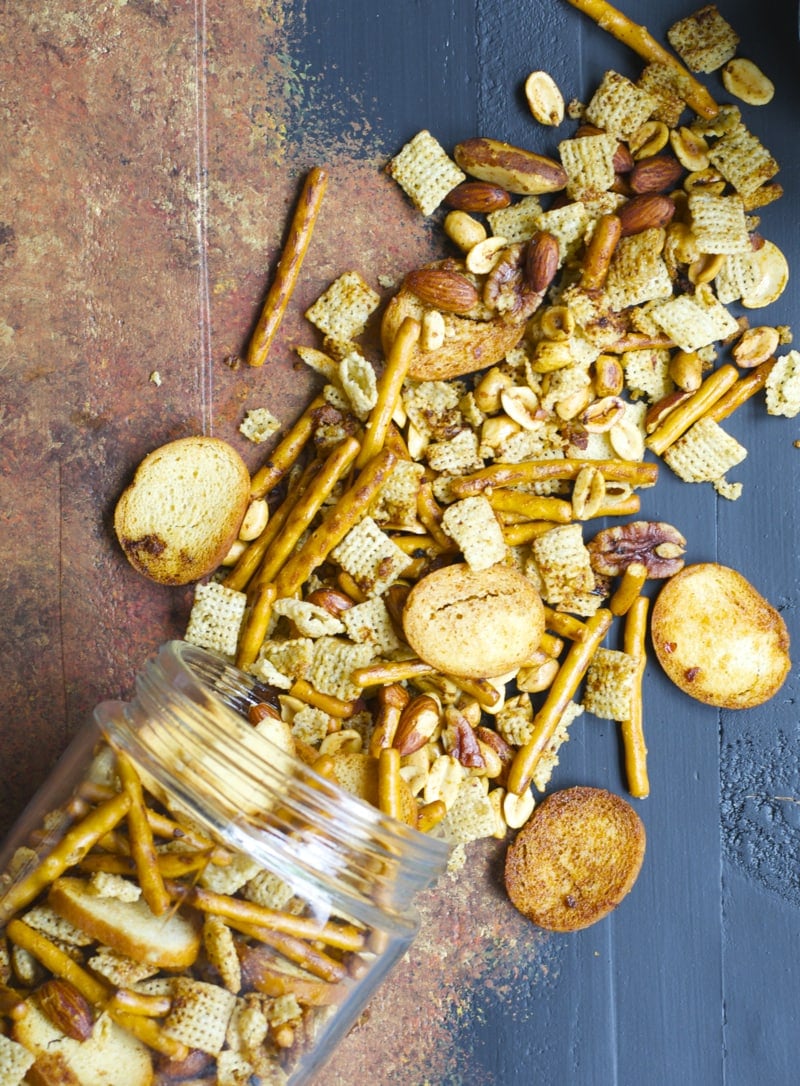 This super easy Sweet and Spicy Sesame Snack mix was one of the favorites. It is an updated version of chex mix. I used Glutino Gluten Free Pretzels and Bagel Chips, Corn Chex and mixed nuts and slowly baked it in an Asian inspired sauce. It only took a few minutes to throw together before you bake it low and slow for about an hour.
*I suggest using reduced sodium soy sauce.
Glutino sent me products for this recipe. All opinions are my own.