Update your kitchen with an Easy DIY Brick Backsplash! This affordable project is perfect for beginners who are looking for that classic farmhouse style!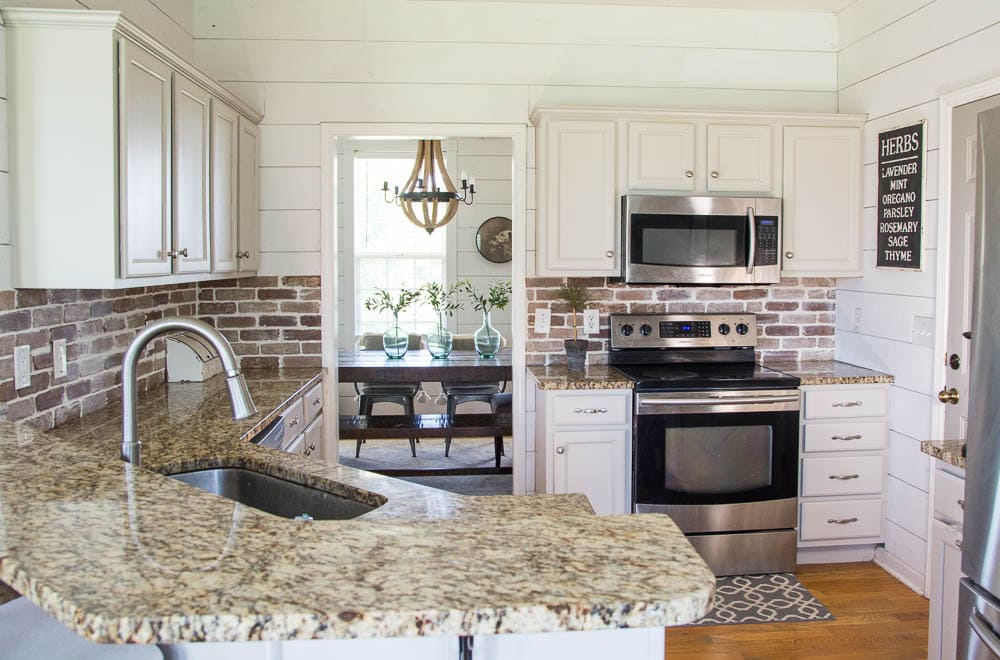 You know I love a good DIY project. When we moved into our house I really wasn't very crazy about our kitchen. The layout is awkward and the previous owners style was hard for me to get past. We contemplated ripping the whole thing out and starting over, but I had such a hard time justifying that kind of expense. I mean the kitchen worked, the countertops and cabinets were in good shape, it just wasn't me. So, I decided to take on the kitchen as a bit of challenge. How can I improve a space that I don't like on a modest budget? Turns out, it was easier than I thought. So here is what I was working with:
Aside from the brick the other materials needed are an adhesive to secure your brick to the wall, a way to cut the brick (a tile cutter or angel grinder), and grout. I get more in depth about these products when I explain the install, but you can see this is a fairly short supply list for a project that packs a big design punch.
Install
I am, of course, not a professional. I am a novice DIYer with intermediate skills, so there may be better ways to do this, but I am going to share with you what worked for me. I found the brick installation to be quite easy. Time consuming? Yes, a bit. But this is not a difficult project. The brick is easy to work with and allows room for error. Compared with tile, this is a much easier project, great for those new to home improvement projects!
Once you get going this goes pretty quickly the one thing that slows you down a bit are the outlets. Don't let the outlets scare you! These pavers were very easy to work with and cut nicely without crumbling. I did try to use a tile cutter we have, a basic tile cutter where you score the tile/brick then press and it cuts it in half, however it only did an okay job and couldn't cut corners out of the brick like I needed it to for some of the outlets. So my recommendation is to buy an inexpensive angle grinder, this is the one I have and it worked like a charm. And outfit it with a diamond blade, all together you are looking at about a $35 investment for the grinder and the blade and you are able to make EASY and precise cuts and it goes SO much faster. Once you see how handy an angle grinder is you will think of lots of other projects for it 😉