Try these Bacon and Cheese Keto Egg Bites for an easy grab-and-go breakfast! Less than one net carb per bite, making them the perfect keto breakfast!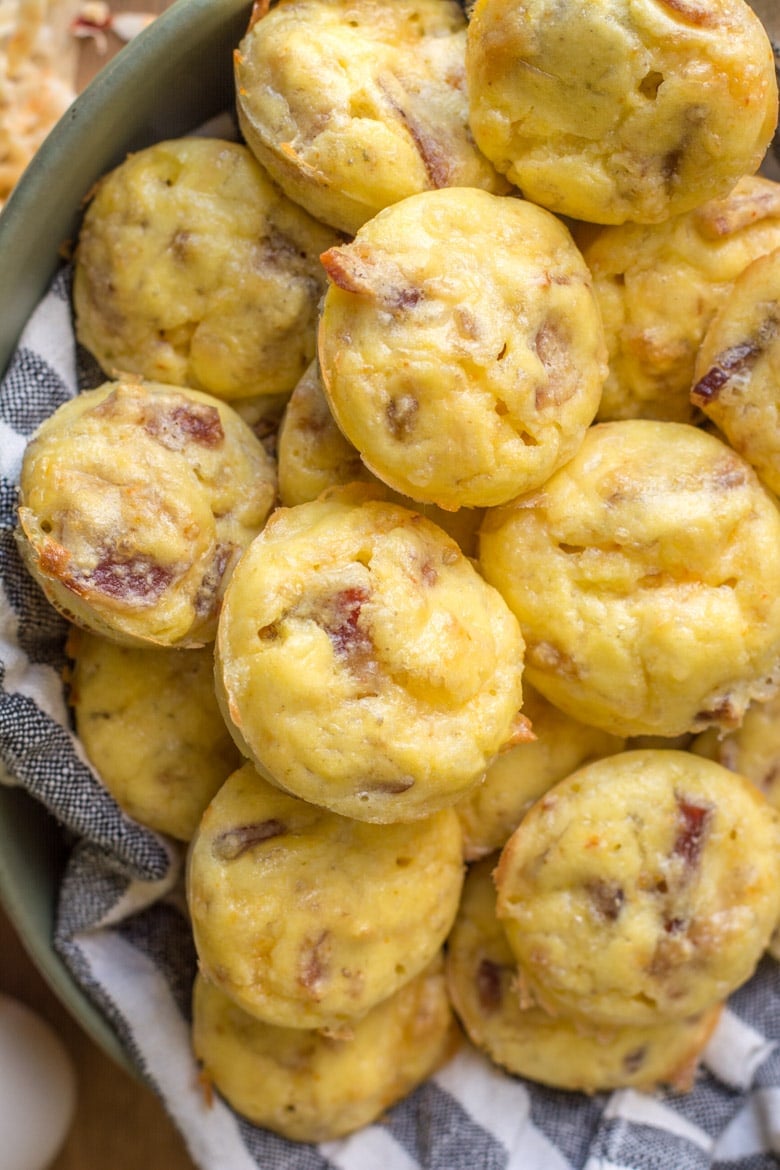 Originally posted July 30, 2019, updated July 26, 2023
I like to stock my fridge with a couple tasty grab and go meals, usually breakfasts, just to make life easier. Having these Bacon and Cheese Keto Egg Bites as well as some Keto Lemon Chia Seed Pudding has made mornings so simple and delicious this week!
These bacon, egg, and cheese bites are quick, easy, and use just 6 very basic keto ingredients. They freeze and reheat beautifully. They don't even have an overwhelming eggy taste or texture, so they work for breakfast or lunch! This is a low-carb recipe that the whole family will love!
Why you'll love this recipe: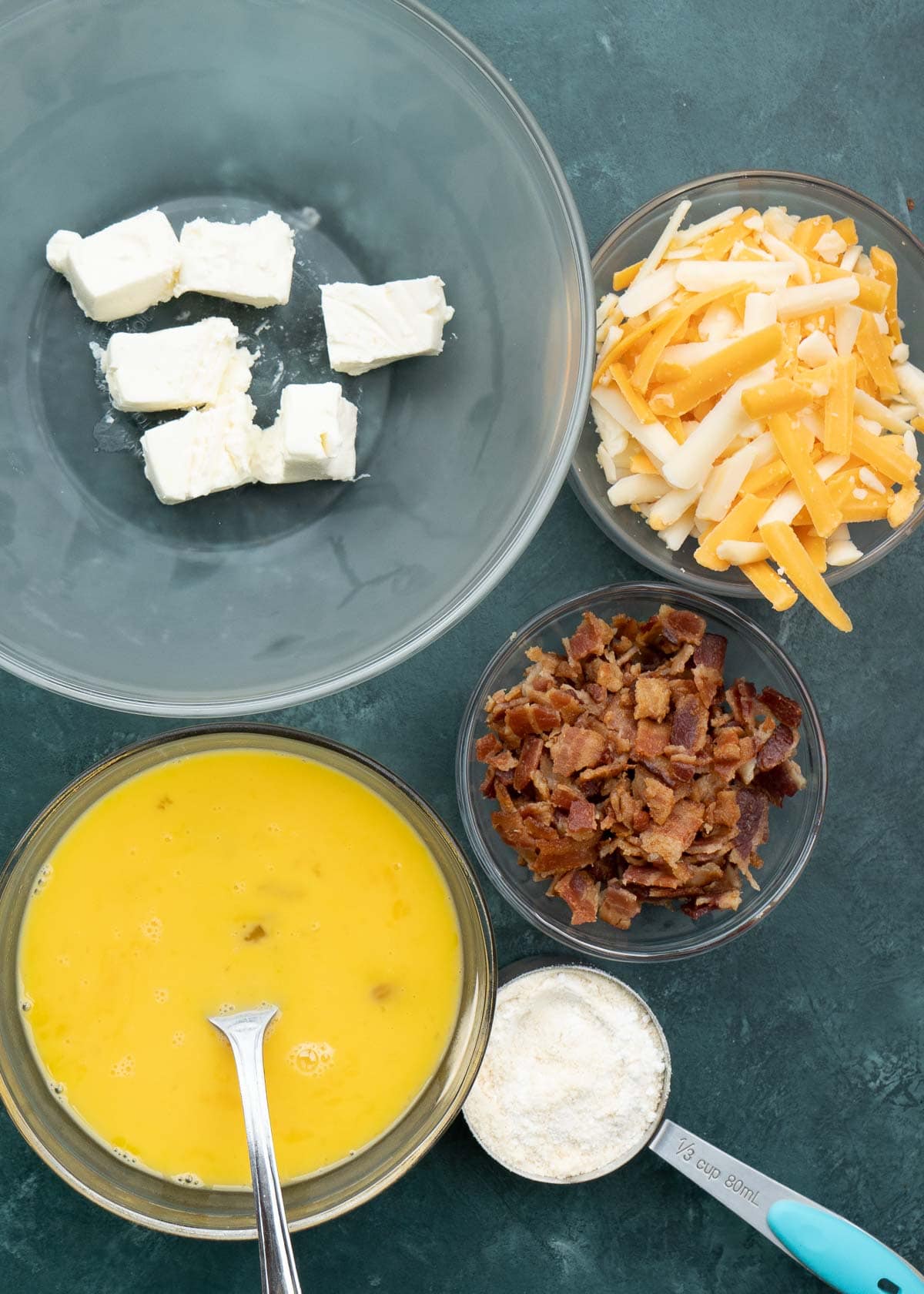 Ingredients in Keto Egg Bites
Here's a quick overview of what you'll need for this recipe. For exact measurements, see the printable recipe card down near the bottom of the page.
You'll need a mixing bowl, mini muffin pan (or 2), and non-stick spray as well.
How to Make Bacon Egg Bites
This oven baked egg bites recipe requires minimal prep work. Here's a quick step-by-step guide for making this gluten-free breakfast.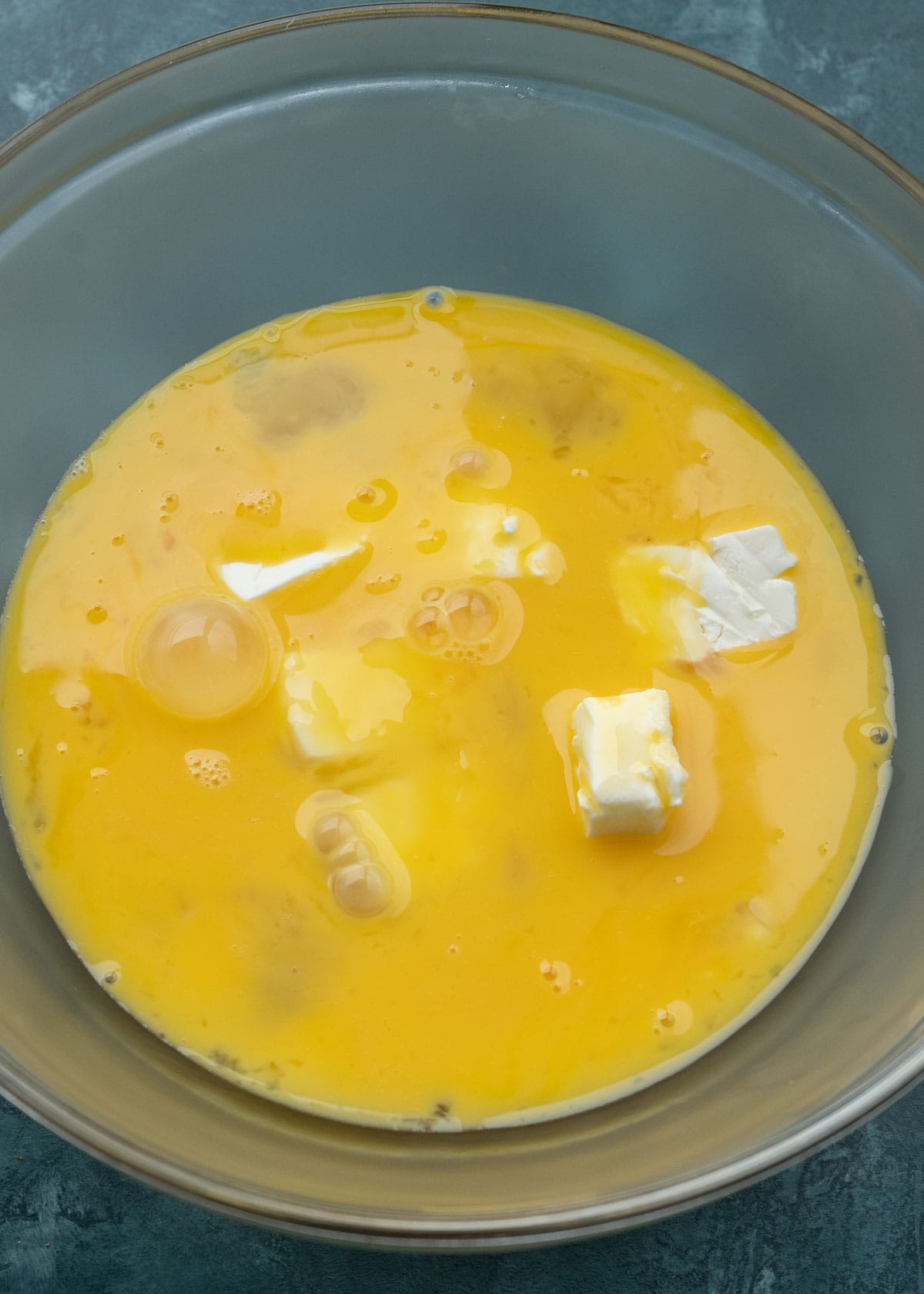 Mix
While the oven is preheating to 350 degrees F, grab a medium-size mixing bowl and your ingredients. You can dump in all ingredients and mix, but I recommend starting with just the softened cream cheese and eggs first. Then follow with the remaining ingredients and mix until well combined.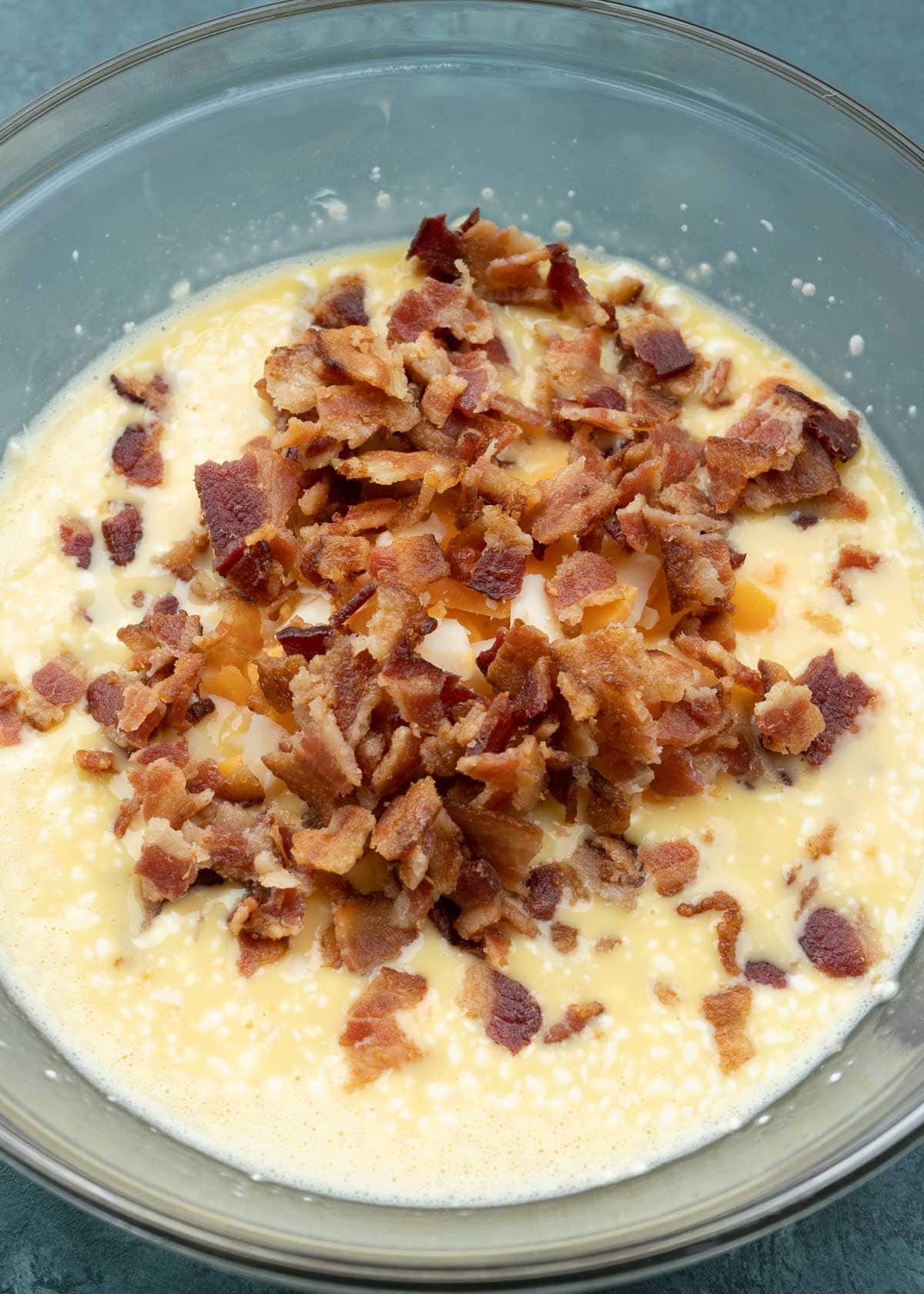 Chill
Allow the mixture to sit for 10 minutes so that the flour can absorb the moisture. This is super important–Coconut flour is SO absorbent, but it needs a few minutes to soak up that egg. After 10 minutes, spray two mini muffin pans with oil (or 1 if you're working in batches) and fill each cavity about 3/4 full.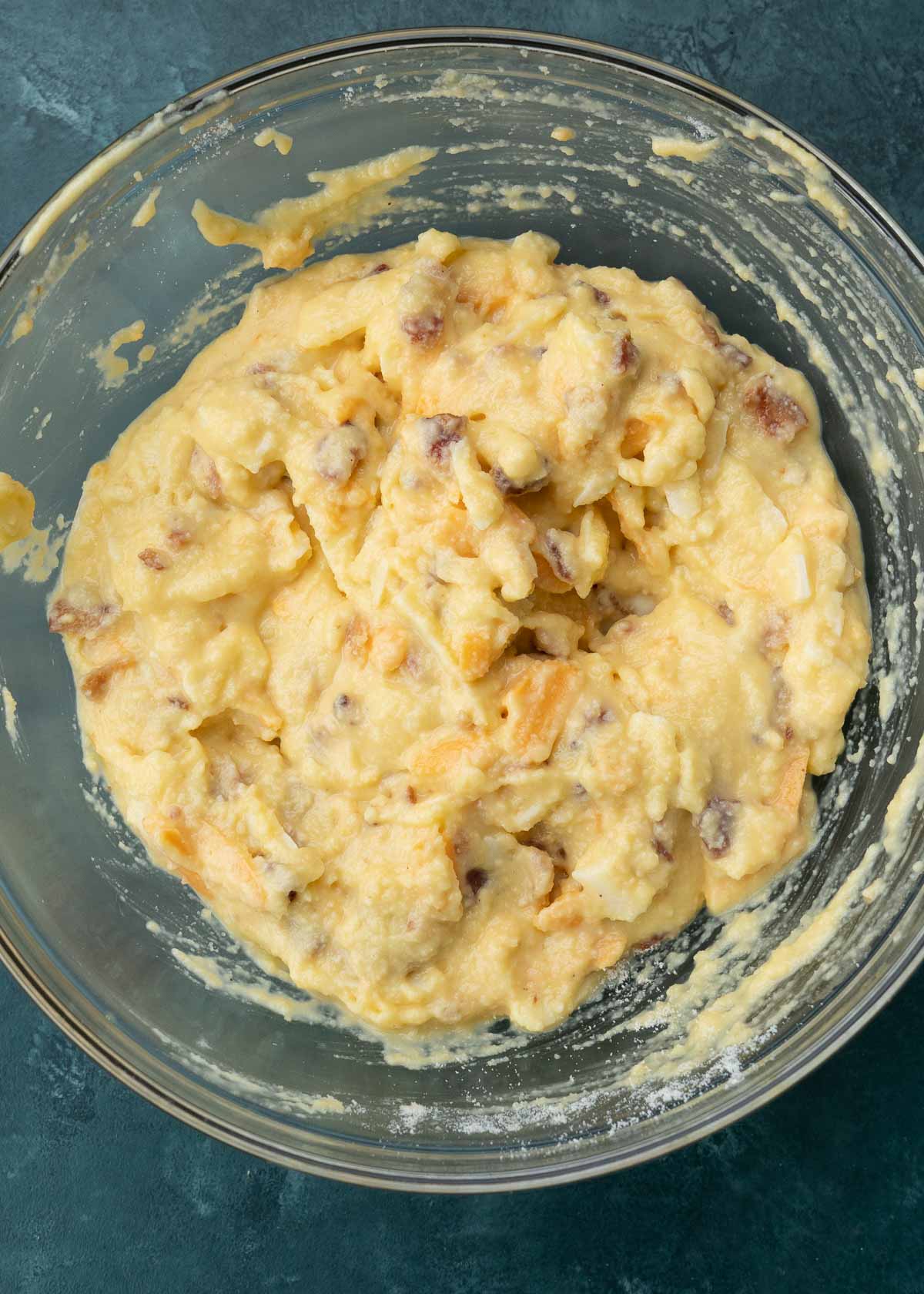 Bake
When the oven has reached temperature, move the muffin pans into the oven and cook for 15-18 minutes or until cooked through. Remove from oven and serve immediately.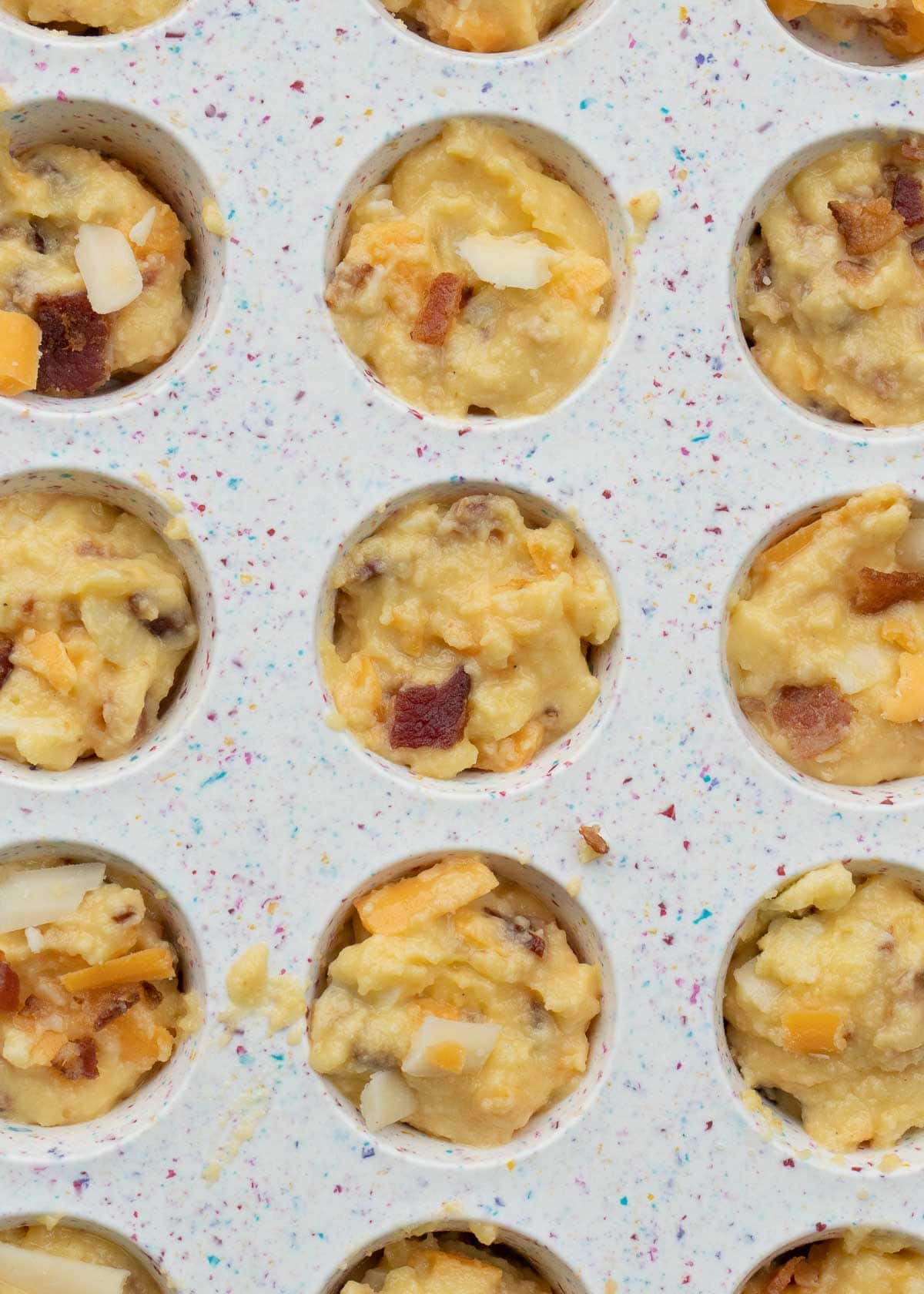 What to serve with keto egg bites?
These healthy egg bites are perfect with a handful of berries and a Keto Frappuccino! If you love a sweet bite at breakfast, add a Keto Strawberry Cheesecake Parfait for less than 5 net carbs. Some Grain-Free Granola is another great grab-and-go morning snack you can take in case you're extra hungry.
Check out this list for more Keto Coffee Drinks!
Store
These bacon, egg, and cheese bites will last 3-4 days in the fridge in an airtight container. Make sure you allow them to cool completely before closing them up as that residual heat turns into moisture in the fridge–This can lead to soggy, denser egg bites instead of the perfectly fluffy treats we want!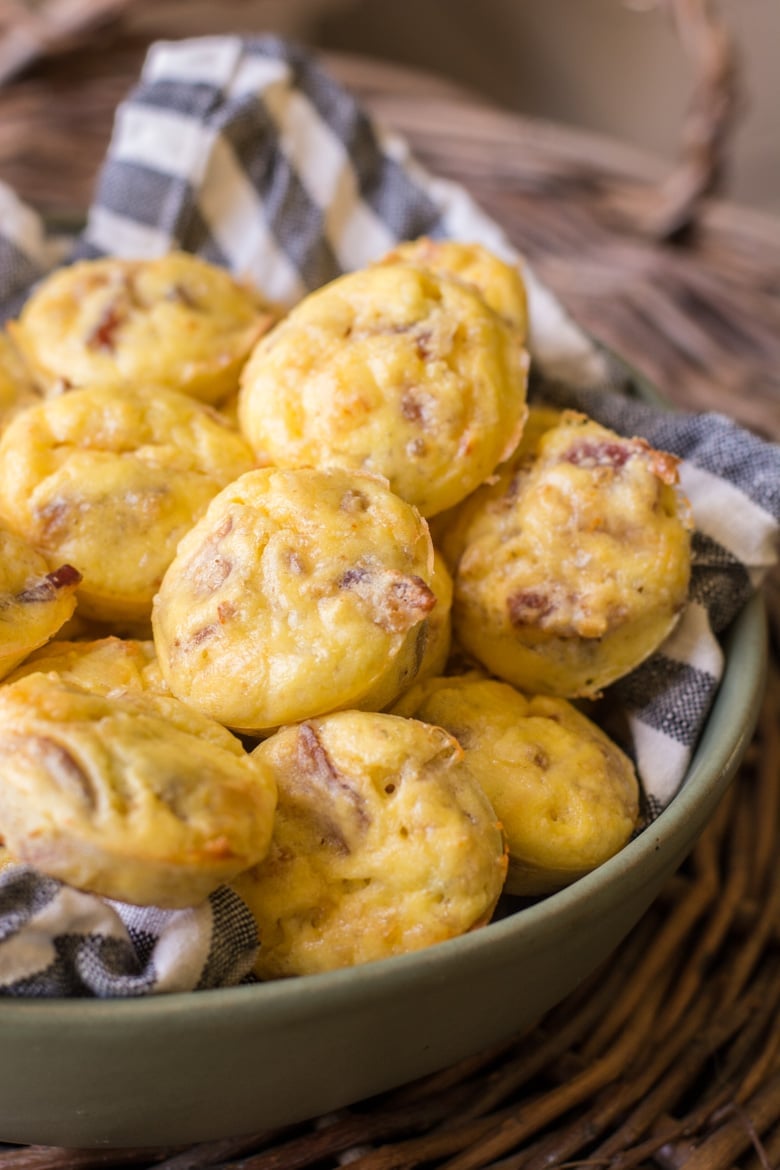 Can I freeze egg bites?
Yes, these have the perfect texture for freezing, thawing, and reheating! First, allow your bites to completely cool (otherwise that heat will turn into condensation which will lead to freezer burn).
Once cooled, freeze them on a baking sheet or plate for 1-2 hours before transferring to a freezer bag. This will prevent them from sticking together, allowing you to pull out just the right amount every time. Enjoy within 3 months for the best taste and texture.
Reheat
To reheat these leftovers, simply microwave in 15-second increments at 80% power until warmed throughout. You can even microwave them straight from frozen for a quick, convenient breakfast.
How Many Carbs Are in These Keto Egg Bites?
These little bites come to 1.4g of carbs with 0.6g of fiber, making it a net of 0.8 net carbs per bite! So eating 5 bites throughout the morning adds just 4 net carbs to your day.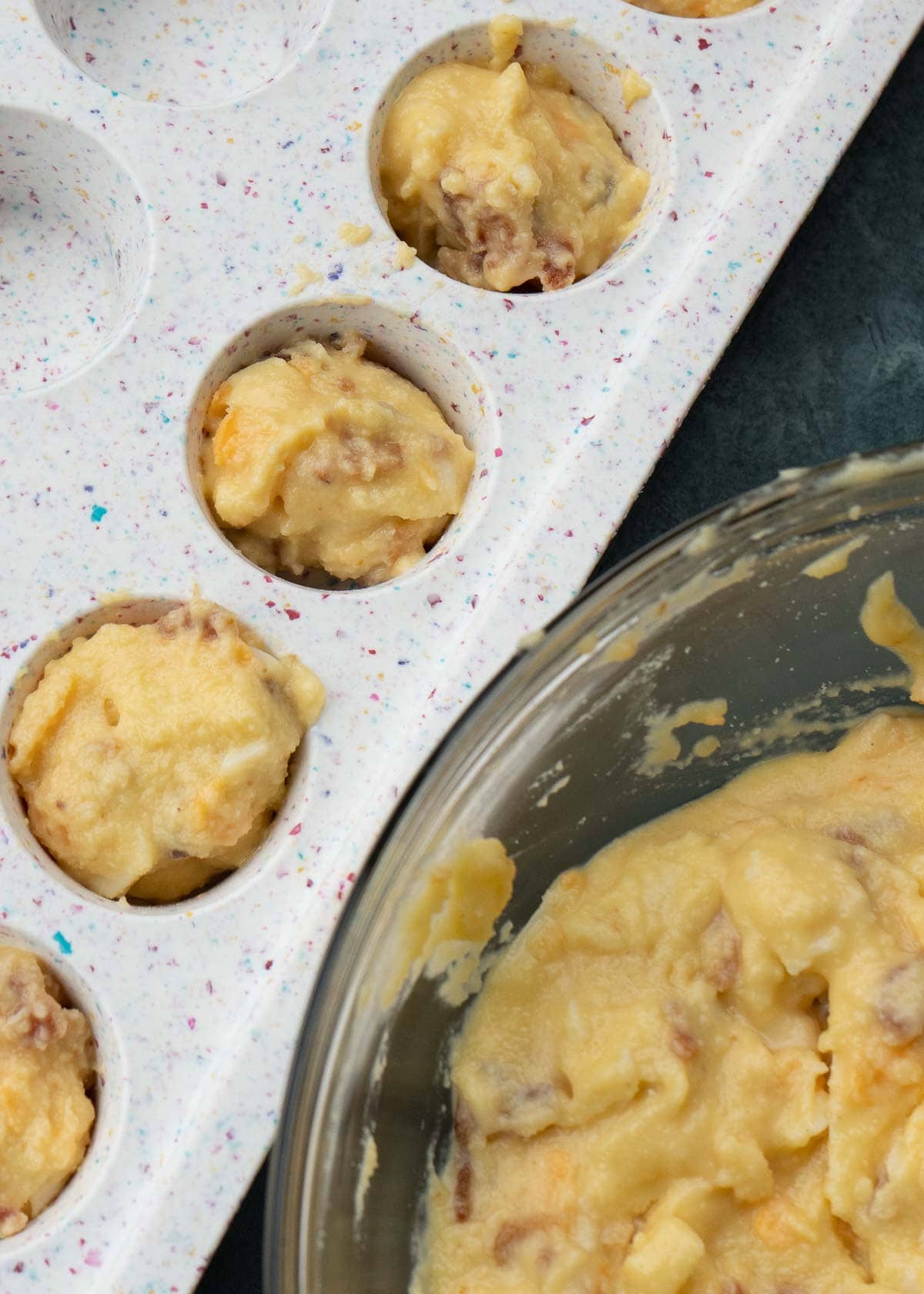 Tips for Making Homemade Egg Bites
More Keto Egg Breakfast Recipes:
More Keto Meal Prep Recipes
You may also love these delicious Keto Spinach Bacon and Egg Muffins, they are only about 1 net carb each and great for keto meal prep. Another favorite of mine are these delicious Keto Chocolate Chip Cheesecake Bars. They have about 2 net carbs per serving and are the perfect way to satisfy your sweet tooth. Some other easy recipes include The BEST Keto Cinnamon Rolls and Keto Sausage Cream Cheese Rolls.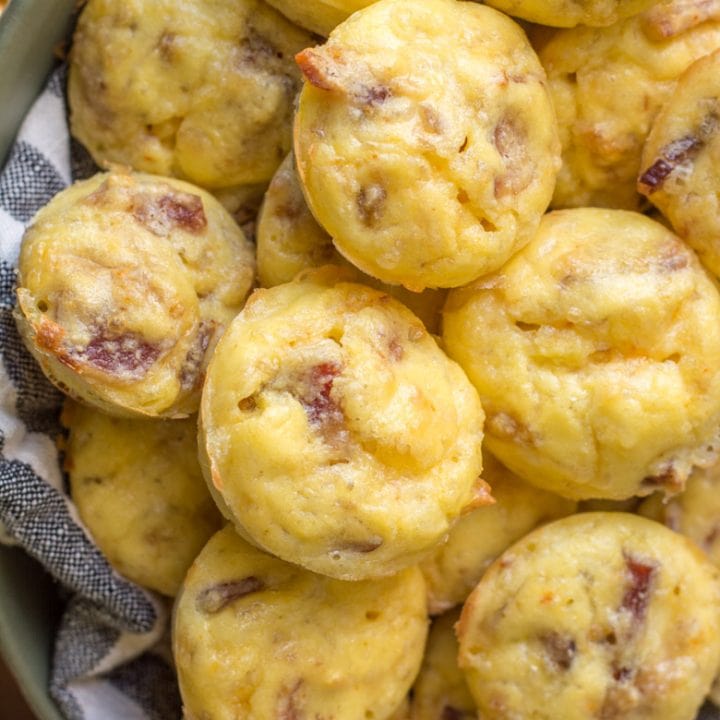 Keto Bacon Egg and Cheese Bites
These keto bacon egg and cheese bites are a perfect grab-and-go breakfast. They're packed with protein and have only 0.8 net carbs.
Ingredients
4 large eggs
2 ounces cream cheese, softened
1 cup chopped cooked bacon (5-6 thick slices)
1 1/4 cups shredded cheese (I like to do a combination of cheddar and pepper jack)
1/3 cup coconut flour OR almond flour
1/2 teaspoon baking powder
Instructions
Preheat oven to 350 degrees F.
In a medium size mixing bowl, combine all of the ingredients. Make sure to break up the cream cheese as you stir.
Allow the mixture to sit for 10 minutes for the flour to absorb some of the moisture. DO NOT SKIP THIS STEP!
Spray a regular mini muffin pan or use a silicone muffin pan (my recommendation) and fill each cup about 3/4 full.
Bake 15-18 minutes until golden brown and cooked through.
Notes
Note that the nutrition listed is calculated with coconut flour.
Leftover egg bites can be stored in an airtight container in the fridge for 5 days or in the freezer for 3 months.
Reheat in a microwave on 80% power in 15-second increments, or in a 350F oven for 5 minutes.
Nutrition Information:
Amount Per Serving:
Calories:

75
Total Fat:

6g
Carbohydrates:

1.4g
Fiber:

0.6g
Protein:

3.6g