Ambrosia Apple Pico De Gallo is the perfect sweet and savory fruit salsa! Pair with White Cheddar Nachos for a beautiful snack!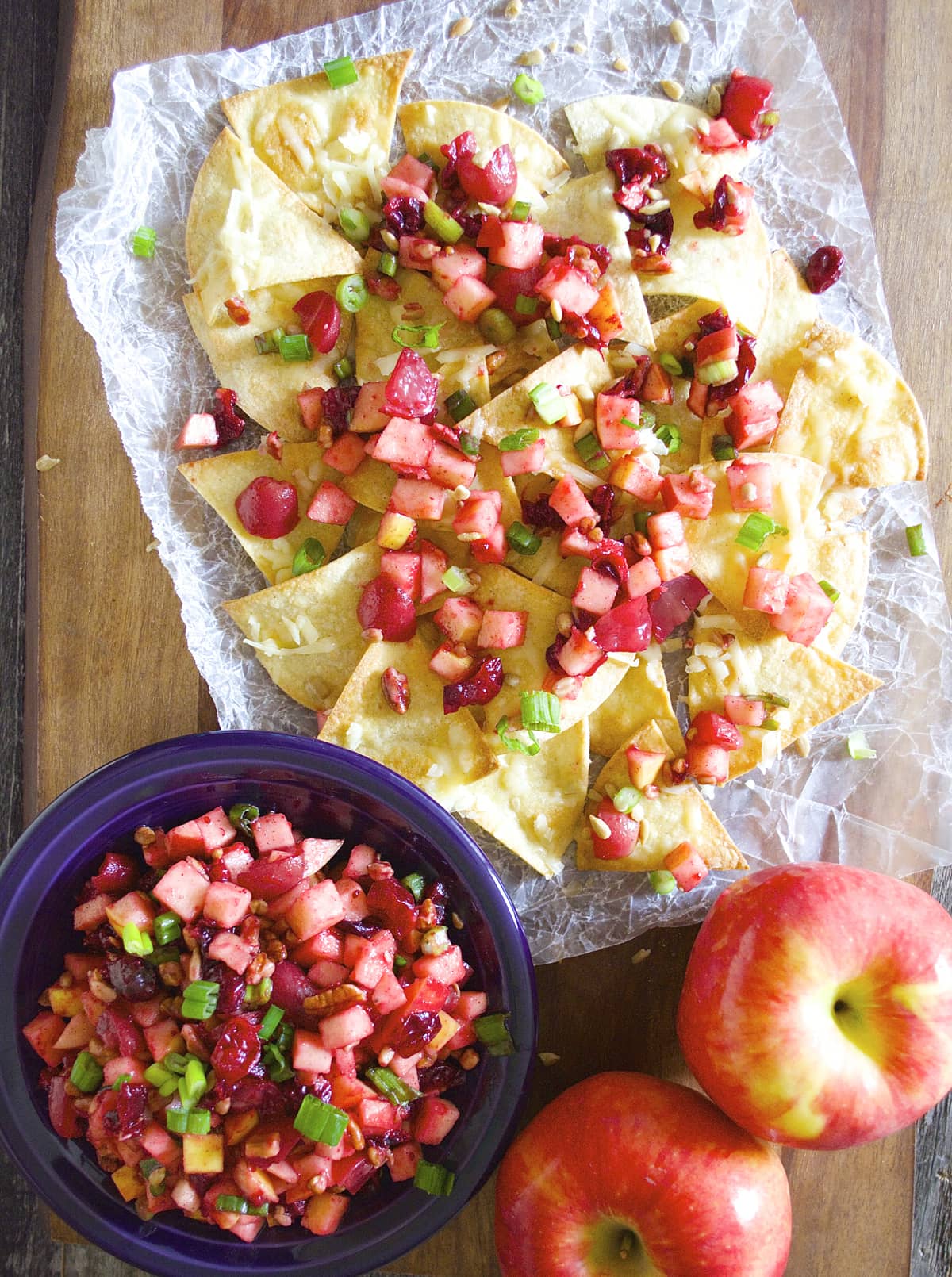 A few weeks ago, I ate at a super awesome restaurant in Nashville with a big group of local food bloggers. We ate, and drank, and ate, and ate….and then ate some more.
It was such a cool experience to be with a group of people who are passionate about the same things you are. Not to mention getting to eat a ton of great food, that I didn't have to cook!
One of my favorite meals of the night ended up being the one I was least excited about, the pumpkin soup. When I saw it on the menu I thought "meh…" and that was it. As far as I was concerned, it was the dish standing between me and the bacon wrapped shrimp!
But a big bowl of piping hot creamy pumpkin soup was placed in front of me and I tasted it. I immediately knew something magical had happened. I had become obsessed with the stuff in just one bite! The soup was a bit spicy, but was topped with this cool Apple Pico De Gallo which blended the sweet and savory sides of the dish together perfectly.
As much as I loved the soup, it is the Apple Pico De Gallo I have been craving since that night! I have no idea what was in the resturant version, but I imagined it with sweet Ambrosia apples. Roasted grapes, cranberries, cinnamon, honey and nuts were a must too! But the real kicker comes when you toss in chopped green onions and serve it with baked White Cheddar Nachos. The sweet and savory combo is so refreshing!
Here is how we make it!
First, we roast our grapes and fresh cranberries with a tiny bit of butter, honey and spices. Have you ever roasted grapes? If you haven't it is kind of like magic. They become a bit soft, but not mushy, and they are so much sweeter. The flavor is so fantastic! When you roast your cranberries, they will burst, unlike your grapes, but that is perfect because it helps take away some of the tartness.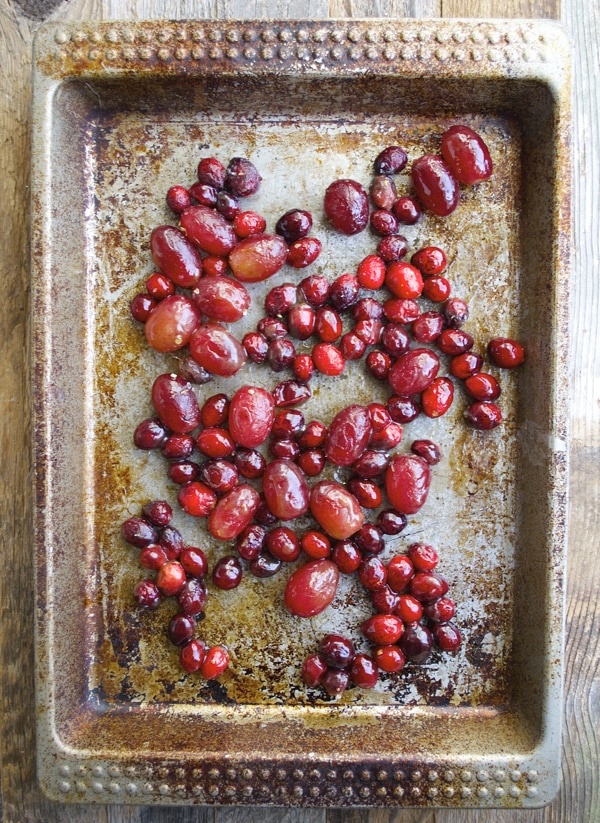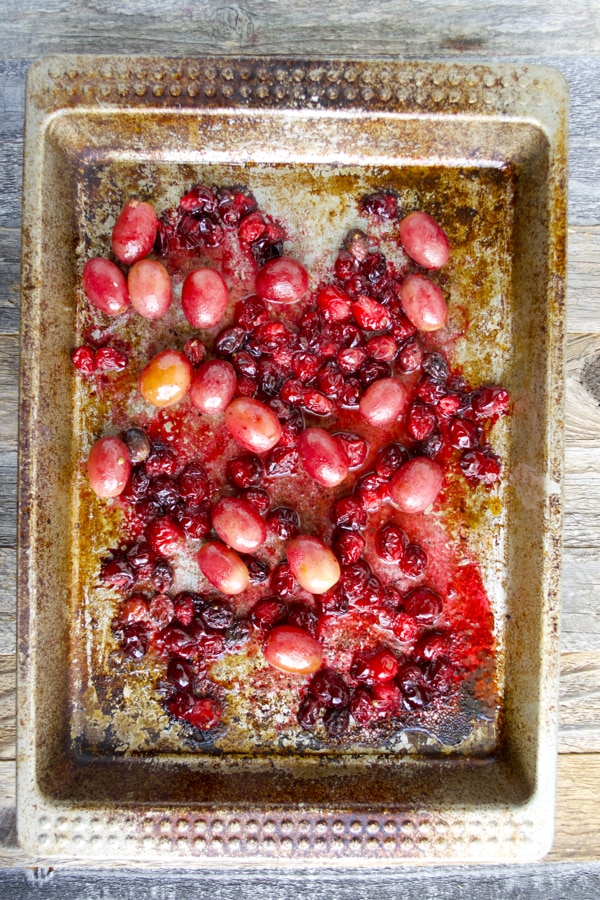 Look at that color! Beautiful! Now your roasted fruit needs to cool completely. You can do this the day before if you would like and store them in the fridge overnight.
When you're ready to make your nachos just cut some corn tortillas and spray them with a bit of oil. Bake them for about 5 minutes on each side. Sprinkle with a bit of sea salt and shredded sharp white cheddar.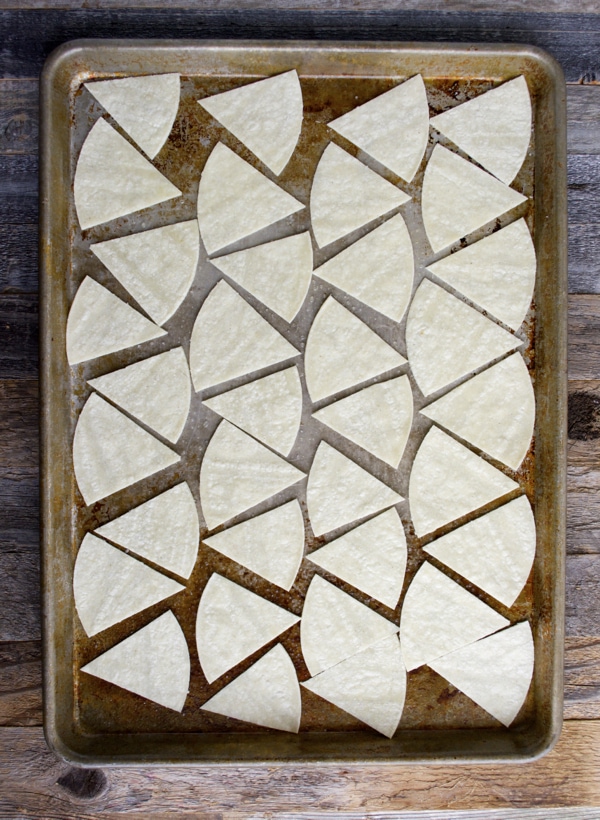 To finish the Ambrosia Apple Pico De Gallo you will add two chopped Ambrosia apples. The reason Ambrosia apples work so well in this recipe is because they have a distinct honeyed flavor, which is brought out because we roasted the grapes and cranberries in honey. They are also crisp and juicy which balances out the other ingredients like sunflower seeds, pecans, green onions so well.
There you have it! A fun, festive, and totally beautiful snack loaded with fiber and Vitamin C!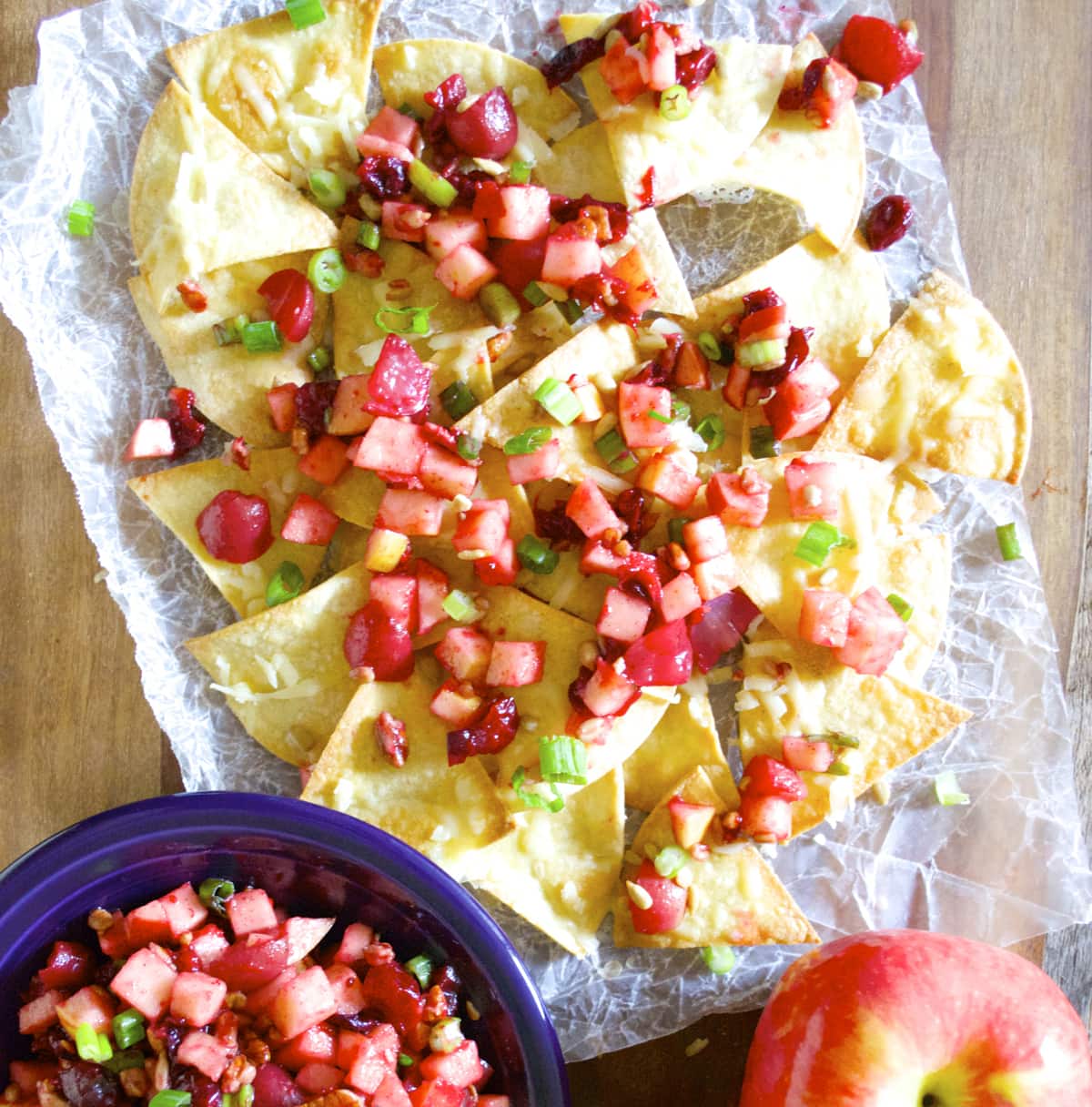 Other Easy Recipes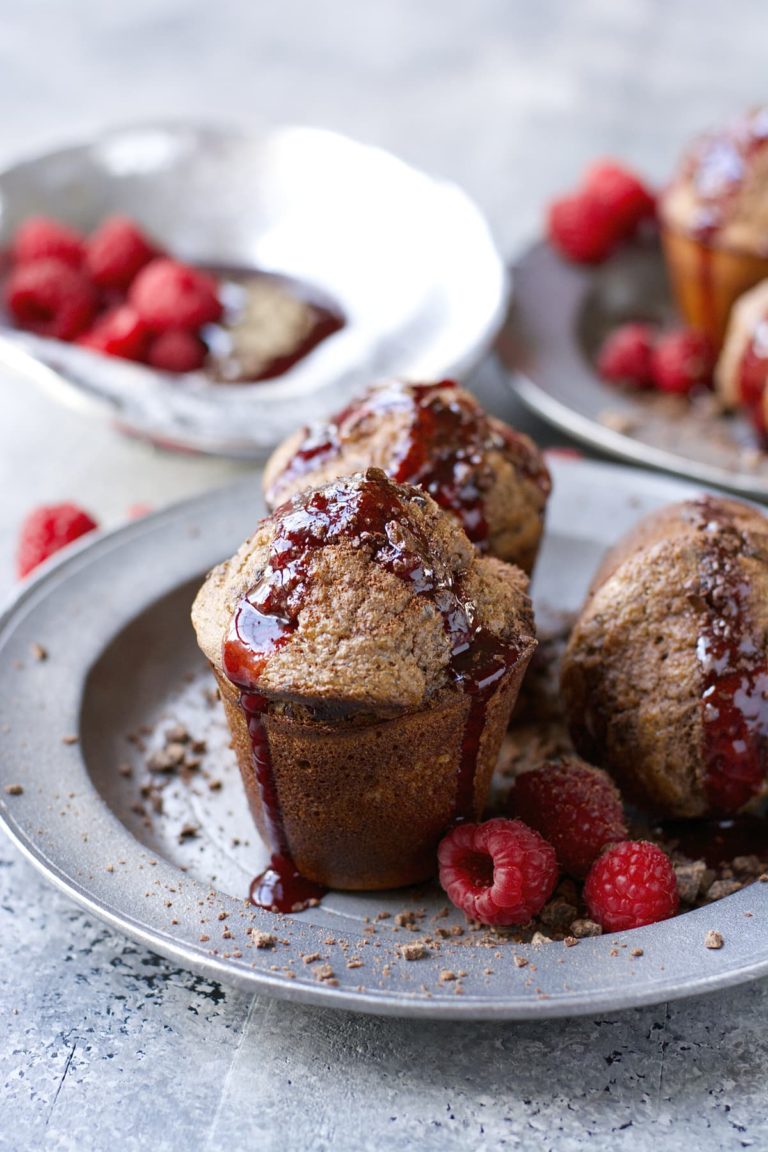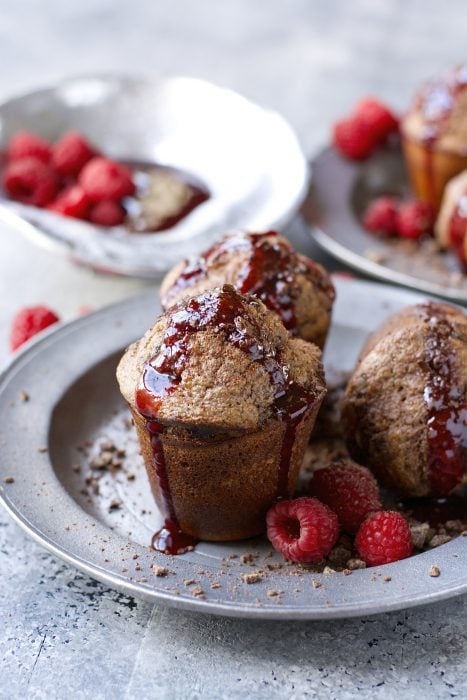 Chocolate Popovers with Raspberry Syrup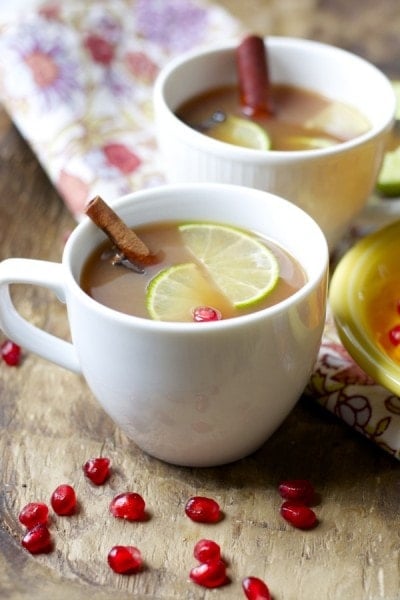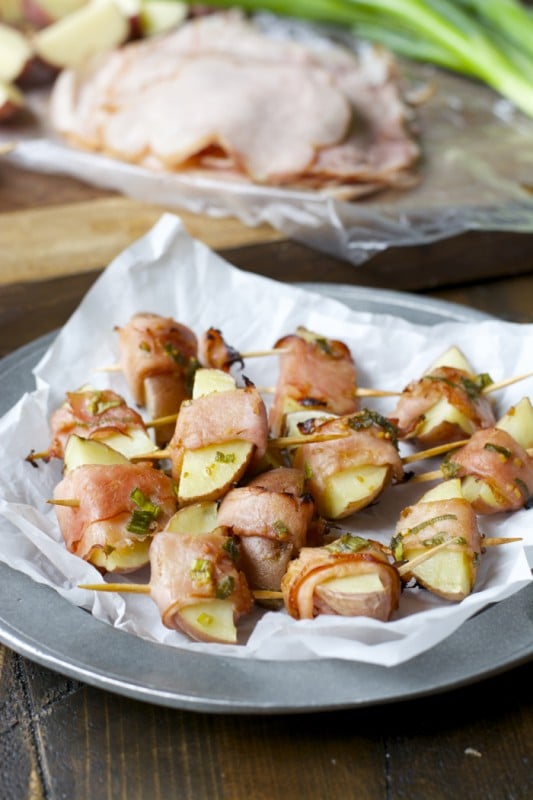 Ham Wrapped Potatoes with Smokey Honey Mustard