This super easy Skillet Enchiladas recipe will become a family favorite! Ground beef, black beans, a flavorful enchilada sauce, tortillas and cheese come together for a one-pan, 20-minute meal!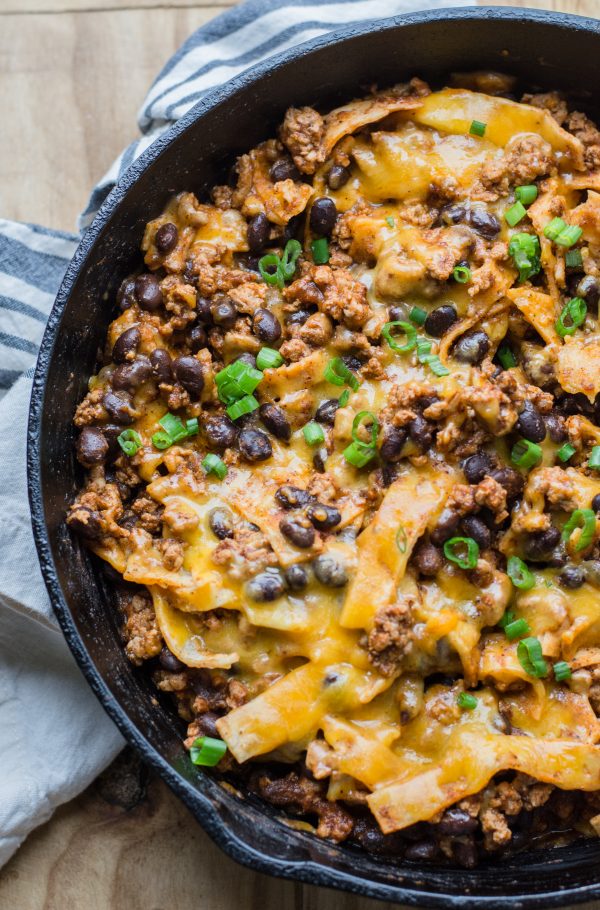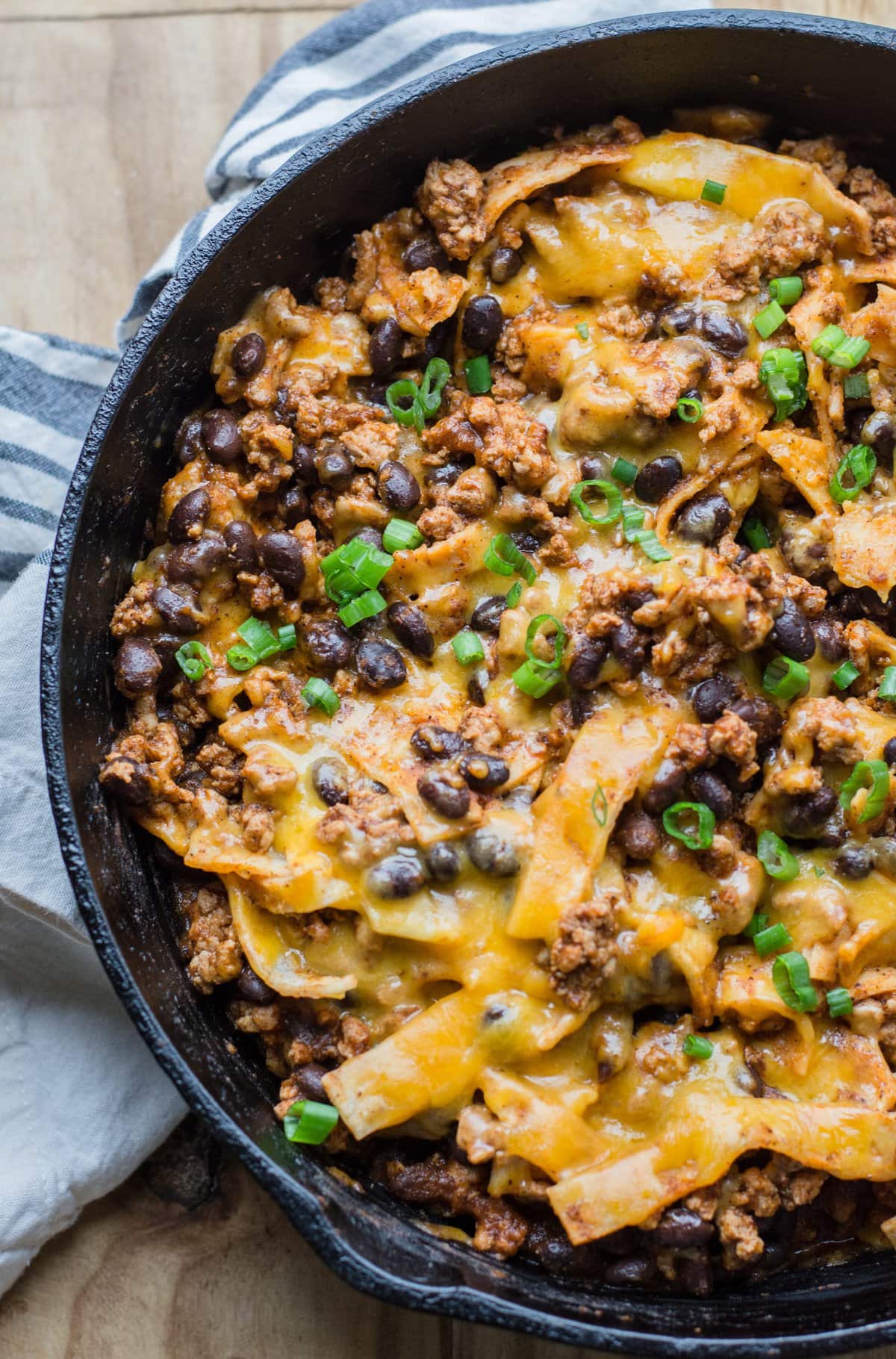 One-pan dinners are the best, there is no way around it. The fewer the dishes, the more I enjoy the meal!
This super easy skillet enchiladas recipe contains only have a handful of basic ingredients and is ready in under 30 minutes. No rolling and baking like a traditional enchilada recipe, just all the flavor!
Ingredients in Skillet Enchiladas
The best part about this recipe is that it only requires five very basic ingredients. You will need:
Ground beef
Black Beans
Enchilada Sauce
Corn Tortillas
Cheese
How to Make Skillet Enchiladas
Traditional enchiladas are delicious but a bit more tedious. It can be a difficult recipe to squeeze into a busy weeknight. These ground beef enchiladas are so much easier because everything is made right in one pan!
This is how you make them:
Heat a large skillet to medium heat. Brown the meat and drain off any grease.
Add drained and rinsed black beans and enchilada sauce, stir well.
Add sliced tortillas and top with cheese. Allow the mixture to simmer and those delicious flavors to meld!
Top with avocado, sour cream or whatever your favorite Mexican toppings are.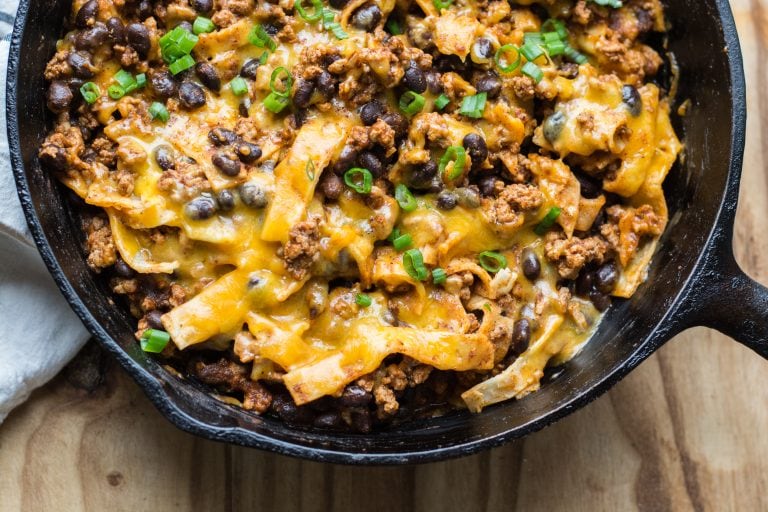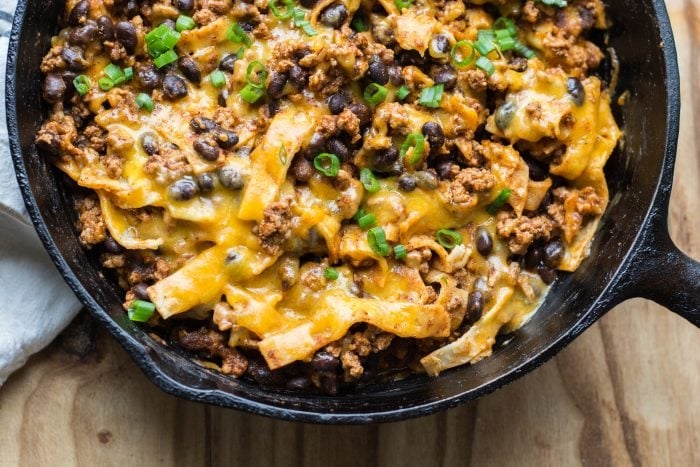 Can I Use Ground Turkey?
Yes! I prefer using ground beef because it delivers a more authentic enchilada flavor, but these easy enchiladas can also be made with ground turkey, pork, or chicken.
Tips for Making Simple Enchiladas in a Skillet
This is an easy dish to customize based on your personal preferences. As written, I use ground beef, black beans, enchilada sauce, corn tortillas and shredded cheddar. Just five basic ingredients, you probably already have on hand. But you could switch up and use ground turkey, pinto beans or shredded pepper jack if you want to add a little extra kick.
I prefer making my ground beef enchiladas with corn tortillas, but you can substitute flour tortillas if desired. Just note that the consistency won't be the same.
If using ground beef, I recommend buying 85 or 90% lean. That way, there's enough fat that the beef won't be dry, but there's not so much that you'll wind up with a greasy beef enchilada skillet.
More One-Pan Dinner Recipes:
If you love one-pan meals, try our one pan Easy Taco Mac, Spicy Drumsticks with Rice, or my favorite Cabbage Casserole. These are perfect weeknight meals when you need something hearty in a snap!
Some of my other favorites are: