These Cranberry White Chocolate Macadamia Nut Cookies are the perfect low carb cookie! Each cookie is packed with sweet white chocolate chips, sweet dried cranberries and salty macadamia nuts, for about 4 net carbs each!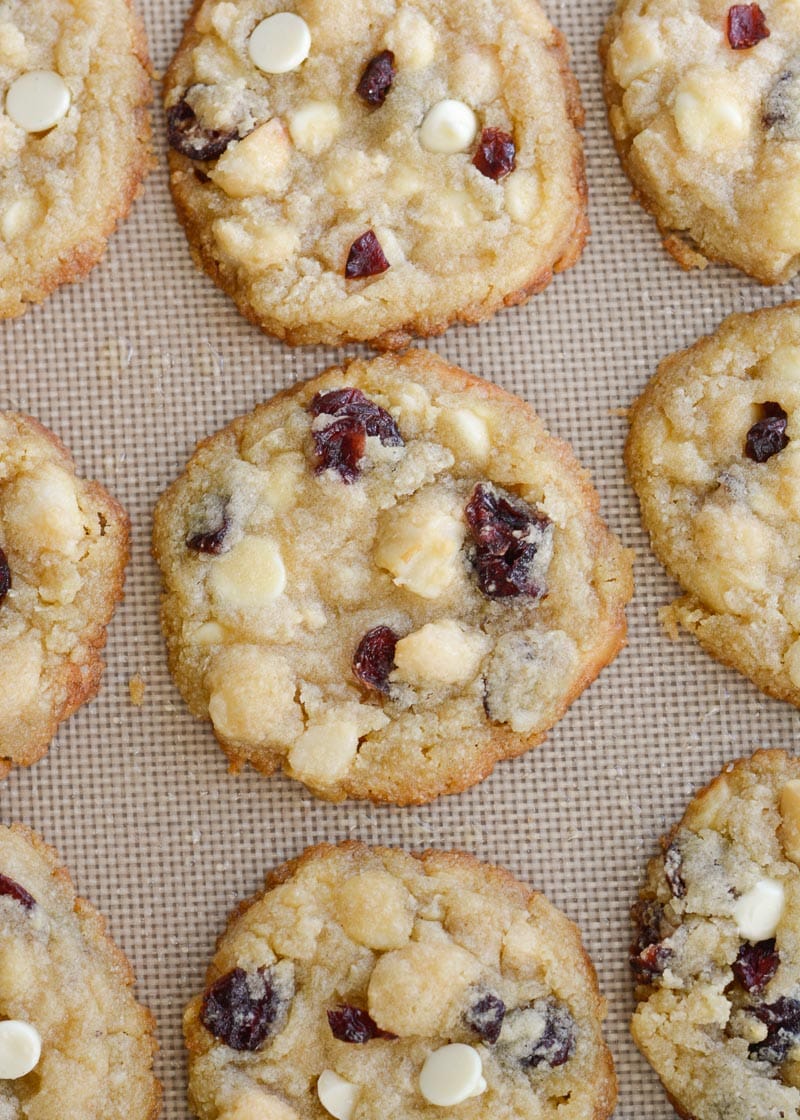 Since perfecting these Keto Chocolate Chip Cookies I have been on a mission to create low carb versions of other cookies I love! While I do love a good chocolate chip cookie, my favorite is a white chocolate macadamia nut cookie. I love the sweet vanilla undertones, paired with salty macadamia nuts and rich white chocolate. It is an unbeatable combo!
Today's recipe is a more flavorful, holiday version of this old classic! These cookies feature sugar free white chocolate chips, unsweetened dried cranberries and perfectly toasted macadamia nuts. This is a great low carb holiday dessert, or really anytime your sweet tooth calls!
What ingredients do you need to make Cranberry White Chocolate Macadamia Nut Cookies
Almond Flour
Baking Soda
Salt
Salted Butter
Vanilla extract
Egg
Lily's White Chocolate Chips
Macadamia Nuts
Unsweetened dried cranberries: if you use regular dried cranberries with sugar just note the carb and sugar content will be higher.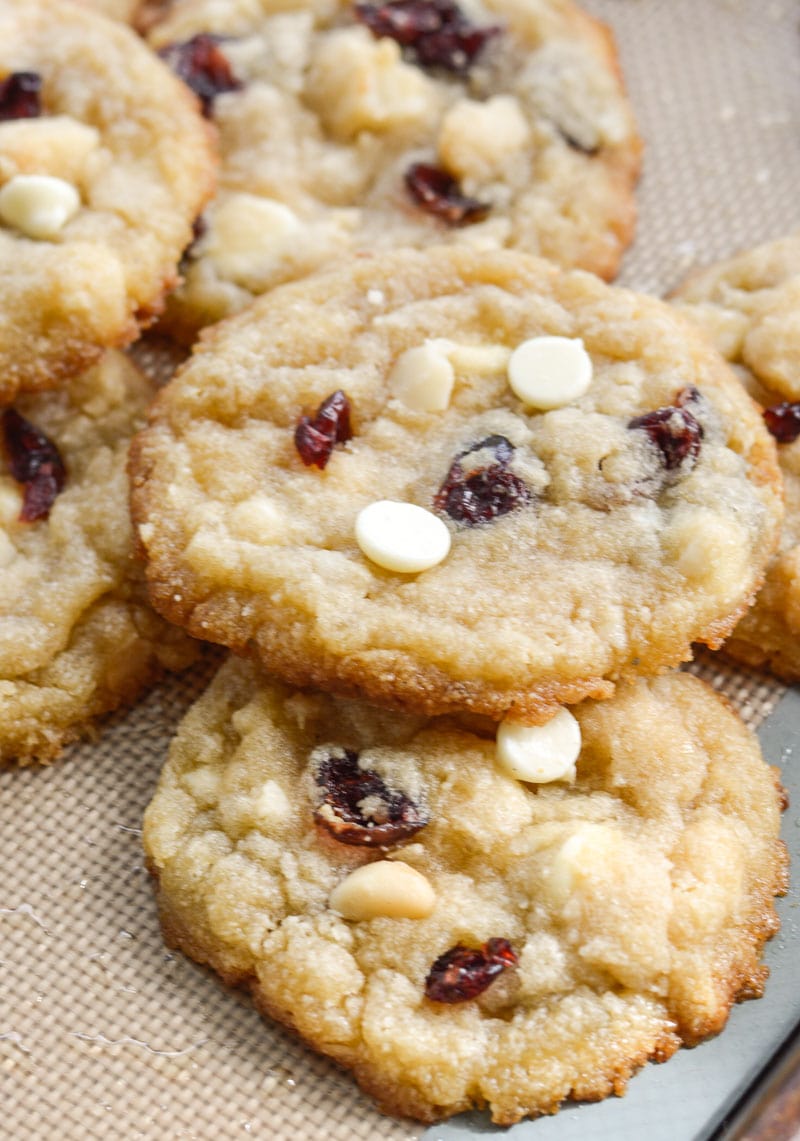 How do you make Cranberry White Chocolate Macadamia Nut Cookies
Begin by preheating your oven to 350 degrees. I prefer to bake cookies on a silicone baking sheet as it helps to prevent over baking on the bottom, and they ensure the cookies bake evenly. If you do not wish to use a silicone baking sheet, lightly spray your pan with cooking spray and set aside.

In a small bowl combine the almond flour, baking soda, baking powder, and salt. Next, beat butter, golden monkfruit sweetener (keto brown sugar sub) along with vanilla and maple extract in a stand mixer bowl until creamy.
Add the egg, beating the mixture on low speed. Gradually pour in the almond flour mixture. Lastly, mix in Lily's White Chocolate Chips, Macadamia nuts and unsweetened cranberries. Chill the mixture for 30 minutes.
Using a 1 inch cookie or ice cream scoop drop the cookies onto the baking sheet, evenly spaced. Bake for 7-9 minutes or until golden brown and lightly set. Top with sea salt, if you desire.
Do I have to chill this cookie dough?
Yes! Absolutely! The success of these cookies depends on the butter being very cold when it goes into the oven. If the butter is cold, the cookie dough is correctly formed and will create perfect, soft, chewy cookies. If the butter is soft, it will spread very thin as it bakes. This will result in very flat, crisp cookies.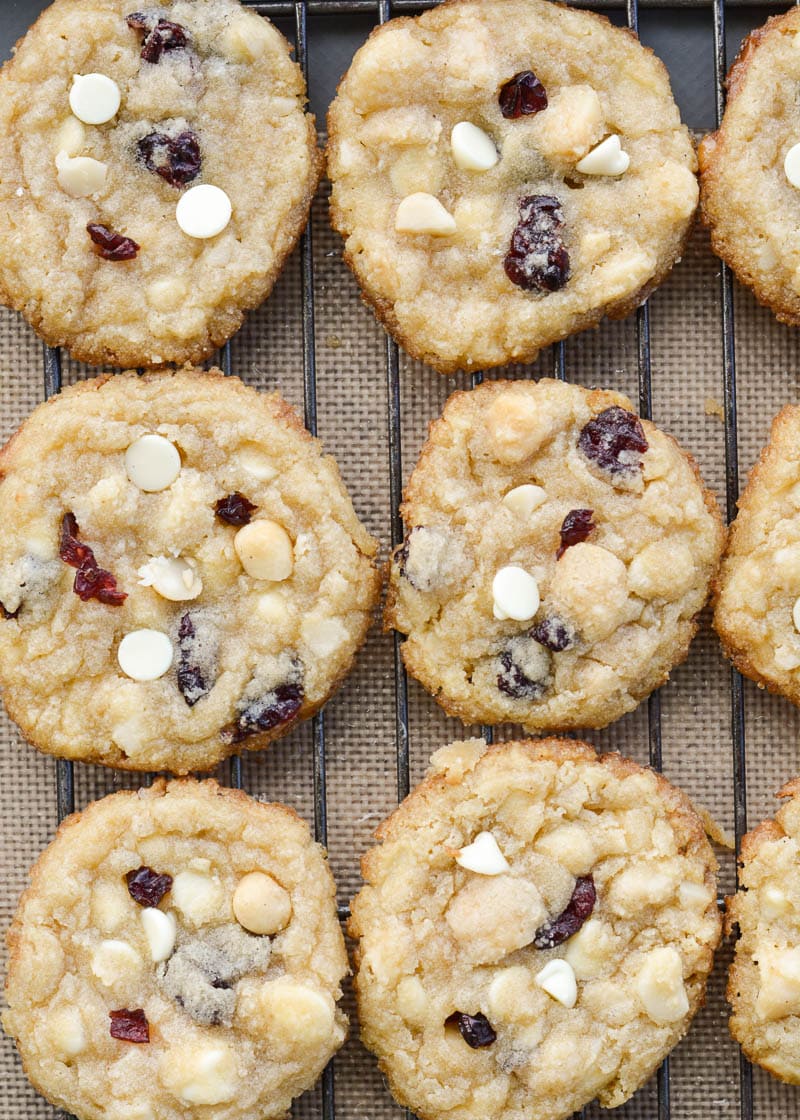 How do I know when a cookie is done?
For soft, chewy cookies you must remove the cookies from the oven BEFORE they are completely cooked through. This is why the instructions say to remove when "lightly set". The cookie should appear slightly doughy in the center.
After removing from the oven, the cookie pan is still warm enough to finish cooking the cookie. When the cookie has cooled for 15 minutes, remove from the pan and allow to cool on a wire rack.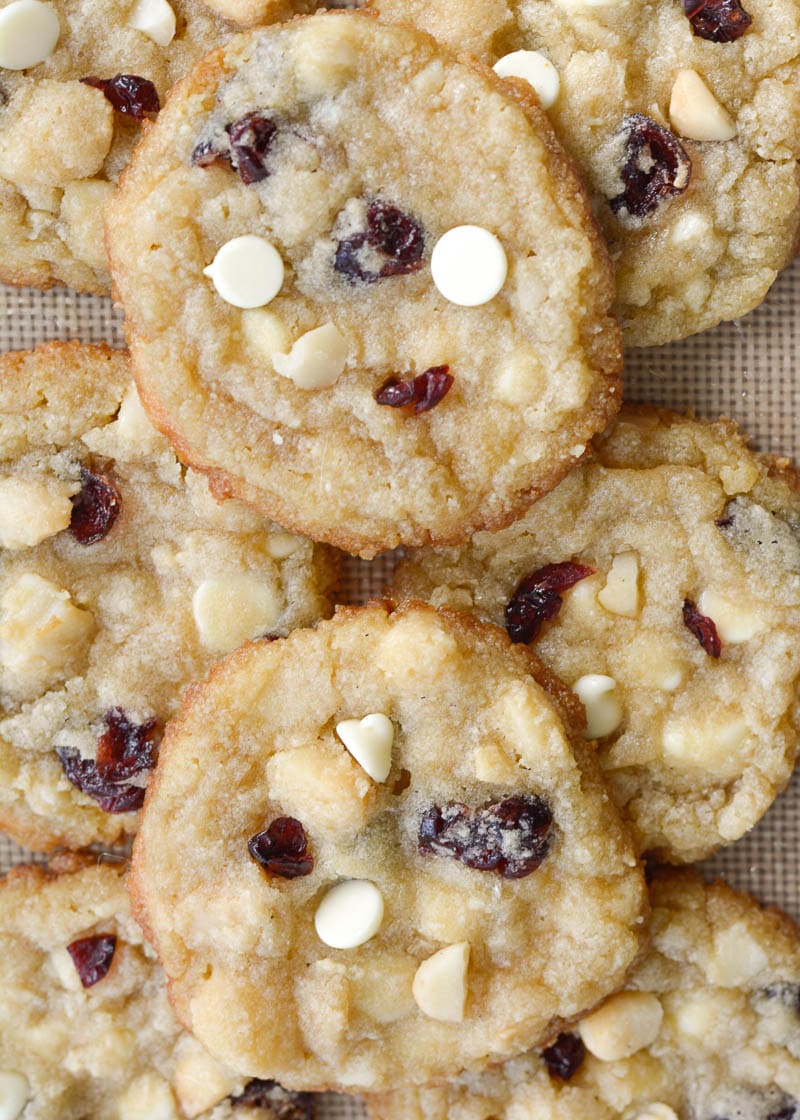 How many carbs are in Low Carb White Chocolate Cranberry Macadamia Nut Cookies?
This recipe makes 26 cookies. Each has 4.2 net carbs and is loaded with flavor!
Other Low Carb Desserts