These Keto Chili Cheese Dogs have everything you love about this classic, without the carbs! Easy, low carb, gluten free pigs in a blanket are smothered with keto chili and shredded cheddar cheese! For about 5 net carbs per serving this is a low carb recipe you will love!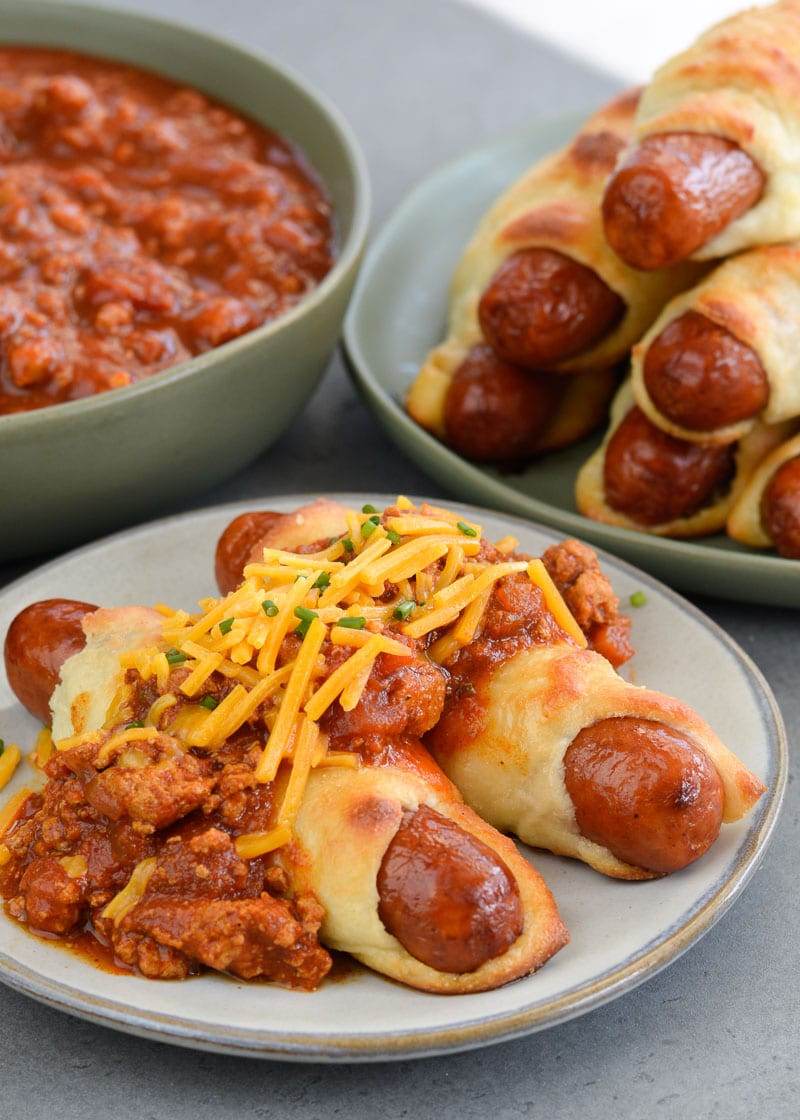 To create these delicious Keto Chili Cheese Dogs, I simply mixed together two of my most popular recipes, to bring you a true keto comfort food! This combination of everyone's childhood favorite, Pigs in a Blanket and the comforting warmth of a good homemade Chili makes for the ideal comfort food on a cold winter's evening. This dinner really is the definition of a hug in a bowl!
You're probably already aware of my love affair with all things chili, and this one packed with protein-rich meat and fresh veggies is just as good (if not better!) than any non-keto option! Spoon it over perfectly baked Keto Pigs in a Blanket for a hearty dish that is as comforting as it is nutritious. And what's more, this one is sure to be a hit with the kids!
To make things even better, this dish comes to around 5 net carbs per serving making this a great option to satisfy your comfort food cravings whilst sticking to your keto diet – everyone's a winner!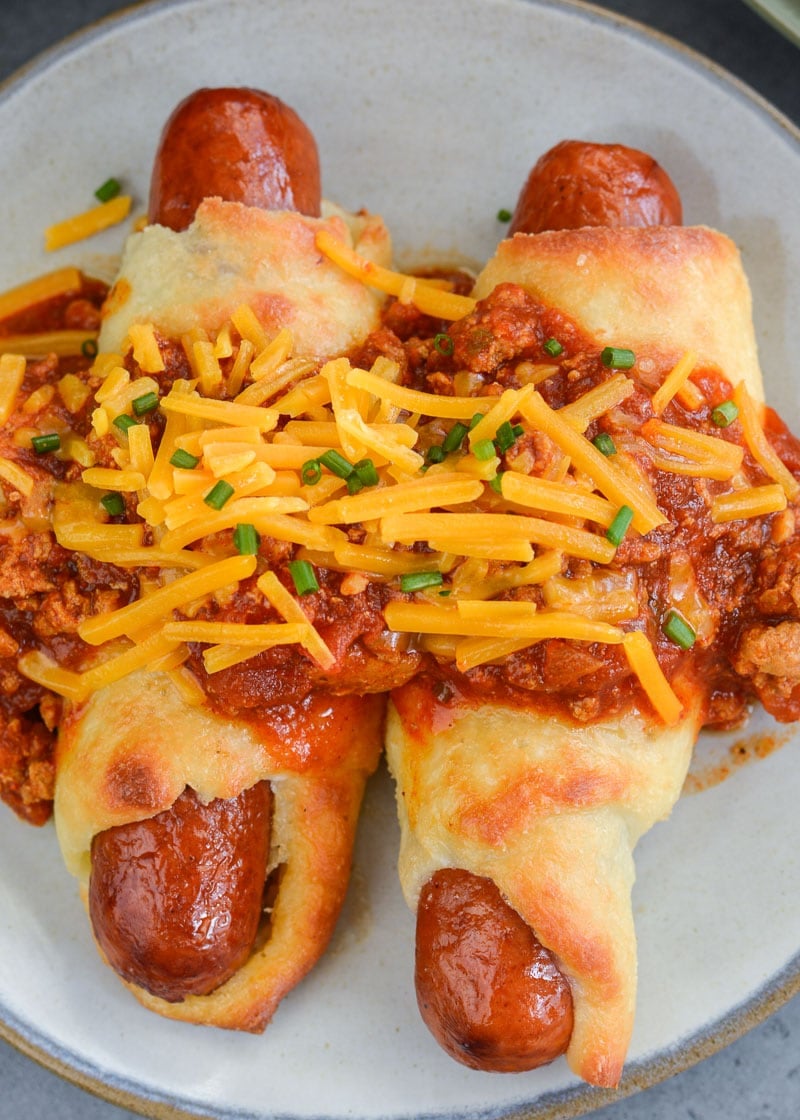 Ingredients Needed for Keto Chili Cheese Dogs
How do you make Keto Chili Cheese Dogs?
This combination of two of my favorite recipes is so easy to make! First, you must of course make the chili. I do have stove top instructions available, as well as Instant Pot instructions. Personally, we love to have chili for dinner one night, and use the leftover chili to make these Keto Chili Cheese Dogs.
To make these Low Carb Chili Cheese Dogs simply pour a ¼ cup of Keto Chili over a single Keto Pig in a Blanket and top with some of your shredded cheddar cheese.
How do you store Keto Chili Cheese Dogs?
Be sure to store your Pigs in a Blanket and Chili in separate sealed containers in the refrigerator. Simply combine them once they have been heated and are ready to eat.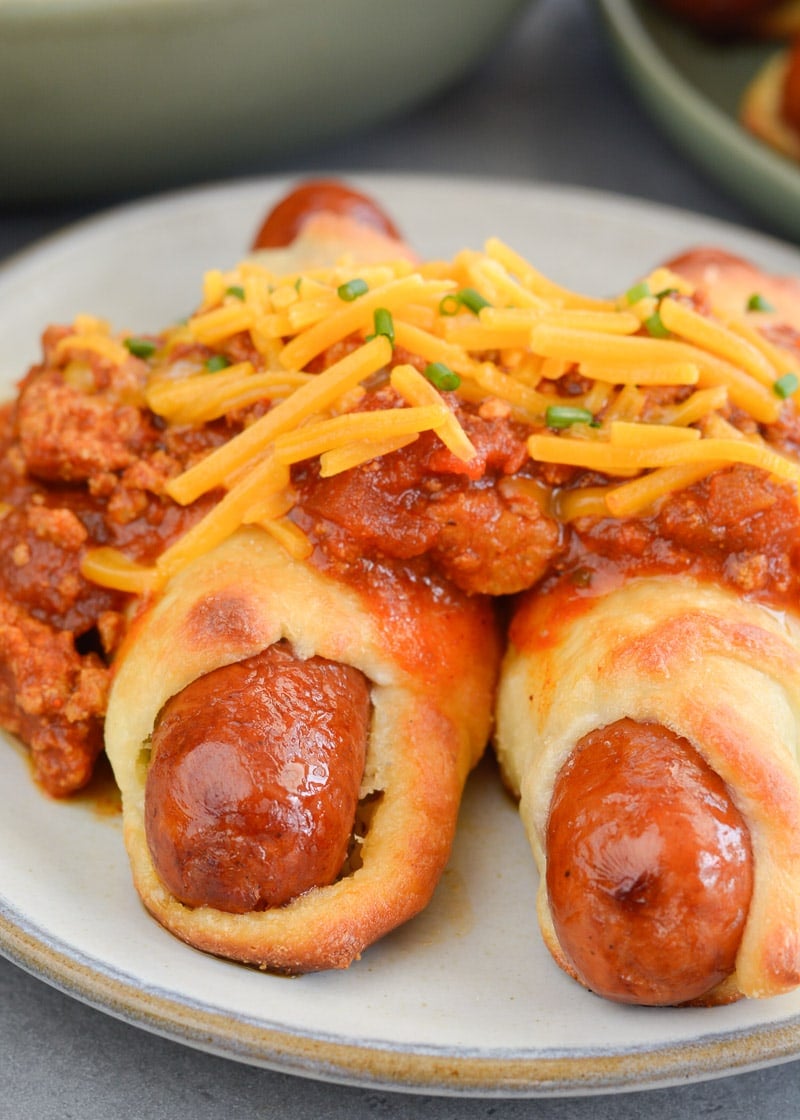 How do you Reheat Keto Chili Cheese Dogs?
Reheat each element of this dish separately before combining. To reheat the Chili, you can either gently heat it up in a pot or use the microwave, checking it and giving it a stir every minute or so.
The Pigs in a Blanket are best heated in the oven to avoid the dough becoming soggy in the microwave. To reheat in the oven, simply place them on a baking tray at 350 degrees for 8-10 minutes, turning them halfway through. To avoid sticking you can place a baking sheet on the tray beforehand!
How many Carbs are in Keto Chili Cheese Dogs?
In an effort to be as exact as possible I calculated the nutrition with 1 Keto Pig in a Blanket, combined with 1/4 cup of Keto Chili and 1 tablespoon shredded cheddar. This comes to 3.8 net carbs, however you must add the nutrition for the sausage or hot dog you use for the pigs in a blanket.
I did not include that in the nutrition because depending on the brand you buy these can vary greatly from 0-4 carbs per hot dog. So, simply check for the lowest carb option at the grocery and add that to the information I have provided. The sausage I used has 1 net carb each, so this recipe comes to 4.8 net carbs per chili cheese dog for me.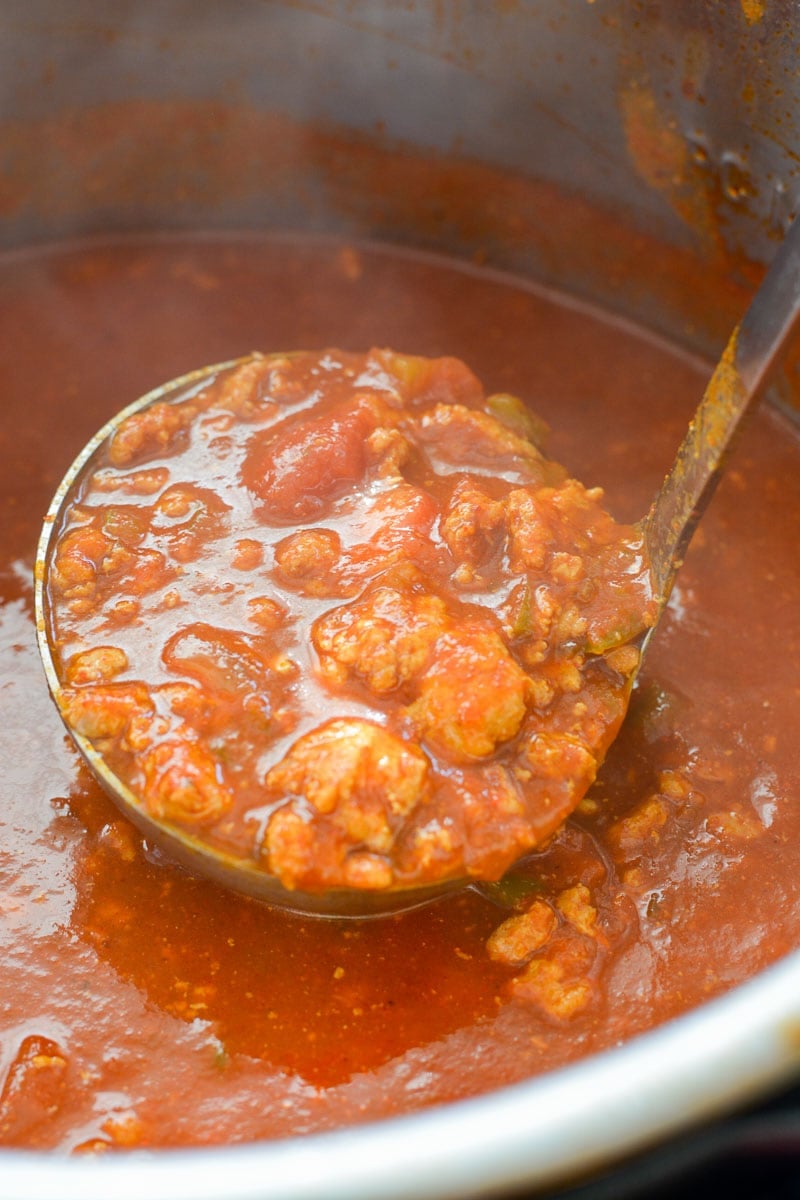 What can I Serve with Keto Chili Cheese Dogs?
If you're cooking for the family, why not throw in a cheesy keto side with some Keto Broccoli Cheddar Bites, or even some Crispy Zucchini Fries for something a little different?
Easy Keto Dinner Recipes
For another childhood favorite with a keto twist, why not cook up some of these Pepperoni Pizza Bites – at only one net carb each you really can't go wrong!
If you're in the mood for even more hearty and comforting dinner recipes, take a look at these Instant Pot Havarti Stuffed Meatballs. These are a delicious, easy dinner, but also make a great cheesy appetizer!
Perhaps this this Keto Broccoli Cheddar Chicken, or this tasty, cheesy One Pan Keto Philly Cheesesteak Skillet is more up your alley!