These Keto Chili Cheese Dogs have everything you love about this classic, without the carbs! Easy, low carb, gluten free pigs in a blanket are smothered with keto chili and shredded cheddar cheese!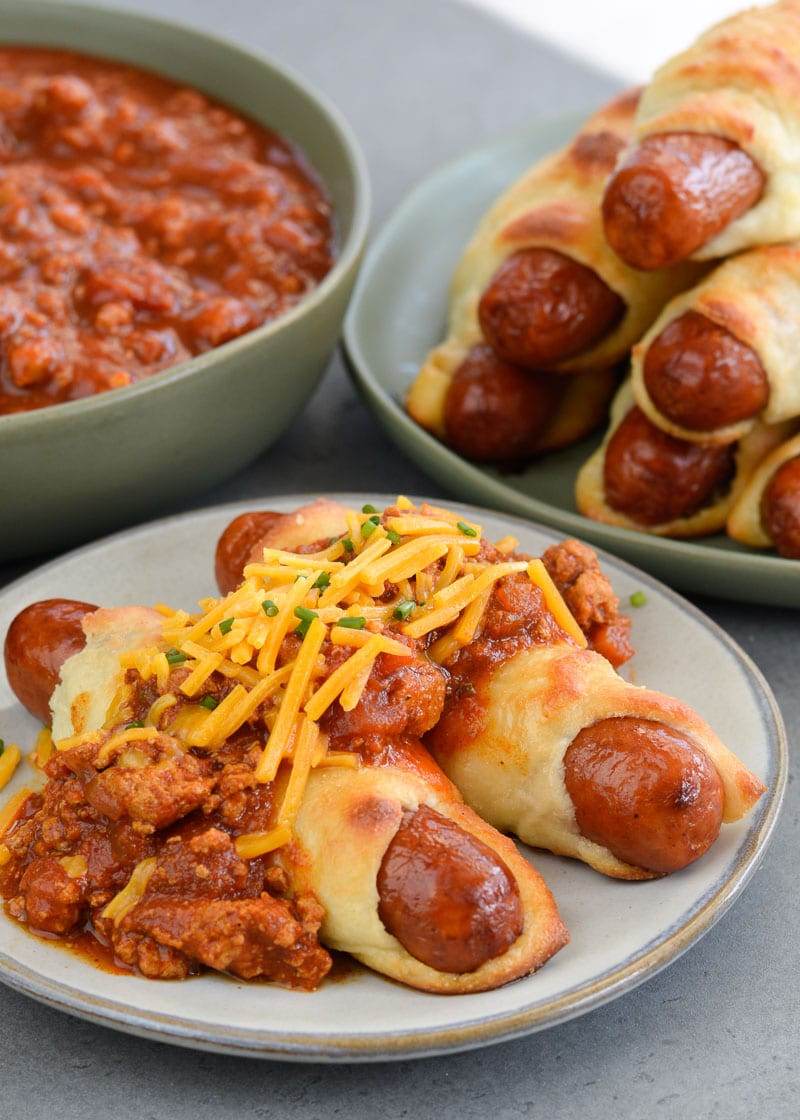 To create these delicious Keto Chili Cheese Dogs, I mixed together two of my most popular recipes to bring you a true keto comfort food! This combination Pigs in a Blanket and the comforting warmth of a good homemade Chili makes for the ideal comfort food on a cold winter's evening. This dinner really is the definition of a hug in a bowl!
You're probably already aware of my love affair with all things chili, and this one packed with protein-rich meat and fresh veggies is just as good (if not better!) than any non-keto option! Spoon it over perfectly baked Keto Pigs in a Blanket for a hearty dish that is as comforting as it is nutritious. And what's more, this one is sure to be a hit with the kids!
To make things even better, this keto chili dog recipe comes to around 5 net carbs per serving, making this a great option to satisfy your comfort food cravings whilst sticking to your keto diet – everyone's a winner!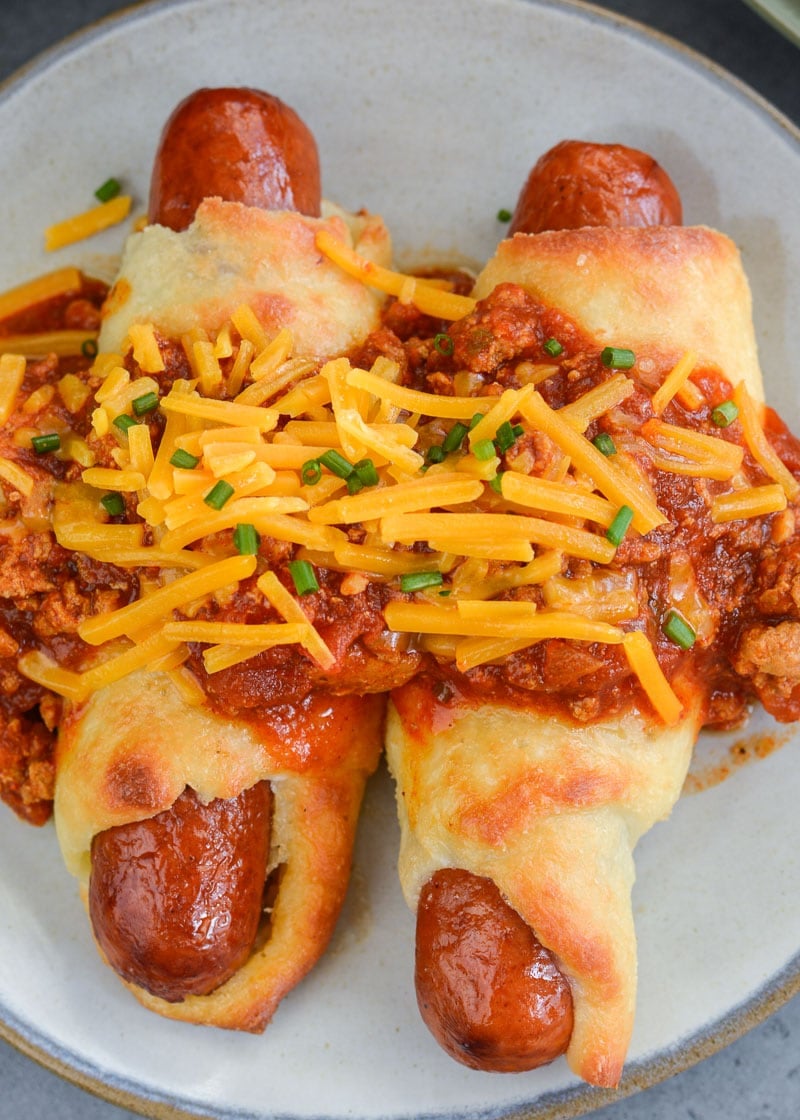 Ingredients Needed for Keto Chili Cheese Dogs
This is a unique hot dog recipe with no bun. Instead, I used my keto pigs in a blanket recipe as a jumping off point. It's just so much easier to make your own keto-friendly dough than it is to find a low-carb hot dog bun alternative at the store.
Here's what you'll need to make the low-carb chili cheese hot dogs:
Egg Whites
Mozzarella Cheese
Cream Cheese
Almond Flour
Baking Powder
Hot Dogs
Keto Chili (Stove top and Instant Pot versions are available)
Shredded Cheddar Cheese
Are Hot Dogs Keto?
Yes! Both hot dogs and smoked sausage are keto-friendly (you can use either in this recipe).
How to Make Chili Cheese Dogs
This combination of two of my favorite recipes is so easy to make! First, you must of course make the chili. I do have stove top instructions available, as well as Instant Pot instructions. Personally, we love to have chili for dinner one night, then use the leftover chili to make these Keto Chili Cheese Dogs.
Once you've prepped the chili, here's how the chili cheese dogs are assembled:
In a large microwave-safe bowl, combine the mozzarella cheese and cream cheese.
Heat in 30 second increments until both cheeses are completely melted.
In a second smaller bowl, combine the almond flour and baking powder. Mix into the melted cheese.
When the almond flour and cheese are nearly combined add in a beaten egg white and stir well.
Lay the dough on a silicone baking sheet. Place a second silicone baking sheet on top and spread the dough into a thin rectangle.
Slice the dough into 6 strips.
Wrap the dough around the hot dogs, overlapping slightly.
Brush with an egg white and bake at 350ºF until golden brown.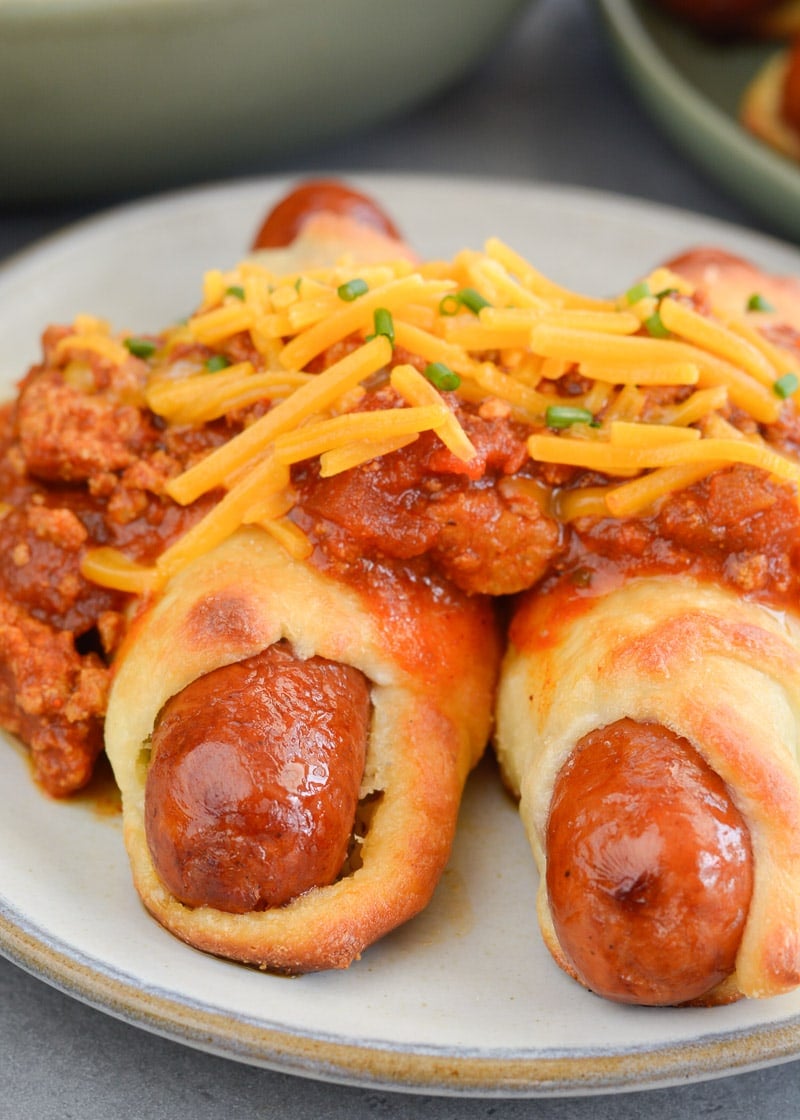 How to Store Chili Cheese Dogs
Be sure to store your pigs in a blanket and chili in separate sealed containers in the refrigerator. Simply combine them once they have been heated and are ready to eat. When stored separately, they'll last up to five days.
How to Reheat Keto Chili Dogs
Reheat each element of this dish separately before combining.
To reheat the chili: Either gently heat it up in a pot or use the microwave, checking it and giving it a stir every minute or so.
To reheat the pigs in a blanket: They're best heated in the oven to avoid the dough becoming soggy in the microwave. To reheat in the oven, simply place them on a baking tray at 350 degrees F for 8-10 minutes, turning them halfway through. To avoid sticking, you can place a baking sheet on the tray beforehand!
How Many Carbs Are in This Recipe?
In an effort to be as exact as possible, I calculated the nutrition with 1 Keto Pig in a Blanket, combined with 1/4 cup of Keto Chili and 1 tablespoon shredded cheddar. This comes to 3.8 net carbs, however you must add the nutrition for the sausage or hot dog you use for the pigs in a blanket.
I did not include that in the nutrition because depending on the brand you buy these can vary greatly from 0-4 carbs per hot dog. So, simply check for the lowest carb option at the grocery and add that to the information I have provided. The sausage I used has 1 net carb each, so this recipe comes to 4.8 net carbs per chili cheese dog for me.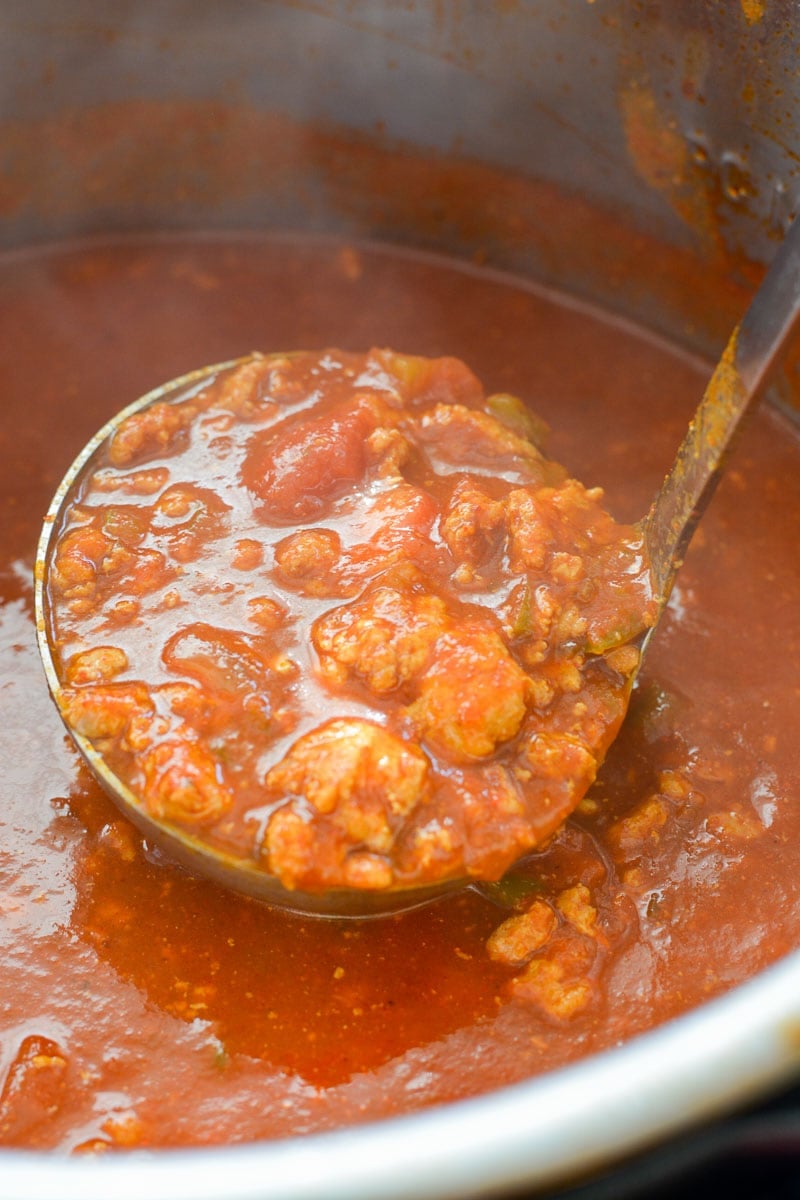 What to Serve with Chili Cheese Dogs
Try serving one of the following sides with these keto chili dogs to make it a full meal:
More Easy Keto Dinner Recipes: