Spicy Ranch Potatoes! Ready in minutes and loaded with flavor! Perfect family friendly side dish for a weeknight!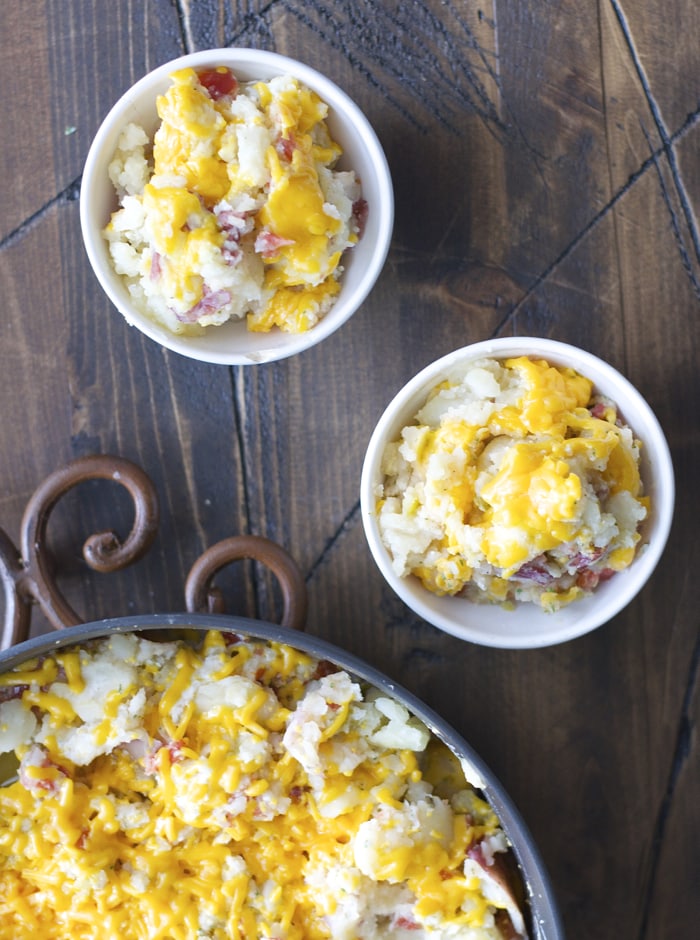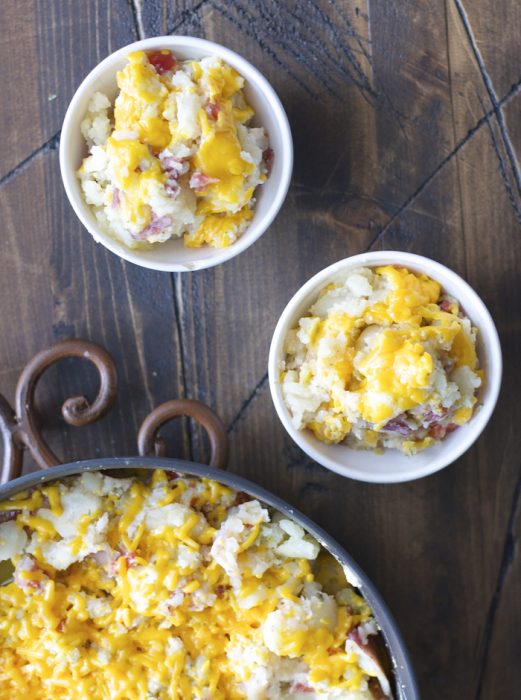 Let's talk comfort food. What do you love? Maybe soup, or something super sweet, or a big casserole?
I actually love hearing what people consider to be their "comfort food" because it is all so different! Usually, it is something that has a meaning or a story behind it. Like maybe your comfort food is chocolate pie because your grandmother made it? Or it's biscuits because your mom made then when you were growing up?
Well for me, one of my comfort foods are potatoes. Basically in any form. Growing up, I didn't eat meat.
So my dinners consisted of the side dishes to whatever my Mom was serving. Often, it was potatoes. Mashed potatoes, baked potatoes, stewed potatoes, you name it, we had it. So naturally, potatoes have a warm spot in my heart.
I wanted to create a new potato dish that did my favorite carb justice! These Spicy Ranch Potatoes are just the ticket. Warm, satisfying and absolutely delicious, these potatoes are sure to please even the pickiest of eaters!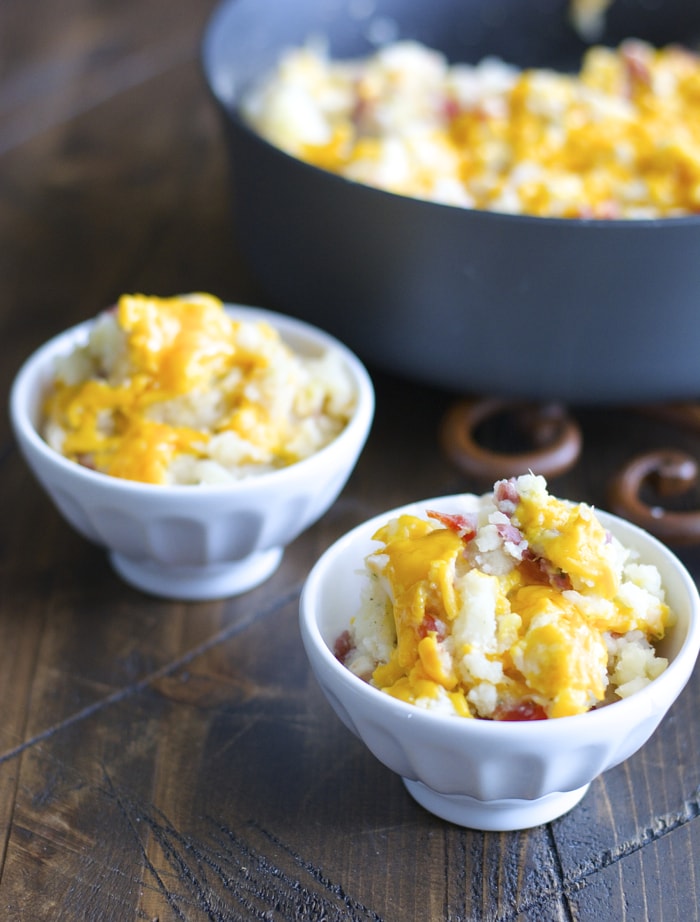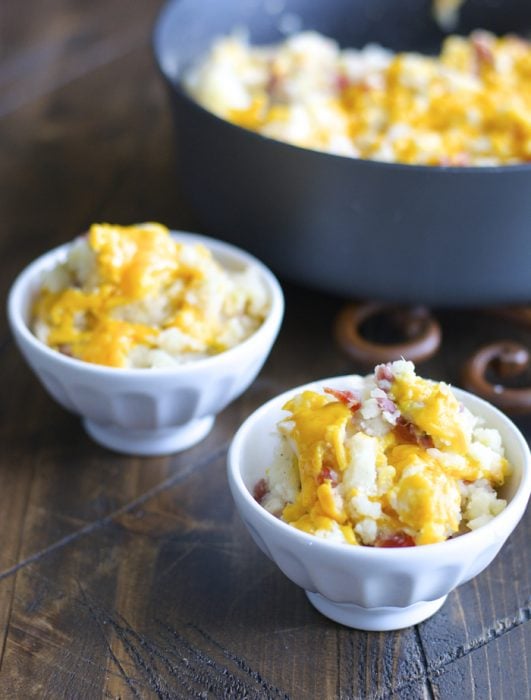 Ingredients for Spicy Ranch Potatoes
As always, here is a quick overview of what you will need to make Ranch Potatoes. For the complete recipe, just keep scrolling.
Red potatoes- I do not recommend using a different type of potato for this recipe
Rotel- undrained
Green chilies- canned
Ranch seasoning- homemade or the store bought packet both work fine here
Butter
Sour cream- I used reduced fat
Shredded cheddar- I used a sharp cheddar for a little extra kick!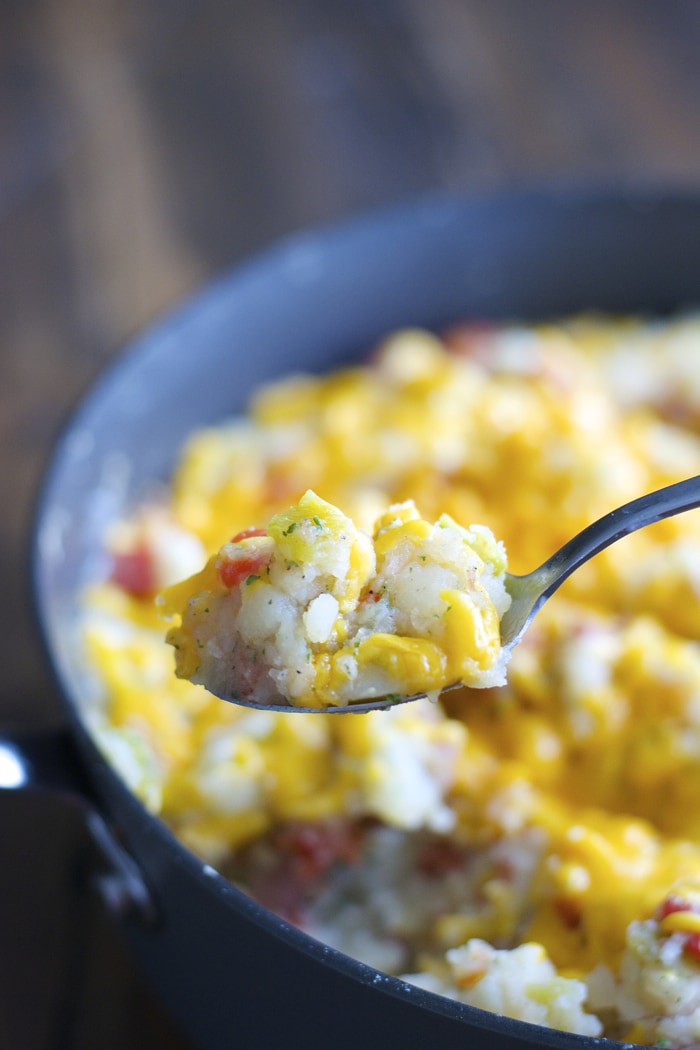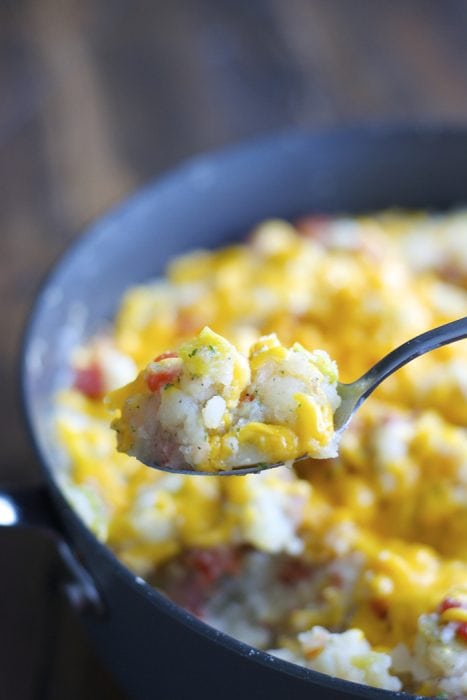 How do you make Ranch Potatoes?
These Spicy Ranch Potatoes are extremely easy to throw together. They are simple enough that you can easily do it on a busy weeknight but flavorful enough you can make for a special get together. Here is how we make it!
This recipe has all your basics- potatoes, butter, sour cream and cheese! But what makes this side dish really special is the Rotel, green chilis, and Ranch seasoning. The combination is to die for!
Wash a few red potatoes and place them in a large deep skillet and cover with water. Bring the water to a boil and let the potatoes simmer for about 20 minutes until they are tender. Drain off the water and add an undrained can of Rotel, green chilies and a packet of ranch seasoning.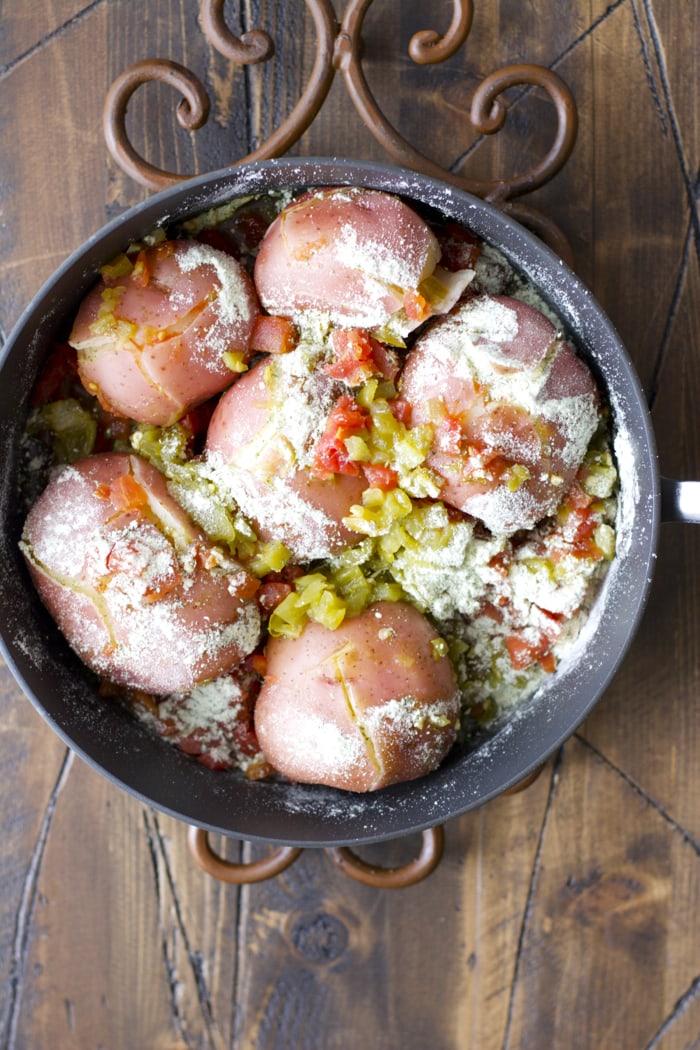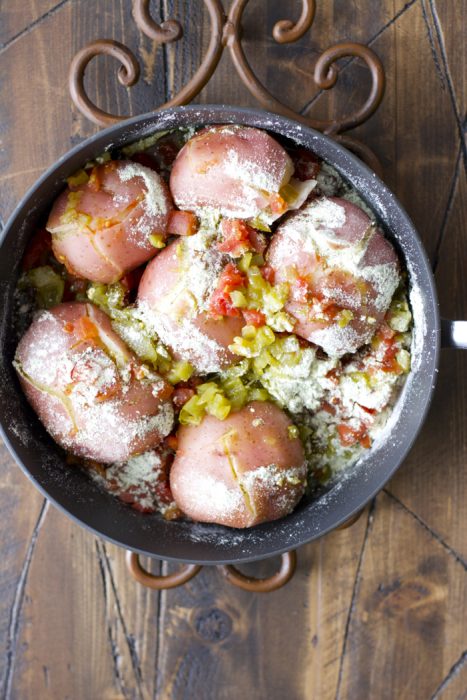 Grab a potato masher or a large spatula and give your potatoes a good mash, just make sure you mix in all the ingredients. Then add the sour cream and butter. Now, Mash, Mash, Mash.
Then sprinkle your potatoes with a handful of shredded cheddar cheese and cover for about 5 minutes while the cheese melts. There you have it! One pan, super easy Spicy Ranch Potatoes!
These dish is kind of mashed potatoes meets hash brown casserole with a little Tex Mex flair! Give them a try, I know you'll love them! Everyone cleared their plates in our house!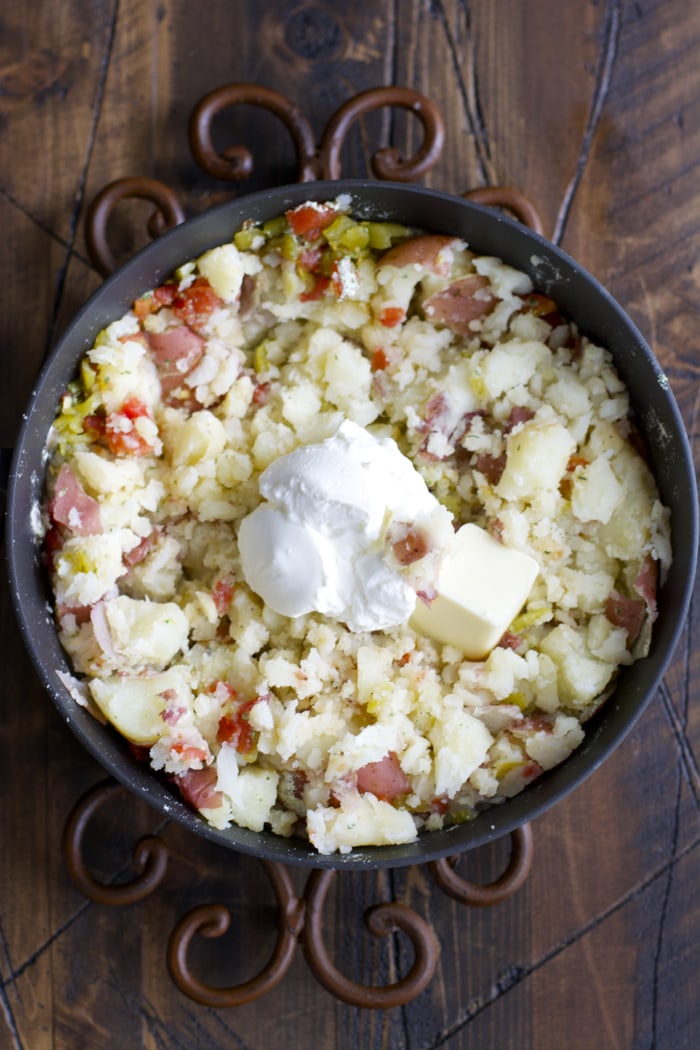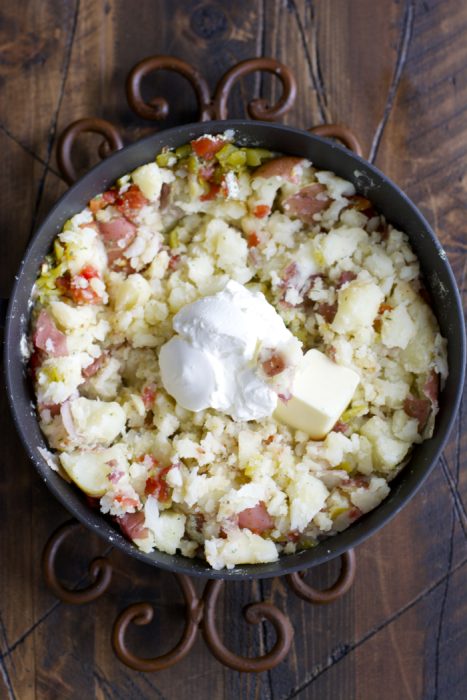 What do you serve with Ranch Roasted Potatoes?
Well, as I've mentioned a time or two, I'm obsessed with all things Fall. Fall to me means chilis, soups, Football and bonfires. It's just the best time of year!
So, I love these Spicy Ranch Potatoes as a side to any and all Fall dishes. Some of my personal favorites are The Best Turkey Chili, Bacon Cheeseburger Soup, Keto White Chicken Chili or Instant Pot Buffalo Chicken Soup. Seriously, every single one of these is a hit!
Or, if you're going for the comfort meals of comfort meals, you can combine these potatoes with a pasta dish and claim your carb-loading for your Olympic level bike ride in the morning!
For some pasta-goodness, give this One Pan Cheesy Pasta a try. Chicken Spaghetti is also a consistent win in our house. This One Pan Cheesy Chicken Pasta is also a go-to!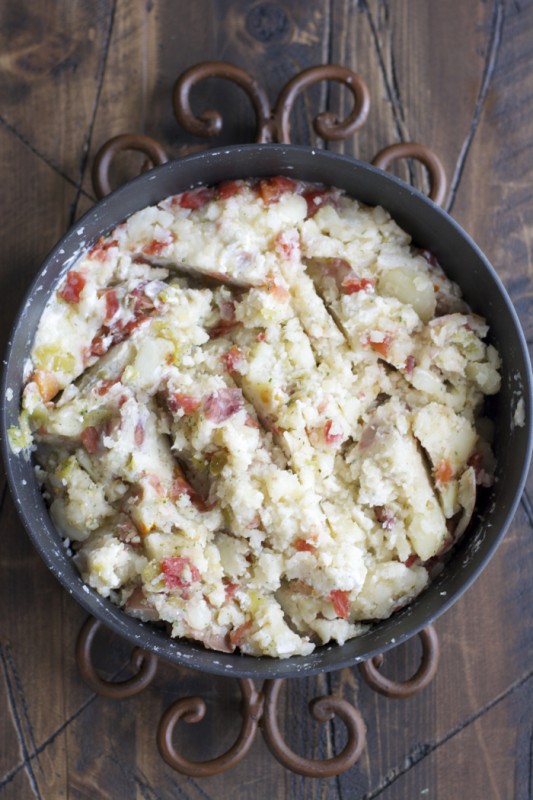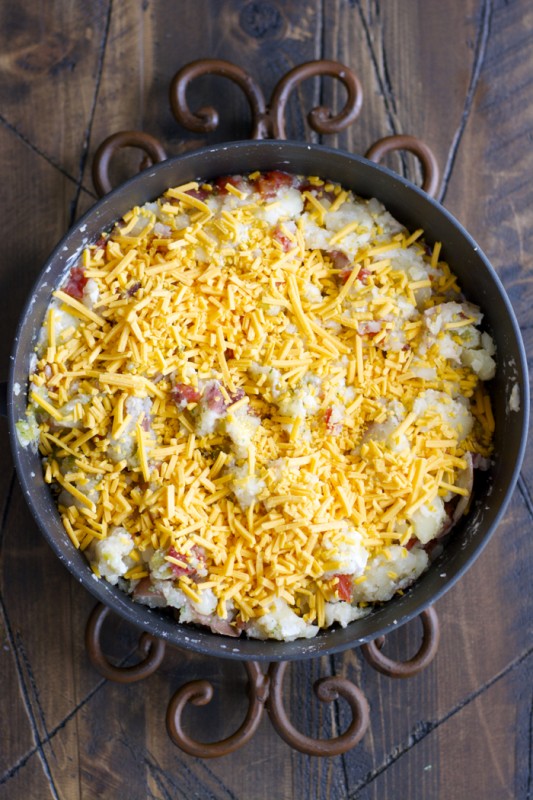 How to Store and Reheat Spicy Roasted Potatoes
Storing these bad boys is a breeze. Simply put your leftovers in a glass or plastic container with a tight fitting lid and pop in the fridge. These potatoes will stay good for 3-4 days refrigerated.
To reheat, simply portion out your Spicy Ranch Potatoes onto a plate and microwave for 30 second intervals until the desired temperature is met. And voila! Leftover perfection.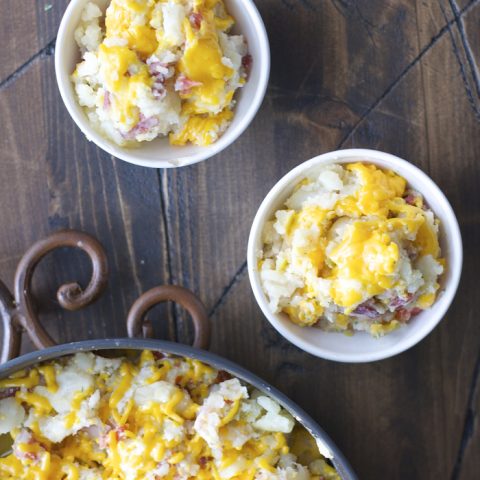 Spicy Ranch Potatoes
Spicy Ranch Potatoes! Ready in minutes and loaded with flavor!
Ingredients
2.5 pounds red potatoes
1 can (10 ounce) can rotel
2 tablespoons butter
1 (4 ounce) can green chilis
1 (1 ounce) pack dry Ranch seasoning
1/2 cup sour cream
1 cup shredded cheddar
Instructions
Place potatoes in a large, deep pan and cover with water.
Boil potatoes about 20 minutes or until fork tender.
Drain water and reduce heat to medium low. Add undrained rotel, chilis, ranch, butter, and sour cream and roughly mash.
Top with cheese and cover, let potatoes cook for 10-15 minutes until cheese melts.
Nutrition Information:
Yield:

20
Serving Size:

1
Amount Per Serving:
Calories:

89
Total Fat:

4.1g
Cholesterol:

12.6mg
Sodium:

166.7mg
Carbohydrates:

10.4g
Net Carbohydrates:

9.4g
Fiber:

1.1g
Sugar:

1g
Protein:

2.5g