This Cheesy Broccoli Rice Casserole is the perfect one pan side dish that is loaded with tender broccoli and sharp cheddar cheese. This easy gluten-free side is perfect for even your pickiest eaters!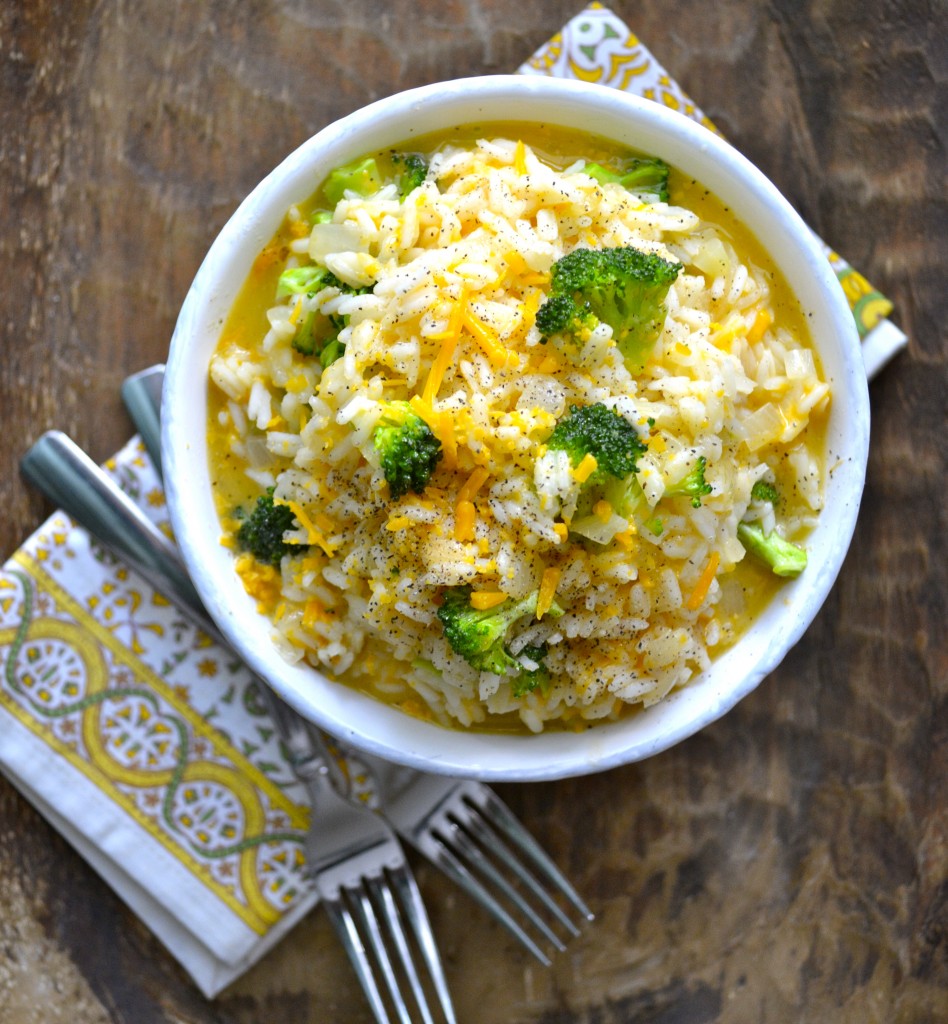 This Creamy Broccoli Cheddar Rice is delicious, simple to make, and uses regular ingredients most people already purchase. It's a great pantry staple meal, easy enough for a weeknight, and works well for our picky eaters. Simple, classic flavors come together for the perfect comfort food.
This recipe can be made ahead of time, and it reheats wonderfully for leftover lunches! You can add in leftover shredded chicken (or turkey to use up holiday leftovers) to add even more protein, making it a versatile, convenient recipe to keep saved. There's a good reason it's a constant favorite on our list of 40+ One Pan Recipes Made Using Pantry Staples!
P.S. – Looking for a lower carb recipe? This Broccoli Chicken Casserole has all the same classic flavors, minus the rice. Instead, there's chicken added for more protein! It's keto-friendly, gluten-free, super easy, and absolutely delicious.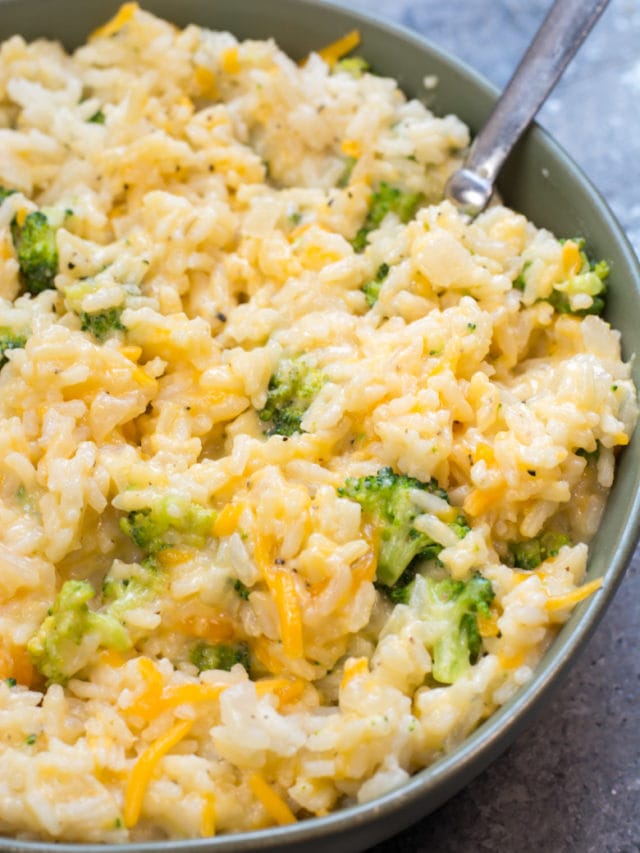 Ingredients Needed for Cheesy Broccoli Rice
Here's a quick overview of the ingredients you'll need. For exact measurements, keep scrolling down to the printable recipe card below.
Olive oil – Your preferred cooking oil is fine here.
Vegetables – Onion, Garlic, Broccoli. Minced garlic and chopped onion are sauteed at the beginning, imparting these flavors into the rice when it bowls, too!
Chicken broth – This adds SO much more flavor than cooking the rice in water. You could replace this with vegetable broth if you prefer to keep things vegetarian.
Jasmine rice – This is a long-grain rice that gets perfectly fluffy! It's softer and doesn't clump as much as short-grained white rice.
Milk – This makes it extra creamy. You could replace this with more broth or water if you prefer. 
Butter – This helps keep the rice separated and gives a more luscious texture.
Cheddar cheese – This melts into a delicious sauce. Pepper jack or colby-jack cheeses could also work if you prefer a spicier or different flavor.
How to Make Broccoli Cheese Rice Casserole 
This dish comes together easily in just one pot or pan on the stove! Here's a step-by-step guide with photos.
Sauté onion and garlic
In a medium sized pot, add the olive oil and heat on medium high heat. Add the chopped onion and sauté until onion has softened. Add garlic and cook just until fragrant.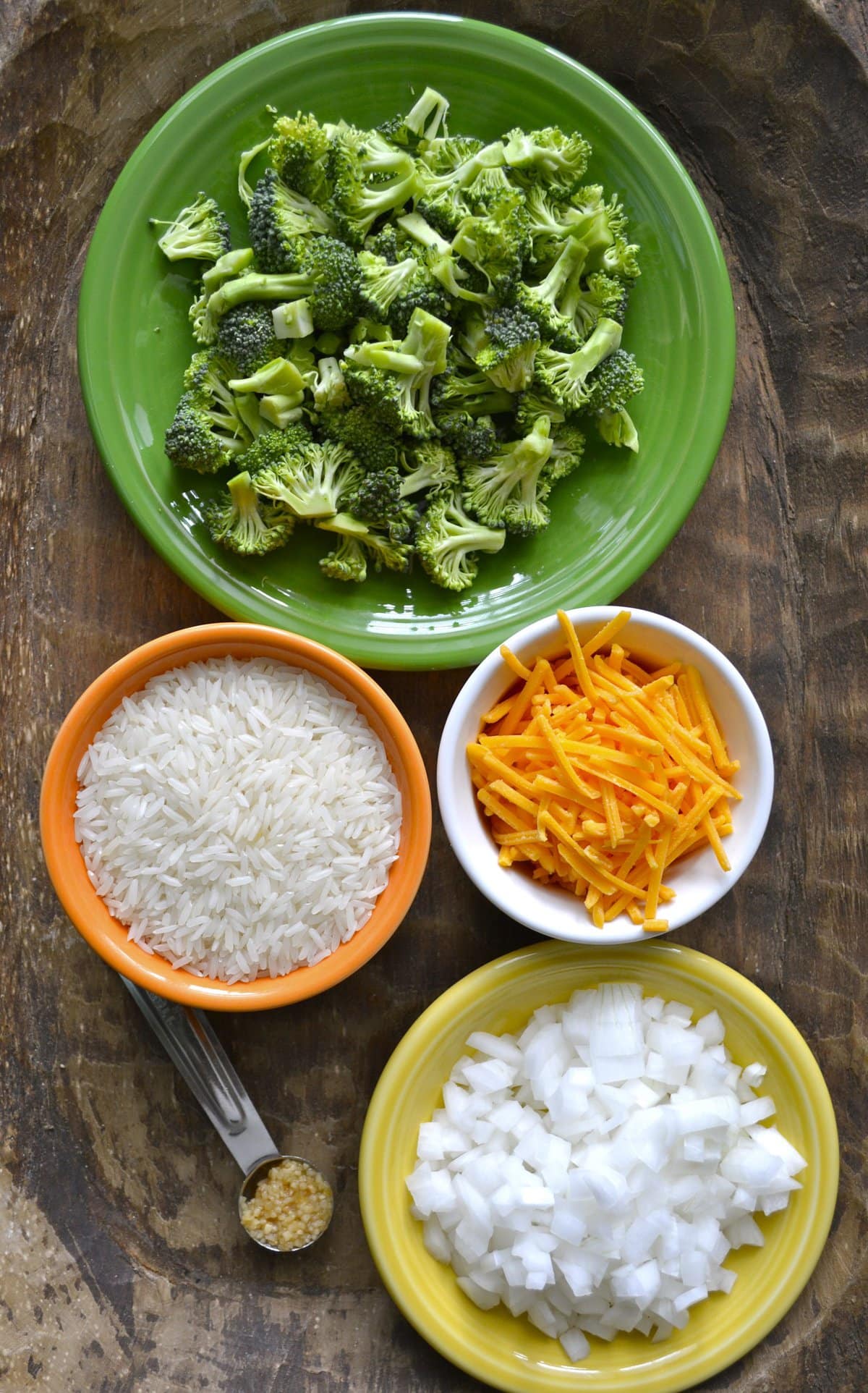 Boil rice
Pour in chicken broth and bring to a boil. Add in jasmine rice, cover the pot, and reduce heat to low. Allow the rice to simmer for 12 minutes, occasionally stirring to make sure it's not clumping up or sticking to the bottom of the pot.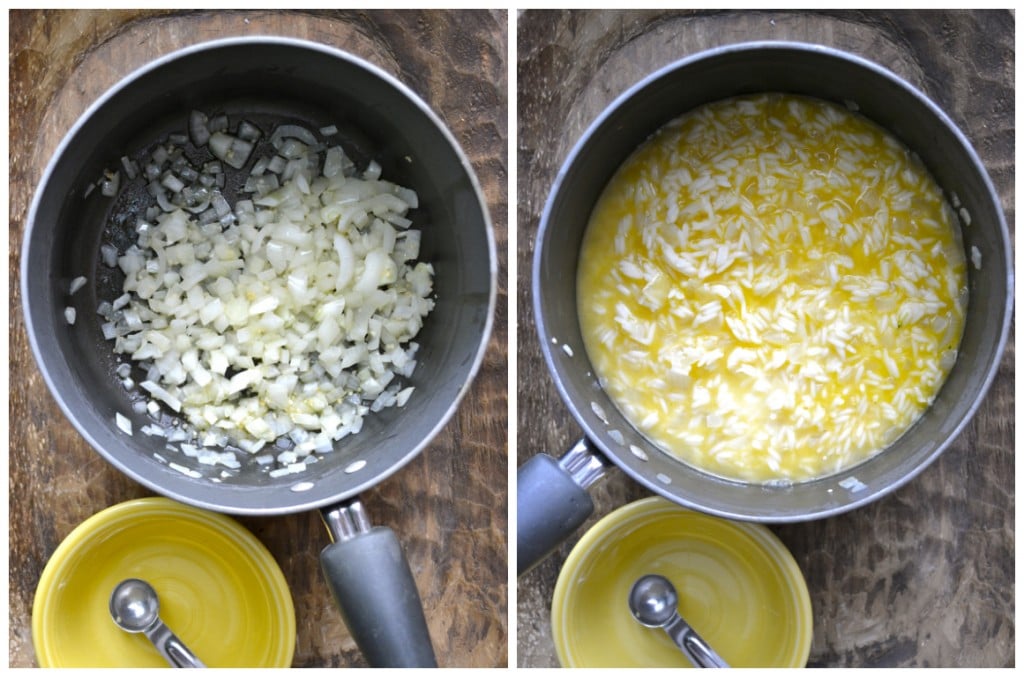 Make it creamy
Once all of the liquid is absorbed and the rice is nearly done, drop in the butter and pour in the milk (or other liquid if you're not using milk). Mix well to form a creamy sauce, and cook for about 3 minutes.
Add broccoli and cheese
Finally, stir in broccoli, cheese, salt, and pepper. Cover again and continue cooking for 3-5 more minutes, just until cheese has melted and broccoli has become more tender.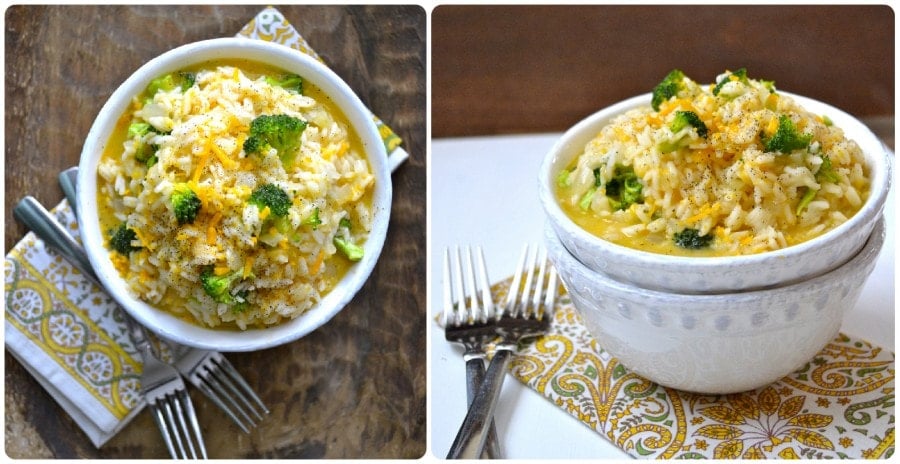 Serve
This cheesy broccoli rice can be an entrée or a side dish, depending on your meal preferences! Serve as a side with a Bacon Wrapped Pork Tenderloin or some Keto Chicken Tenders for a super easy kid-friendly meal. If serving this as your entrée, add a Simple Arugula Salad and some Grilled Portobello Mushrooms to complete the meal.
Store
After cooling, transfer this Cheesy Broccoli Casserole to an airtight container and refrigerate up to 4 days.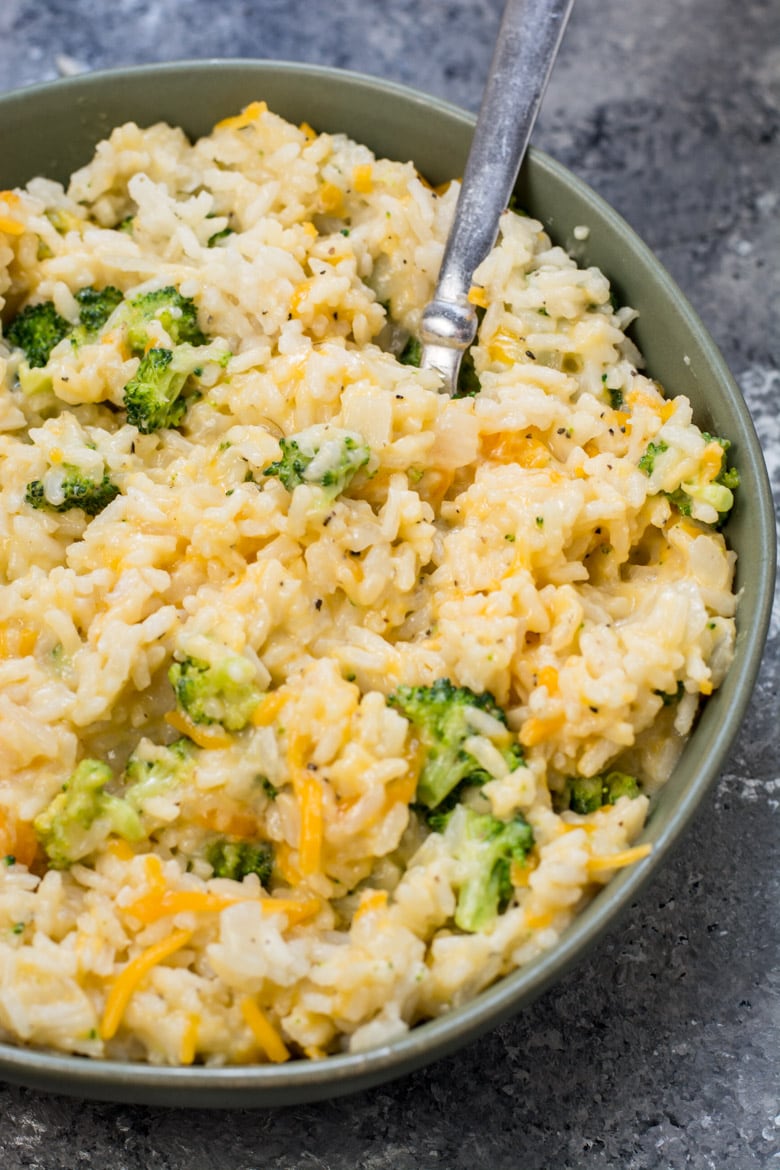 Freeze
This dish can easily be frozen! Simply allow the casserole to cool completely, then wrap your whole dish in heavy duty plastic wrap four or five times to protect it from freezer burn. Alternatively, you could portion the casserole out into individual servings and store those in easy grab-and-go containers.
This dish is best eaten within 3-6 months. Thaw overnight in the fridge.
Reheat
This cheesy broccoli rice is best warmed up on the stove over low heat. You can microwave individual portions as well, but it can dry out the rice and overcook the broccoli. When in doubt, reheat low and slow to keep the best quality.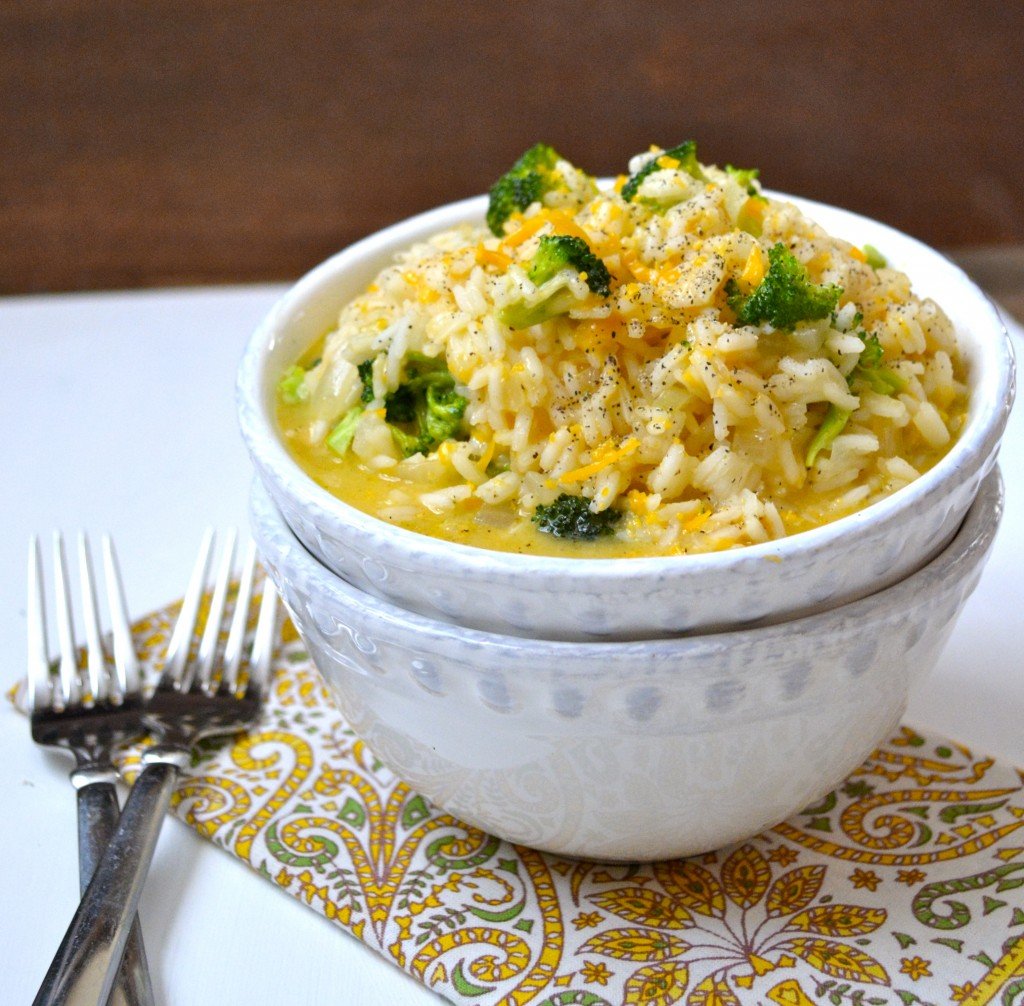 Tips for Making Broccoli, Rice and Cheese Casserole
If you are vegetarian or prefer a different flavor, vegetable broth also works great. The simple switch of using broth instead of water just creates a very rich flavorful dish.
I used fresh broccoli, but I bet you could also use frozen broccoli that's been thawed and patted dry.
I love making this broccoli and cheese rice with sharp cheddar cheese, but you're welcome to use another kind of cheese if desired.
If you like Creamy Broccoli Cheddar Rice, you'll love these other gluten free recipes:
FAQs about Broccoli Cheddar Rice
How do you add more flavor to rice?
The first step to making rice more flavor is to cook it in broth! A high quality (or even homemade) broth can infuse each grain of rice with loads of flavor. Another way to add flavor is to sauté onion and garlic in the pot before adding the broth and boiling. This makes this recipe SO much more flavorful!
How do you make rice creamy?
Allowing the rice to absorb milk and butter near the end of its cooking cycle turns turns rice into a super creamy, tender rice you'll love! Adding in cheese and allowing it to melt in with the rice also helps turn your rice into the most delicious, luscious, creamy rice.
What vegetables go well in rice?
I like broccoli in this dish because it softens in just about 5 minutes, is inexpensive, and complements the sharp cheddar cheese. Replacing the broccoli with sliced mushrooms, chopped asparagus, or torn spinach would work great, too! If you prefer your vegetables more cooked, add them earlier in the process to allow them more time to soften and cook.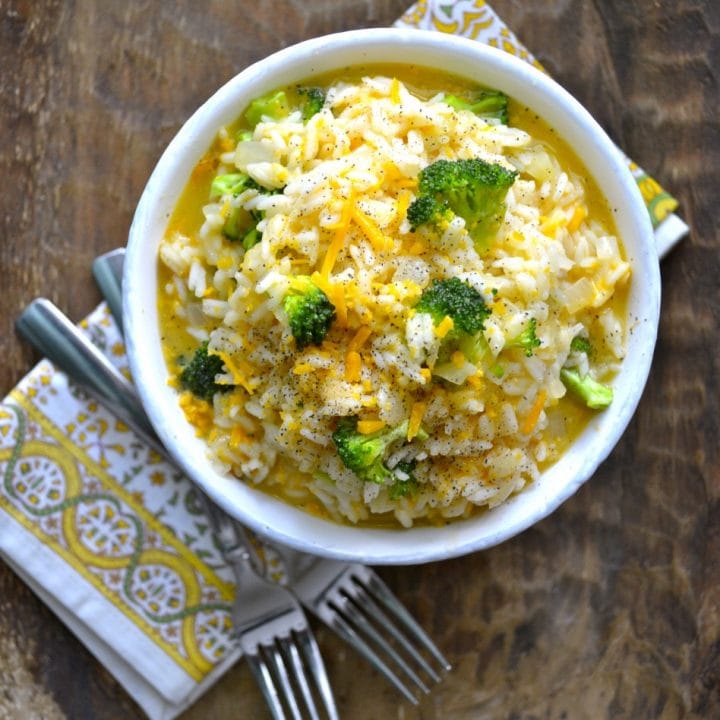 Creamy Broccoli Cheddar Rice
This Creamy Broccoli Cheddar Rice is the perfect easy one pan side dish that is loaded with tender broccoli and sharp cheddar cheese. This easy gluten free side is perfect for even your pickiest eaters!
Ingredients
1 tablespoon olive oil
1 small onion, diced
1 teaspoon minced garlic
2 cups chicken broth
1 cup jasmine rice
1/3 cup liquid (water, broth or milk. I personally add milk so it adds a creamy flavor but it is up to you)
2 tablespoons butter
1/4 teaspoon salt
1/4 teaspoon pepper
1 1/2 cup chopped broccoli
1 cup shredded cheddar cheese
Instructions
Heat olive oil in a medium size sauce pan over medium heat, add chopped onion and minced garlic and saute 2 minutes, stirring occasionally.
In the same sauce pan, add the chicken broth and bring to a boil.
Add the jasmine rice, cover and reduce temp to low, stirring occasionally. After the rice has simmered on low for 12 minutes remove cover and stir well.
Add in two tablespoons butter, 1/3 cup water, salt and pepper, cover and let simmer for 3 more minutes.
After 3 minutes, stir in broccoli. Continue to let the rice cook on low for 4-5 minutes or until your broccoli is the desired tenderness.
Stir in cheese and serve.
Recommended Products
As an Amazon Associate and member of other affiliate programs, I earn from qualifying purchases.
Nutrition Information:
Yield:

4
Serving Size:

1
Amount Per Serving:
Calories:

282
Total Fat:

19g
Saturated Fat:

10g
Trans Fat:

0g
Unsaturated Fat:

8g
Cholesterol:

46mg
Sodium:

849mg
Carbohydrates:

19g
Fiber:

2g
Sugar:

2g
Protein:

10g
To avoid any confusion I remove erythritol from the final carb count and net carb count, as it is not known to affect blood glucose levels. To calculate Keto recipes listed on this site carbs - fiber = net carbs. I use Nutrifox as my nutrition calculator. This nutrition information is an estimate based on the information provided by Nutrifox and the specific ingredients I used.