Soft and Chewy Chocolate Chip Pumpkin Cookies are the perfect gluten free, grain free treat! Each low carb cookie contains about 1 net carb each making it a great keto-friendly snack!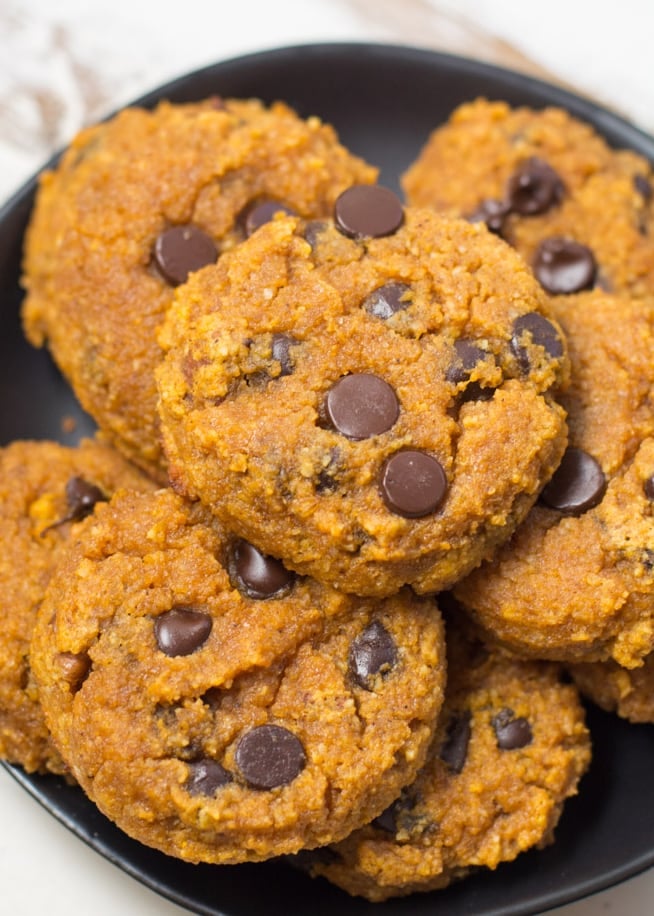 Today is no ordinary day. Today is actually a day that I thought was impossible. Something that was totally improbable. Today, I am self employed. I wasn't even sure I wanted to write about this but I have all these feelings so I kind of thought, what the heck.
I am a very driven person. I am organized and detail oriented. I have qualities that would make me a great employee. And I think I have been a pretty good employee at all of my jobs. But, when I finished college I took the first job that I found and stayed there for three years. Three years in a job that had nothing to do with my degree, a job that I didn't care about and a job that I didn't care for. But it was a job.
I felt guilty for saying that my job was unfulfilling or that I wanted to do more because I knew lots of people that didn't get so lucky when they finished college. They were unable to find good jobs and here I was with a perfectly fine one, that I just happened to hate. I felt ungrateful.
So, I started Maebells. A place to share my thoughts, recipes and my creative side. In my very wildest dreams this blog was going to make some money and maybe pay for the dining room table that I had been lusting over but a real job? No way.
Until one day I decided, why not? Why not me? Why can't I? Why does it sound so impossible? So unlikely that I can turn something that I love into a job. Other people do it. You read about it everyday. A seed was planted. The little idea, the small thought that you know what, maybe I can?
Maybe. Just maybe, I CAN do this.
I wrote down nine little words on a pink post it note and stuck it in my wallet.
I carried around those words everywhere I went. To the grocery, to work, on trips, everywhere. It was the little bit of reminder. In moments of doubt it was my safety net that reminded me things are possible if you stay focused.
"Decide what you want to be and be it"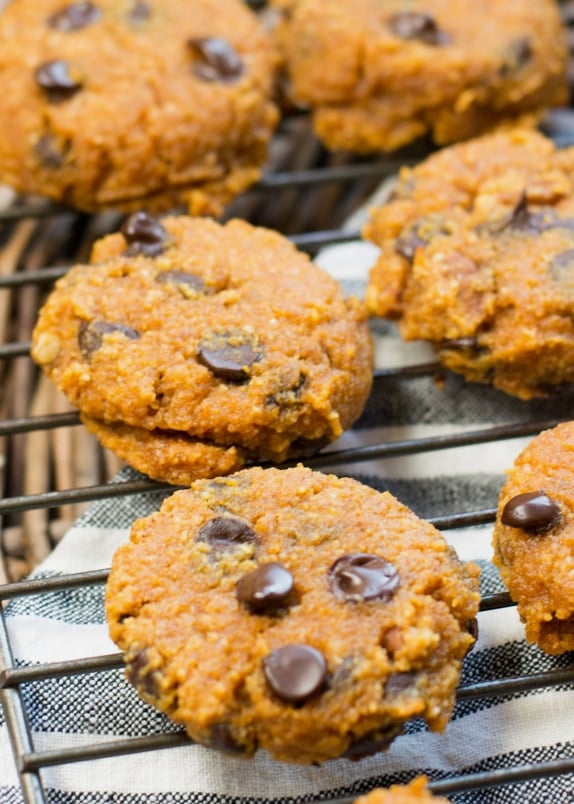 That post it note, a few tears, a lot of determination and more prayers than I can count leave me where I am today. Sitting at my kitchen table, coffee in hand and dogs at my feet. Today I am humbled and grateful. Today I am in your debt, because you…yes you, sitting right there have helped me prove nothing is impossible.
So let's have some cookies and celebrate! After all, is an achievement really an achievement if you don't celebrate it with chocolate?! For more fun fall recipes, check out this list of 20+ Easy Fall Desserts!
How to Make Gluten Free Pumpkin Cookies
As you might have guessed, these sugar-free pumpkin cookies have an almond flour and pumpkin base. Cookies need a fat — which is usually butter — to make them have a nice soft, chewy texture. However, these cookies are unique because pumpkin works in place of butter.
They feature a pumpkin dough with pumpkin spice and sprinkled with chopped pecans and low-carb dark chocolate chips. I think they have the perfect texture. Here's how the almond flour pumpkin cookies are made:
Preheat the oven to 350F.
While the oven preheats, measure out the pumpkin puree and squeeze out any excess moisture.
Once the pumpkin is dried out somewhat, simply combine all the ingredients in a large bowl.
Chill the dough for 10 minutes.
Scoop the dough onto parchment paper-lined baking sheets. Bake until done.
You can enjoy these cookies warm with the melted dark chocolate, but they are very good served chilled too.



Can I Omit the Chocolate Chips?
Of course! I made this recipe as keto pumpkin chocolate chip cookies, but you're welcome to omit them if you'd like to make classic pumpkin cookies.
Can I Substitute the Almond Flour?
Almond flour works best in this recipe, so I can't recommend a substitute. Coconut flour isn't a 1:1 substitute, so don't try using it in these cookies.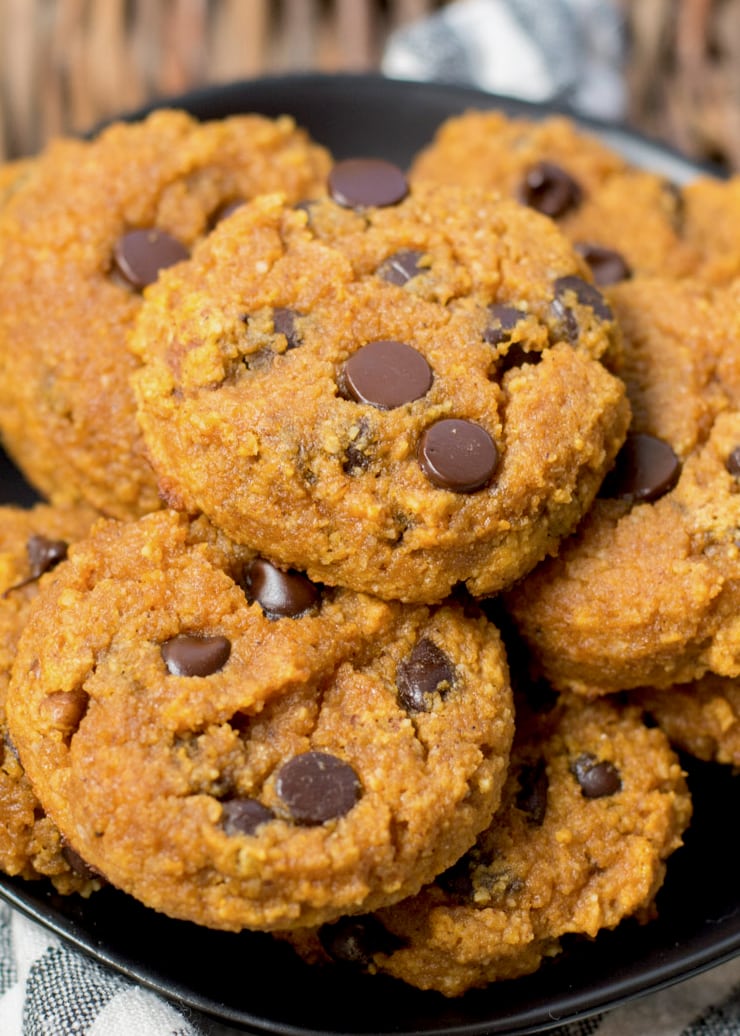 More Low Carb Cookie Recipes:
If you are struggling with your sweet tooth on keto, no worries! I've got you covered! Here are some of my favorite low-carb cookie recipes that will fit right into your keto diet.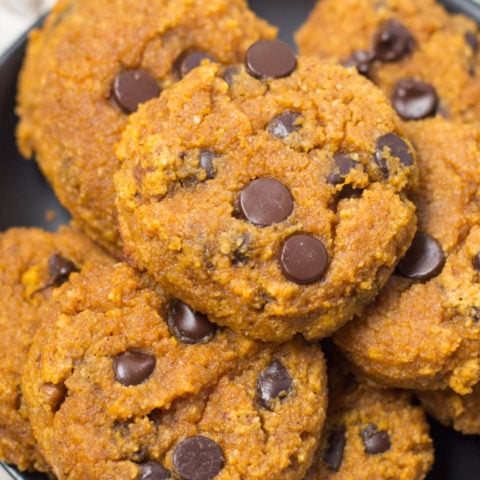 Chocolate Chip Pumpkin Cookies (keto + low carb)
Soft and Chewy Chocolate Chip Pumpkin Cookies are the perfect gluten free, grain free treat! Each low carb cookie contains about 1 net carb each making it a great keto-friendly snack!
Ingredients
1 cup almond flour
1 cup brown sugar monkfruit or Swerve
1 cup canned pumpkin puree (moisture removed, see tips below)
1 egg, beaten
1 teaspoon baking powder
1/2 teaspoon salt
2 teaspoons pumpkin spice
1/2 cup Lilly's dark chocolate chips
1/4 cup pecan pieces
Instructions
Preheat oven to 350 degrees F.
While the oven preheats measure out the pumpkin and place it in a paper towel lined bowl, cover with extra paper towels, pressing down lightly. Allow the pumpkin to sit for 10-15 minutes. The paper towels will absorb the extra moisture. Discard the paper towels when moisture has been absorbed.
Once the pumpkin has been dried out, combine all ingredients in a medium size mixing bowl and mix until well combined.
Chill the dough 10 minutes.
Grease a large baking sheet and use a small one inch scoop to scoop the cookie dough.
Lightly press each dough ball down so they spread out evenly as they bake.
Bake for 14-16 minutes. Allow cookies to cool before removing from the baking sheet. **Cookies will be slightly soft when you remove from the oven and firm upon cooling, do not overcook.**
Notes
This makes 24 small cookies for me.
Recommended Products
As an Amazon Associate and member of other affiliate programs, I earn from qualifying purchases.
Nutrition Information:
Yield:

24
Serving Size:

Nutrition Calculated Per Cookie
Amount Per Serving:
Calories:

40
Total Fat:

1.9g
Sodium:

51mg
Carbohydrates:

1.8g
Net Carbohydrates:

1.2g
Fiber:

0.6g
Sugar:

0.5g
Protein:

1.1g