These fudgy Keto No Bake Cookies will remind you of classic no bake chocolate cookies without all the carbs! At just one net carb per cookie these sweet treats won't break your keto diet!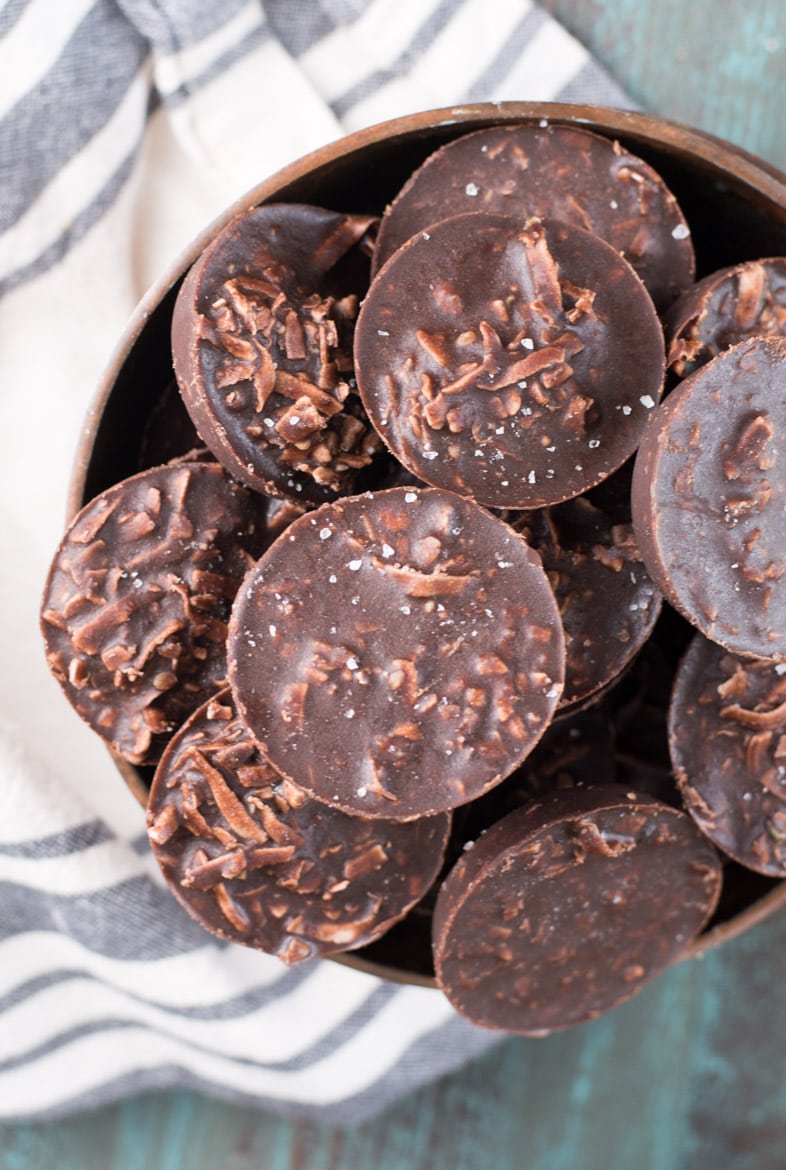 Growing up in my small town, there was a local woman who made those delicious no bake oatmeal peanut butter cookies that everyone knows and loves. She had a rich chocolate version and a delicious peanut butter version. Local restaurants and shops, as well as the high school, sold them.
My vice was the melt in your mouth peanut butter version and Mr. Maebells' was always the chocolate. Sadly, as a low-carb gluten-free family those beloved Dotta Sue cookies just aren't an option anymore. These Keto No Bake Cookies are a low carb spin on my favorite childhood cookie.
To be fair, these are not a match for a true classic no bake peanut butter cookie. How could it be? Without traditional sugar and oats it would be impossible. However, considering that these only have about one net carb per cookie they are a pretty excellent substitute!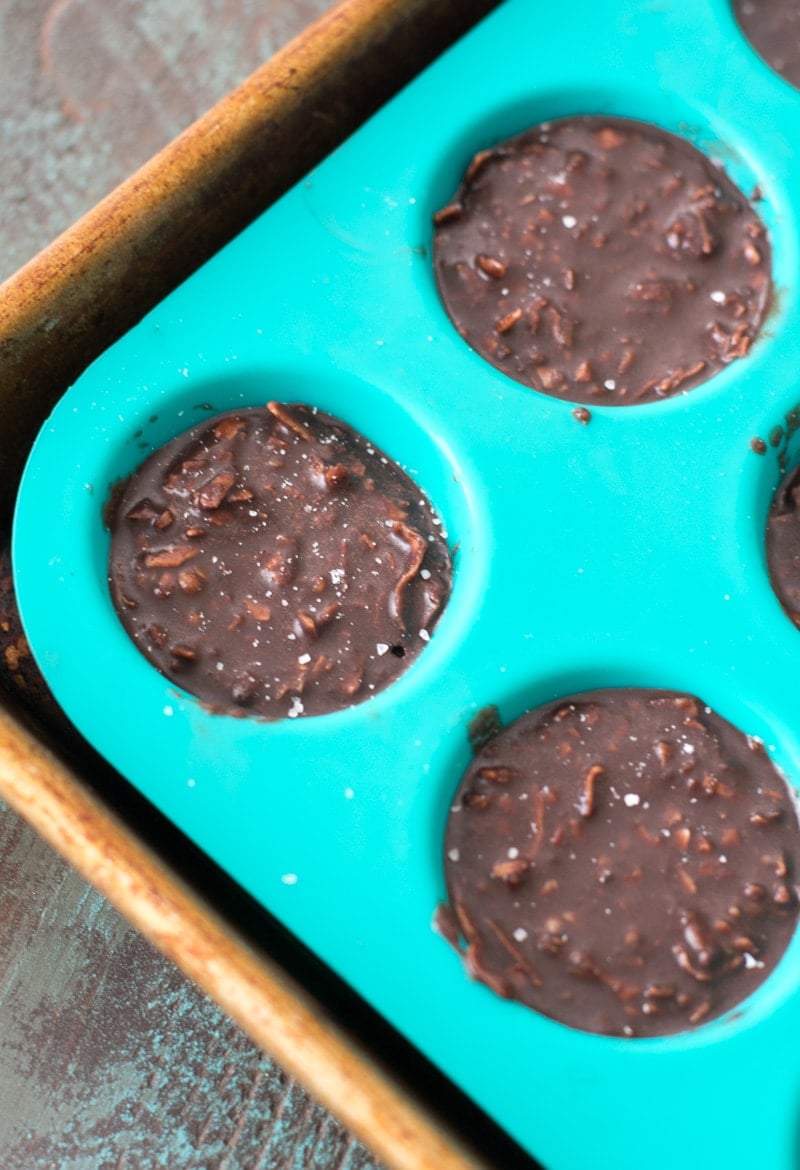 Ingredients in Keto No Bake Cookies
These no bake cookies with coconut have a fudge-like base that's made with coconut oil, a nut butter of your choice, keto-friendly sweetener, and cocoa powder.
The "filling" is a mixture of unsweetened coconut flakes, hemp seeds, and vanilla extract.
I think you will be surprised how well the coconut flakes and hemp seeds substitute for oats. Neither one has a very strong flavor, but they keep their texture or "bite" well so they work well as a low carb oat substitute.
Can This Recipe Be Made with Coconut Butter?
Yes, I tested this keto no bake cookie recipe with both coconut oil and coconut butter. I prefer making them with coconut oil, but coconut butter works as well.
Can I Use a Different Oil?
If you don't have coconut oil on hand, you may substitute it with melted butter.
Can the Hemp Seeds Be Substituted?
Yes! I bet chia seeds or something similar would also work.
How to Make Low Carb No Bake Cookies
This keto sweet snack is so easy to make! Here's how you make the no bake keto cookies:
Add the coconut oil and nut butter to a saucepan and warm until melted.
Stir in the cocoa powder, vanilla, and sweetener.
Once the sweetener has dissolved, stir in the hemp seeds and coconut flakes.
Spoon the mixture into a mini muffin tin. Freeze until set.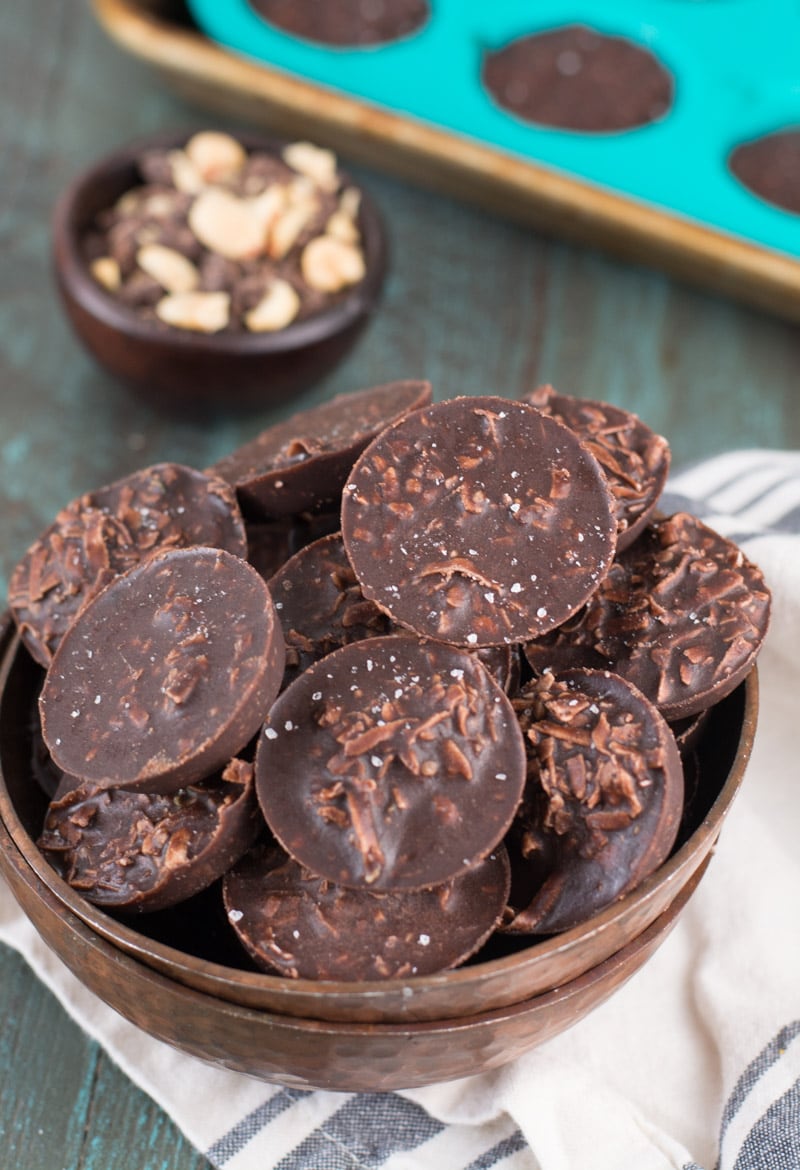 How to Store Keto No Bake Cookies
This keto sweet treat should be stored in the fridge or freezer. I prefer storing the cookies in the freezer since they last up to 3 months that way. Just don't store the low carb no bake cookies at room temperature, otherwise they'll soften.
How Many Net Carbs Per Cookie?
For this recipe, I use a silicone muffin pan to keep these cookies uniform. You have two options, to use a standard size muffin pan or a mini muffin pan. Personally, I prefer the mini muffin. I think it is just the right size for a bite or two of chocolate. It satisfies my sweet tooth and keeps the carbs at a minimum.
I feel like I can easily have one after lunch and one after dinner if I'd like. In the mini muffin tin, this makes 48 small cookies and they come in at 1.1 net carb. I store them in the freezer and 48 cookies takes a while to eat so these are perfect for keto meal prep!
If you use a standard muffin tin, you are going to get about 24 cookies. In this case the carbs are certainly higher and it makes for a very filling dessert. This is just something to keep in mind when deciding how you'd like to divide your batch up.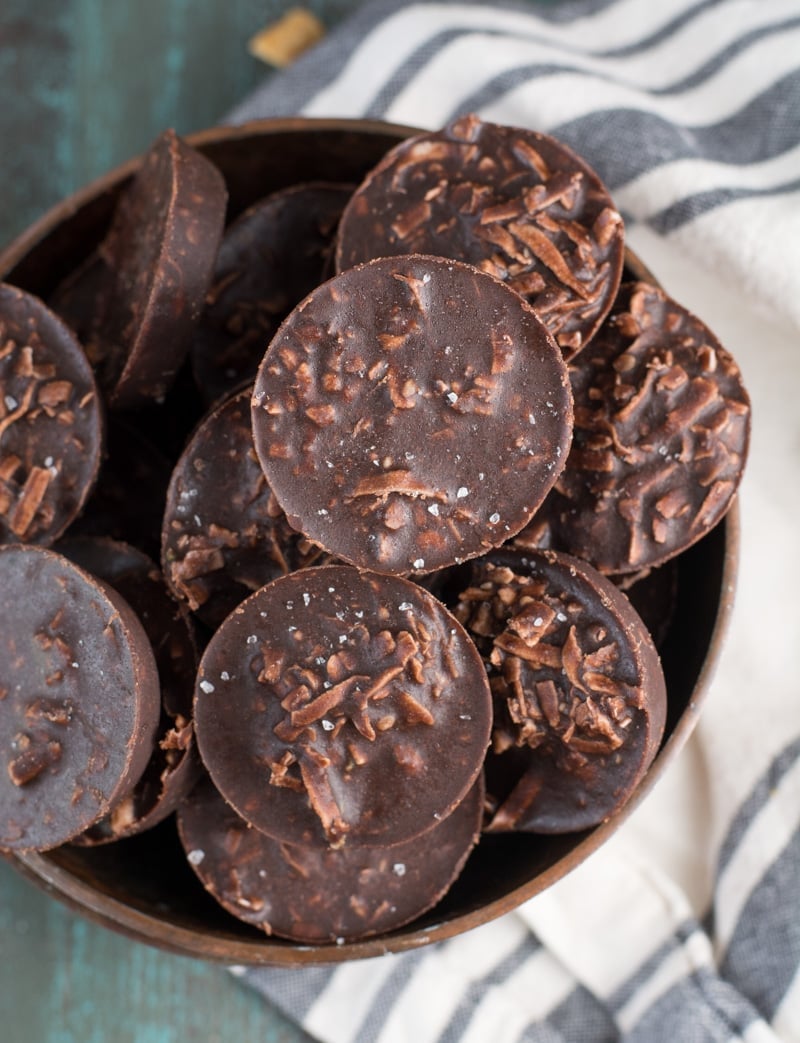 Tips for Making This Keto Sweet Treat
I used swerve sweetener to make these keto no bake cookies, but you can use any keto-friendly sweetener you'd like. I've tested this recipe with monkfruit confectioners and that worked too.
If you have a coconut allergy, you can use regular butter in place of the coconut oil. Instead of coconut flakes, use more hemp seeds or get creative!
I've tested this keto treat recipe with both almond butter and peanut butter. Both worked beautifully!
When filling your silicone muffin pans for your cookies, remember not to fill your pan up. You want the width of the cookies to be nice and bite size!
More Keto Sweet Snacks: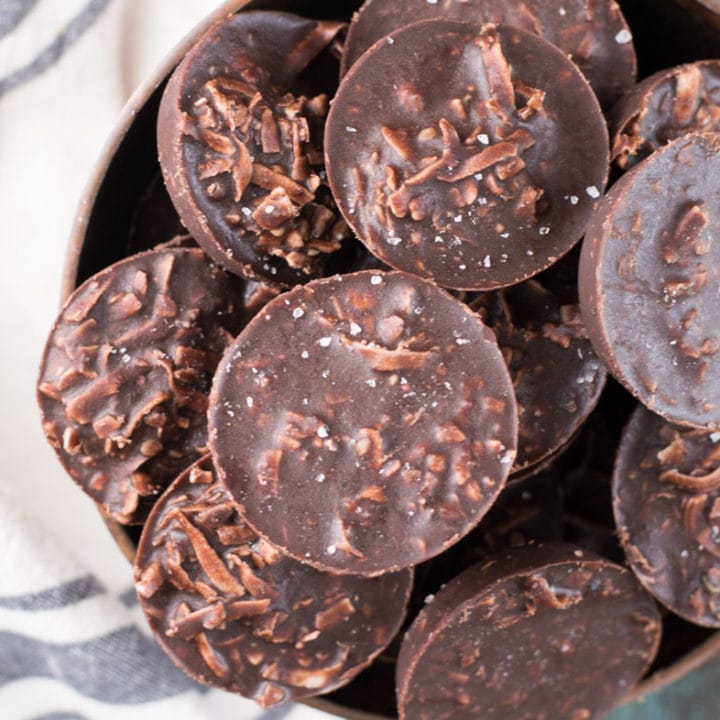 Keto No Bake Cookies
Additional Time:
15 minutes
These fudgy Keto No Bake Cookies will remind you of classic no bake chocolate cookies without all the carbs! At just one net carb per cookie these sweet treats won't break your keto diet!
Ingredients
3/4 cup coconut oil
3/4 cup creamy low carb peanut butter or almond butter
1/4 cup cocoa powder
1 cup Monkfruit or Swerve sweetener (brown sugar or granular)
1 teaspoon vanilla extract (optional)
1 1/2 cup UNSWEETENED coconut flakes
2 tablespoons hulled hemp seeds, also called hemp hearts (you can use an extra 2 tablespoons of coconut flakes if you don't have this. I like the mixed texture and it adds a bit of fiber)
sea salt for topping (optional)
Instructions
In a medium size sauce pan combine the coconut oil and the peanut butter over medium low heat.
As the mixture begins to melt stir until well combined.
Stir in the cocoa powder, vanilla (if using) and the sweetener.
When the mixture has completely melted (your fudge mixture should be smooth with no visible granulars) remove from heat and stir in the coconut flakes and the hemp seeds.
Set aside and allow mixture to cool slightly.
Carefully spoon into silicone mini muffin tins until 3/4 full.
Sprinkle with sea salt if desired.
Freeze for 15 minutes until set. Remove from tins and store in an air tight container in the freezer.
Recommended Products
As an Amazon Associate and member of other affiliate programs, I earn from qualifying purchases.
Nutrition Information:
Yield:

48
Serving Size:

1 cookie
Amount Per Serving:
Calories:

70
Total Fat:

7g
Carbohydrates:

1.7g
Fiber:

0.6g
Protein:

1.2g