This Chocolate Covered Cherry Crisp is the ultimate summer treat! Fresh cherries are topped with a chocolate chip oatmeal cookie crumb topping!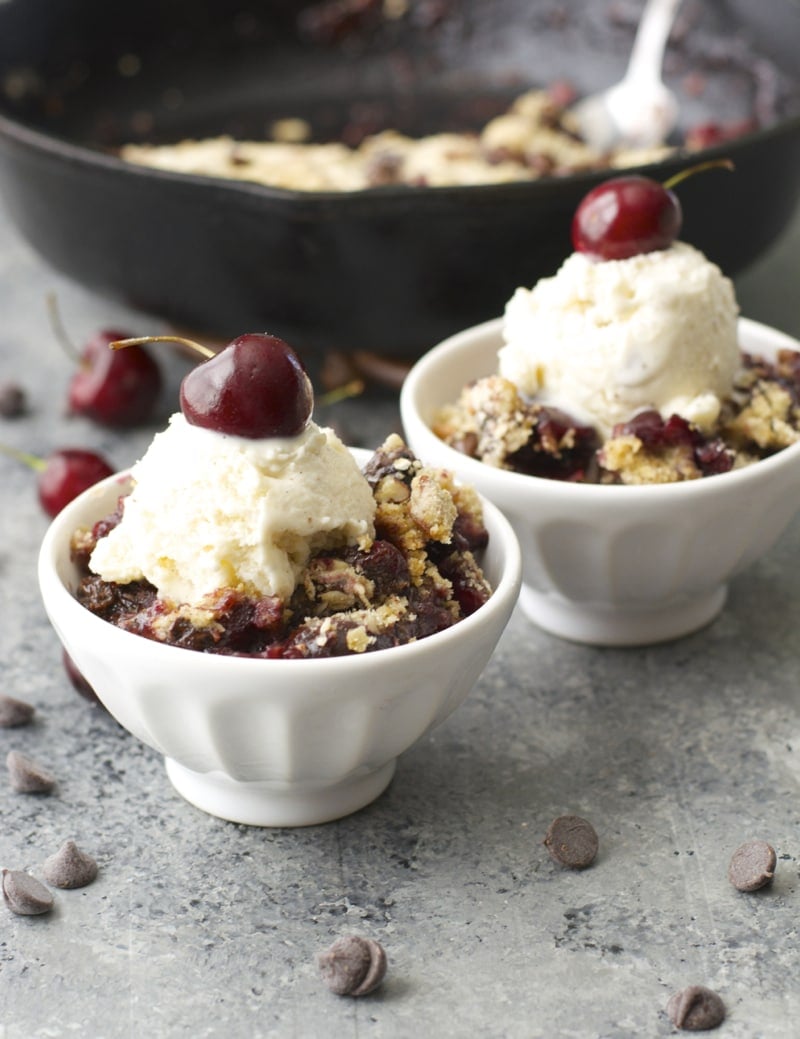 If you were to ask me a year ago if I liked cherries, the answer would have been heck no! I would have been emphatic on that point. No cherries. Ever. In anything.
My reasoning? Cherry flavored cough syrup.
See, I don't think I had ever really had cherries before — like, real fresh cherries — but I had tried that awful medicine. I just thought that is what cherries tasted like. So chocolate-covered cherries, cherry smoothies, cherry anything was just not an option. No no no.
Until I spotted them for 99 cents last summer. I got brave and decided to try them. Um, they taste NOTHING like cough medicine. Why do they even name it cherry flavored? I just do not understand. Because of those silly mislabeled medicines I have been missing out for years!
Well, no more! I have made it my mission to get as many delicious cherries as I can this summer, starting with this Chocolate Covered Cherry Crisp!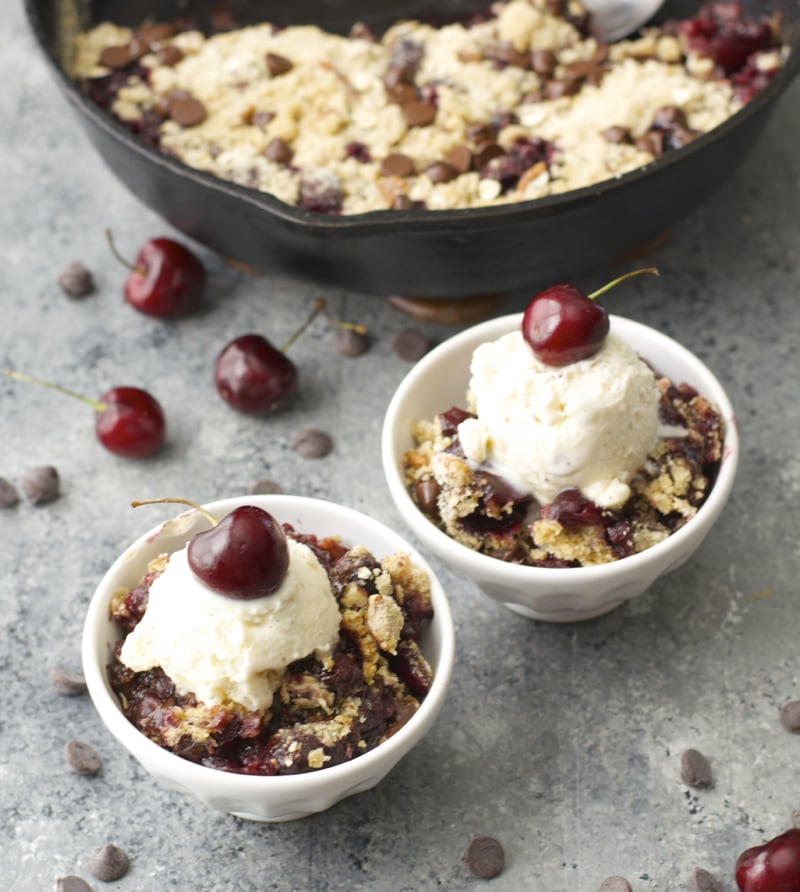 Crisps and cobblers are my favorite desserts. I love what happens when you combine fresh juicy fruit with oats, sugar and butter. It is like magic. And this version takes it to a whole new level!
This crisp comes together pretty easily. The hardest part is pitting two pounds of fresh cherries. You just layer those beautiful, juicy cherries in the bottom of a baking dish or cast iron skillet. Then make up your chocolate chip oatmeal topping.
This topping is insane. It takes just like an oatmeal chocolate chip cookie, which happens to be my favorite. It is super simple because you just throw some flour, oats, sugar and butter in a bowl and mix it really well with your hands. The key to a good crisp is to make sure the butter is thoroughly incorporated with the rest of the toppings so you get a perfectly crispy, buttery topping.
When the topping is blended really well I add the dark chocolate chips and pecans.
When this comes out of the oven all hot and bubbly it is a little piece of heaven. Sweet fruit with rich dark chocolate and crisp oatmeal topping all topped with a big scoop of ice cream. What more could you want?!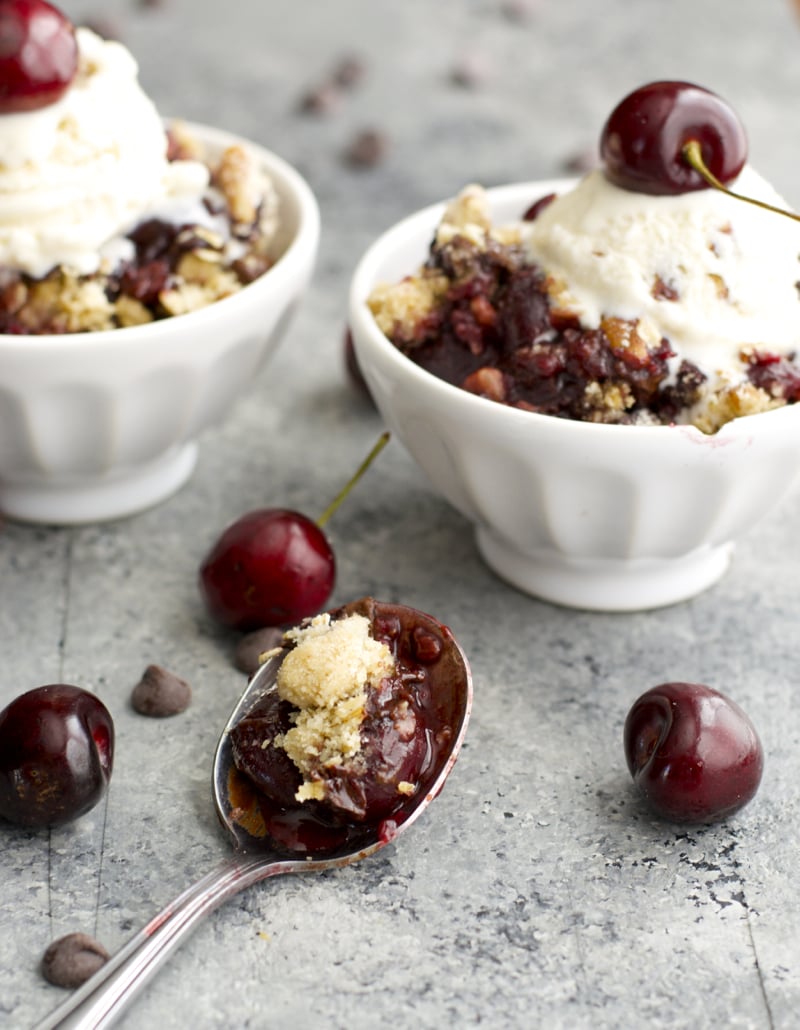 What Ingredients Are Needed for Cherry Crisp?
This fresh cherry crisp recipe has two components: the cherry filling and the chocolate chip cookie fruit crisp topping. To make this cherry crisp with fresh cherries, you'll need the following ingredients:
Dark sweet cherries
Granulated sugar
Old-fashioned oats
Gluten-free flour
Brown sugar
Dark chocolate chips
Butter
Chopped pecans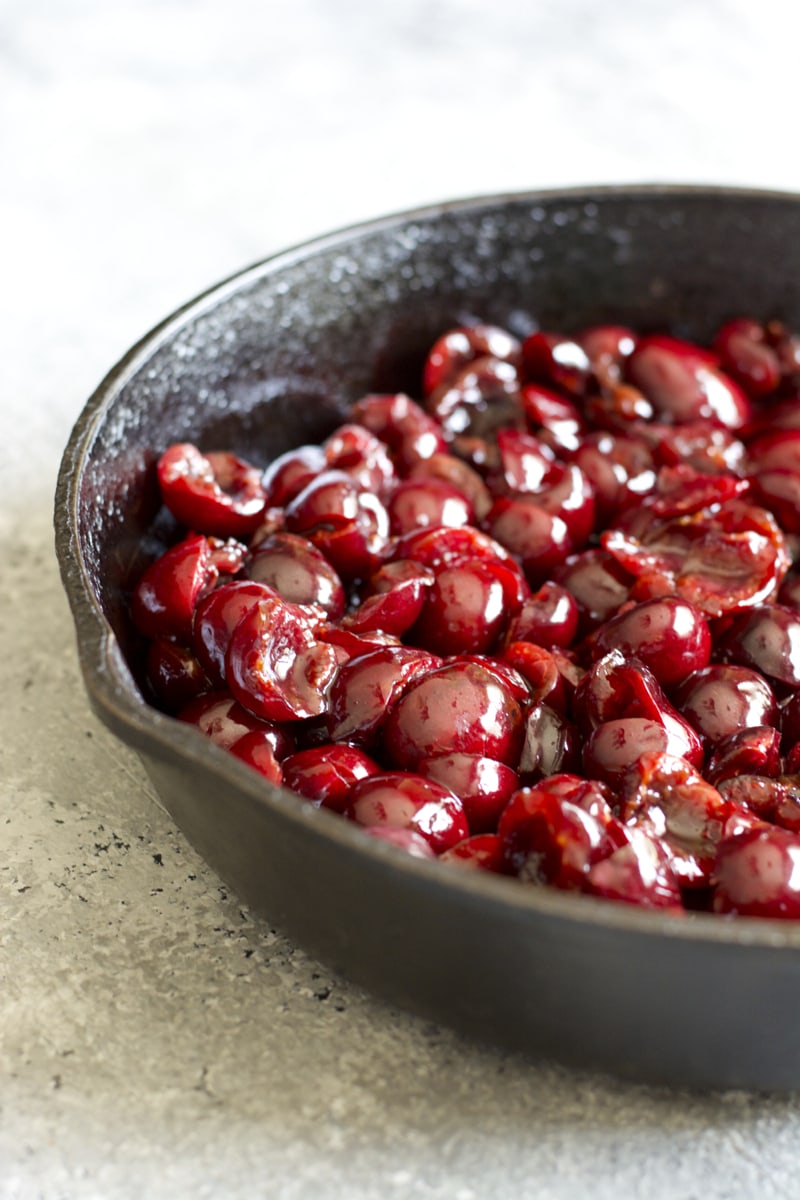 How to Make Cherry Crisp with Fresh Cherries
This is such an easy cherry crisp recipe! I've given detailed instructions on how to make this cherry dessert in the recipe card below, but here's an overview of the process:
In a mixing bowl, stir together the pitted cherries and the granulated sugar.
Turn the cherry mixture into a cast iron skillet.
Wipe your mixing bowl clean and add the oats, flour, and brown sugar.
Cut in the butter with a pastry cutter (or use your hands).
Add the chocolate chips and pecans and mix well.
Sprinkle the fruit crisp topping over the cherries, then bake until done.
Can I Use Frozen Cherries?
Possibly, but without having made this cherry crisp recipe using frozen cherries I can't say for certain. If using frozen cherries, I imagine you'd need to increase the bake time.
How to Store Fruit Crisps
This fresh cherry crisp should be covered and stored in the fridge. It will last up to 1 week.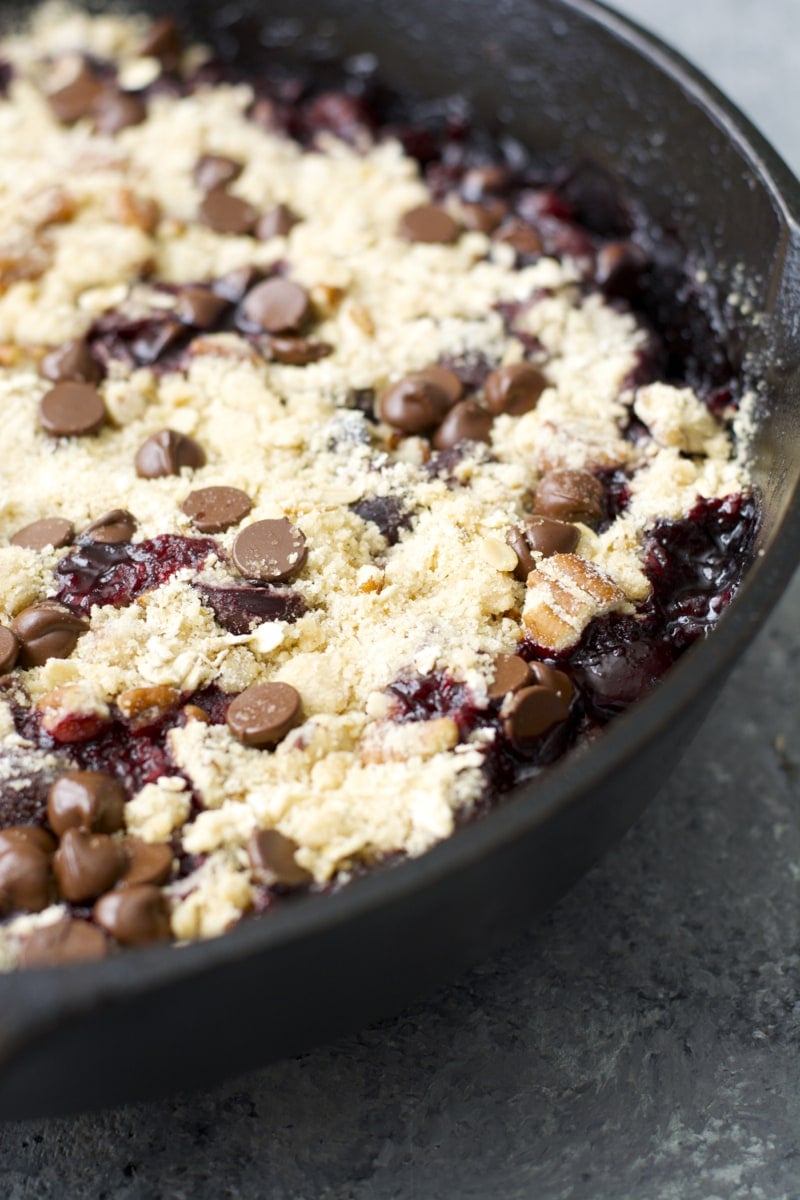 Tips for Making Fresh Fruit Crisps
Make sure your cherries are ripe. They should be deep red in color and taste very sweet.
I used gluten-free Bisquick baking mix for the fruit crisp topping, but you're welcome to use your favorite gluten-free flour blend.
Pitting the cherries takes a while, but be patient. I've heard that you can quickly pit cherries using an icing tip. Otherwise, use a paring knife and scoop out the pits by hand.
More Summer Dessert Recipes: