This Roasted Tomatillo Salsa has a nice kick from the jalapeño and comes together in just 15 minutes. Perfect for tacos, burritos, enchiladas, and more!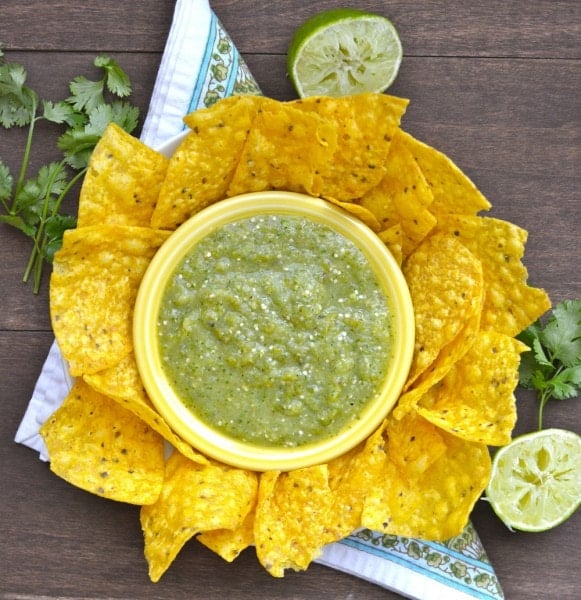 Tomatillo and Jalapeno Salsa
This delicious Tomatillo Salsa is a versatile recipe you're going to love! Enjoy it as a dip with chips and veggies, drizzle it on top of some Cilantro Lime Shrimp and Rice, or mix it into soup for this Slow Cooker White Bean Chicken Chili Verde. It's packed full of flavor and just takes two simple steps to make.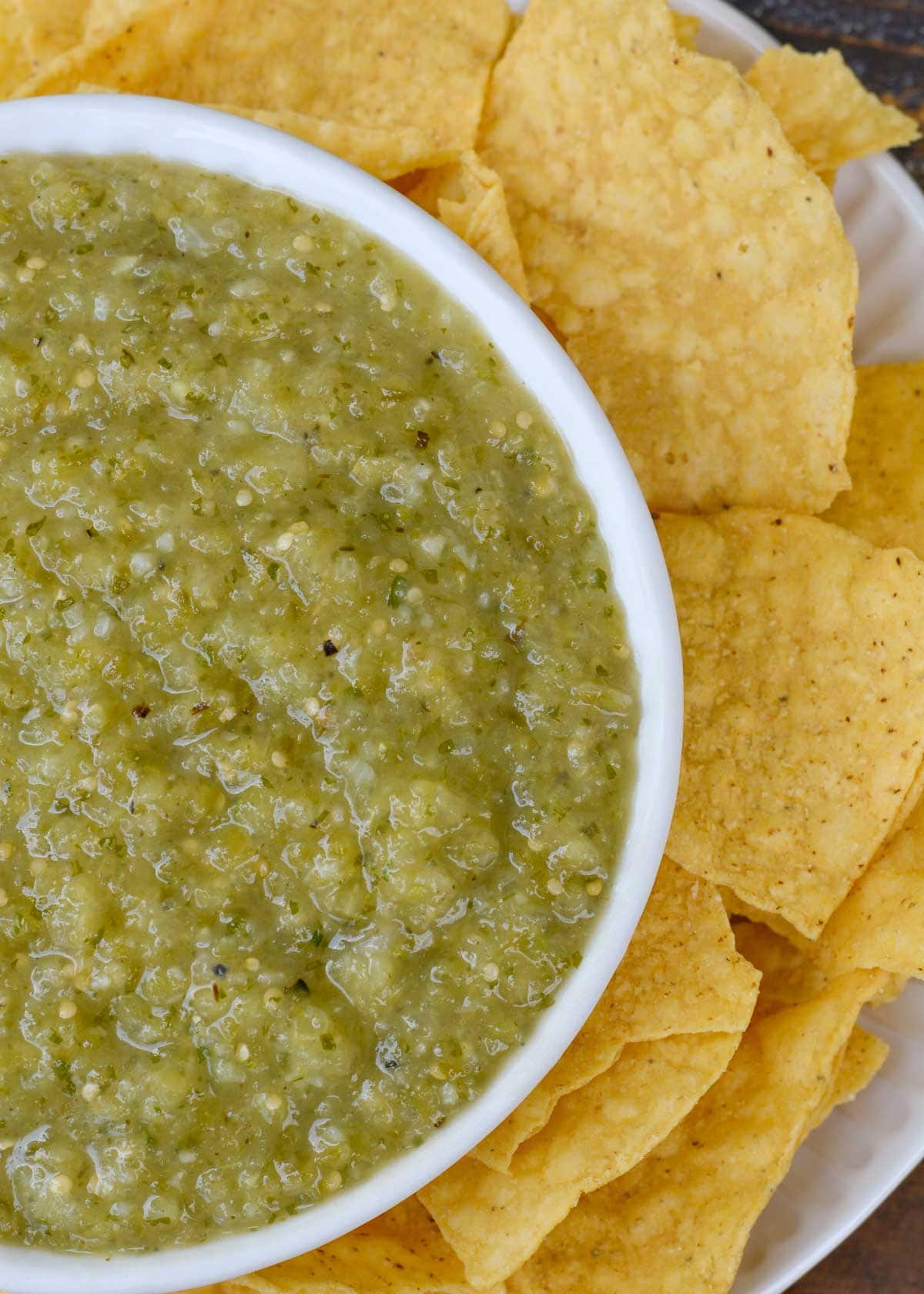 Why you'll love it:
It's healthy – This easy appetizer has just 46 calories, 2 grams of fat, 4 net carbs, and 1 gram of protein. This is a great condiment choice when you want to add TONS of flavor without a lot of calories or carbs to weigh you down.
You'll never waste it – This salsa will last up to 6 days in the fridge, but you can also freeze it up to 2 months! This means you can enjoy a little at a time, portion it out for recipes, and keep it around whenever you want.
It makes everything better – This goes with SO much! Add it to eggs, quesadillas, taco salad… It works as a marinade for meat or veggies, can be added into soups, and works great as a sauce with wraps, burritos, and more. This means one recipe can go a really long way!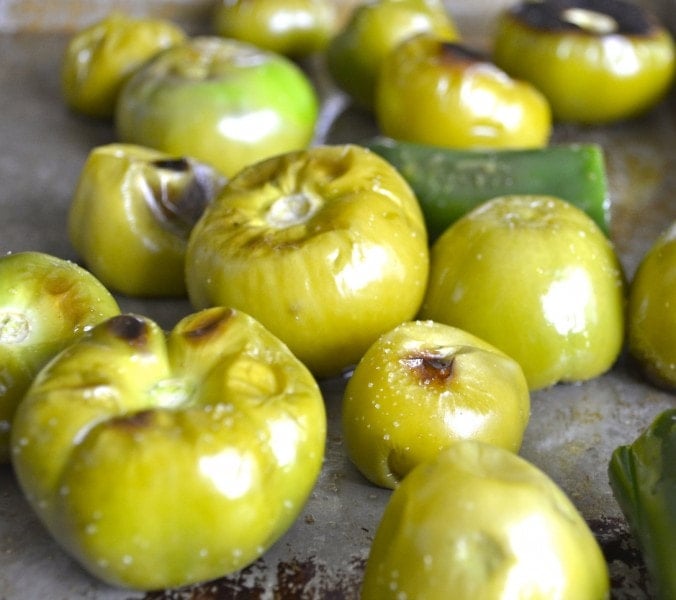 Ingredients in Roasted Tomatillo Salsa
Here's a quick overview of what you'll need for this recipe. You can find exact measurements in the printable recipe card at the bottom of the page.
Fresh tomatillos – These are not green tomatoes but actual tomatillos… It's a common confusion, so just make sure you're grabbing the right thing!
Fresh jalapeños – These will have the brightest flavor, and you can adjust the spice level by leaving out the seeds entirely or adding some in. Jarred jalapenos will not give you the same flavor.
White onion – You can swap this out for a yellow onion for a sweeter flavor. Red onion will give a different flavor, but it's also delicious.
Garlic – These can just be smashed or roughly chopped–Not minced.
Olive oil – Your preferred oil is fine. This will help bring out the deeper flavors during the roasting process.
Salt – Adjust based on your preferences.
Fresh cilantro – There's really not a good substitute for this if you aren't a fan of cilantro. You can replace with parsley if you'd like, but it does make the flavor more Italian than Mexican.
Spices (garlic salt, cumin, onion powder) – These are simple flavor boosters.
Lime juice – Adds tons of flavor and brightens the whole salsa. Fresh lime juice has the most flavor, but bottled makes things very convenient.
How to Make Roasted Tomatillo Salsa
This easy tomatillo salsa comes together without much work at all! Here's a step-by-step guide for making this green salsa.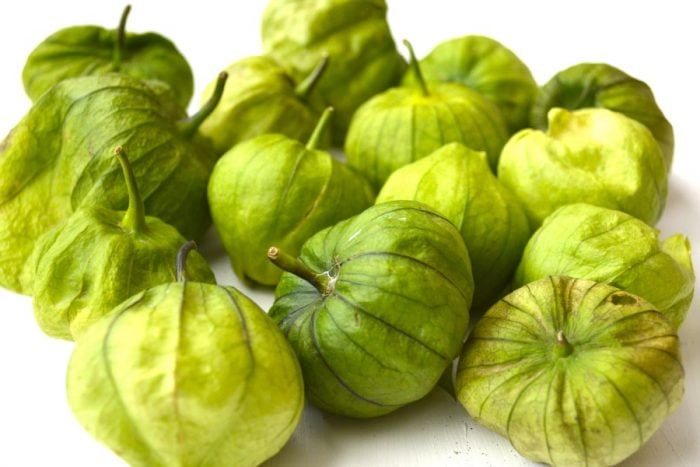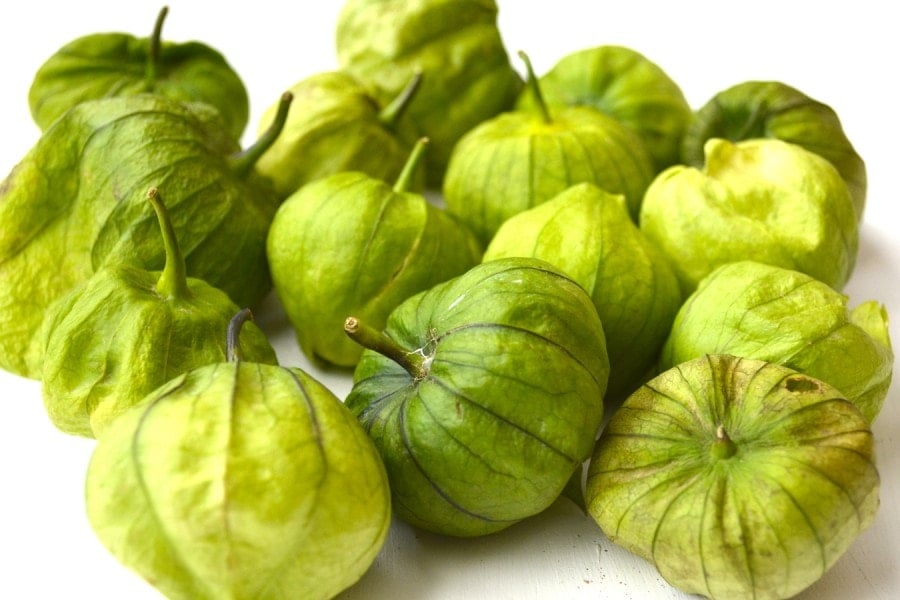 Prep
Pull the husks off of the tomatillos. After the husks are removed, they are a little bit sticky, so just wash them really well. While those are drying, line a large baking sheet with a silicone liner or greased aluminum foil and set aside.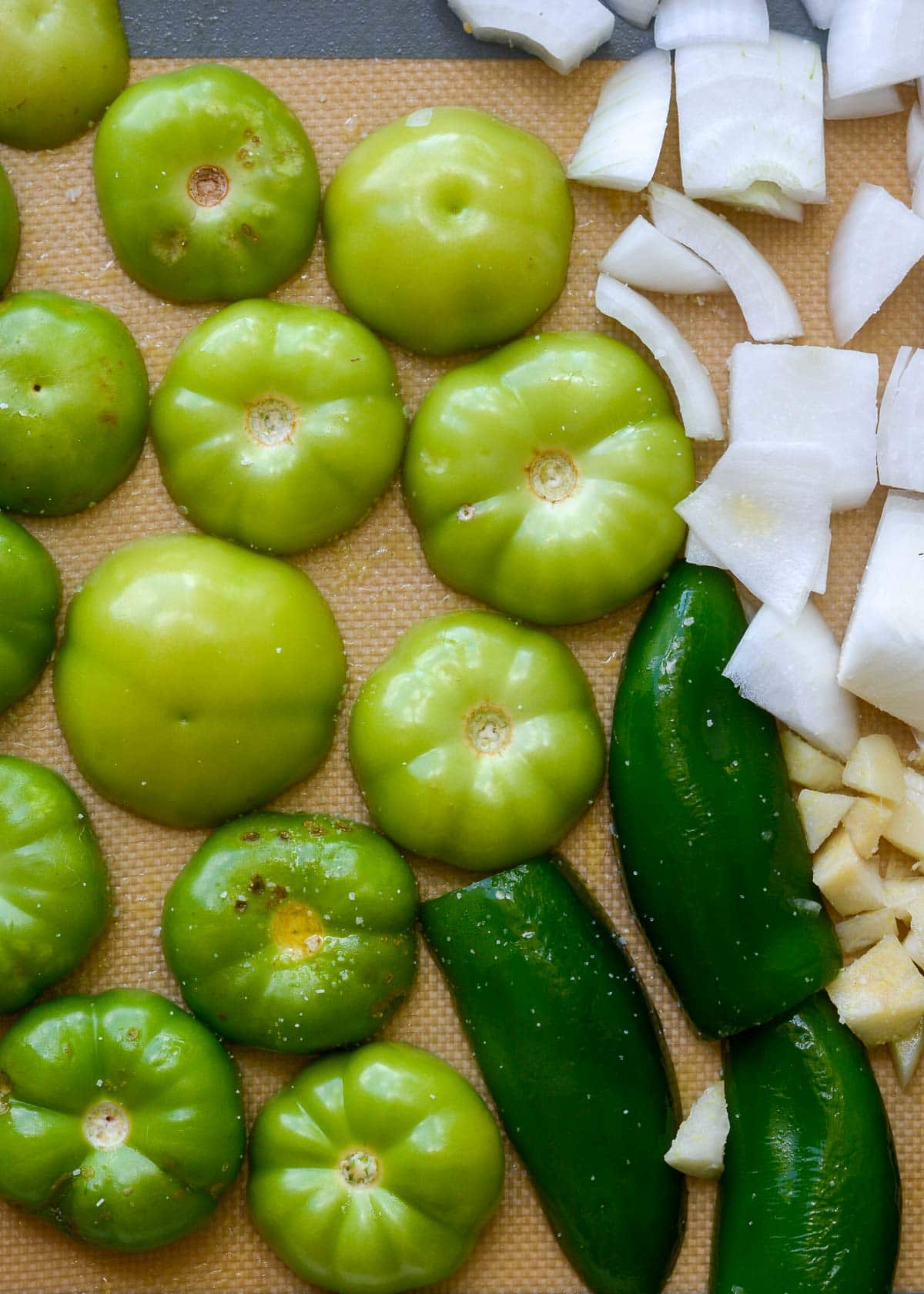 Roast
Place the tomatillos, halved jalapenos (seed the jalapenos if you don't want it very spicy), and roughly Schopped the onions on the prepared baking sheet. sprinkle with olive oil and salt. Once they're lightly covered, turn on your broiler. Broil for about 1 minute or until they're a bit charred on the outside, then flip the veggies and broil another minute or so.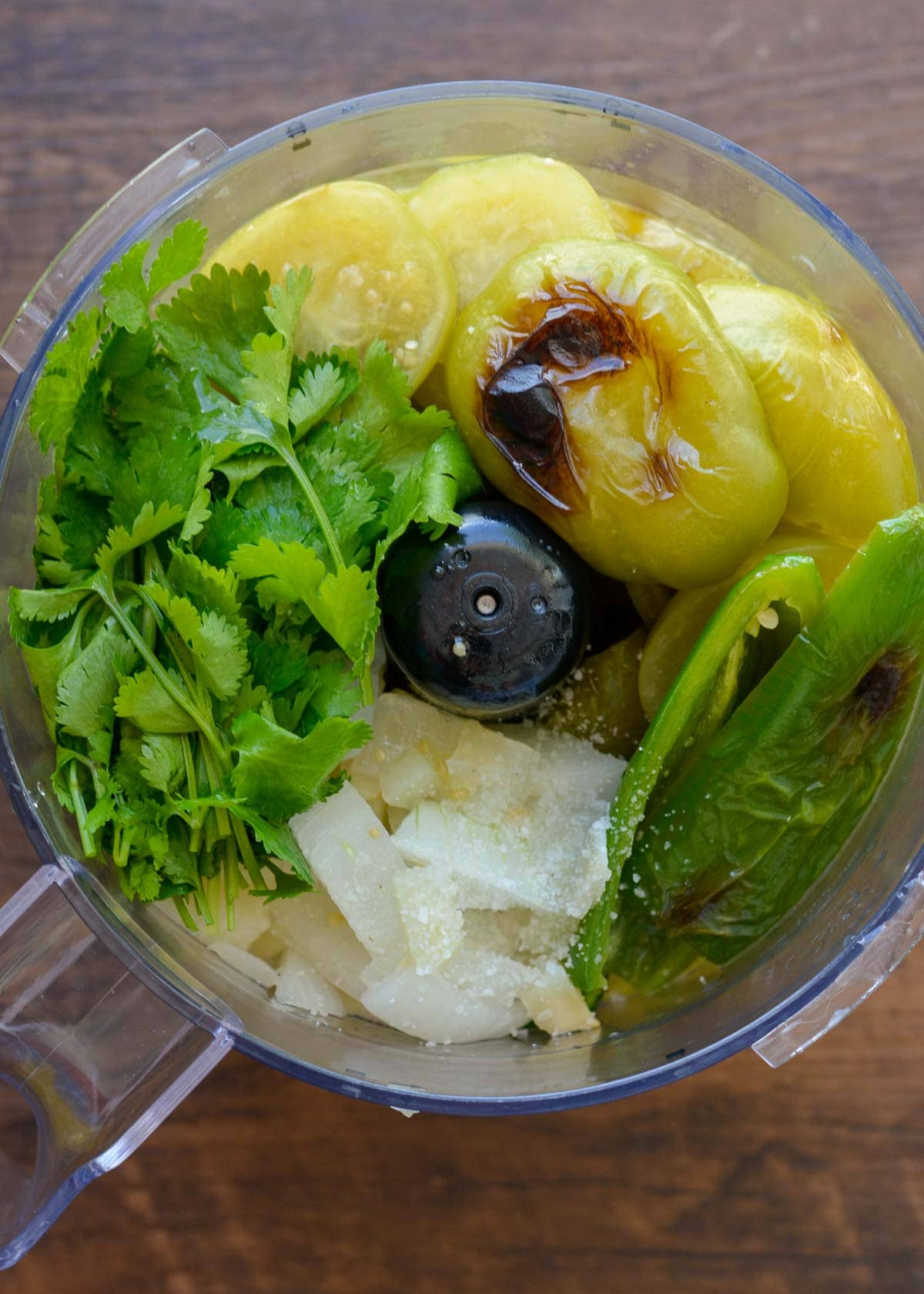 Blend
Remove the blistered veggies from the oven and allow them to cool. Dump everything into the blender with the cilantro, lime juice, and spices. Process/blend until it reaches your preferred consistency. It's really that easy!
Ways to Use Tomatillo Salsa Verde
You can spoon this roasted tomatillo salsa over your favorite tacos, burritos, chimichangas, nachos, and so much more. We love it in this Keto White Chicken Chili or Slow Cooker Chicken Tacos. It's great stirred into Seasoned Black Beans or as a dip for Cheesy Keto Taco Bites.
If you're looking for some low-carb option, here's a great list of Keto Mexican Food Recipes that would work great with this salsa!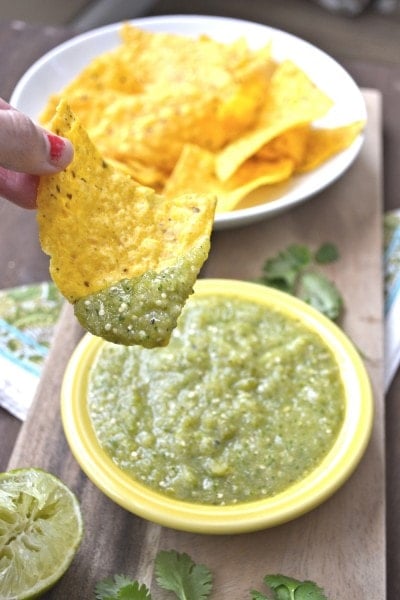 How Long Does Homemade Salsa Last?
Homemade tomatillo salsa verde will last up to six days in the fridge. It can also be frozen in an airtight container for up to two months. You can freeze it in small portions (using ice cube trays or these 1/2 cup freezing containers) so it's easy to use a little at a time in various recipes.
Tips for the Best Tomatillo Salsa
Note that this is a recipe for roasted tomatillo salsa. Tomatillos are NOT the same thing as green tomatoes, so don't confuse the two.
For a spicier salsa, leave the seeds in the jalapeños.
Let the veggies cool slightly before blending them up. You don't want to accidentally splatter yourself with hot salsa!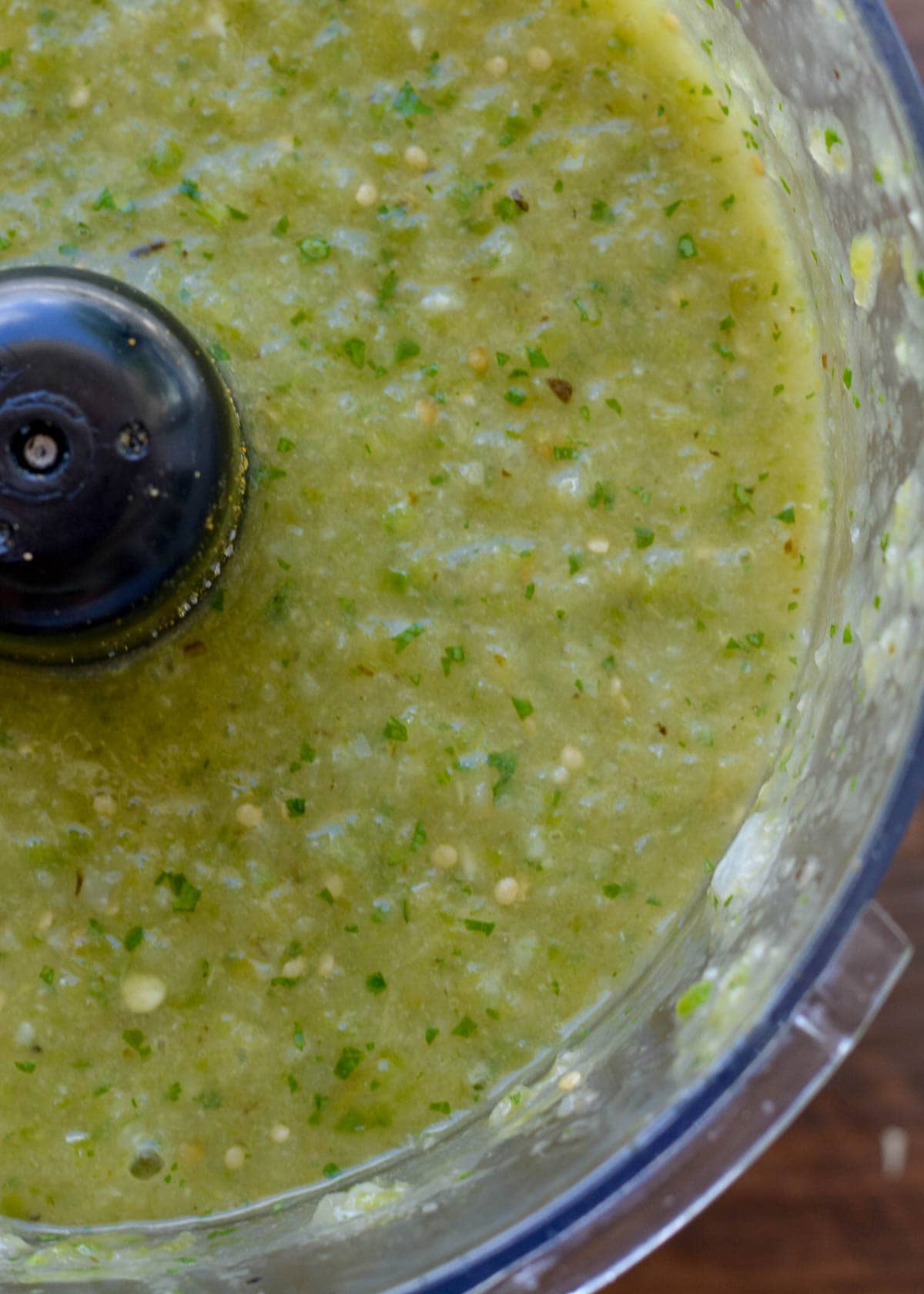 More Easy Dips to Make: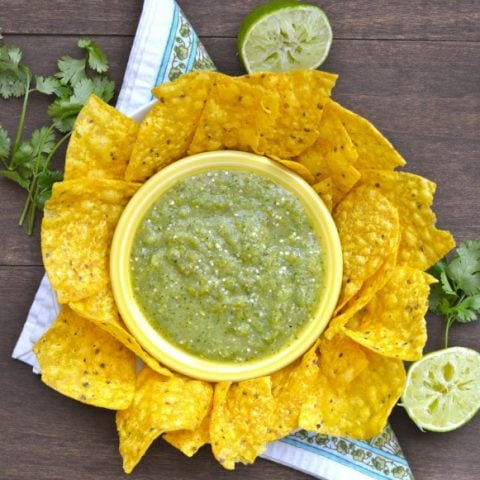 Tomatillo Salsa
This Roasted Tomatillo Salsa has a nice kick from the jalapeño and comes together in just 15 minutes. Perfect for tacos, burritos, enchiladas, and more! 
Ingredients
1 pound fresh tomatillos, husk removed and washed well
2 fresh jalapenos, seeded
2 teaspoons olive oil
1/4 teaspoon course salt
1 small white onion
1/4 cup chopped cilantro
1 teaspoon minced garlic
1/4 teaspoon garlic salt
1/4 teaspoon cumin
1/4 teaspoon onion powder
1 lime, juiced
Instructions
Remove the husks from one pound of tomatillos, rinse well.
Toss the tomatillos, onion, and seeded jalapenos in the olive oil and the salt.
Place on a large baking sheet.
Turn your broiler on high and broil until the vegetables become charred. (For me this was about 1 minute, then I flipped them over and broiled for 1 more minute). Watch very carefully and make sure not to burn.
Remove from oven and let cool.
Cut the ends off the onion and cut into into quarters, discard the outer layers.
Add the tomatillos, jalapenos, and the onion to blender along with cilantro, spices, and the juice of one lime and blend on high until smooth (30 seconds to 1 minute).
Nutrition Information:
Yield:

6
Serving Size:

1
Amount Per Serving:
Calories:

46
Total Fat:

2g
Saturated Fat:

0g
Trans Fat:

0g
Unsaturated Fat:

2g
Cholesterol:

0mg
Sodium:

156mg
Carbohydrates:

6g
Fiber:

2g
Sugar:

4g
Protein:

1g
To avoid any confusion I remove erythritol from the final carb count and net carb count, as it is not known to affect blood glucose levels. To calculate Keto recipes listed on this site carbs - fiber = net carbs. I use Nutrifox as my nutrition calculator. This nutrition information is an estimate based on the information provided by Nutrifox and the specific ingredients I used.