Be precise when you're measuring How Many Ounces in a Cup! Whether you are measuring wet or dry ingredients, this guide will help you to calculate accurately.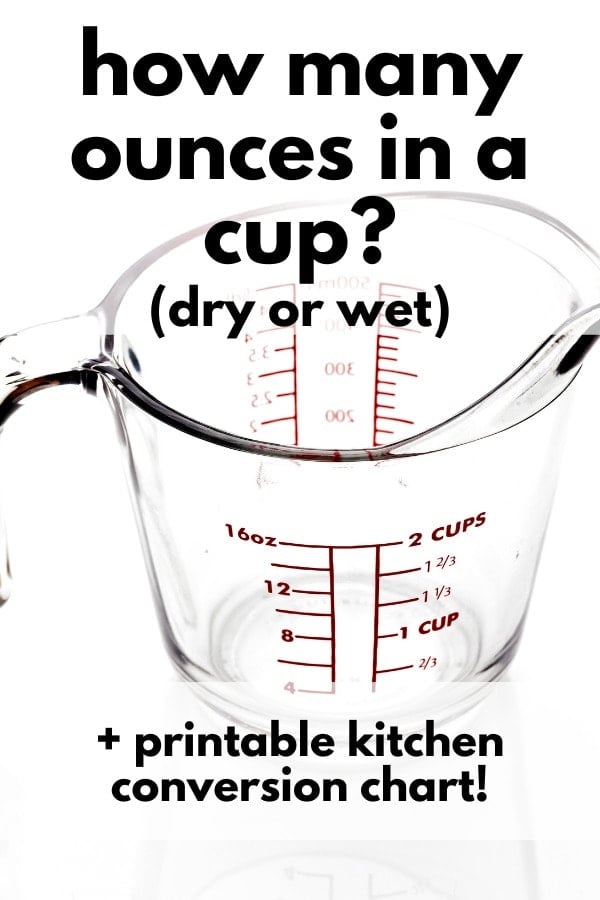 How Many Ounces in a Cup?
One cup is 8 fluid ounces, or 16 tablespoons. But when you're faced with having to make a calculation while you're covered in flour and you've got a counter cluttered with ingredients is not exactly ideal. Save this guide for How Many Ounces in a Cup so you won't be left high and dry again! This is a very common question in the kitchen. This can vary by liquid and dry ingredients, so I've made a quick table to help answer your questions so you can get back to cooking!
Measuring How Many Ounces in a Cup can be confusing. A liquid ingredient will be measured by its volume, while a dry ingredient will be calculated by its weight. While this may sound intimidating, I've laid it out so that it's simple. So you can know that when you're preparing Mango Bread, Turtle Brownies or Keto Whoopie Pies, they'll come out perfect every time!
What is an Ounce?
An ounce is a unit of measurement that calculates to 28 grams, or 1/16 of a pound. A dry ounce and a fluid ounce will measure out differently. When measuring out a dry ingredient, you will need to calculate it by weight. When measuring out a wet ingredient, it will need to be calculated by volume.
Why are wet and dry ingredients measured differently?
Since dry ingredients are calculated by weight, different ingredients will have different weights. For example, one cup of coconut flour is not going to weigh the same as one cup of chocolate chips. To make sure that what you are measuring is correct, I encourage you to weigh your dry ingredients with a food scale. For liquid ingredients, you can use measuring cups, since the volume will always be the same.
How Many Fluid Ounces in a Cup?
Use these quick measurements the next time you need to convert an ingredient:
1/4 cup– 2 fluid ounces or 4 tablespoons
1/2 cup– 4 fluid ounces or 8 tablespoons
3/4 cup– 6 fluid ounces or 12 tablespoons
1 cup– 8 fluid ounces or 16 tablespoons

How many Dry Ounces to a Cup?
Dry ounces are calculated by weight, not volume, so the amount of a dry ingredient you will need will vary by that individual ingredient's weight. For example, the weight of 4 ounces of ground thyme and 4 ounces of chicken breast will vary widely. King Arthur Flour has a fantastic page with a wide variety of measurements for different ingredients, but here are a few common ingredient measurements that may be handy to know.
All Purpose Flour– 4 1/4 ounces to 1 cup
Almond Flour– 3 3/8 ounces to 1 cup
Coconut Flour– 4 1/2 ounces to 1 cup
Panko Breadcrumbs– 1 3/4 ounces to 1 cup
White Sugar– 7 ounces to 1 cup
White Sugar Alternative– 7/8 ounces to 1 cup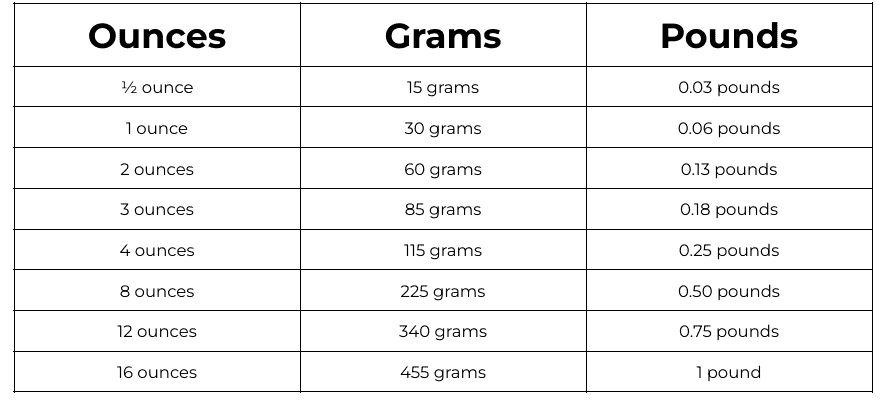 Liquid versus Dry Measuring
Liquid measuring:
⅛ teaspoon– 0.5 mL
¼ teaspoon– 1.2 mL
½ teaspoon– 2.5 mL
¾ teaspoon– 3.7 mL
1 teaspoon–

⅓

tablespoon- 5 mL

1 tablespoon– ½ fluid ounce- 3 teaspoons- 15 mL or 15 cc
2 tablespoons– 1 fluid ounce – ⅛ cup, 6 teaspoons- 30 mL or 30 cc
¼ cup– 2 fluid ounces- 4 tablespoons- 59 mL

⅓

cup– 2

⅔

fluid ounces- 5 tablespoons + 1 teaspoon- 79 mL

½ cup– 4 fluid ounces- 8 tablespoons- 118 mL

⅔

cup– 5

⅓

fluid ounces- 10 tablespoons + 2 teaspoons- 158 mL

¾ cup– 6 fluid ounces- 12 tablespoons- 177 mL
1 cup– 8 fluid ounces- ½ pint- 16 tablespoons- 237 mL
1 ½ cups– 12 fluid ounces- 24 tablespoons- 355 mL
2 cups– 16 fluid ounces- 1 pint- 32 tablespoons- 473 mL
3 cup– 700 mL
4 cups– 32 fluid ounces- 1 quart- 946 mL- 1 L
8 cups– ½ gallon- 2 L
1 gallon– 128 fluid ounces- 8 pints- 4 quarts- 3785 mL- 4 L
Dry measuring:
½ ounce– 15 grams
1 ounce– 30 grams
2 ounces– 60 grams
3 ounces– 85 grams
4 ounces– ¼ pound- 115 grams
8 ounces– ½ pound- 225 grams
12 ounces– ¾ pound- 340 grams
16 ounces– 1 pound- 455 grams