Learn everything you need to know about fathead dough! This gluten free and low-carb dough is the perfect keto substitution for pizza crust or canned crescent roll dough.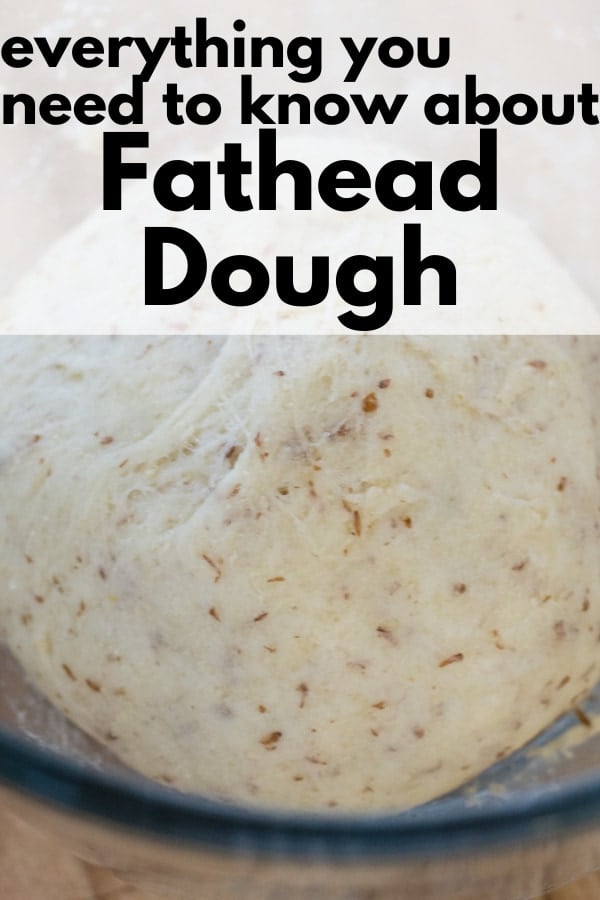 Fathead Dough
Finally, going keto does not mean going without bread! Fathead dough is made from a mixture of mozzarella, cream cheese, almond flour, and baking powder. For an added fiber boost, you can add ground flax as well!
Once baked, this dough can replace a lot of your old carb-filled favorites. Use in place of crescent roll dough for Pigs in a Blanket or Muffin Cups! Roll out and use as a pizza dough or tart crust. Help it rise by adding eggs for wonderfully chewy bagels or pretzel bites! There are SO many ways to use this gluten-free, low-carb dough.
This dough is easy to meal prep as it can be refrigerated for a week or frozen for up to 3 months. Check out these tips for creating easy keto recipes with this cheesy, delicious dough!
How to make Keto Fathead Dough
The key to this dough is working quickly. I find it easiest to have all the ingredients measured and ready so that I can get the dough mixed up quickly. You'll need a microwave-safe bowl (or double boiler if using the stovetop), a silicone spatula (it's just easier to avoid sticking), two silicone baking mats (or parchment paper can work as well), and a rolling pin (or bottle of wine, whatever you've got).
Melt the cheeses. You can heat the cheeses in the microwave in 30-second increments (stir in between to get even heating) or using a double boiler on the stovetop. Cheeses should be completely melted and combined.
Add the remaining ingredients. Mix until it forms a well-combined, soft ball of dough.
Tip: If your cheese cools off too quickly, the dough can't properly form. Just microwave for another 30 seconds and continue mixing.
Roll the dough into shape. I prefer to put the the dough between two silicone mats, then roll over the top mat. This helps shape the dough without worrying about it sticking to the rolling pin.
Bake the dough. Cooking time will depend on what you're making, but 400 degrees F is the preferred cooking time. A thin pizza crust can be pre-baked in 7 minutes (with another 7-10 minutes after adding toppings), while cooking as rolls could require 12-15 minutes. If using this dough to create a "mini crust" in muffin tins, you can expect 12-18 minutes depending on the pan.
Can I use a different flour?
I have not enjoyed any of my attempts to make fathead dough with a different flour. I cannot recommend any substitutions for almond flour.
Do I have to add ground flax meal?
No, you can leave the ground flax out if you choose (just replace it with more almond flour). I like to add it for the added fiber and because it stabilizes the dough. Without the flax meal, I find that the dough is stickier and more difficult to work with.
Do I have to use mozzarella in fathead dough?
No, you can use any low-moisture cheese. Choosing a different shredded cheese will likely lead to a stronger cheesy flavor and a less-chewy texture, but it will work. When picking a good mozzarella, you want the part-skim, low-moisture kind. The fresh mozzarella has far too much moisture and will not work in this recipe. I choose low-moisture mozzarella because…
It has a mild flavor. Depending on how you're using this fathead dough, you may not want it to taste "cheesy." Mozzarella has such a mild flavor that the dough doesn't have any distinct cheesy flavor.
It has a stretchy texture. Gluten free recipes lack a binder that comes with wheat products. This is why sometimes keto cookies may be crumbly or bread may be dry. The mozzarella texture adds additional binding capabilities to help the dough bake into a great crust!
Carbs in pizza crust
Most store-bought pizza crusts have about 31 net carbs per slice. That doesn't work with a keto diet, so try this fathead pizza crust instead! This pizza crust (if cut into 8 slices) has just 2.4 net carbs. If you like larger slices (6 per pizza), it's still only 3.2 net carbs!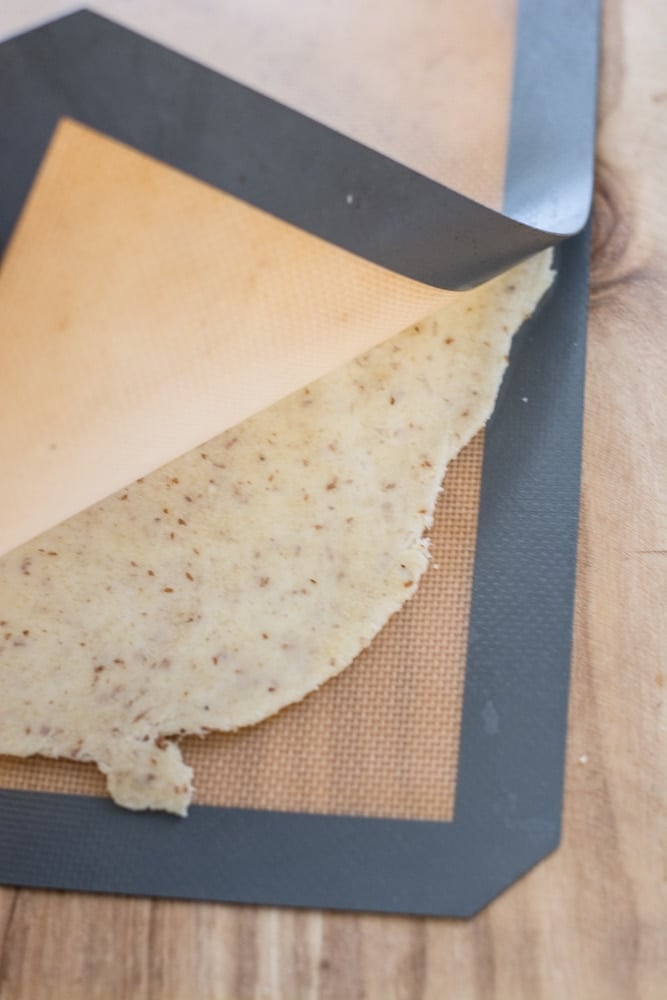 Carbs in crescent roll dough
Store-bought crescent roll dough is pretty high in carbs (12+ net carbs per serving, depending on the brand) and are not gluten free. If you split this fathead dough into 8 pieces (like for a pizza), each serving has just 2.4 net carbs! If you are splitting it into 12 (like for muffin cups), each serving has just 1.6 net carbs.
How to store fathead dough
Once you mix up the fathead dough into a ball, you can refrigerate or freeze it for later use! Wrap in plastic wrap (multiple times if freezing), then store in a plastic bag or other airtight container. The dough will last a week in the fridge or up to 3 months in the freezer.
When ready to cook, thaw and roll out to the shape you need. Bake as directed.
Can you cook fathead dough ahead of time?
Yes, this is a great meal prep recipe because it is SO flexible. Shaping and baking the dough on your meal prep day saves you SO much time on your busy weekday schedule! If using as a pizza crust, bake the crust 7 minutes and allow it to cool completely before storing in a plastic bag in the fridge (up to a week) or freezer (up to 3 months). When ready to eat, add your sauce and toppings, then bake 7-10 more minutes until the crust is cooked through and the cheese is melted. You may need to add a couple minutes if baking from frozen.
Can you freeze fathead dough?
Yes, fathead dough is easy to freeze and reheat for freshly-baked recipes when you're ready!
Fathead Dough Recipes
Keto Pizza
A good crispy pizza crust just can't be beat! Fathead dough makes the perfect gluten-free, low-carb pizza. Start your day off right with a keto-friendly Breakfast Pizza or switch up Taco Tuesday with Taco Pizza! This Chicken Bacon Ranch Pizza makes for a fantastic movie night, too!
Keto Crescent Rolls
Keto Bacon Egg and Cheese Rolls are the best on-the-go breakfast! Instead of canned crescent rolls, spread out your fat head dough, roll up with your fillings, then bake for perfectly lightly-browned breakfast crescent rolls. Low-carb, gluten-free, and easy to freeze and reheat for later!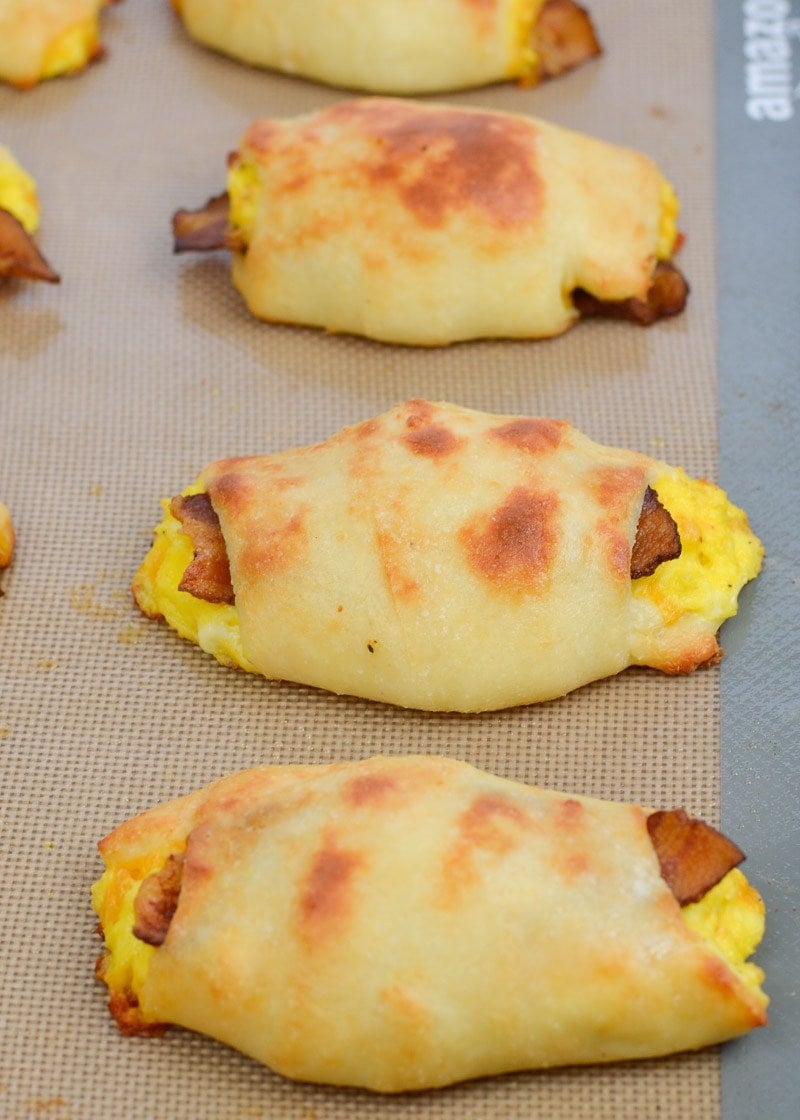 Waking up to the delicious scent of Cinnamon Rolls is the BEST way to start the morning! With fathead dough, you can still enjoy low-carb cinnamon rolls for just 2.6 net carbs each! Easy Cinnamon Twists also use the fathead dough base, but this way you get to dip it in the cream cheese icing instead! If you love the flavors of fall enjoy these Pumpkin Cinnamon Rolls, too.
Hot Pockets
Who doesn't love a hot pocket?! Instead of opting for the super high-carb versions you get in the freezer aisle, try this Keto Chicken Broccoli Cheddar Hot Pocket. For a great, filling meal first thing in the morning, try the Keto Breakfast Hot Pockets. And just like the frozen high-carb versions, these can be kept in the freezer and reheated when you're ready!
Yes, you read that right — Pretzel Bites can be keto!! This recipe uses a fathead dough base, but it adds coconut flour and eggs to make these lighter and more like real baked pretzels. Add in the cheese sauce, and it's a keto appetizer made for game day, movie nights, sleepovers, and all your favorite snacking activities!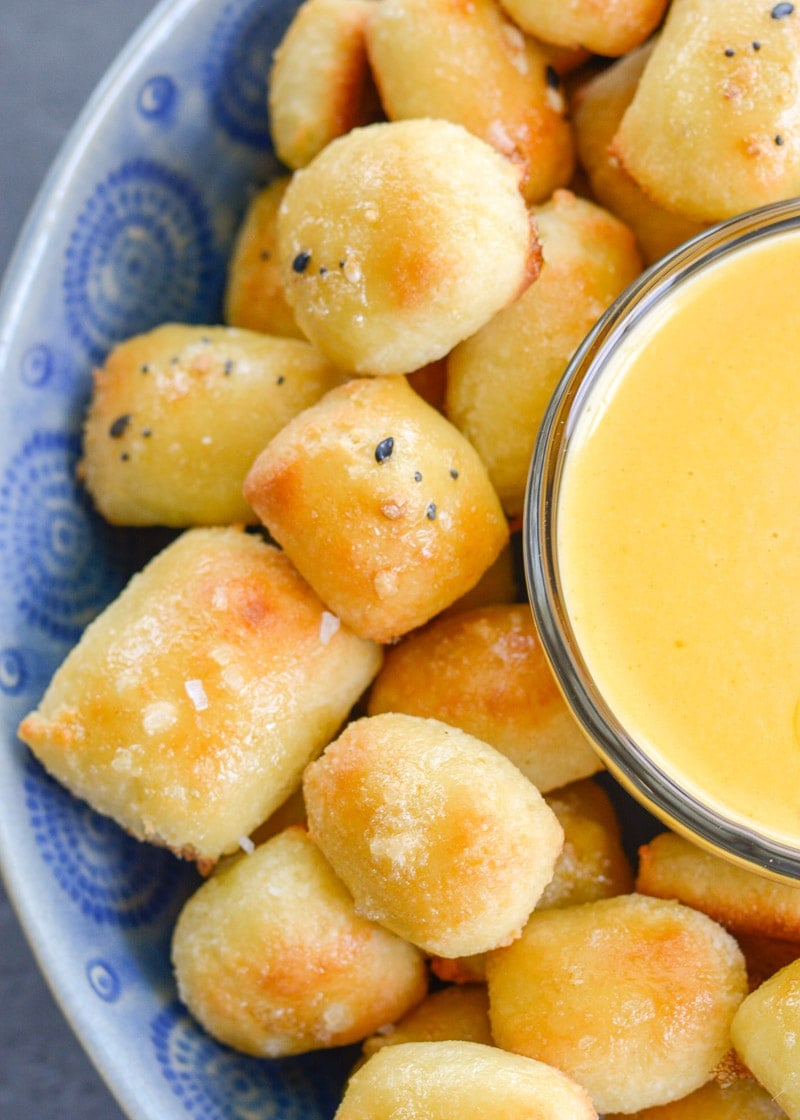 Muffin Cups
Pressing fathead dough into muffin tins makes it easy to create delicious muffin cups! These Keto Pizza Muffins are easy to customize, freeze, and reheat for great meal prep lunches! Buffalo Chicken Muffins can be made just as spicy as you like, and we LOVE them as party appetizers or game day snacks!
Pigs in a Blanket usually mean your hotdogs (or mini cocktail sausages) are wrapped in buttery crescent roll dough… But those have SO many carbs! Using fathead dough to replace the crescent dough means that you can enjoy these without a worry. Each wrap has 2.9 net carbs, so you can just add the nutritional value for your favorite hotdogs to figure out the exact carb count. For a super filling dinner, top with chili for Chili Cheese Dogs!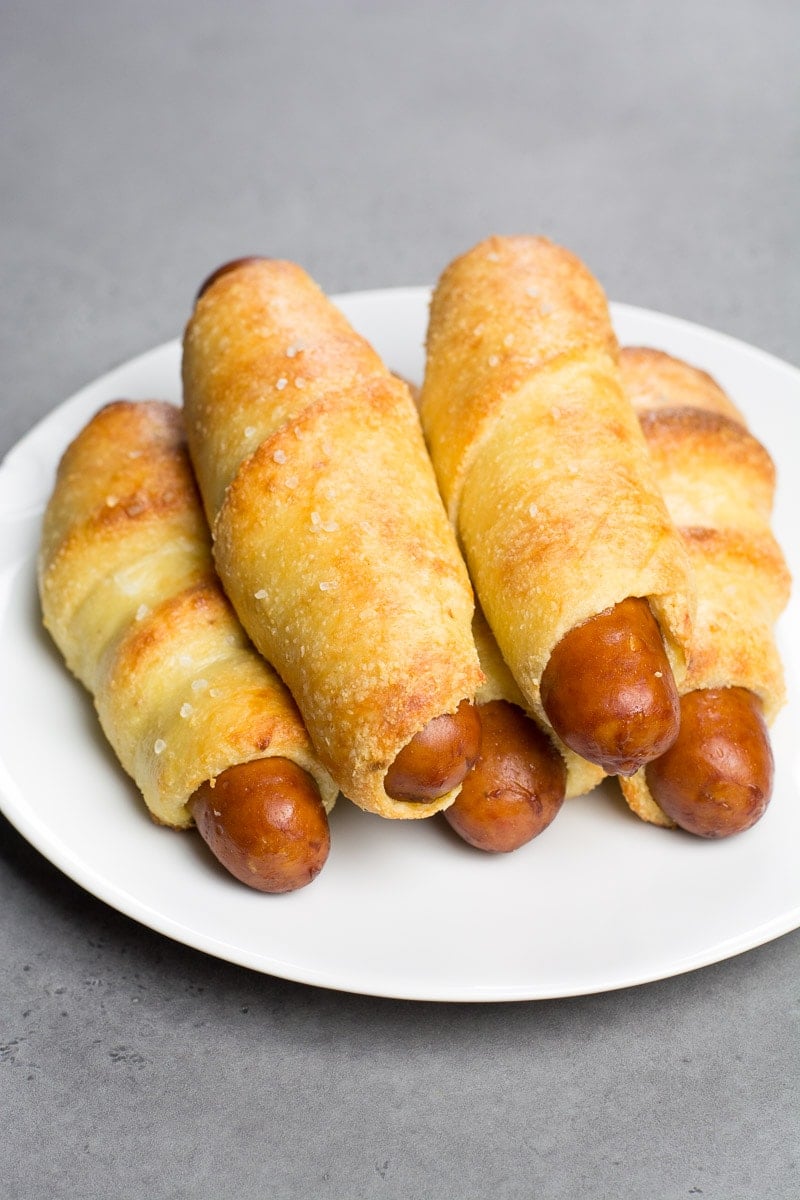 Keto Pinwheels
Fathead dough makes for easy, delicious baked pinwheels that are easy to meal prep! Ham and Cheese Pinwheels make the perfect lunch while these Sausage Cream Cheese Rolls are great for breakfast or brunch potlucks. Pizza Rolls are full of your favorite pizza toppings and are always a hit at parties!
Calzones
Why eat a sandwich when you can have a calzone? These Ham and Cheese Calzones make an easy-to-hold lunch, super kid-friendly and easy to meal prep! Just 3.5 net carbs means you can easily fit these into your daily carbs!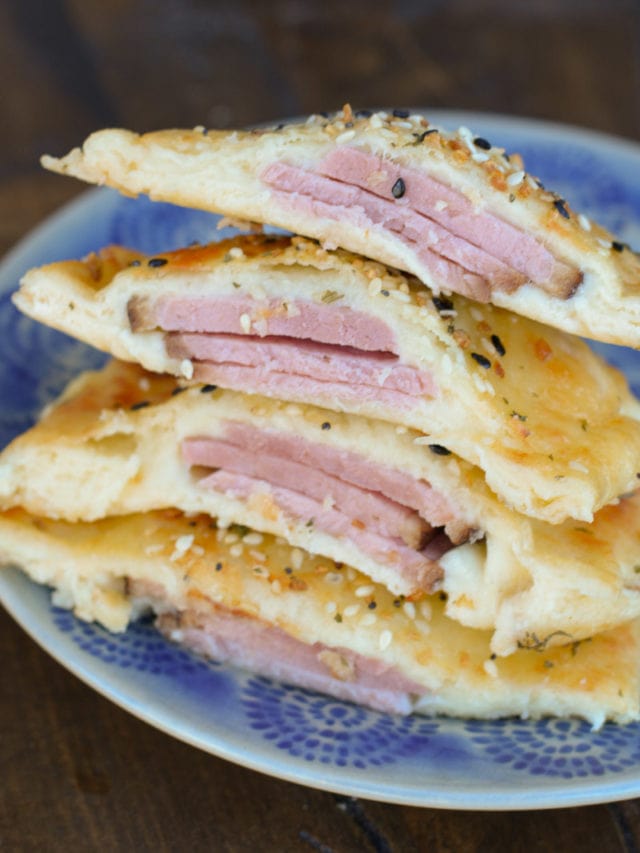 Similar to the pretzel bites, these Keto Bagels start with a modified fathead dough–Adding coconut flour and eggs helps the dough rise and take on the chewy texture of a bagel! They freeze and reheat well, too. Create Breakfast Sandwiches or spread them with cream cheese for easy breakfasts, or you can make Pizza Bagels or add Chicken Salad for delicious lunches!
More Fathead Dough Recipes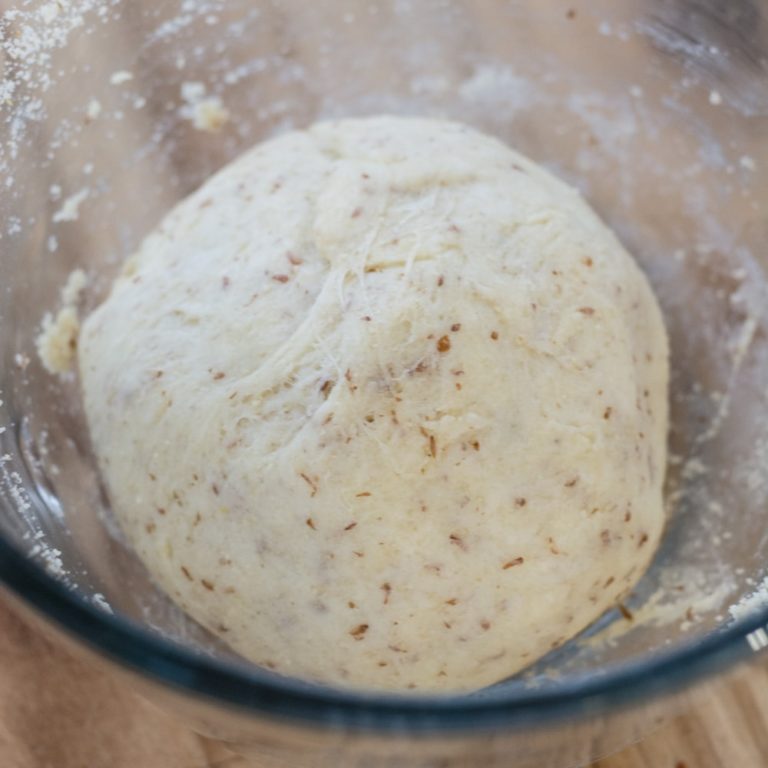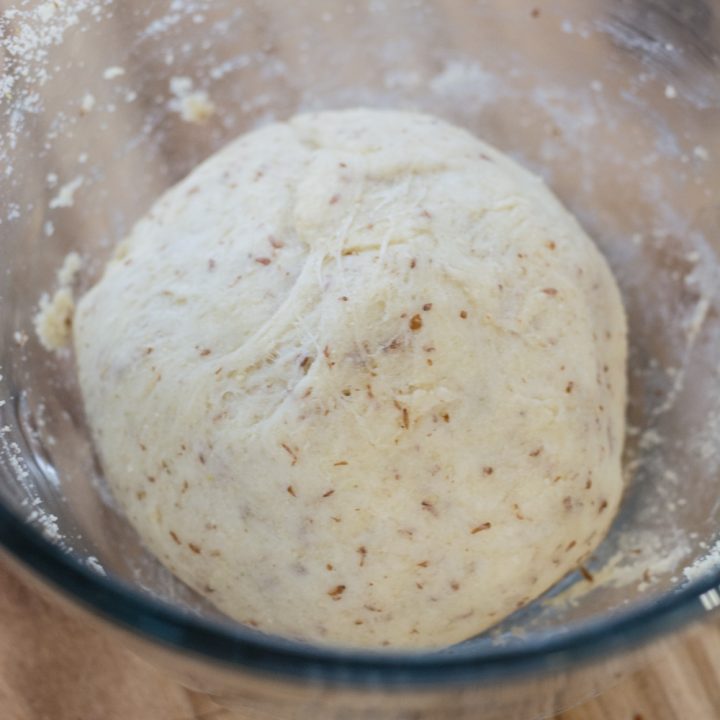 How to make Keto Fat Head Dough + Video
Learn how to make Keto Fat Head Dough that's perfect for keto pizzas, cinnamon rolls and more! This step-by-step tutorial will show you exactly how to make a delicious low-carb dough! 
Ingredients
2 cups shredded mozzarealla cheese
2 ounces cream cheese
3/4 cup almond flour
1 teaspoon baking powder
2 tablespoons ground flax meal
Instructions
Make the dough:

Preheat oven to 400F.
In a microwave-safe mixing bowl, combine the shredded mozzarella cheese and cream cheese. Heat in 30-second increments, stirring in between, until completely melted.
Add the almond flour, baking powder and ground flax meal.
Mix the dough well until you have a soft ball.
Between two silicone baking mats or parchment paper, roll the dough into the shape you need.
Use in whatever recipe you need! (see notes below for baking times).

To bake the dough:

If using as a pizza crust: pre-bake 7 minutes add toppings and bake an additional 7-10 minutes.
If using as rolls: fill dough, roll and slice. Bake 12-15 minutes.
If using in muffin tins: Silicone muffin pan cooking time is 15-18 minutes. Metal muffin pans cook faster and the cooking time is 12-15 minutes.
Recommended Products
As an Amazon Associate and member of other affiliate programs, I earn from qualifying purchases.
Nutrition Information:
Amount Per Serving:
Calories:

134
Total Fat:

5.1g
Carbohydrates:

3.8g
Fiber:

1.4g
Protein:

11.2g