This Cheesy Potato Soup is a one pan, 30 minute meal! This gluten free comfort food is one your entire family will love! Top this cheesy potato soup with bacon and green onions!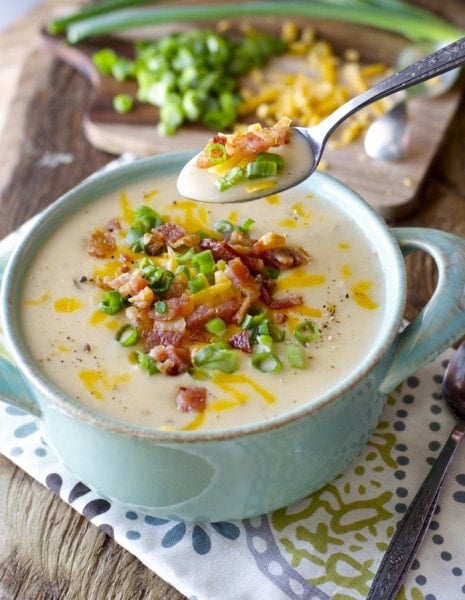 Soup season has always been my favorite. One of the best soups is a classic Homemade Tomato Soup, but this Potato Soup is a close second! I think there is something so comforting about a nice warm bowl of soup on a chilly day. While I truly enjoy all kinds of soup but potato soup is always at the top of my list. Cheesy potato soup topped with crispy bacon, fresh green onions and shredded cheddar cheese is always a crowd pleaser. This is my favorite easy cheesy potato soup reason because it takes only 30 minutes and is made in one pot. This is a perfect short cut recipe that works for busy days.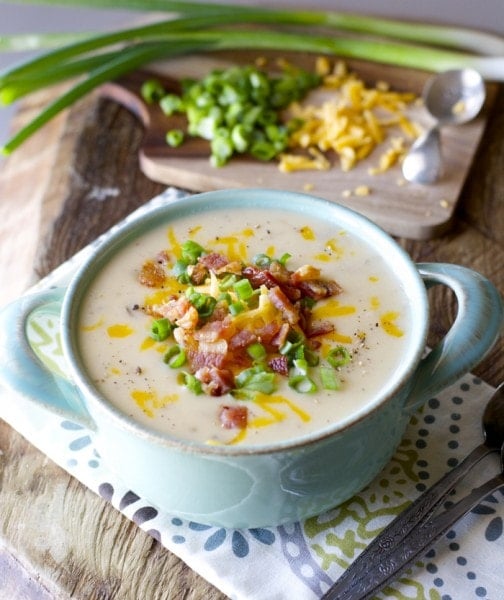 Can Cheesy Potato Soup be made ahead of time?
This soup is a great option for a freezer or meal prep because it reheats perfectly. I actually recently made a batch for my sister in law for an "after baby" meal. Just thaw and reheat! Depending on how thick you like your soup you may want to thin it with a little bit of milk or broth. Of course this is also a good gluten free lunch because it makes a good amount and reheats and stores so well.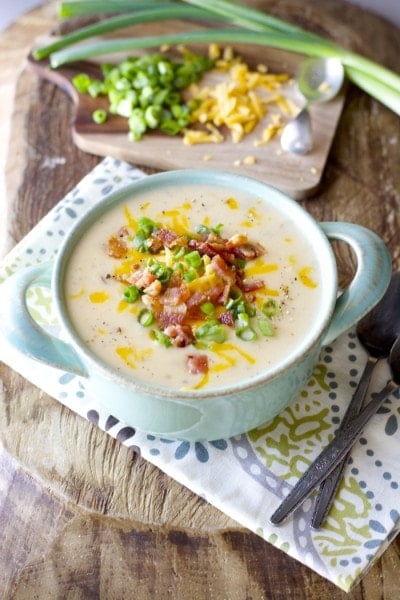 What toppings go well with Potato Soup?
Of course the classic bacon, green onions and cheddar cheese topping are my favorite. However, if you want to mix things up here are some great topping ideas!
Diced Ham
Jalapeno Slices
Pepper Jack Cheese
Salsa
Red Onion
Oyster Crackers (if not gluten free)
A drizzle of buffalo sauce