These easy Ham and Egg Stacks can be prepared three ways! You just need a few simple ingredients to create this protein packed breakfast recipe!
This is one of our new favorite go to breakfast recipes because it has super basic ingredients we always have on hand. You just take a few corn tortillas, fill them up with all kinds of good stuff like red peppers, jalapeños, and shredded cheese then top it with an egg. Just pop them in the oven and about ten minutes later you're done.
Depending on how you like your eggs you can easily make this three different ways. You can make an easy egg cup, or a tortilla stack with an egg inside, or on top of the tortilla. The possibilities for this easy recipe are really endless!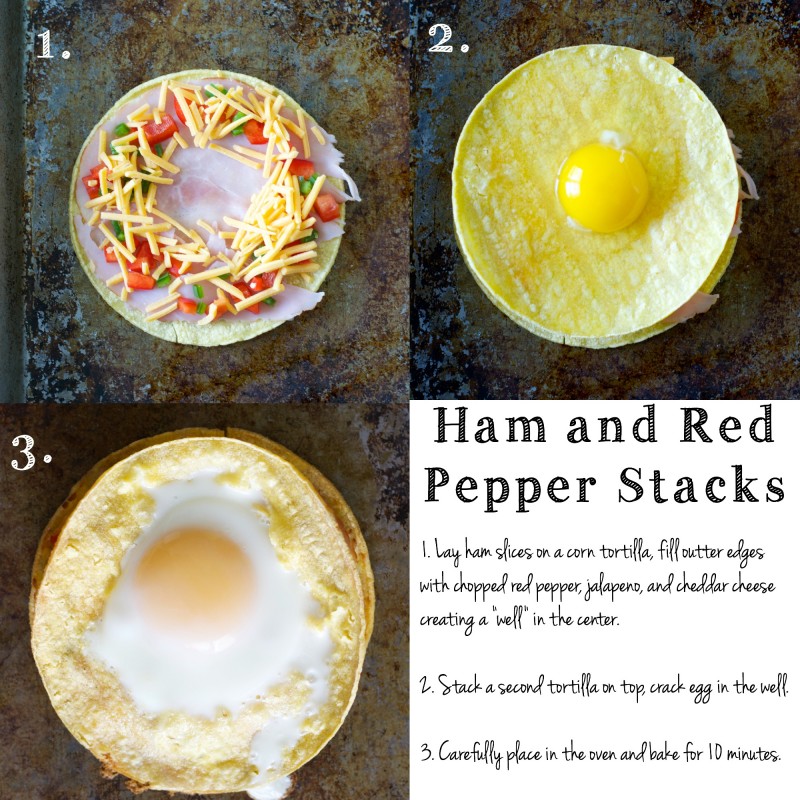 Ingredients Needed for Ham and Egg Stacks
As always, you will find the full recipe and instructions below, just keep scrolling. This is a quick overview of the ingredients you will need for this recipe:
Tortillas: corn tortillas for gluten free, low carb for a keto-friendly option, or regular small tortillas
Ham: thinly sliced deli ham
Eggs
Peppers: I like red bell pepper and jalapeños for this recipe, but whatever you prefer works too.
Cheese: shredded cheddar, pepper-jack or colby-jack all work great in this recipe.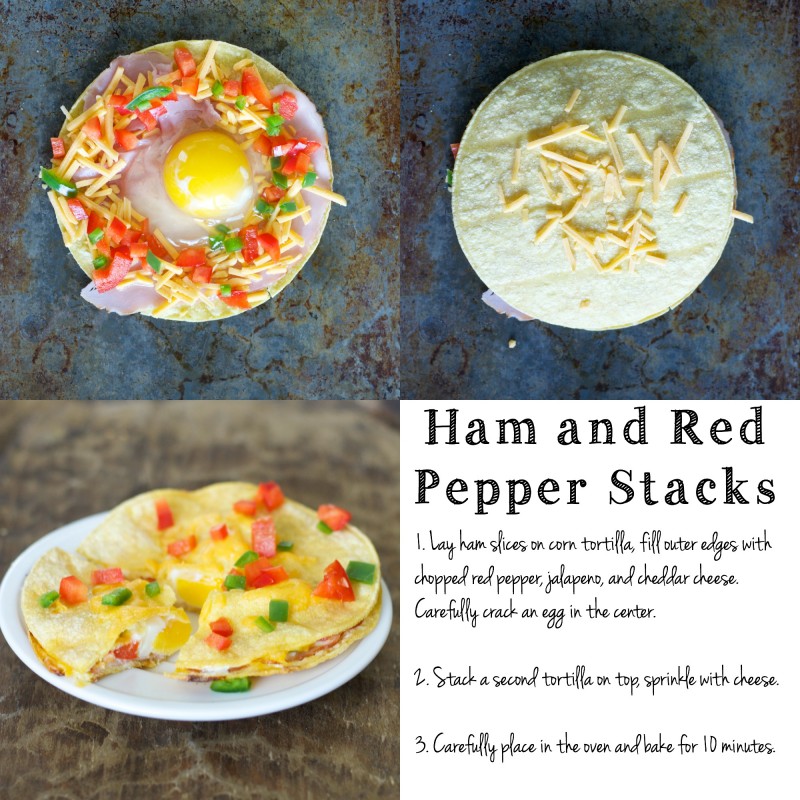 How do you make Ham and Egg Stacks?
As you can see from the step by step photos, there are three options for these Ham and Egg Stacks:
Egg on Top Stack: Lay one tortilla on a greased baking sheet, place ham on top. Fill the outer edges with the chopped peppers and shredded cheese, creating a well on the inside of the tortilla. Top with another tortilla, press the center down into the well you created. Carefully crack an egg in the well. Bake 10-12 minutes.
Egg in the Center: Lay one tortilla on a greased baking sheet, place ham on top. Fill the outer edges with the chopped peppers and shredded cheese, creating a well on the inside of the tortilla. Carefully crack an egg in the well. Top with the additional tortilla and more shredded cheese. Bake 10-12 minutes.
Egg Muffin: Press the tortilla into a muffin pan. Add shredded cheese and peppers to the tortilla, carefully crack an egg. Bake 10-12 minutes.
Substitutions:
Probably the best thing about this is that you can easily adapt it based on what you have on hand. I really like the flavor combo of ham and red pepper, as well as the fact that there is no prep work. Some other ideas include:
Chopped bacon
Cooked sausage
Green Chilis
Pepper-Jack cheese
Avocado
Salsa
Other Easy Breakfast Recipes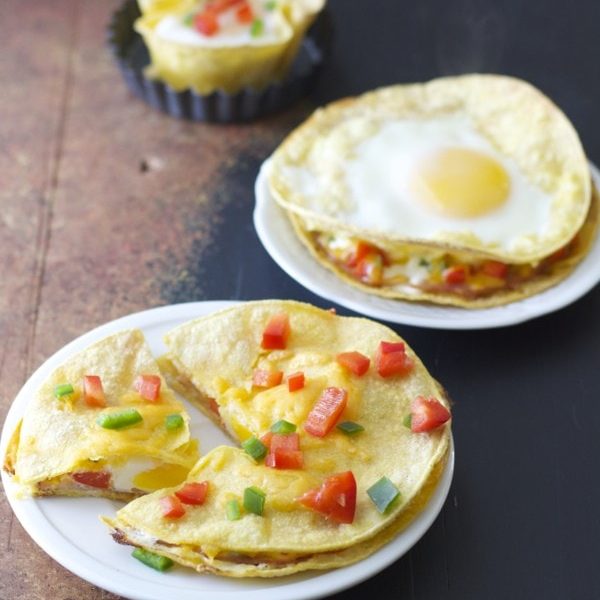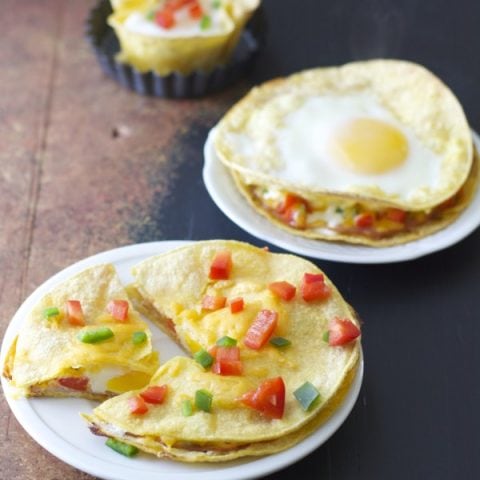 Baked Ham, Egg, and Red Pepper Stacks
Ingredients
This is what you would need to make two stacks, multiply as needed for more.
4 corn tortillas
4-6 slices of deli ham
2 tablespoons red bell pepper, chopped
1 tablespoon jalapeño, seeded and chopped
2 tablespoons shredded cheese
2 eggs
Instructions
Preheat oven to 400
Spray a baking sheet with cooking spay, lay two tortillas down, top with peppers, ham, and cheese.
Top with remaining tortillas,carefully crack egg over top (**see notes)
Bake for 10-12 minutes. Mine were perfect at 12, but I would start checking at the ten minute mark.
Enjoy with salsa, sour cream and avocado!
**Make sure your tortillas are completely flat before cracking the egg over the top, or it will slide right off. There are two ways to prevent the egg from sliding. Place the toppings on the outer edges on the tortilla creating a "well" then top it with the second tortilla and place the egg in the indiction, or well that you created.
Alternatively, you can make sure your topping are evenly distributed and mash the top tortilla with your hand to ensure a flat surface.
Lastly, gently and carefully place these in the oven to prevent the egg from sliding.
Nutrition Information:
Yield:

2
Serving Size:

1
Amount Per Serving:
Calories:

224
Total Fat:

10g
Saturated Fat:

3g
Trans Fat:

0g
Unsaturated Fat:

5g
Cholesterol:

216mg
Sodium:

849mg
Carbohydrates:

21g
Fiber:

3g
Sugar:

1g
Protein:

20g
To avoid any confusion I remove erythritol from the final carb count and net carb count, as it is not known to affect blood glucose levels. To calculate Keto recipes listed on this site carbs - fiber = net carbs. I use Nutrifox as my nutrition calculator. This nutrition information is an estimate based on the information provided by Nutrifox and the specific ingredients I used.