This Cheesy Potato, Broccoli and Ham Bake is the perfect comfort food! This recipe is an excellent way to use up leftover ham for a quick and easy meal!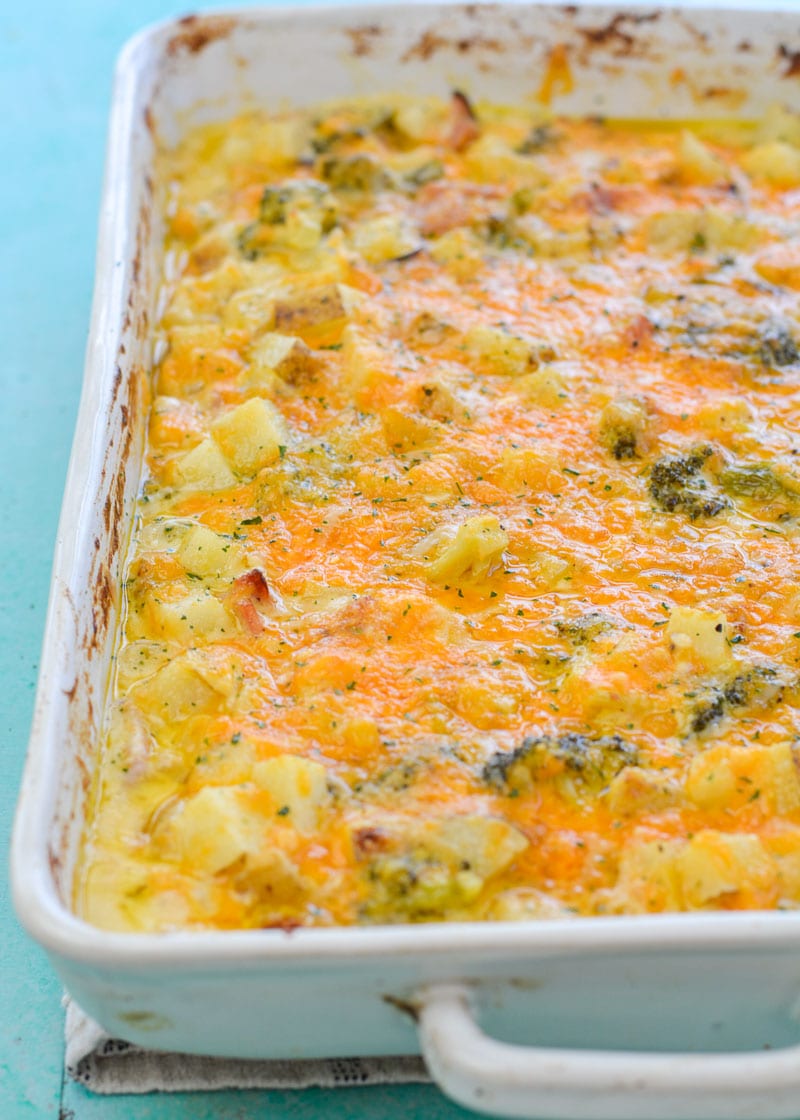 We don't have leftovers a ton here (Mr. Maebell makes sure of that), but big holiday meals usually result in an excess of ham or turkey. I'm always looking for new ways to use it up! This bake is one of my all-time favorite because it's quick, comforting, and it's easy to make ahead of time if we're busy.
Another of my favorite things about this bake is how versatile it is. You can use fresh or frozen broccoli without any texture issue or change in baking time! You could even use leftover turkey or chicken if you're out of ham. The possibilities are endless! If you're adventurous, you could even mix a couple different kind of cheeses for a fun twist.
This is a great dish to plan when you have guests because, with a little meal prep, it barely requires any work! Plus, it's naturally gluten-free because we skip the roux and let the cheese thicken up the sauce.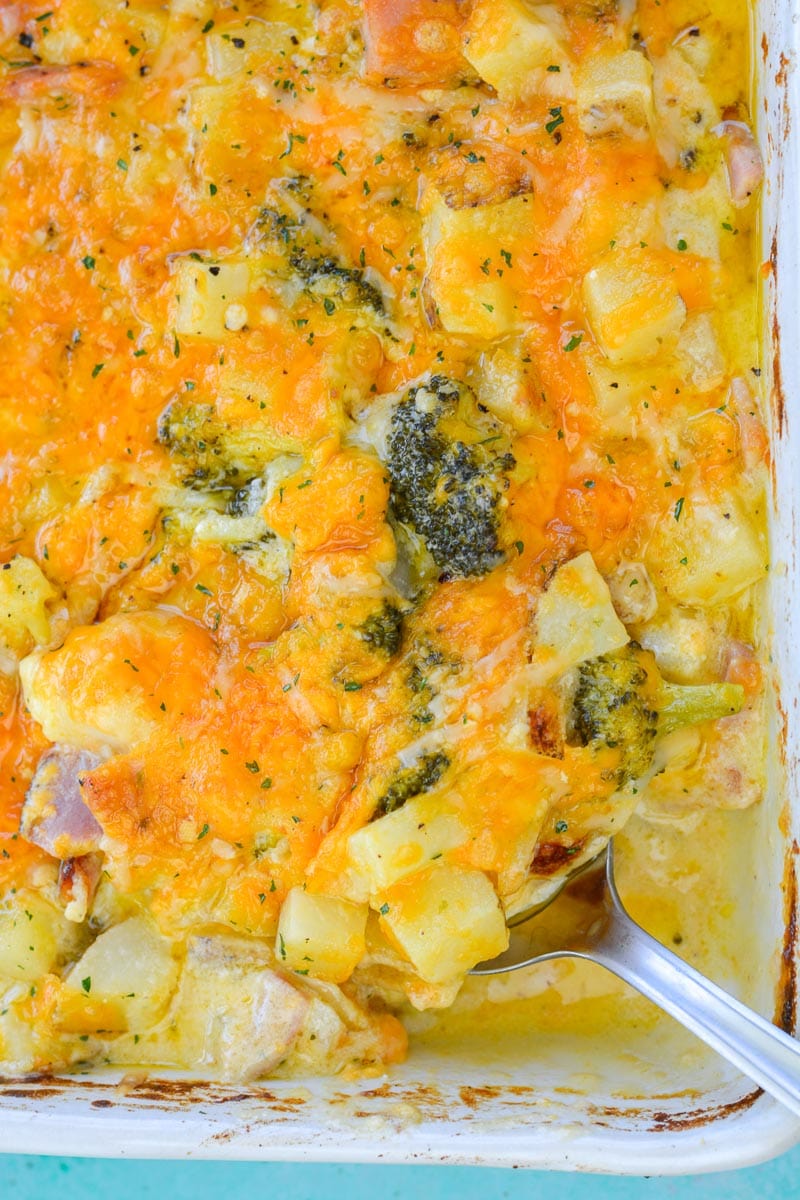 Ingredients Needed for Potato Broccoli Casserole
Potatoes: you can use any variety of potatoes, but it is essential you parboil them first. See my notes below.
Broccoli: I use fresh, but frozen will work.
Ham: cubed smoked ham
Butter
Garlic
Onion
Milk
Heavy Cream
Cheese
Spices: salt, pepper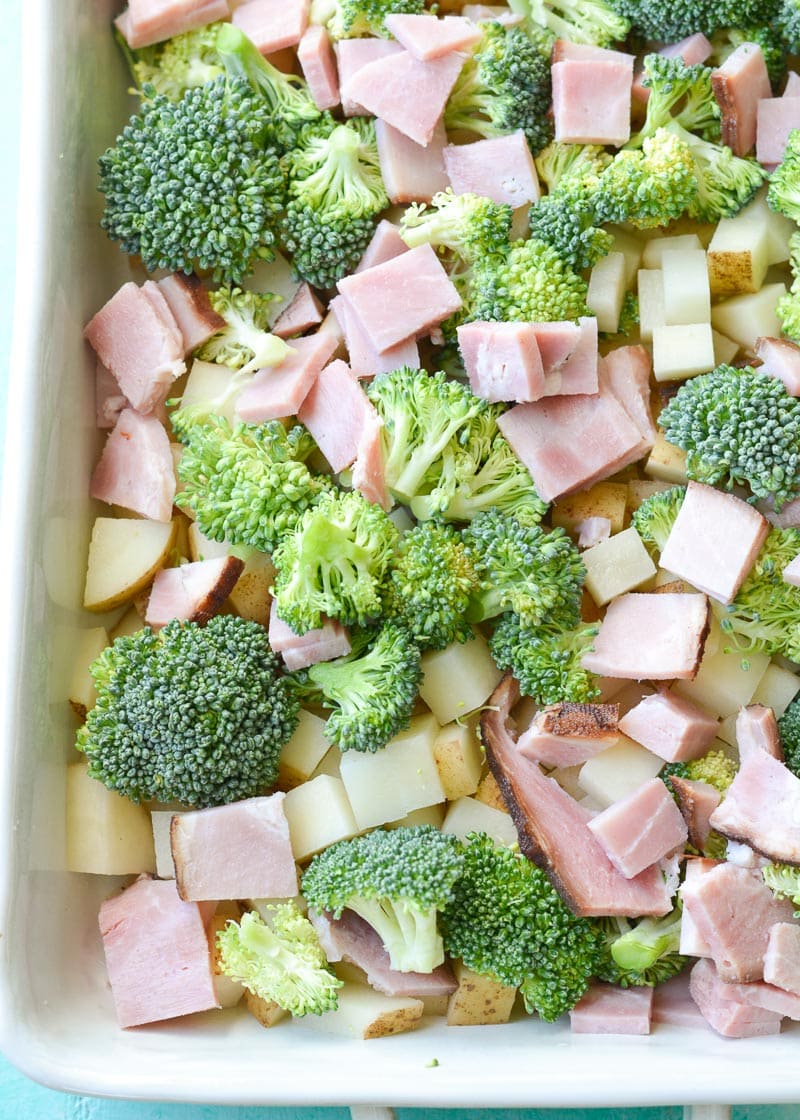 Why do you cook the potatoes first?
This recipe requires you to parboil the potatoes. Parboiling means boiling the potatoes until they are partially cooked.
This gives the potatoes a head start. Potatoes take so long to cook that if you skip this step the broccoli will be very overcooked and mushy. This step ensures everything finishes together.
How do I make the Potato, Broccoli, and Ham Bake?
Add the 3 potatoes to a medium size saucepan, fill the pan 3/4 full of water. Bring the water to a rolling boil and reduce to medium heat. Cook the potatoes 10 minutes. Remove from heat and allow to cool.

Preheat oven to 400 degrees F. Spray an 11 x 7-inch baking dish with cooking spray and set aside.

In a deep skillet or sauce pan combine the butter over medium heat, add the shallot and garlic and sauté until fragrant. Stir in the milk, heavy cream, shredded cheddar, salt and pepper. Bring the mixture to a simmer, stirring occasionally. When the mixture has thickened remove from the heat and set aside.

In the casserole dish layer the chopped parboiled potatoes, broccoli and ham. Top with the cheese sauce.

Top with shredded cheddar cheese and bake 20-25 minutes until the potatoes are cooked through (check with a fork)

Allow the dish to rest at least 10 minutes before serving.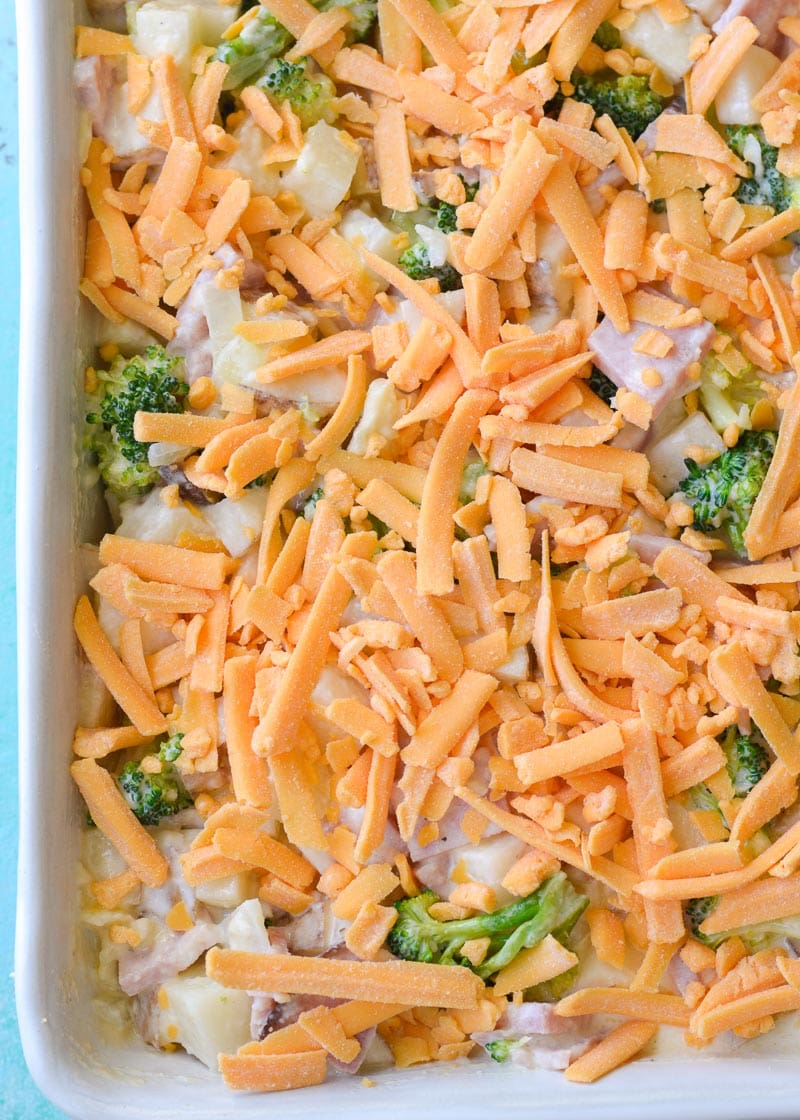 Is the Potato, Broccoli, and Ham Bake good for meal prepping?
This is a great recipe for meal prepping! This casserole is delicious reheated, so you can easily cook this on your prep day and serve up to 3 days later.
If you don't want to prepare the entire dish early, you could at least take care of a couple steps to reduce the time needed when you're ready to serve it.
On your meal prep day, you could parboil the potatoes and create the cream sauce, then store those separately in an air-tight container up to 2 days. I wouldn't mix the ingredients until you're ready to bake because the potatoes may release moisture and mess with the texture.
This means all you have to do before dinner is throw it all together and bake it! Basically, it becomes a 30-minute meal!
How should I store and reheat this casserole?
After cooking, allow the dish to cool completely and cover tightly with foil or transfer to an air-tight container. Store in the fridge up to 3 days.
Then when you're ready to reheat, bake the covered casserole at 325 degrees F for 20 minutes. Remove the foil and bake an additional 5-10 minutes until warmed through. You could also microwave leftovers in 45-second intervals until warmed throughout.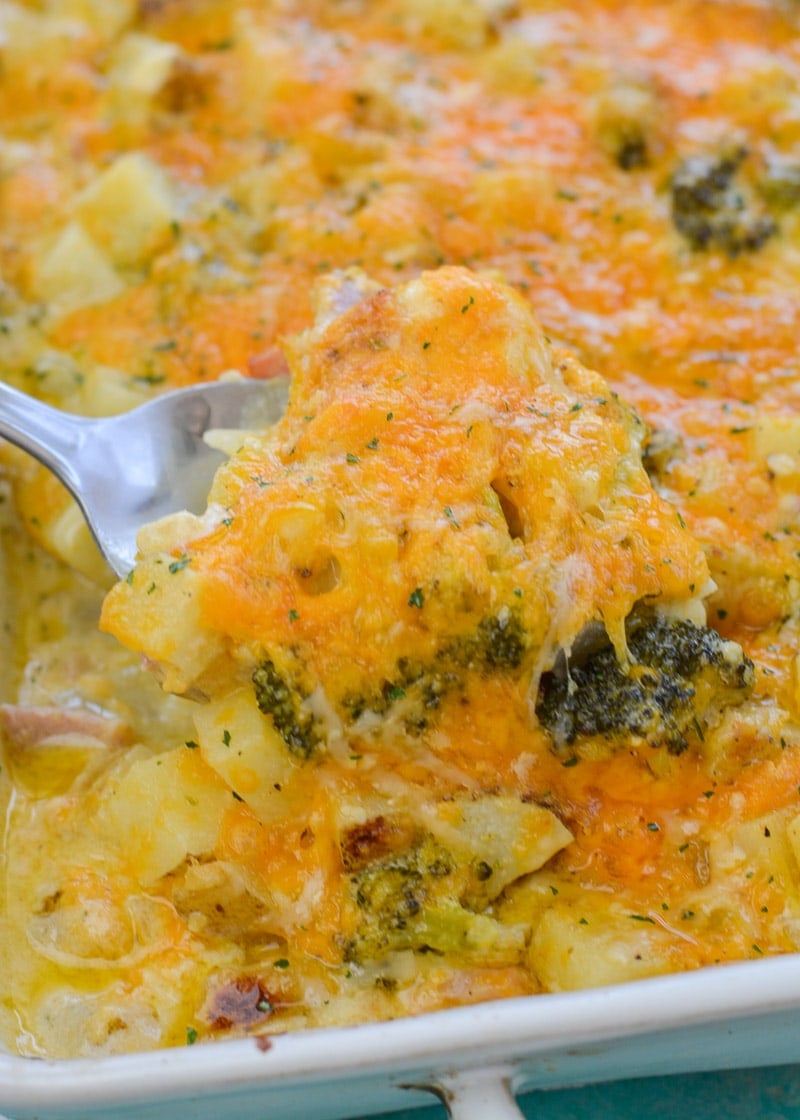 More Casserole Recipes: