These sweet and creamy Banana Pudding Bites are coated with rich dark chocolate and sea salt for the perfect sweet and salty snack!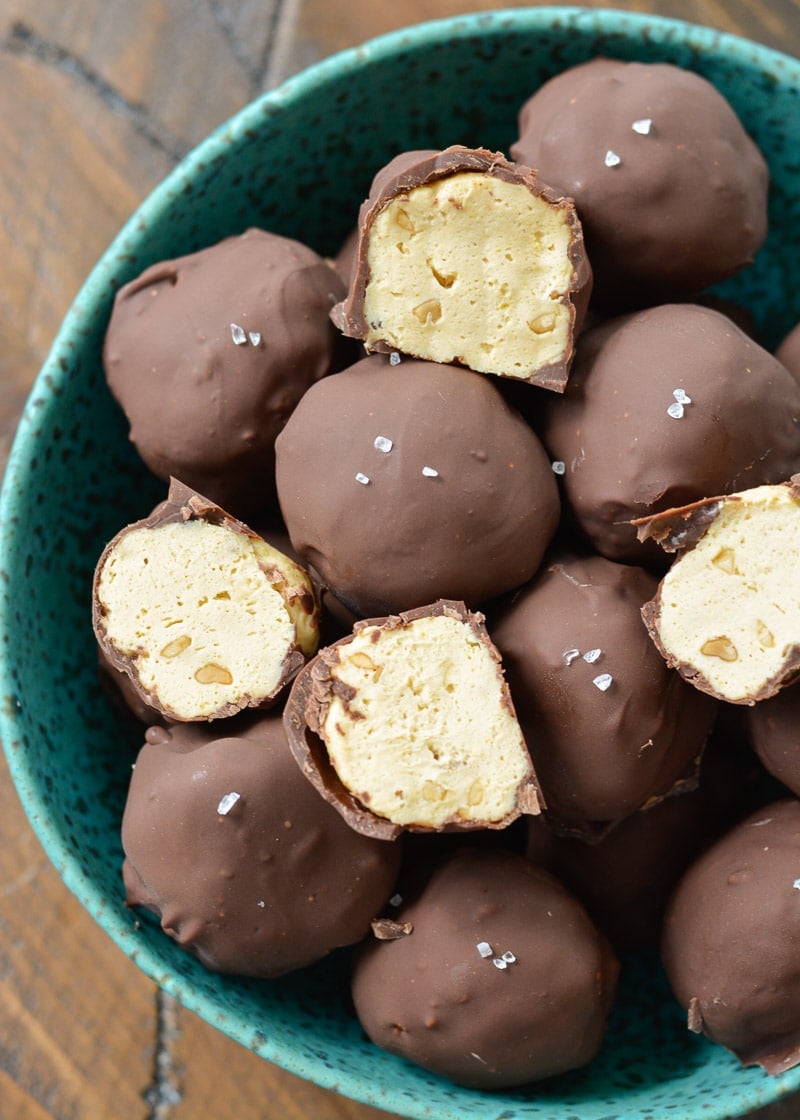 Today I'm bringing you all the flavors of a classic dessert we all know and love, but in fun, bite sized portions! These Banana Pudding Bites have a delicious banana pudding flavor with hits of whipped cream and peanut butter! Each truffle is dipped in melted dark chocolate and sprinkled with sea salt for a delicious treat!
These dreamy bites are actually low carb! You'd never guess it, but by making a few easy recipe substitutions this recipe fits within a low carb, diabetic-friendly diet! Just make sure you use a sugar free pudding mix, and sugar free chocolate chips (these are my fave!) and you are all set!
Ingredients for Banana Pudding Bites
As always, you will find the entire recipe below, just keep scrolling. This is a quick overview of the items you will need to make Banana Pudding Bites:
Cream Cheese: regular cream cheese or reduced fat also work
Instant Banana Pudding Mix: use sugar free for a low carb option
Peanut Butter: regular or crunchy work
Whipped cream: homemade whipped cream or thawed Cool Whip
Vanilla Extract
Dark Chocolate Chips: use sugar free for a low carb option
Coconut Oil: this helps the chocolate chips melt evenly and makes it easier to dip.
Sea salt: optional, but these are exponentially better with that hint of salt for the perfect salty, sweet balance.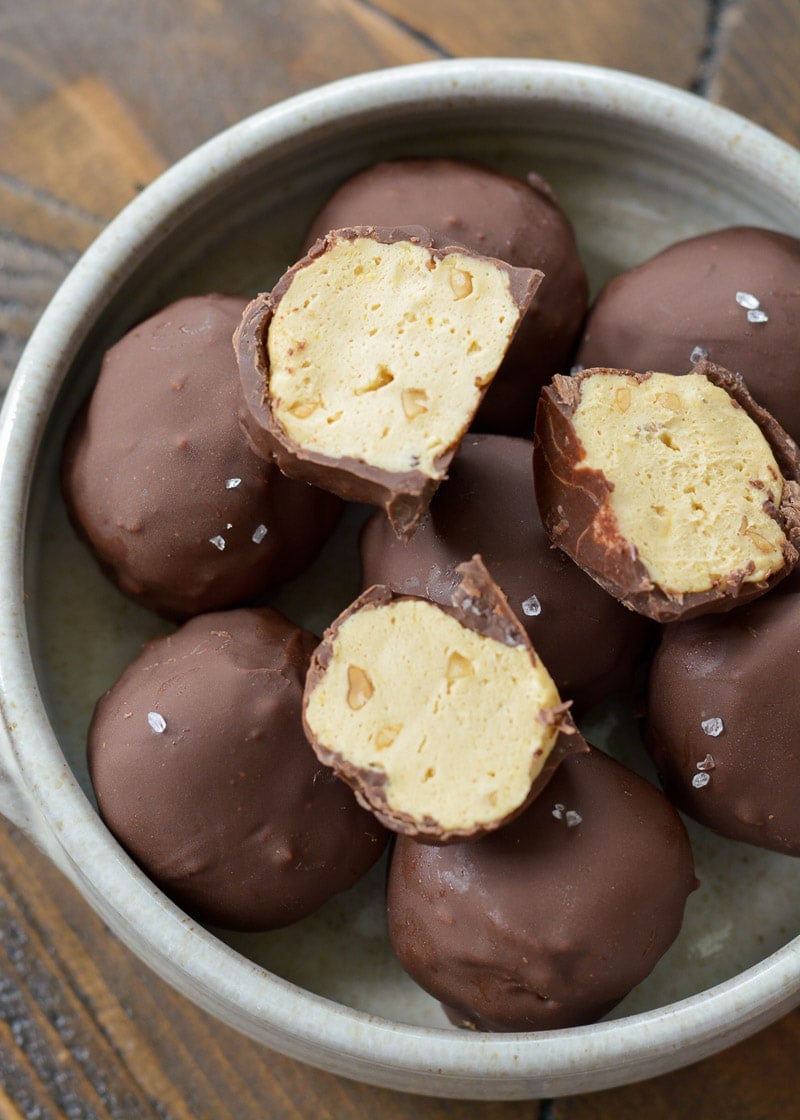 How do you make low carb truffles?
This recipe couldn't be easier. Simply combine the cream cheese, banana pudding mix, peanut butter, whipped cream, and vanilla extract in a bowl and beat with an electric mixer until creamy and fluffy. This should take about 2 minutes, be sure you stop half way through to scrape down the sides of the bowl.
Chill the mixture at least 15 minutes to allow it to harden a little so it is easier to work with. Scoop the truffles into golf ball size balls. Set aside and chill in the freezer while you melt the chocolate.
Melt the chocolate and coconut oil until smooth. Dip each banana pudding bite in the melted chocolate, cover completely. Set on a silicone or wax paper lined baking sheet. Sprinkle with sea salt. Chill until the chocolate is hardened.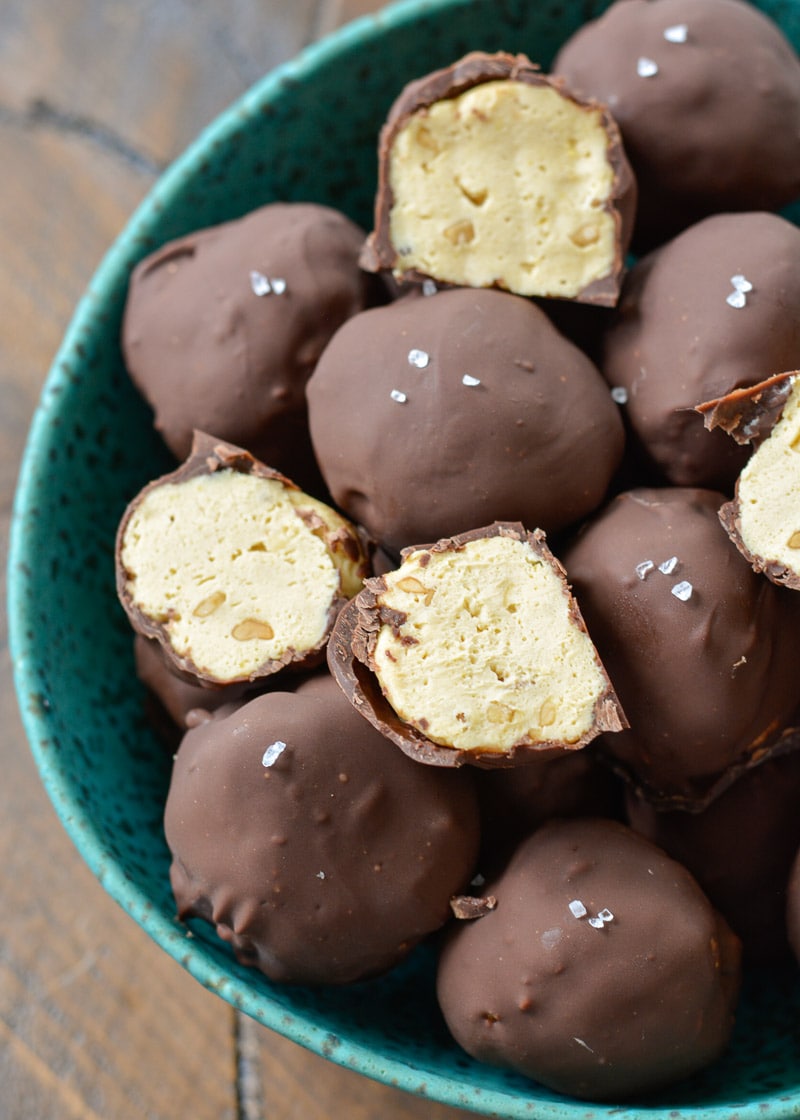 How do you store Cheesecake Truffles?
This keto dessert needs to be kept chilled. Store in the refrigerator for up to 5 days. Alternatively, you can store in the freezer in an air tight container up to 3 months. Simply remove the truffles from the freezer and allow them to thaw about 10 minutes before eating.
Other Keto Desserts