Try these healthier Blueberry Bars loaded with almond flour, pecans, vanilla and tons of berries! At about 7 net carbs per slice, this is the perfect low-carb dessert!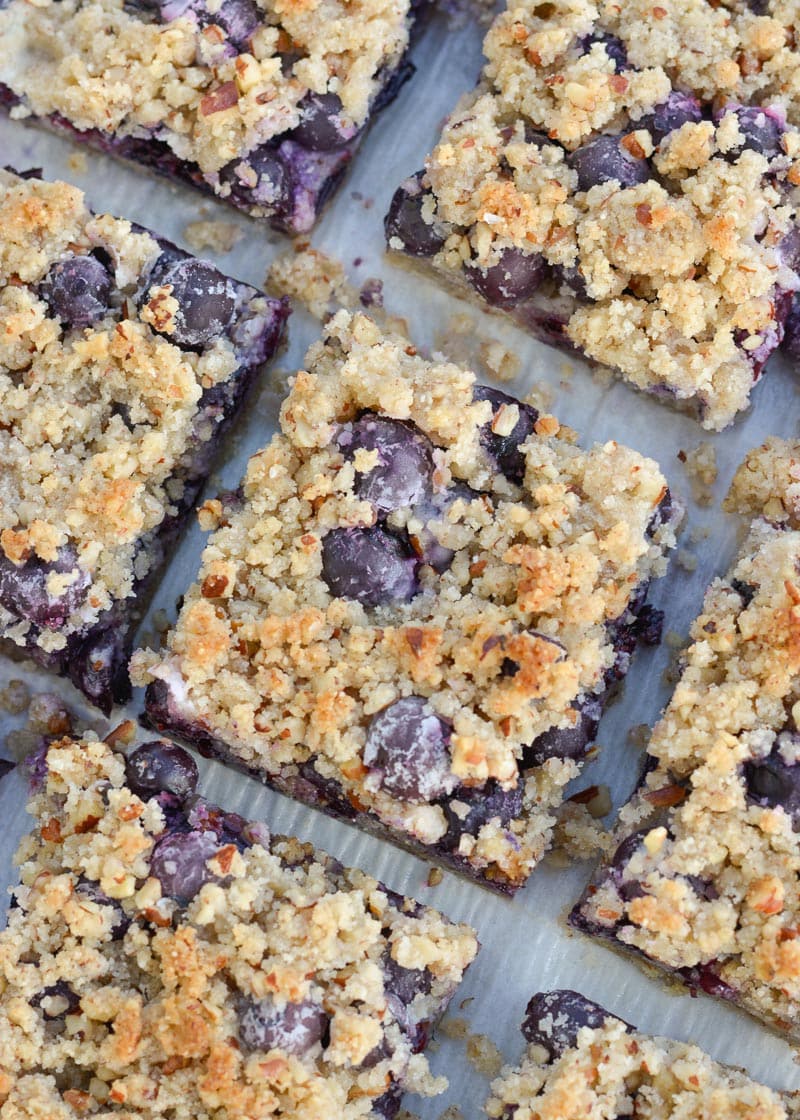 I am so sick of winter. So very sick and tired of winter, are you?
Normally, I try very hard to appreciate all of the seasons without wishing them away. Not this year, I am over it. There has been a little bubble around my home. We have received zero (ZERO) snow!
Instead, it has been muddy, and rainy, and dark and gross. The number of muddy paw prints I have cleaned up this winter is up in the millions, I feel sure.
So, instead of just wishing winter would go away I am changing my approach. Maybe if I cook springtime food, and wear spring clothes it will just come. You know, a "if you build it they will come" mentality.
So just in case your battling the winter blues like me, whip up a batch of these keto blueberry bars and wish for sunshine. Spring is bound to show up eventually!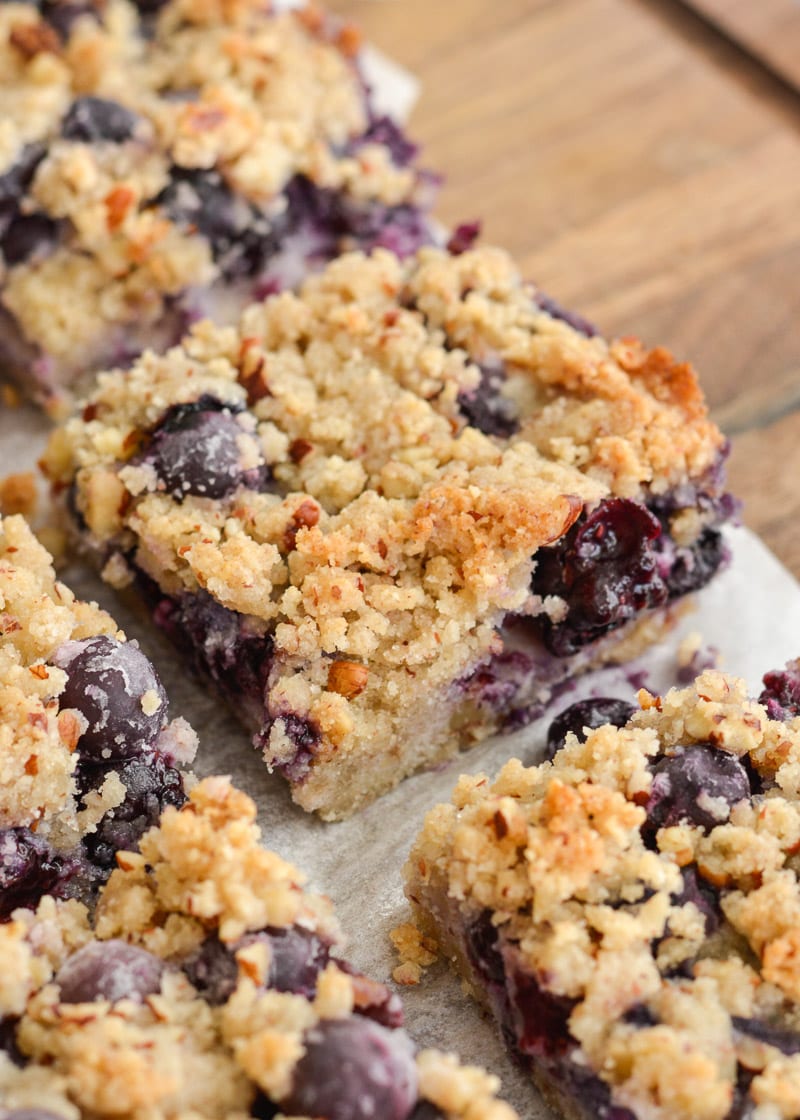 Ingredients for Low-Carb Blueberry Bars
In the spirit of bending seasons to our will, I have healthy Blueberry Bars for you today. This is a light, flavorful, slightly sweet snack bars. The addition of pecans gives it a great texture, and balances the soft berries nicely.
I cut these into bars for easy, low-carb snacking this week and it worked out great. I thought they were perfect with a cup of coffee for a quick breakfast.
To make these bars, you will need:
Almond flour
Pecans
Butter
Blueberries
Egg
Vanilla extract
Lemon juice
Cornstarch
Can I Omit the Cornstarch?
While cornstarch does contain carbs, only 1 tablespoon is used for this entire recipe. You may leave it out, if desired, but note that the blueberry filling won't set up as well.
Can I Use Frozen Blueberries?
Possibly, but I've only tested this blueberry crumble bars recipe using fresh berries. Frozen berries may release more moisture, so you might have to add extra cornstarch to the filling.
How to Make Keto Blueberry Bars
These bars may look intimidating, but they are incredibly easy. The crust and topping are made from the same mixture, so they come together very quickly!
Begin by lining a baking pan with parchment paper for easier clean up.
In a mixing bowl, combine the almond flour, crushed pecans, monkfruit sweetener, and cold butter cubes.
Using a pastry cutter or electric mixer, combine the crust until the butter is cut into small pieces and resembles course sand.
Press a little more than half of the mixture into the bottom of the pan and up the sides. Set the remaining crumble aside for the top.
In a second bowl, combine the fresh blueberries, monkfruit sweetener, cornstarch and lemon juice.
Spread the blueberries over the crust. Top with the remaining almond flour mixture.
Bake the bars at 350 degrees F for 30-25 minutes.
Allow the bars to cool before removing from the pan.
How Many Carbs Are in Blueberry Crumble Bars?
While this dessert may seem like it's high in carbs, it isn't! Traditional blueberry bars feature an oatmeal crust and regular sugar so they are loaded with carbs. This version uses almond flour, pecans and monkfruit sweetener which makes it fit well within a low-carb lifestyle.
When cut into 15 equal portions these keto blueberry bars have about 7 net carbs per slice!
Can You Have Blueberries on Keto?
Yes, you absolutely can! So long as you enjoy smaller portions of blueberries, they're fine to eat in moderation.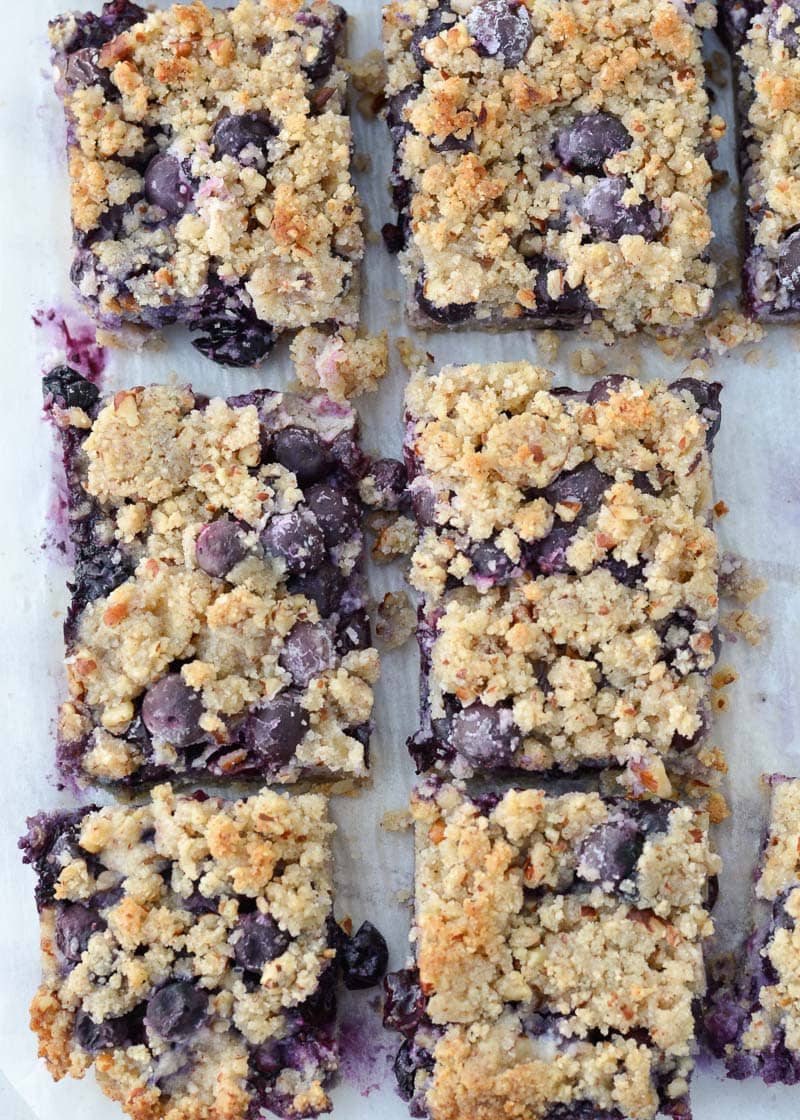 Tips for Making This Keto Blueberry Dessert
For the monkfruit sweetener, you're welcome to use a granular of brown sugar version.
Note that this recipe calls for almond flour and not almond meal. They're slightly different products, so double check the labels before buying.
I've found that almond flour works best for this recipe, so I can't recommend a substitution for it.
More Low-Carb Desserts: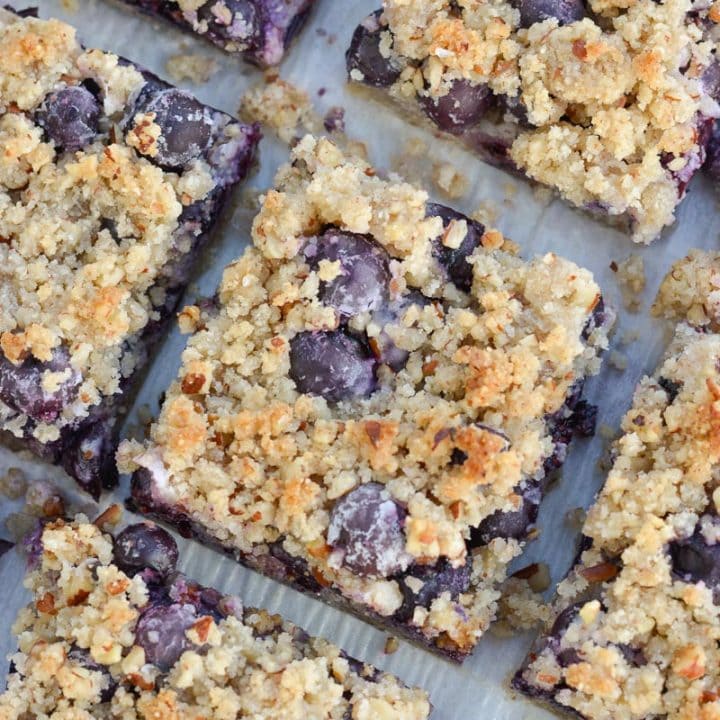 Low Carb Blueberry Bars
Try these deliciously sweet Keto Blueberry Bars loaded with almond flour, pecans, vanilla and tons of berries! At about 7 net carbs per slice this is the perfect low carb dessert!
Ingredients
Almond Pecan Crumble (used for crust and topping)
2 cup almond flour
1 cup crushed pecans
1 cup monkfruit sweetener (granular or brown sugar version)
1 tsp baking powder
1/4 tsp salt
1 large egg
2 tsp vanilla extract
8 tablespoons unsalted butter, cold and cut into cubes
For the Blueberry Filling
4 heaping cups of fresh blueberries
1 tbsp cornstarch*
1/4 cup monkfruit sweetener (granular or brown sugar version)
2 teaspoons lemon juice
Instructions
Preheat the oven to 350 degrees F.
Line a 9x13 pan with parchment paper and lightly spray the sides with cooking spray if the parchment paper doesn't completely cover.
In a large mixing bowl combine the crumble ingredients and blend with an electric mixture or a pastry cutter until the mixture resembles a crumb topping and is the texture of course sand.
Press a little more than half of the mixture into the bottom of the pan, moving up the sides a bit.
In another mixing bowl combine the filling ingredients. Spoon the blueberry mixture over the crust.
Sprinkle the remaining crumble over the berries, pressing down lightly.
Bake for 30-35 minutes until the top begins to brown. Allow the bars to cool completely.
Notes
Corn starch does contain carbs but only 1 tablespoon is used for the entire recipe. If you prefer to leave it out you can, but the blueberry filling will not set as well.
Nutrition Information:
Yield:

15
Serving Size:

1 bar
Amount Per Serving:
Calories:

267
Total Fat:

20.3g
Saturated Fat:

0g
Trans Fat:

0g
Cholesterol:

32.5mg
Sodium:

2.1mg
Carbohydrates:

9.4g
Net Carbohydrates:

7.2g
Fiber:

2.2g
Sugar:

4.8g
Protein:

3.2g
To avoid any confusion I remove erythritol from the final carb count and net carb count, as it is not known to affect blood glucose levels. To calculate Keto recipes listed on this site carbs - fiber = net carbs. I use Nutrifox as my nutrition calculator. This nutrition information is an estimate based on the information provided by Nutrifox and the specific ingredients I used.