This Cabbage and Black-Eyed Pea Soup is the perfect slow cooker soup recipe for New Year's Day! Packed with black-eyed peas, onions, bell pepper, cabbage, and tomatoes for an easy, comforting soup.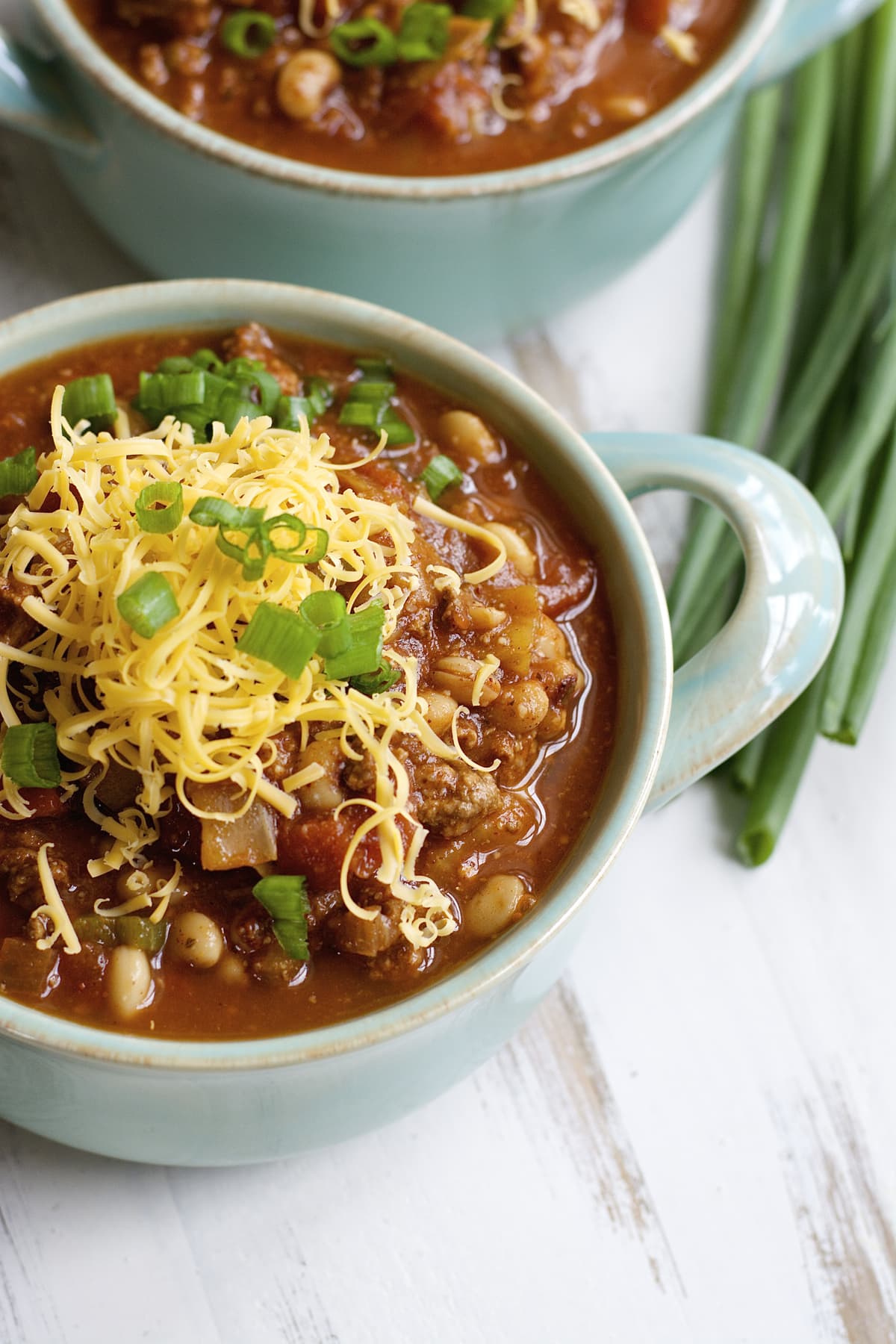 Cabbage Soup with Black Eyed Peas
This Cabbage and Black Eyed Pea Soup is a warm bowl of comfort, happiness, and good luck! Southern tradition calls for eating greens and peas if you'd like wealth and financial success in the new year, so this is definitely the soup you want to have at midnight on New Year's Eve!
This easy black eyed pea soup is made in the slow cooker, so you know you won't have to skip or hurry festivities just to get the meal ready. It's gluten free and packed full of vegetables and broth, so it becomes a nutritious, tasty meal for nearly everyone. It's great for feeding a crowd!
Ingredients for Black Eyed Pea Soup
This is essentially a cabbage soup with ground beef and black eyed peas tossed in. Yum! Here's a quick overview of what you'll need. For exact measurements, keep scrolling down to the printable recipe card.
Lean Ground Beef – I love the flavor this provides, but you could easily replace the beef with pork if you want to hit 3 New Year's traditions at once!
Produce – Onion, green bell pepper, and cabbage should all be chopped, and the garlic should be very finely chopped.
Spices – Chili powder, oregano, cumin, garlic powder, and onion powder all combine to make this super flavorful.
Canned Goods – tomatoes with green chilis, crushed tomatoes, tomato sauce, and chicken broth are all added in this soup. If you've canned some of your own tomatoes, you can use those in place of the crushed tomatoes. You will need the liquid from the cans, so don't discard or drain!
Black Eyed Peas – Frozen peas work best in this soup. They are able to become tender without going so long to become mushy.
You will also need some water. You may want to use sliced green onions and shredded cheese to garnish and add more flavor!
How to Make Black Eyed Pea Soup
Because this black eyed peas and cabbage soup lets the slow cooker do most of the work, you can spend New Year's Eve actually relaxing and enjoying the day's festivities. 
Brown the ground beef
In a large skillet, soup pot, or Dutch oven, brown the ground beef over medium-high heat. When it's done, drain off the fat. If you're using a multi-purpose cooker (like an Instant Pot), you could complete this in there to avoid transferring the soup to a slow cooker later.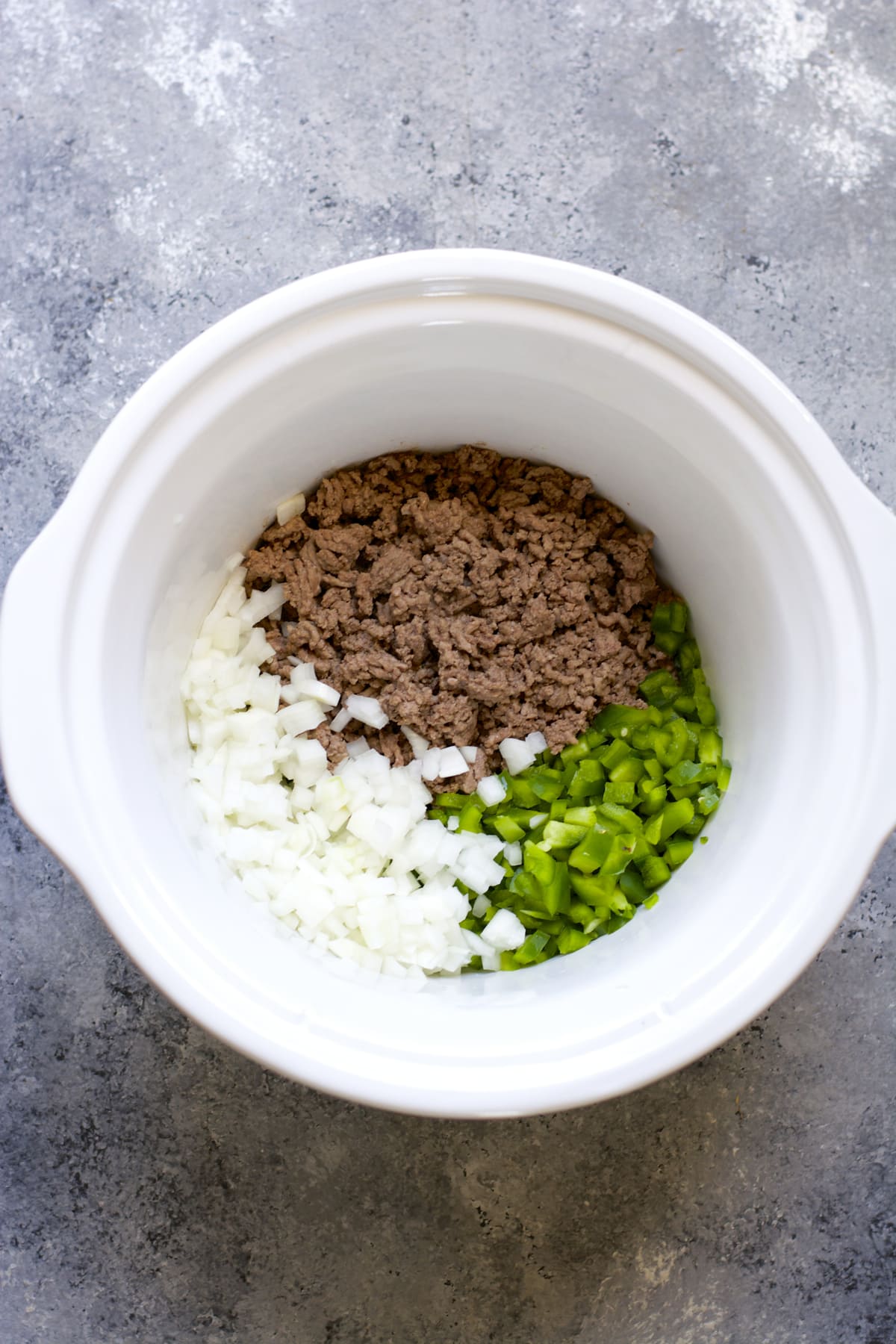 Add onion, bell pepper, and garlic
Leave the beef in the skillet and add onion, bell pepper, and garlic. Stir and continue cooking for a 2-4 minutes. Add spices and stir well.
Add remaining ingredients
If you're making this in a skillet, go ahead and transfer all of this into your slow cooker. If you are making this in a Dutch oven or multi-purpose cooker, leave it. Add the cabbage, broth, water, all canned goods (including the juices from the cans), and the black eyed peas. Stir well.
Cook in slow cooker or on stove
If you're cooking this on the stove, bring the soup to a boil and simmer for 1-1 1/2 hours. If you're cooking this in the slow cooker, cook on high for 3-4 hours or on low for 8 hours.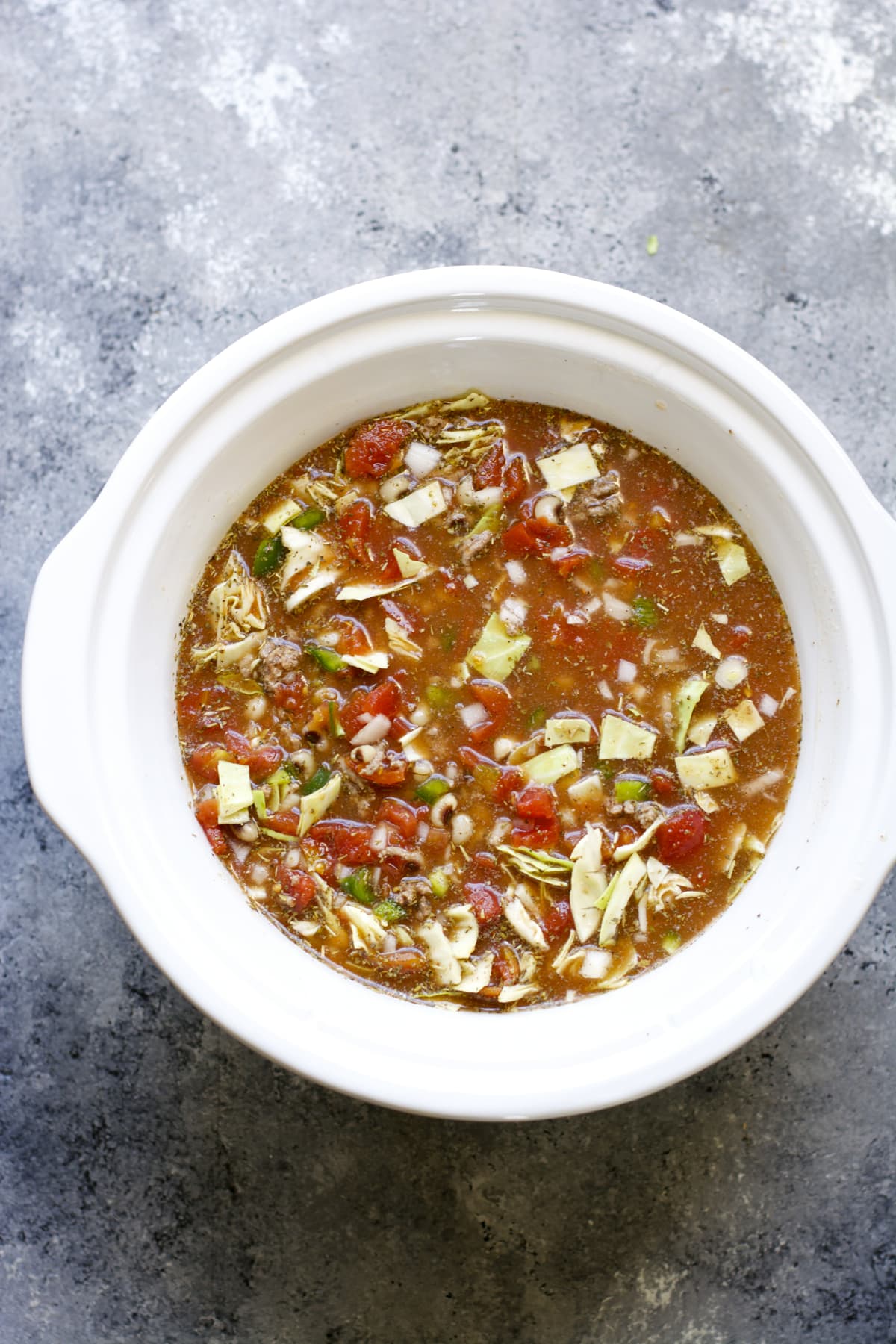 Serve
Add a piece or two of cornbread for the ultimate comfort food meal! You can go spicy with Jalapeno Cornbread, try this super Cheesy Cornbread, or get a bit sweet with these Sweet Potato and White Cheddar Corn Muffins! If you prefer crusty bread with yours instead, smear it with some Roasted Garlic!
Store
This should be stored in an airtight container in the fridge. It's perfect for leftovers, so consider portioning out into individual sized meals for an easy grab-and-go leftover lunch!
Freeze
You can freeze this soup, and it will last up to 3 months. However, cabbage can change texture quite a bit the longer it's frozen, so I recommend eating it as soon as possible.
Reheat
Individual portions can be rewarmed with 45-second blasts in the microwave. To reheat the entire soup, warm over medium low, covered, until warm throughout.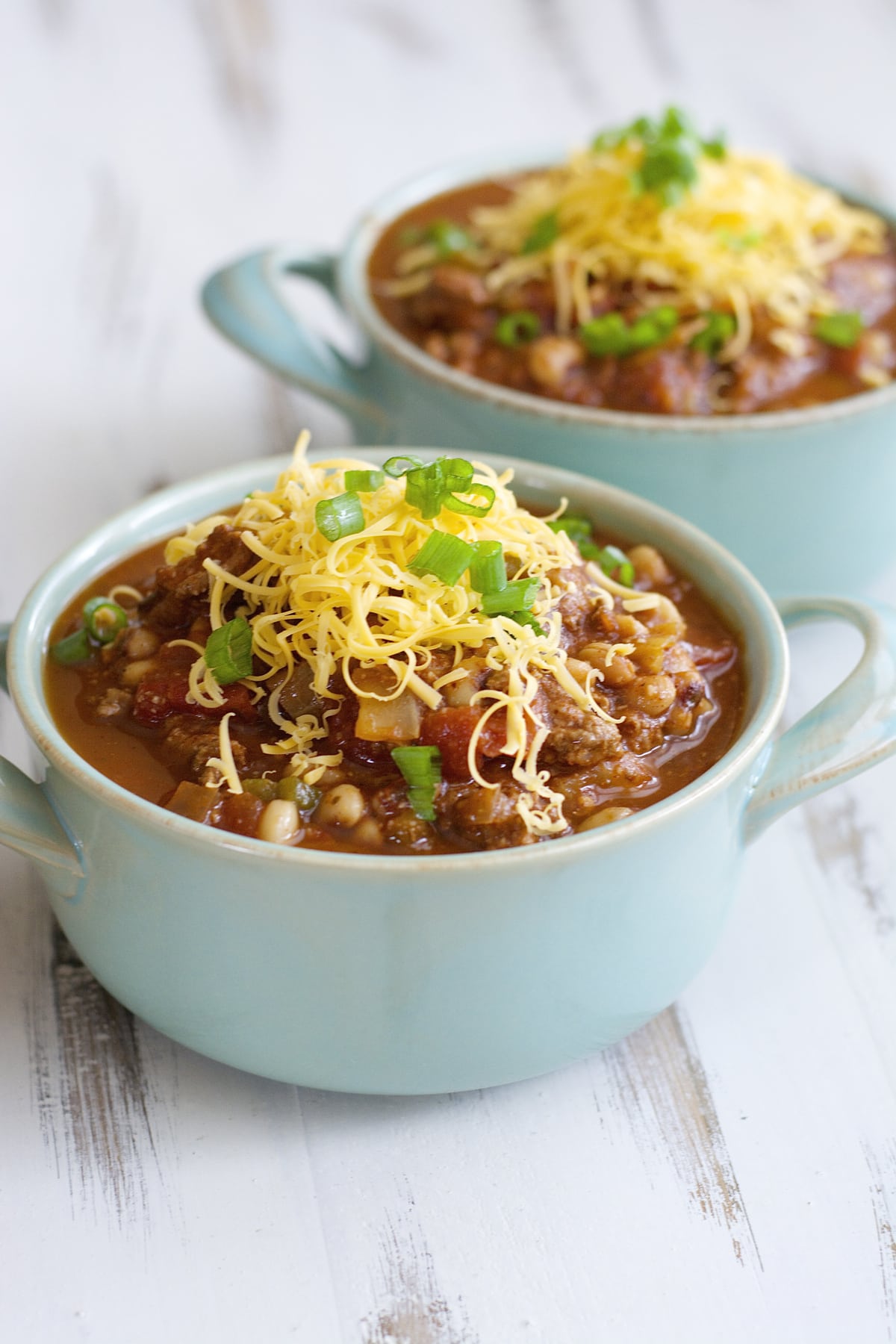 If you like this Cabbage and Black Eyed Pea Soup, you'll love these recipes:
FAQs about Cabbage Soup
Can cabbage soup be vegetarian?
Absolutely! Leave out the meat and substitute the chicken broth for vegetable broth. You may like to replace the meat with rice to bulk it up, but I haven't tried that and couldn't advise on the amount of time or rice needed.
Can you cook black eyed pea soup ahead of time?
Yes, this soup holds up well in the fridge for 3-4 days, so you could make it a few days ahead of time, then serve when you're ready.
Which meats work best in cabbage soup?
Cabbage soup is delicious with any meat, especially if you season it well! I love ground beef, but turkey, chicken, or pork would all be delicious.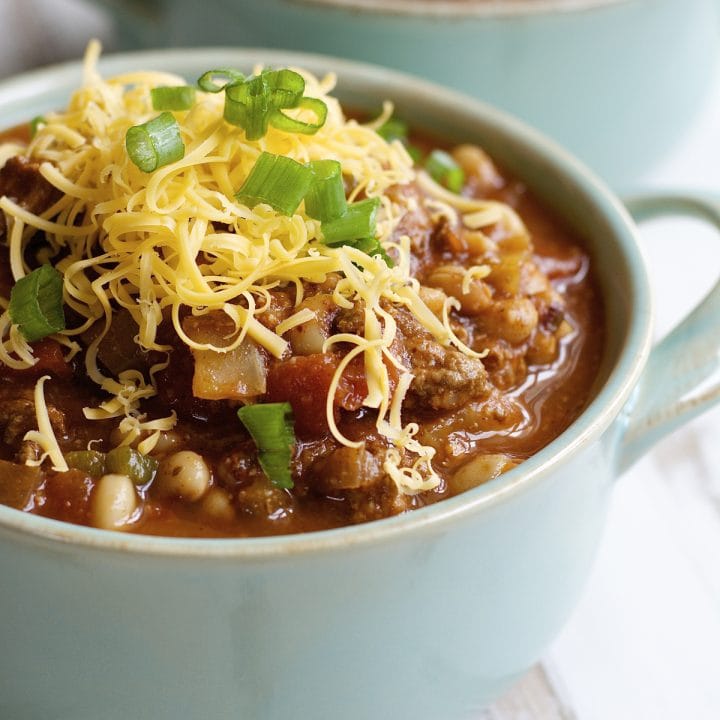 Cabbage and Blackeyed Pea Soup
Total Time:
4 hours
20 minutes
This Cabbage and Black-Eyed Pea Soup is packed with black-eyed peas, onions, bell pepper, cabbage, and tomatoes! Perfect for New Years!
Ingredients
1 pound lean ground beef
1 onion, chopped
1 green bell pepper, chopped
5 cloves garlic, finely chopped
3 cups cabbage, chopped small
2 tablespoons chili powder
1 tablespoon oregano
1 tablespoon cumin
2 teaspoons garlic powder
2 teaspoons onion powder
1/2 teaspoon salt
1/2 teaspoon pepper
1 (10 ounce) can of tomatoes with green chilies, undrained
1 (16 ounce) package of frozen black eyed peas
1 (28 ounce) can crushed tomatoes, undrained
1 (15 ounce) can tomato sauce
1 (32 ounces) carton chicken broth
1 cup of water
Instructions
Heat a large pot to medium high. Brown ground beef and drain off any fat.
Add the chopped onion, bell pepper, and garlic and cook for 2 minutes or until softened.
Add spices, stir well.
Add in the remaining ingredients (do not drain any of the cans) and stir well.
Bring mixture to a slight simmer, then reduce to medium low, cover, and let cook for at least one hour or up to 90 minutes.
Slow Cooker Version:
Follow steps 1-3 add ingredients to a large slow cooker and cook on high for 3-4 hours or on low for 8 hours.
Nutrition Information:
Yield:

8
Serving Size:

1 1/4 cup
Amount Per Serving:
Calories:

173
Total Fat:

2.8g
Trans Fat:

0g
Sodium:

571mg
Carbohydrates:

21.5g
Fiber:

6.6g
Sugar:

8.8g
Protein:

18.3g
To avoid any confusion I remove erythritol from the final carb count and net carb count, as it is not known to affect blood glucose levels. To calculate Keto recipes listed on this site carbs - fiber = net carbs.