This five ingredient Black Bean and Sausage Soup is a simple hearty dish perfect for busy weeknights!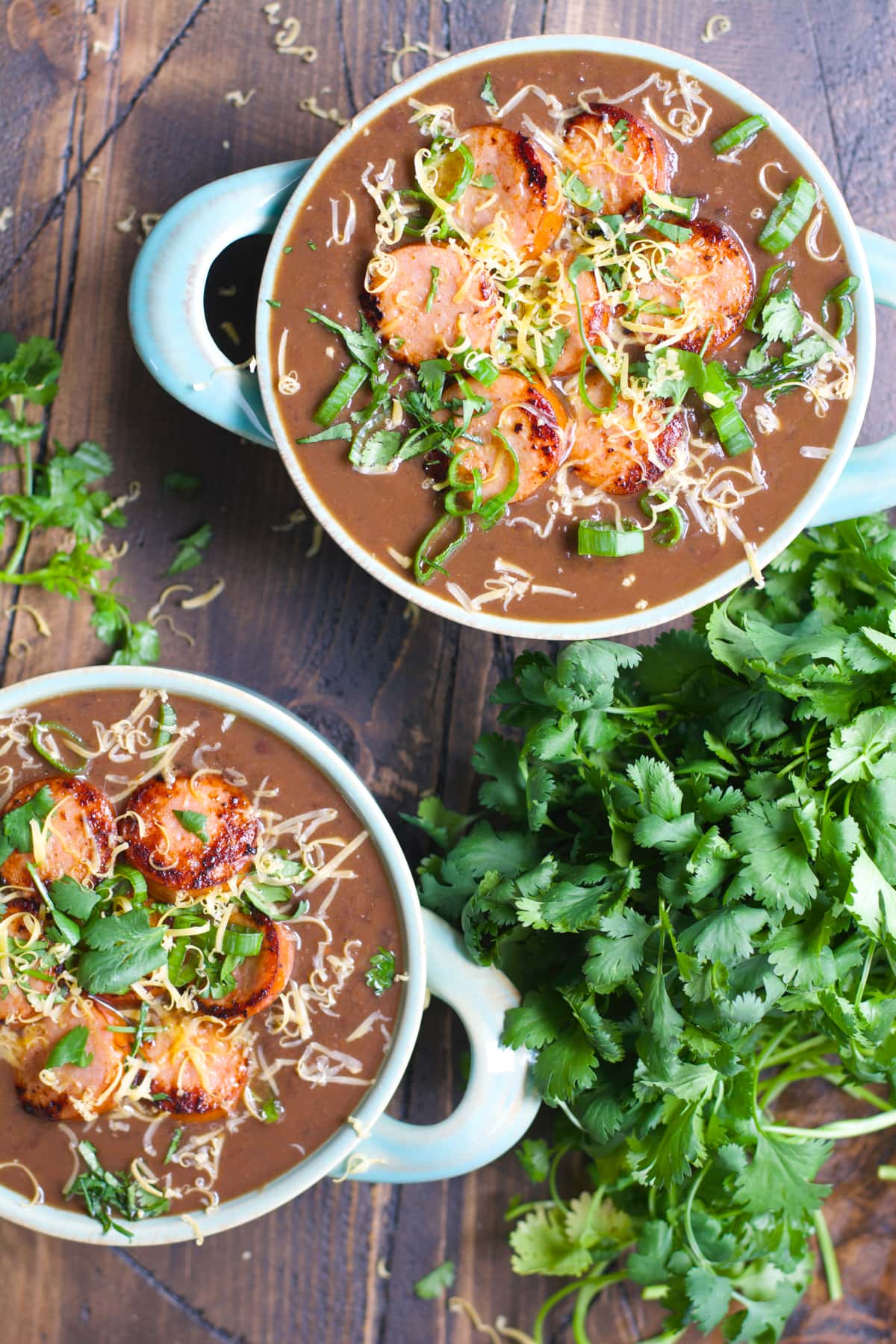 I took an unexpected hiatus from the blog since the holidays, because life has a way of rearranging our plans. Sometimes it doesn't really matter what you WANT to do, or even what you NEED to do, you just have to roll with the punches. That is how life has been around here lately, survival mode. Just get through today and hope tomorrow is better. Have you ever had times like that? It can be really challenging, can't it?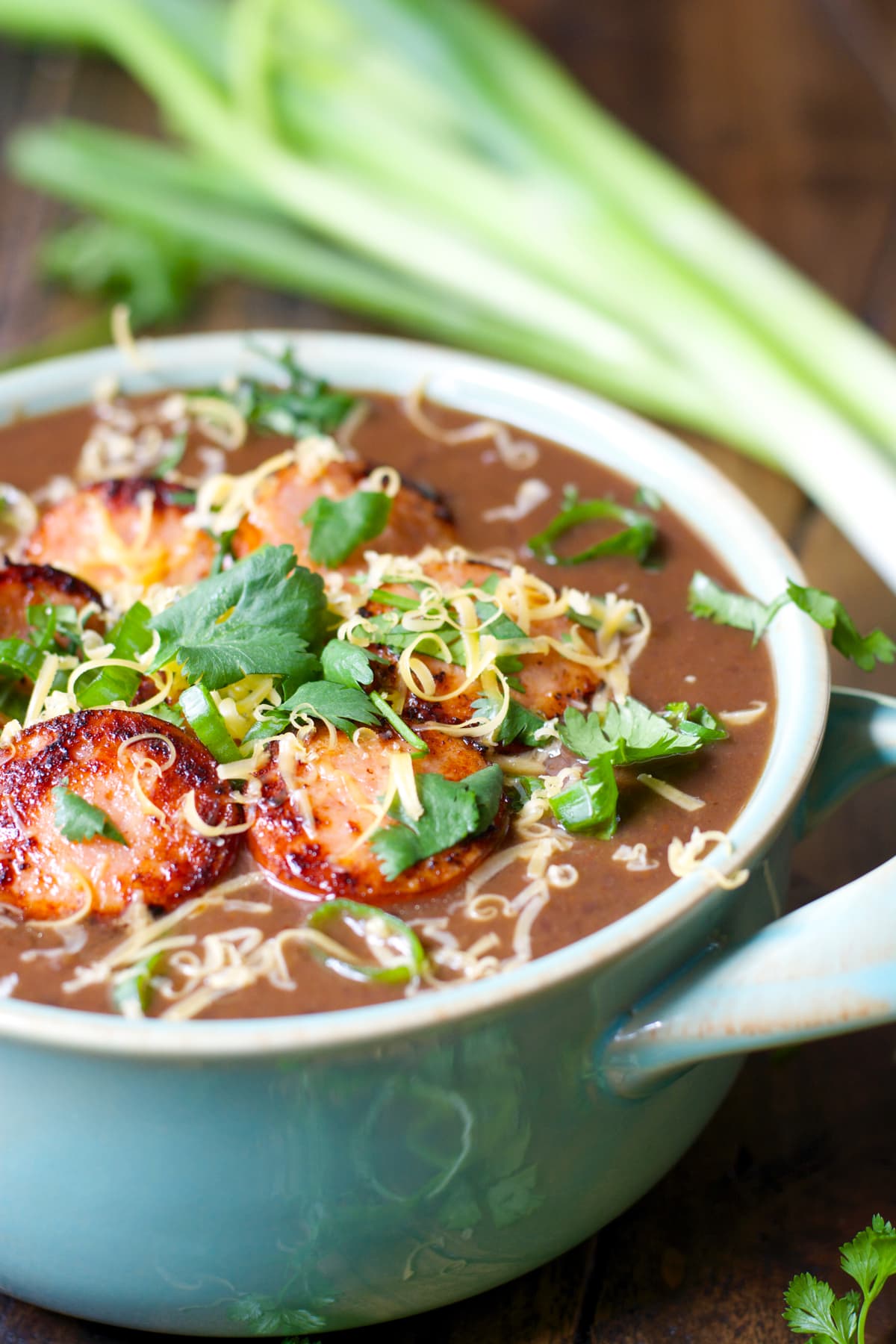 Fortunately, I'm back with one of my go to super easy FIVE INGREDIENT dinners! This Black Bean and Sausage Soup has been one of our favorite easy weeknight winter meals. It comes together really quickly and it is packed with flavor!
The base for this soup is super simple- just black beans, broth, tomatoes with green chilies and taco seasoning. It is a hearty, slightly spicy soup, which we love. But if spicy isn't your thing, you can always just use canned tomatoes instead of tomatoes with green chilies. Then I top the soup with lightly browned andouille sausage, freshly shredded cheese and some chopped cilantro. It is an easy comfort food your whole family is sure to love!
Ingredients for Black Bean and Sausage Soup
As always, here is a quick overview of the ingredients used in our Black Bean Sausage Soup. For the complete recipe, just keep scrolling.
Black beans- drained and rinsed
Ro-tel- undrained
Chicken broth
Taco seasoning- the packet or homemade both work well here
Andouille sausage- sliced
How do you make smokey black bean soup?
This Black Bean Soup comes together in mere minutes and is so full of flavor and packed with protein. Here is how we make it!
First, drain and rinse your black beans. Add them to a large pot and combine with your undrained Ro-tel, taco seasoning and broth and stir well. Turn the heat on the stove to medium and allow the soup to simmer for about 25 minutes, while giving it the occasional stir.
If you have an immersion blender, you can use it to get this soup to your desired consistency, but this step is totally optional. Cover the soup and reduce the heat to low. Meanwhile, cook your sliced sausage over medium heat in a large skillet until both sides are browned. Ladle soup into bowls and top with sausage and you're done!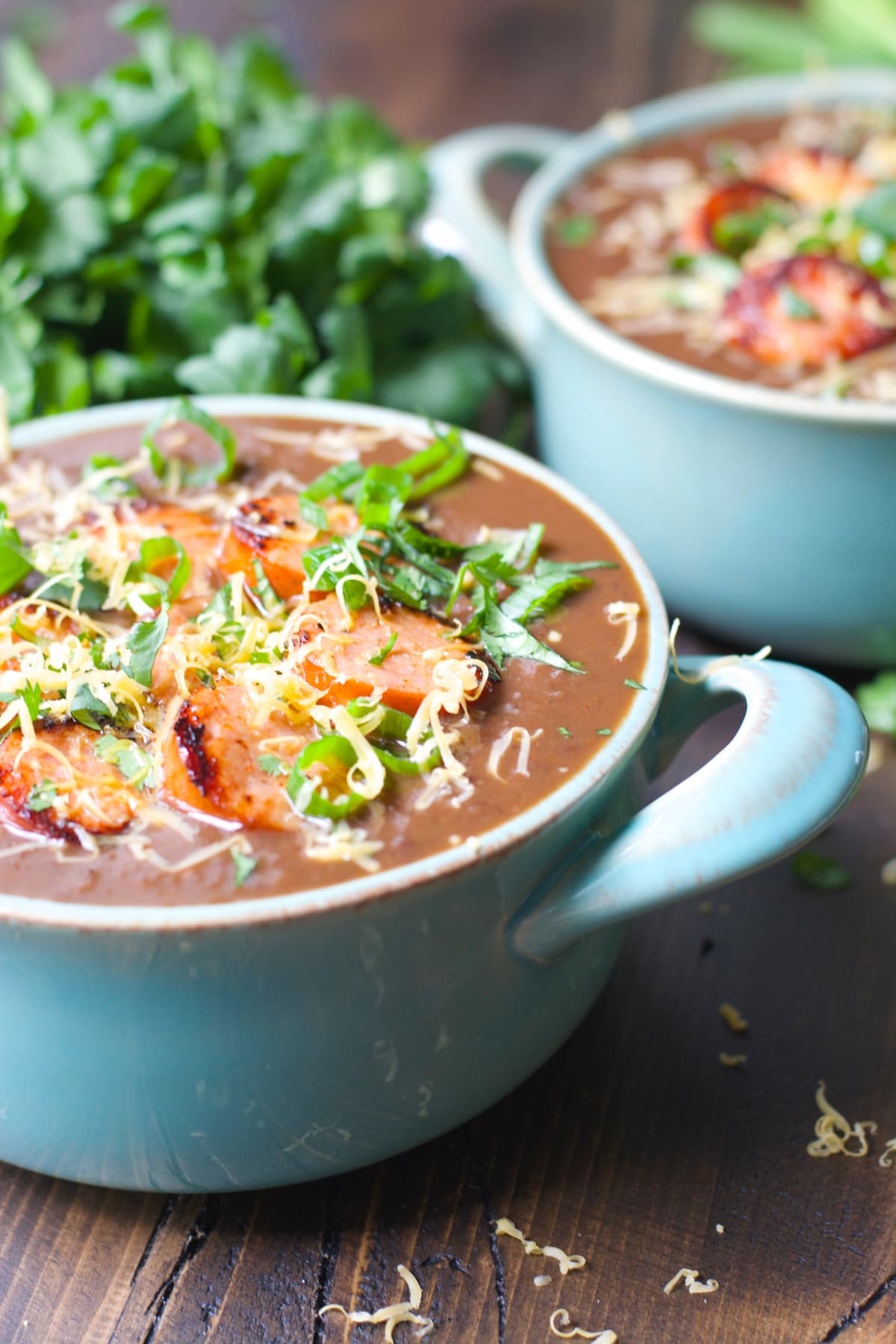 Substitutions for Black Bean Sausage Soup
Here are a few different ways you can change up this soup to make it yours!
Beans- if you prefer, use canned black beans that don't have any sodium added, or cook your own!
Ro-tel- there are a few different types of rotel. There is a mild version, if you prefer less spice, as well as a no sodium added version. If you prefer a hotter dish, there is a also a serrano blend that will definitely add a kick!
Chicken broth- a lower sodium version would work fine here, or if you have a homemade broth on hand, even better!
Taco seasoning- if you are interested in a homemade taco seasoning, check out a recipe for one here.
Sausage- there are so many different kinds of sausage, so go with your favorite! Or, to reduce calories, try a chicken or turkey sausage.
How to Store and Reheat this Black Beans and Andouille Sausage recipe
To store your leftovers, simply place in a plastic or glass container with an airtight lid and store in the fridge. This soup will stay fresh for up to five days. To reheat, ladle your soup into a microwave safe bowl and warm in 30 second increments until it's warm enough for you, or warm on the stove top.
If you wanted to freeze this soup, no problem! You can place the soup into glass jars with an airtight lid, just be sure to leave room at the top for the soup to expand when frozen. I also would recommend waiting to screw the lid completely on until the soup is frozen completely, just in case the jar is too full. To thaw, place in the fridge overnight and warm as instructed above.
Other Easy Dinner Ideas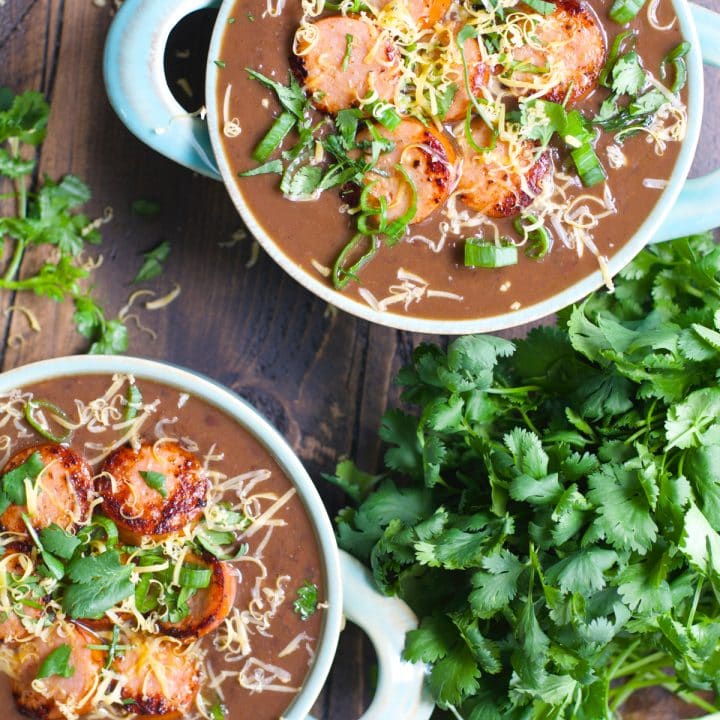 Black Bean and Sausage Soup
This five ingredient Black Bean and Sausage Soup is a simple hearty dish perfect for busy weeknights!
Ingredients
3 (15 ounce) cans of black beans, drained and rinsed
1 (10 ounce) can of Ro-tel, undrained
1 (32 ounce) carton of chicken broth
1 (1 ounce) pack of taco seasoning
½ pound of Andouille sausage, sliced
Instructions
Drain beans and add to a large pot over medium heat with the undrained can of Ro-tel, taco seasoning and broth. Stir well.
Let soup simmer, stirring occasionally for 25 minutes.
Use an immersion blender (optional) to blend soup to desired consistency. Cover soup and reduce heat to medium low.
Heat a large skillet and cook sliced sausage over medium heat until browned on both sides.
To serve, ladle soup into bowls and top with sausage.
Nutrition Information:
Yield:

4
Serving Size:

1
Amount Per Serving:
Calories:

491
Total Fat:

17.5g
Cholesterol:

39.6mg
Sodium:

2912.2mg
Carbohydrates:

56.9g
Net Carbohydrates:

34.8g
Fiber:

22.1g
Sugar:

2.5g
Protein:

28g