These 4-ingredient Blackberry Brie Bites are the easiest, tastiest low-carb appetizer! Perfect for any party or occasion and around 3 net carbs each, these brie bites will become a quick favorite!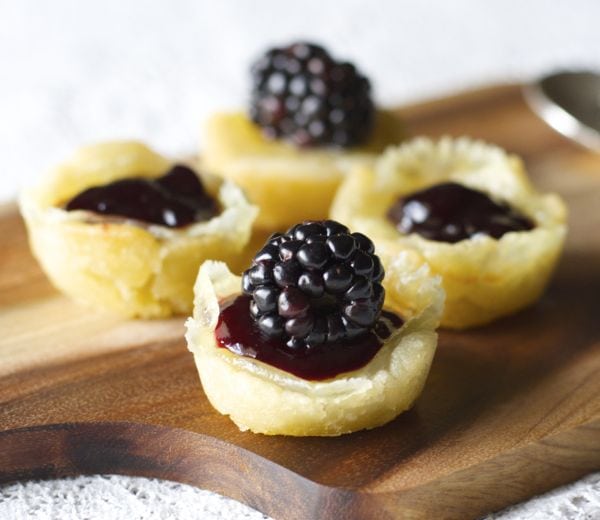 Check out my VIDEO below to see how I make these simply delicious brie appetizer bites!
Do you watch Downton Abbey? I am pretty obsessed. I cannot wait for season 5 to start this weekend. About two months ago I binge watched season 4. But THEN last week I watched the trailer for season 5 and I decided I had to rewatch season 4 again to full prepare myself.
Here are some of the things I can't wait to see: Who does Lady Mary pick? Lady Edith and this baby? Is Mr. Gregson coming back or not? Will the estate actually survive? In the spirit of the season I am sharing the most elegant appetizer ever.
My Blackberry Brie Bites not only look terrifically fancy, but they taste absolutely incredible, too. Bonus: they're low-carb! Sweet blackberry jam and fresh blackberries perfectly pair with gooey and flavorful brie, all nestled inside a slightly crisp and wonderfully flaky crust. These handheld bites are guaranteed to be the hit of your next party!
Delightful little brie and blackberry bites are impressive to guests, however, they are so incredibly easy to make that I call them an effortless appetizer!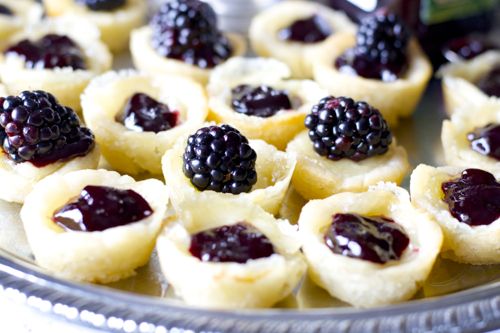 Ingredients in Brie Bites
This Brie cheese appetizer SO easy! You will need a mini muffin tin
Here is all you need:
Blackberry jam
Fresh blackberries
Keto Fathead dough (if not low-carb, just pick up a refrigerated pie crust from the store)
Brie cheese
How to Make Brie Bites
Because it is so easy to make this Brie appetizer, you can absolutely put these brie and blackberry bites at the bottom of your festivities prepping to-do list. Start to finish, it only takes about 20 minutes until you and your guests are enjoying!
Firstly, preheat the oven to 400 degrees F and spray a mini muffin pan with nonstick spray.
Cut the Fathead dough or pie crust into chunks large enough to be pressed into the individual mini muffin tins.
Remove the rind from the cheese, and then cut the brie into 24 small pieces.
Place a chunk of brie inside each pie crust cup.
Bake for 10 minutes, until the cheese has gotten soft and the crust is slightly browned.
Remove from the oven and allow the brie bites to cool slightly.
Use a 1/2 teaspoon to spoon a small amount of blackberry jam onto each, and add a fresh blackberry on top.
Seriously, these brie and blackberry tarts are the easiest party appetizer! These are a really wonderful snack for any occasion, but they are especially nice for New Year's if you are looking for something low-maintenance with big flavor.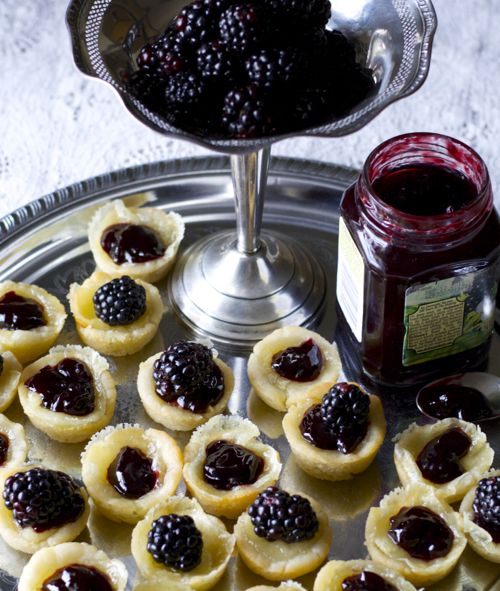 Can I Prep These Bites in Advance?
Yes! Assemble and bake the bites, but add the jam and fresh berries just before serving them.
Are these a keto-friendly appetizer?
Yes! Using this Fathead Dough instead of a store-bought refrigerated pie crust means that this is both gluten-free and low-carb. I know jam is not usually eaten on a keto diet, but I use about 1/2 teaspoon per bite, so it ends up working for me. With these ingredients, each bite comes to 3.2 net carbs.
As you can see in the pictures, I played around with skipping the blackberries on some, then skipping the jam on others. This lowers the carbs even further, and the flavor was still delicious no matter what! If you choose to leave off the fresh berries, each bite is 2.8 net carbs. If you leave off the jam instead, they blackberry bites are 1 net carb each.
What kind of jam should I use on brie bites?
Brie pairs well with a number of fruits and jams. I used blackberry because of the fresh blackberries I already had, but I bet raspberry jam and fresh raspberries would work nicely here too. You could try any combination you'd like!
If you are super keto, you might want to leave off the jam. The brie bite + fresh blackberry brings it to just 1 net carb each.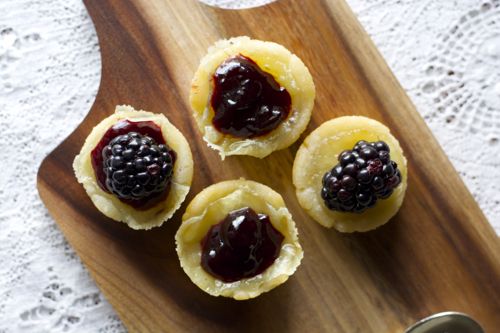 Tips for Making Baked Brie Bites
This recipe isn't an exact science — you can eyeball the amount of pie dough that gets pressed into the bottom of the muffin tins.
You can also use a regular-sized muffin tin to make this recipe, you'll just wind up with larger tarts. You will likely need to cook these just a couple minutes longer.
If you have leftovers, store them in the fridge for up to 3 days.
More Cheesy Appetizers: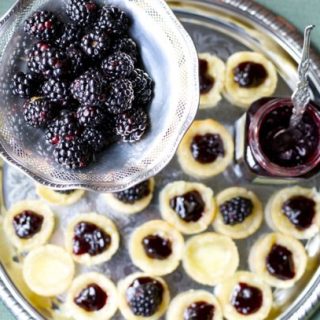 Blackberry Brie Bites
These 4-ingredient Blackberry Brie Bites are the easiest, tastiest low-carb appetizer! Perfect for any party or occasion and under 3 net carbs each, these brie bites will become a quick favorite!
Ingredients
1 recipe of Keto Fathead Dough (see notes for link to recipe)
1 (8 ounce) package of brie, rind removed
1/4 cup blackberry jam
1.5 cup (24) fresh blackberries (optional--skip for lowest carb)
Instructions
Preheat oven to 400F.
Spray a mini muffin tin with cooking spray. Press a small amount of the crust into the bottom of each muffin tin. Be sure to press the crust all the way the sides.
Place a small chunk of brie in each tin.
Bake for 10 minutes.
Let the cheese pies cool for a few minutes, then remove from the pan and let cool completely. Add a small spoonful of blackberry jam and top with a fresh blackberry.
Notes
If you want to reduce carbs further, you could leave off the fresh blackberries OR leave off the jam. If leaving off the blackberries but still using the jam, each brie bite has just 2.8 net carbs. If leaving off the jam but still using the fresh blackberries, each brie bite has just 1 net carb.
Recommended Products
As an Amazon Associate and member of other affiliate programs, I earn from qualifying purchases.
Nutrition Information:
Yield:

24
Serving Size:

1 brie bite
Amount Per Serving:
Calories:

89
Total Fat:

4.1g
Cholesterol:

13.7mg
Sodium:

139.8mg
Carbohydrates:

4.2g
Net Carbohydrates:

3.2g
Fiber:

1g
Sugar:

2.4g
Protein:

5.9g