Who said pancakes are unhealthy?! These Carrot Cake Pancakes are packed with fresh carrots, yogurt, ginger, cinnamon, and nutmeg. A delicious and nutritious way to start your morning!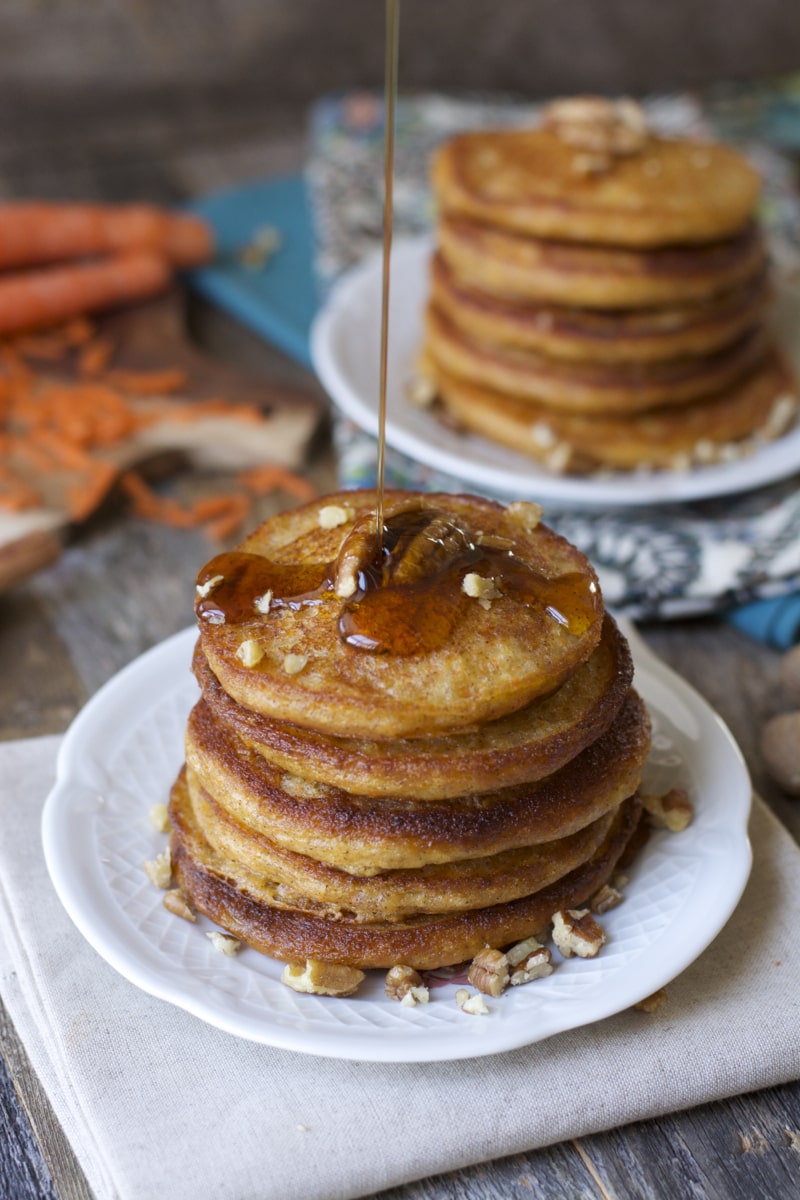 For about a year now I have been ready to move. Actually, the term "ready" is probably an understatement. I am longing, deep down in my heart for something new.
The problem is, I don't know exactly what that something "new" is. Have you ever felt this way? Just a longing for change?
I am to the point that I actually have a game plan for how to pack up our home. I have a little checklist in my mind of the things that have to be done before we put our house for sale. I am refusing to buy the dining room table I have been lusting over for months that is currently on sale, just because I don't want to have to pack it up and move it!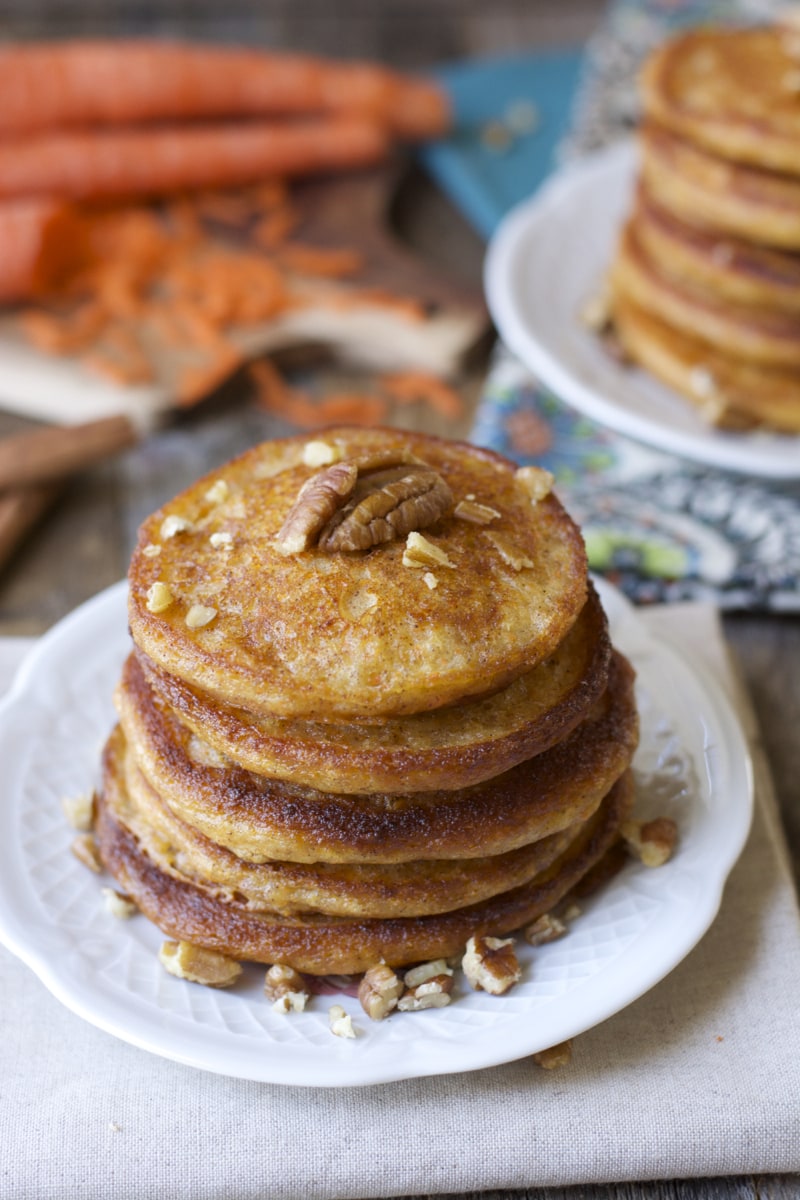 But after my plan to empty my house and pack it all up in a truck, my plan ends. I don't know what comes next. I don't know where we want to be, or what we want to be once we get there.
Unfortunately, I have decided this is time in my life where I am in limbo. I am in between, and I don't know what comes next. It is exciting, scary, and very frustrating all at the same time.
So what do you do when you feel all of these feelings?! You make a stack of pancakes, of course! I love these Carrot Cake Pancakes because they come together in a flash, but they're packed with carrots and made with yogurt for a guilt-free indulgence!
Ingredients for Carrot Cake Pancakes
As always, here is a quick overview of the ingredients needed to make Carrot Cake Pancakes. For the complete recipe, just keep scrolling.
Carrots- shredded and packed in the measuring cup
Buttermilk- I do not recommend any substitutes here
Gluten Free Bisquick- if you aren't gluten free, regular Bisquick is fine
Vanilla yogurt- I used a low fat version
Brown sugar- packed
Spices- Cinnamon, Ground Ginger, Ground Nutmeg and Salt
Vanilla extract
Baking powder
Egg- I used size large
Oil- I prefer coconut oil, but canola oil works well too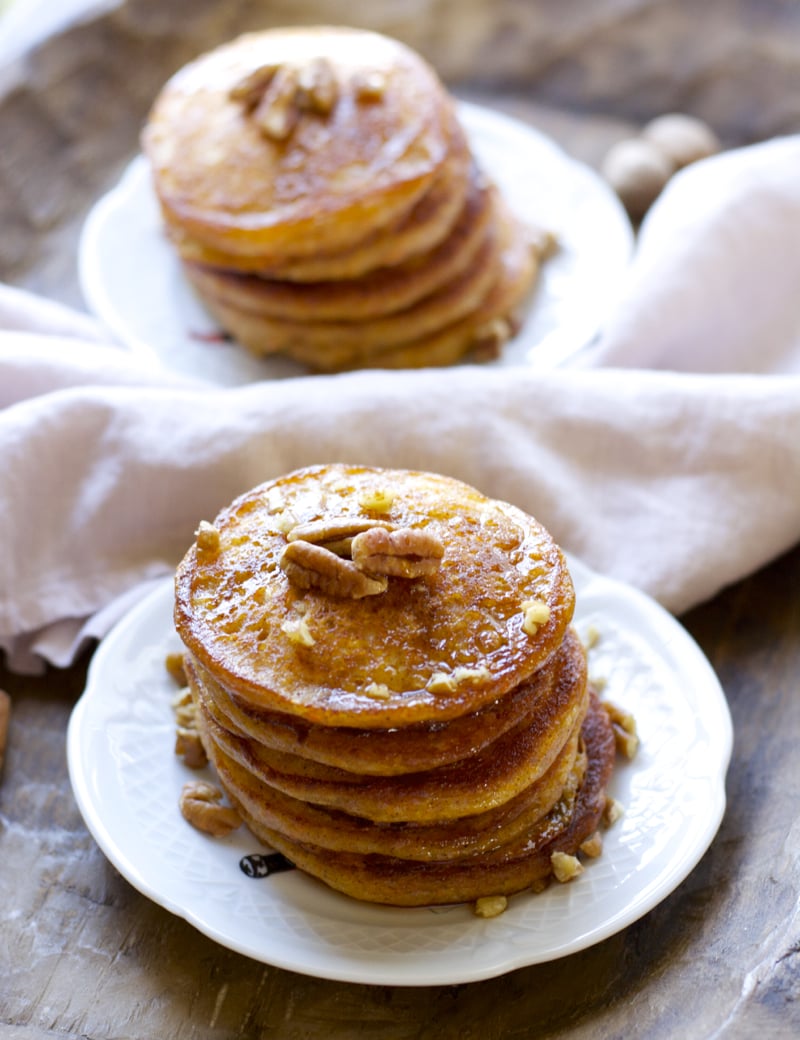 How do you make carrot pancakes?
These easy, healthy pancakes come together in a breeze! A quick breakfast to really celebrate Spring! Here is how we make them:
First, combine all your ingredients in a blender and blend for 15-20 seconds, or until everything is combined. Be careful not to overmix! Second, heat a skillet or griddle to medium heat and add about a teaspoon of oil.
Add 1/4 cup of the mixture to the hot pan (pro-tip: you can use an ice cream scoop here!) Next, cook for 2-3 minutes or until you see bubbles starting to form on the batter. Flip over your pancake and cook until golden brown.
When you're ready to move onto your next pancake, be sure to add a little more oil to your pan. Serve with your favorite topping and you're good to go! A healthy breakfast everyone is sure to gobble up!
Toppings for Carrot Cake Pancakes
My first tip here is toppings- I love them and there's so many that could compliment these pancakes! Here are some of my favorites:
Nuts- walnuts, pecans, sliced almonds or hazelnuts add a delectable crunch to these pancakes!
Fresh fruit- blueberries, bananas, peaches, strawberries, raspberries, or cooked apples would all be so good.
Syrups- I prefer to use a little honey on my pancakes, but of course there's a whole world of syrups out there. You can add a classic syrup, maple syrup or a flavored syrup!
Other toppings- Mr. Maebell added peanut butter to his pancakes. He'll put that on anything! Butter is of course a classic topping. You can also add chocolate chips, whipped cream or Nutella!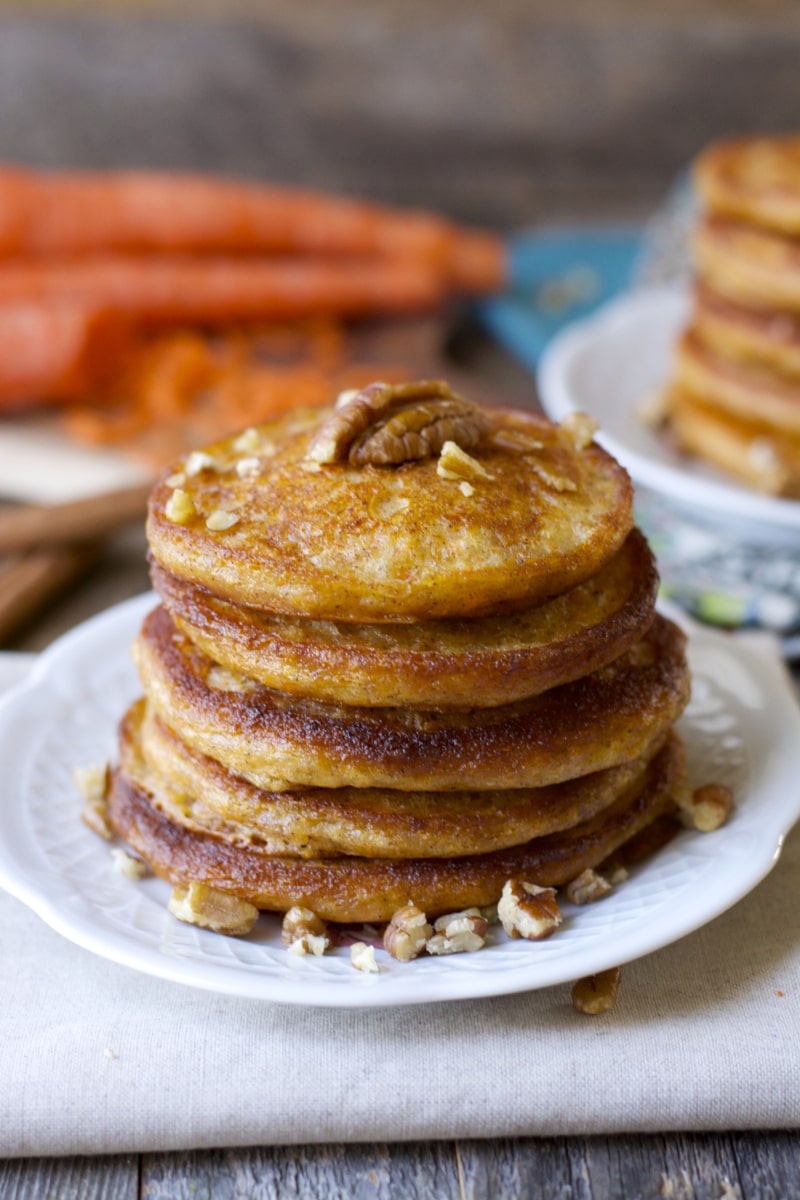 These pancakes are packed with carrots, and I mean packed! I shredded three medium/large size carrots for these pancakes. You can also buy the shredded carrots that come bagged from the grocery.
Now for those of you who are concerned with texture, I opted to put all of my ingredients in a blender to give it a nice smooth texture. So there aren't any chunks of carrots or anything like that, just light and fluffy pancakes!
These would be a perfect addition to your Easter brunch. They also reheat really well. I made them for a quick and easy breakfast option during the week and it worked perfectly!
How to Store and Reheat Carrot Cake Pancakes
If you wanted to meal prep these Carrot Cake Pancakes for a Sunday breakfast, no problem! Simply prepare your batter as usual, put into a plastic or glass container with a tight fitting lid and place into the fridge for 2-4 days. Prepare as described whenever you're ready.
If you have (somehow) leftovers of these pancakes, store in the fridge in an airtight container for up to five days. You can also freeze them! Place a layer of wax paper in between each pancake so you can get them apart and put into a freezer safe bag.
If you are reheating your Carrot Cake Pancakes, simply place onto a microwave safe plate and warm. If you are warming from the fridge, I would warm in 15 second increments. If preparing from frozen, go ahead and warm in 30 second increments until your desired temperature.
Other Spring Brunch Recipes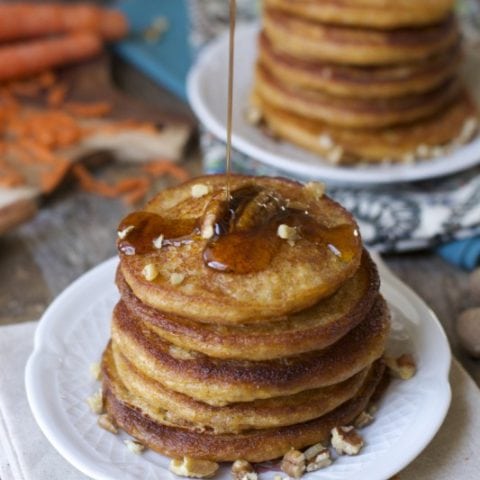 Carrot Cake Pancakes
Who said pancakes are unhealthy?! These Carrot Cake Pancakes are packed with fresh carrots, yogurt, ginger, cinnamon, and nutmeg. A delicious and nutritious way to start your morning! 
Ingredients
1 1/4 cup shredded carrot, packed
1 1/4 cup buttermilk (No substitutes)
1 cup Gluten Free Bisquick
1/2 cup vanilla yogurt
1 tablespoon brown sugar
2 teaspoons cinnamon
2 teaspoons vanilla extract
1 teaspoon baking powder
1/2 teaspoon ground ginger
1/2 teaspoon ground nutmeg
1/2 teaspoon salt
1 egg
Oil for frying (I prefer coconut oil, but canola oil works well too)
Instructions
Place all ingredients in a blender and blend for 15-20 seconds. Blend until combined, be careful not to over mix.
Heat a large skillet or griddle to medium heat, add about a teaspoon of oil to the skillet use a 1/4 cup measuring cup or ice cream scoop to add the batter into your skillet.
Wait 2-3 minutes or until you see little bubbles forming on your batter, flip pancake until other side is golden brown.
Before you add a new batch to the skillet, add oil again.
Enjoy with warm honey or syrup.
Nutrition Information:
Yield:

6
Serving Size:

1
Amount Per Serving:
Calories:

143
Total Fat:

2g
Cholesterol:

6.2mg
Sodium:

255.5mg
Carbohydrates:

27.4g
Net Carbohydrates:

19.3g
Fiber:

1.7g
Sugar:

8.1g
Protein:

3.5g