Chocolate Stuffed Baked Apples are packed with coconut, lightly salted almonds, and rich dark chocolate!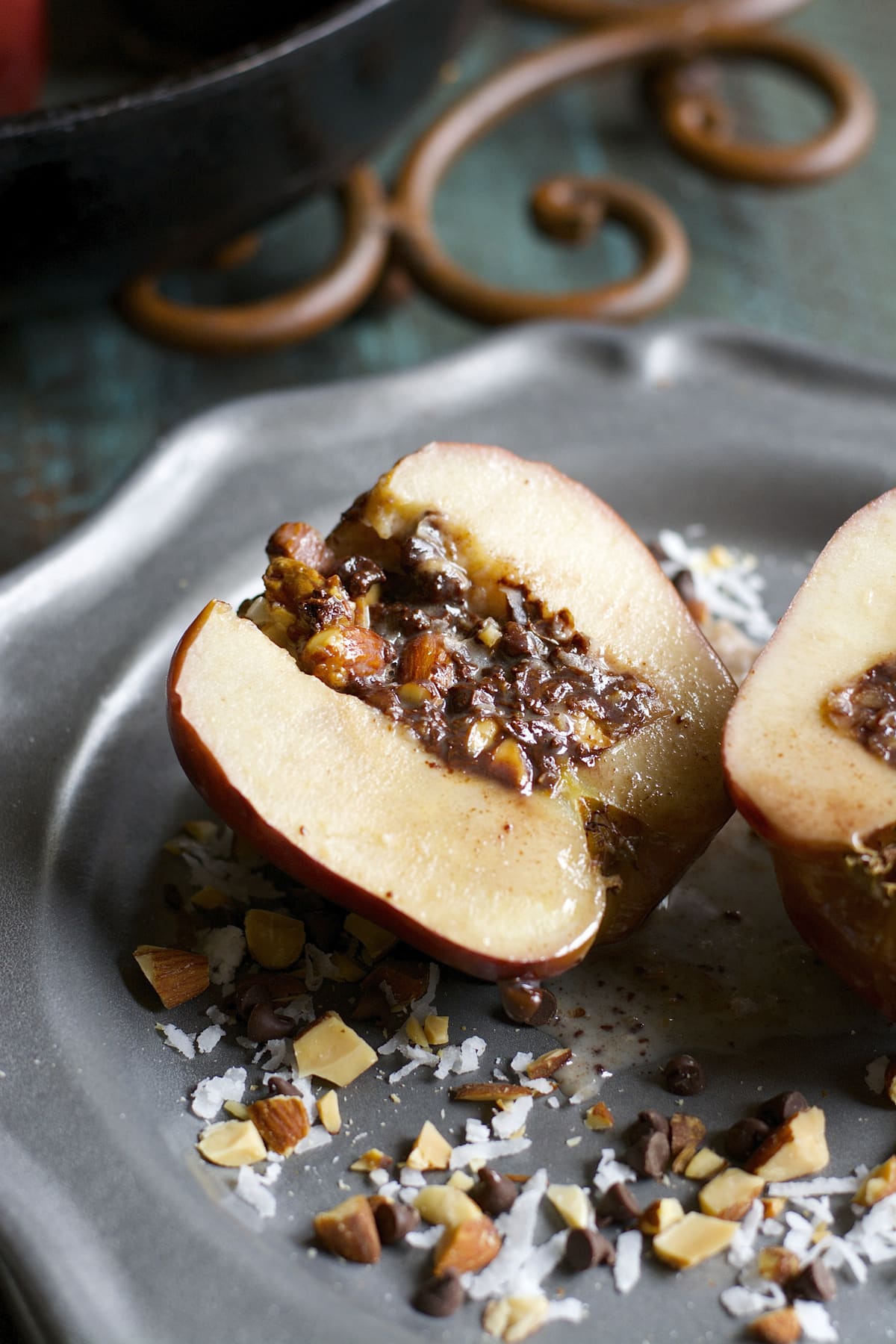 Here we go! The apple recipe to fill your apple dreams! Am I the only one who dreams of apples?
If you have been reading my blog long, you know I am way too sentimental for my own good. I wear my heart on my sleeve. As this year comes to a close it is hard for me not to look back and just say "wow!"
This year brought lots of big, life changing moments. This was the year I was able to turn Maebells into a full time job, I completed my first e-cookbook, and I opened a store. I can't imagine anything ever topping this incredible year, but I sure want to try! 🙂
To celebrate the end of such a wonderful year we need dessert! These Chocolate Almond Stuffed Baked Apples are loaded with flavor and crammed with salty almonds, coconut, and rich dark chocolate. The fresh apples are perfectly balanced with the salty sweet stuffing to make for an irresistible dessert! For more fun fall recipes, check out this list of 20+ Easy Fall Desserts!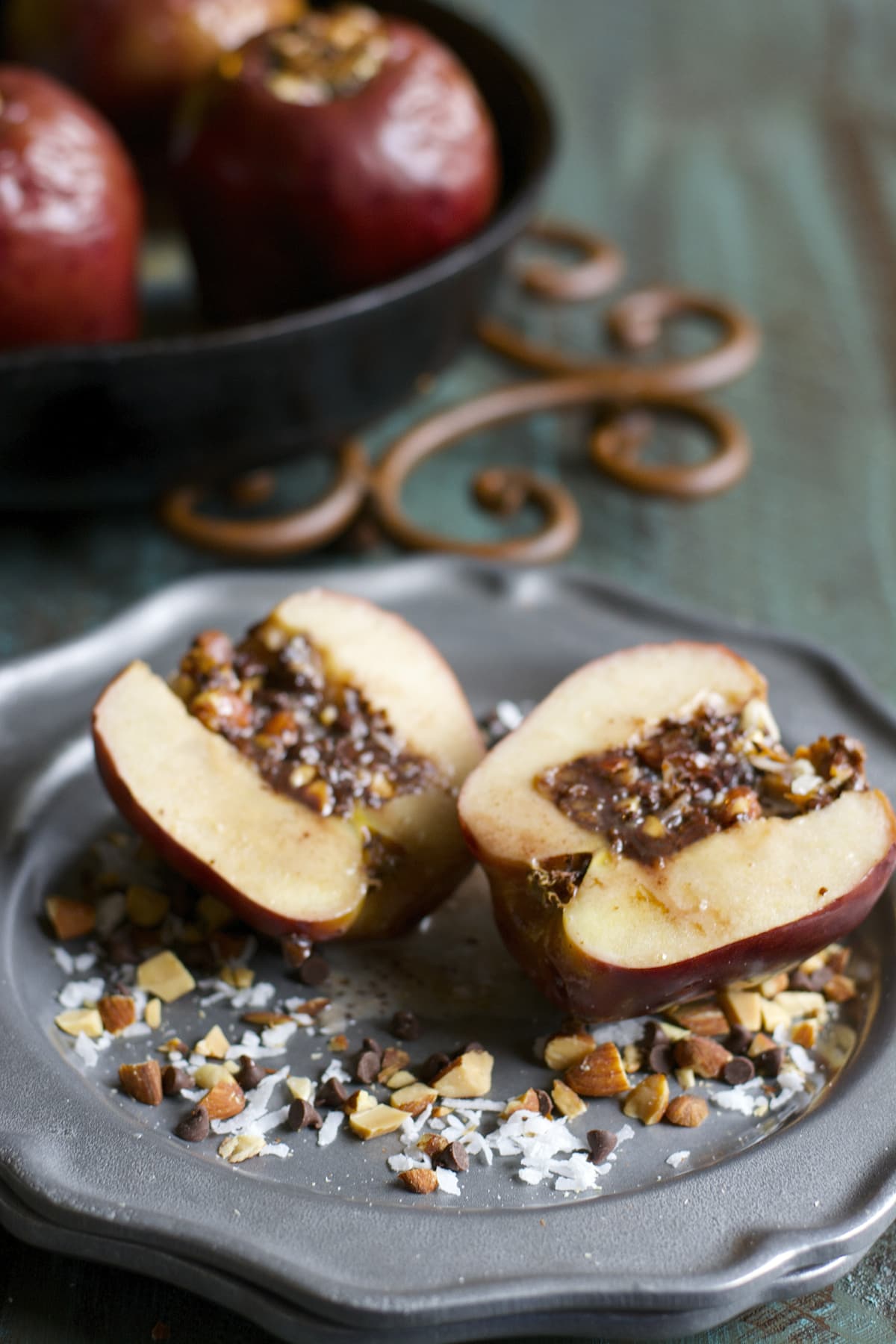 This sweet treat can easily be multiplied to suit a large New Years party or just a quick weeknight dessert! I love that it is so versatile and easy to alter to suit your needs. I served these Baked Apples as a finishing touch to a large fall themed dinner I held. That night, we devoured this Keto Chili, Butternut Squash Mac and Cheese and Roasted Brussel Sprouts.
Ingredients for Chocolate Stuffed Baked Apples
As always, here is quick rundown of ingredients you will need to make Baked Apples. To see the complete recipe, just keep scrolling.
Red Delicious Apples- you can substitute this for any apple variety you prefer, as long as it's a good size. Rome Beauty, Jonah Gold or Golden Delicious are all good options.
Coconut- feel free to use flaked coconut, strips of coconut or the larger coconut chips. Sweetened or unsweetened both work, it's completely up to you.
Mini Chocolate Chips- if you only have regular chocolate chips, that's totally fine. Also feel free to mix it up and use any type of chip you want- peanut butter, white chocolate, dark chocolate, butterscotch….there's so many good types now!
Lightly Salted Almonds- I really enjoy almonds, but if you want to use a different nut, walnuts, pecans or macadamia nuts would all work here.
Fat Free Sweetened Condensed Milk- I chose to use fat free, but if you only have the full fat version, that's no issue at all.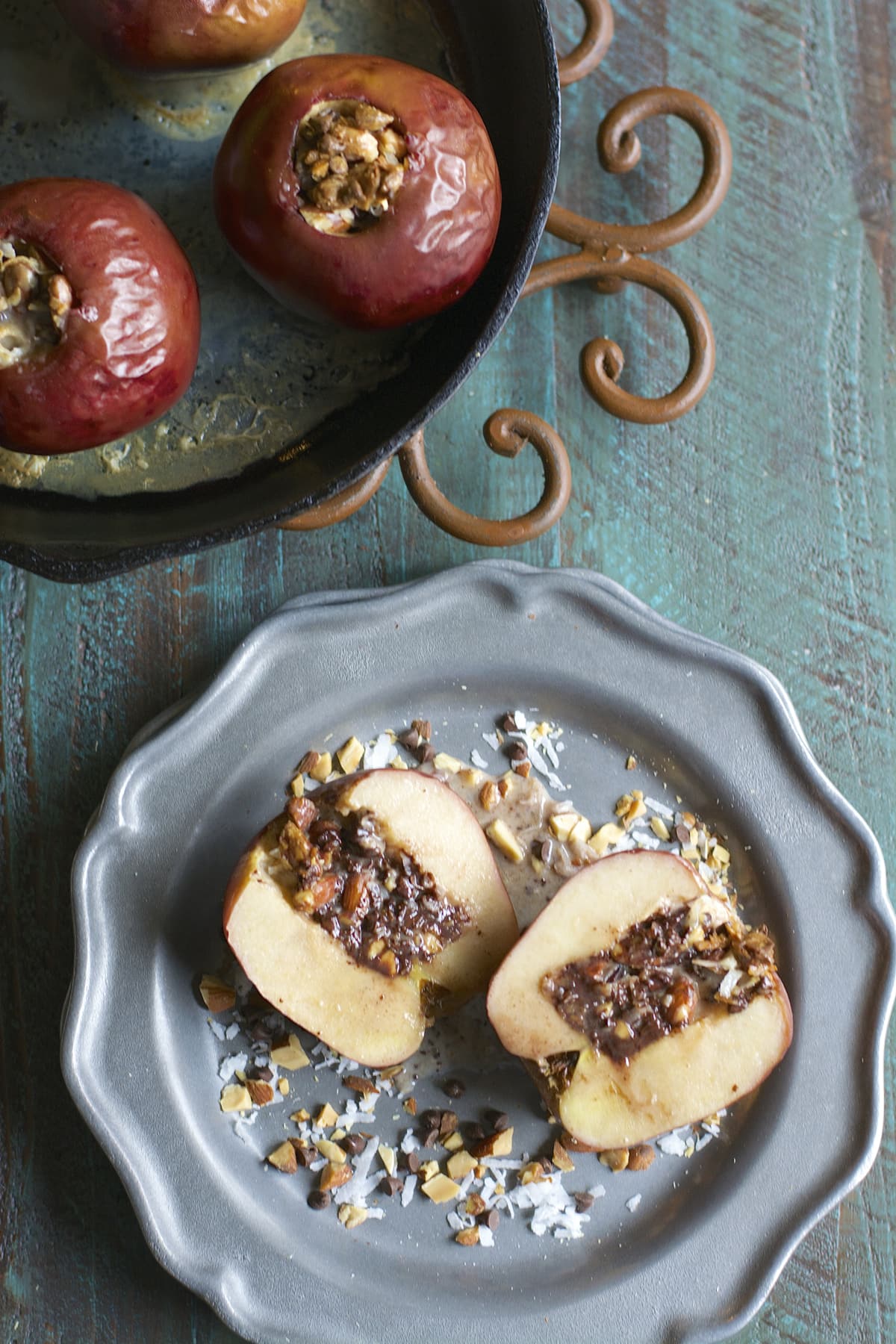 How do I make Baked Apples with Chocolate?
To make this, we start with four big beautiful Red Delicious Apples. Wash your apples and use an apple corer to hollow out the middle of the apple. Be careful not to completely hollow it out- you need to leave the bottom intact so it can hold all of the yummy filling. If you don't have an apple corer, a jalalpeno corer will work as well.
Now that your apples are ready, we just mix four ingredients together! Mini chocolate chips, shredded coconut, chopped almonds and a bit of fat free sweetened and condensed milk to make the filling perfectly creamy. The filling is delicious because it has a great combination of textures and a nice salty sweet touch from the chocolate, coconut and the salted almonds.
You can serve these with a big scoop of vanilla bean ice cream or just warm from the oven! Pair that with warm baked apples and you have a real treat on your hands! These apples are a great dessert that tastes super indulgent but are actually packed with fruit and nuts! It is a nice way to satisfy your sweet tooth without going overboard!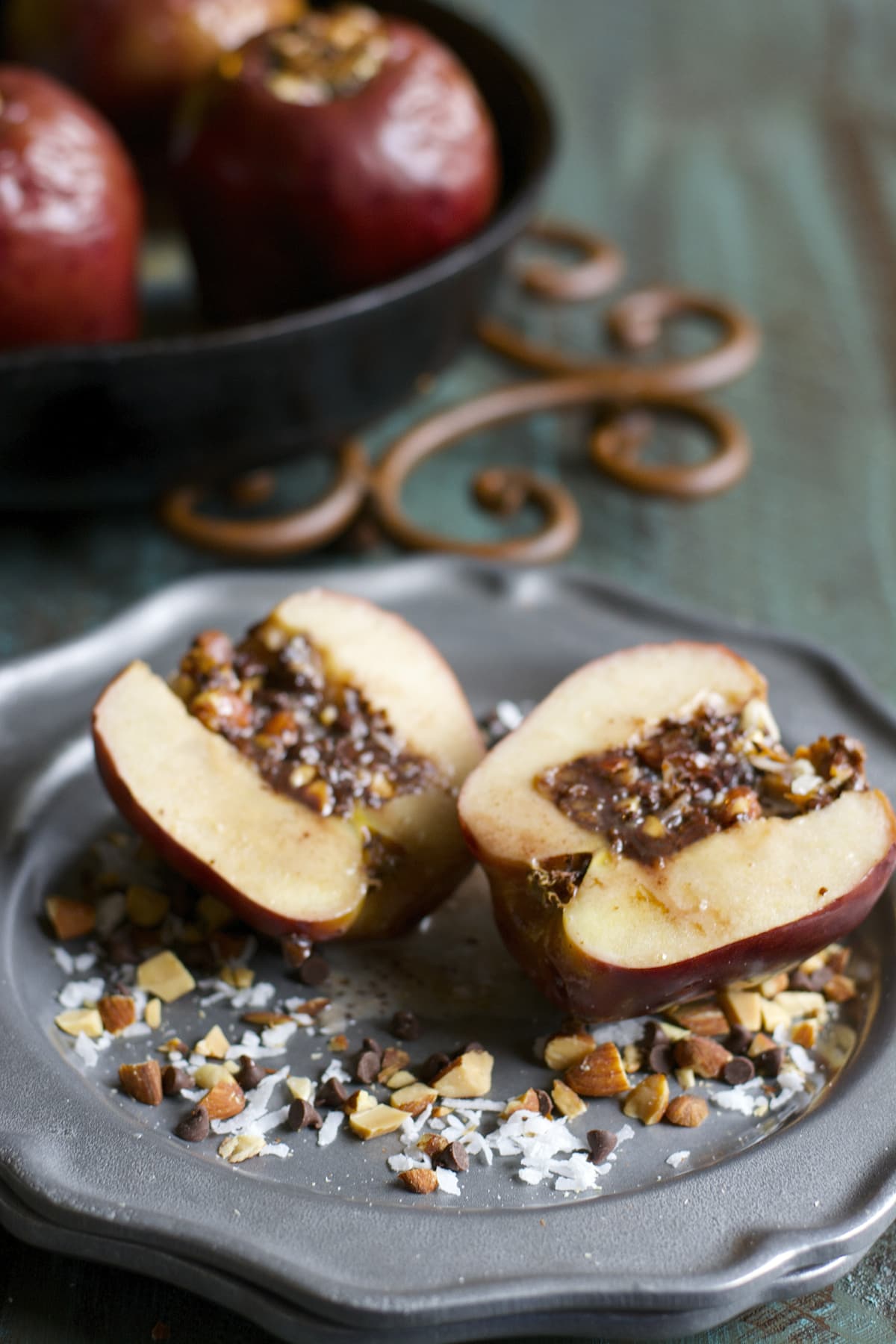 Tips for the Best Baked Apples
There are so many great ways to make these apples your own! Here are some of my favorite combinations, but feel free to make up your own flavor mixes!
Use a different type of apple- I know some people are partial to a more tart apple and Red Delicious are pretty sweet. If you prefer a less sweet option, go for Granny Smith, Fuji, Pink Lady or Honeycrisp.
Fillings- go crazy! Add cinnamon or apple pie filling spice for a more Fall flavor. Add oats and brown sugar for a crumble filling and butterscotch chocolate chips. If you're really feeling wild, you could add a little bit of whiskey to your filling for a kick!
Apple size- when picking the apples you are going to use, be sure to choose large ones that will bake well but will also core easily with enough space left open for more yummy filling! You also want them to stand up straight while cooking so you don't lose anything.
More Apple Recipes
For More Healthy Treats Follow me on Pinterest!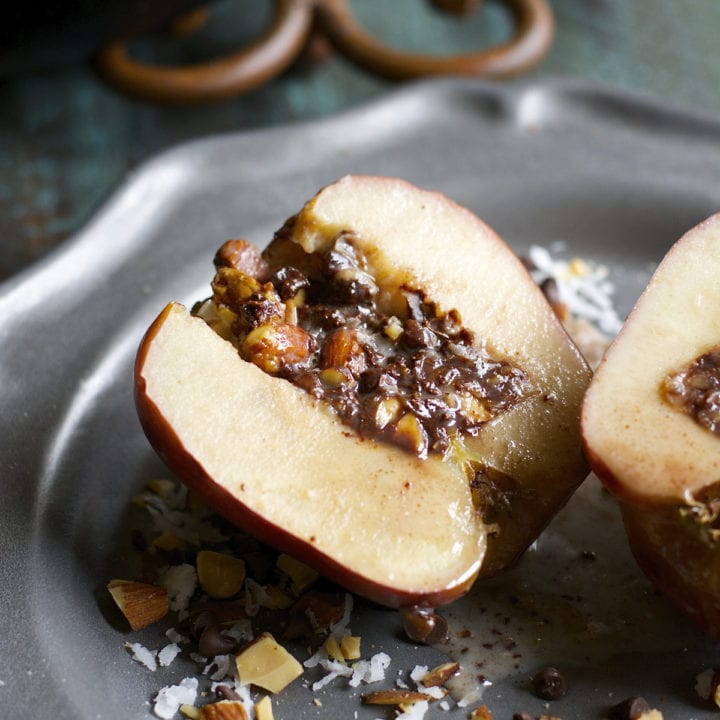 Chocolate Stuffed Baked Apples
Chocolate Stuffed Baked Apples are packed with coconut, lightly salted almonds and rich dark chocolate!
Ingredients
4 Red Delicious Apples, cored- but the bottom left intact
1/4 cup coconut
1/4 cup mini chocolate chips
1/4 cup lightly salted almonds, roughly chopped
1/4 cup fat free sweetened and condensed milk
Instructions
Preheat oven to 350 degrees.
Lightly spray a cast iron skillet or baking dish with nonstick spray.
Core your apples so the inside is hollow but the bottom is intact.
In a small mixing bowl, combine your filling ingredients and carefully spoon into the apples.
Place the stuffed apples into the skillet and pour 1/2 cup water in the skillet.
Bake 45 minutes.
Serve warm.
Nutrition Information:
Yield:

4
Serving Size:

1
Amount Per Serving:
Calories:

364
Total Fat:

10.8g
Cholesterol:

0mg
Sodium:

45.4mg
Carbohydrates:

63.1g
Net Carbohydrates:

54.8g
Fiber:

8.3g
Sugar:

50.1g
Protein:

3.7g