This Peanut Butter Honey Apple Crisp is a delightful dessert that can be whipped up in minutes! Crisp apples are thinly sliced and tossed in a mixture of peanut butter and honey then covered with a cinnamon oatmeal topping!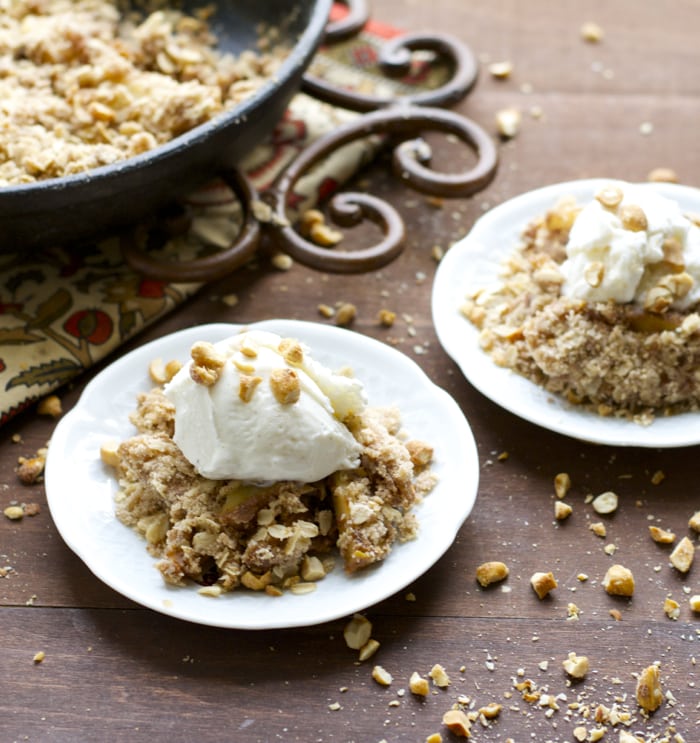 Every single day I eat an apple dipped in peanut butter. Specifically, peanut butter mixed with honey. I love it. It is my favorite snack and it never gets old.
But because I buy copious amounts of apples, sometimes I have to find creative ways to cook with them before they go bad. That is exactly how I came up with my favorite Slow Cooker Pumpkin Spice Apples and this delicious Apple Pico De Gallo.
This time I opted to take my love of apples + peanut butter + honey and incorporate it into a warm and delicious apple crisp. Guess what? It was totally the right decision.
This is the perfect way to satisfy your sweet tooth without totally blowing your diet. For more fun fall recipes, check out this list of 20+ Easy Fall Desserts!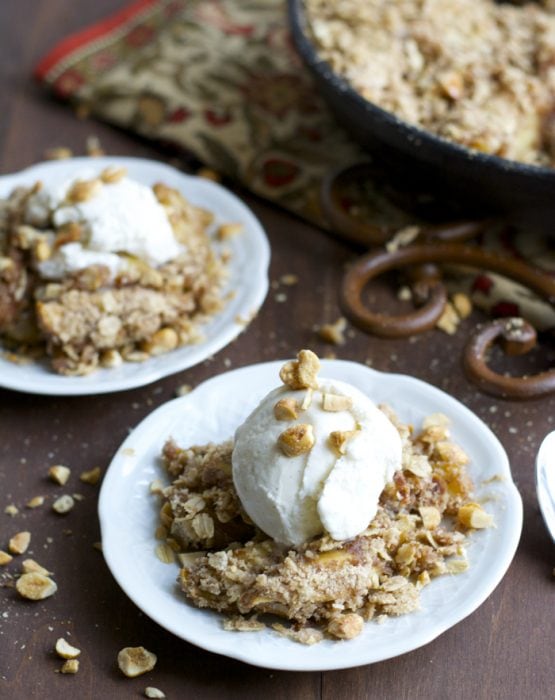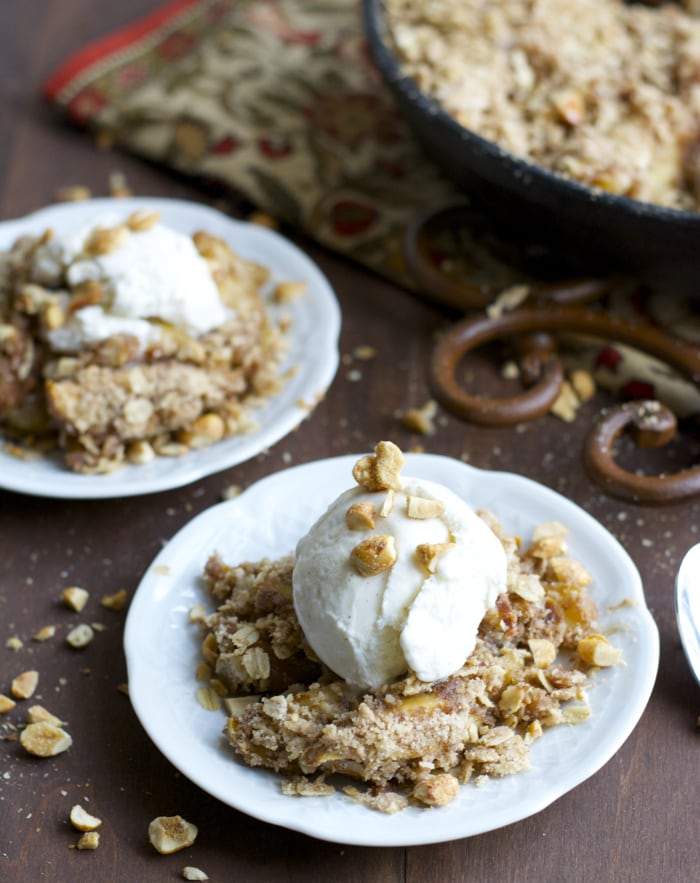 Ingredients for Peanut Butter Apple Crisp:
Apples (I used Ambrosia, but Honeycrisp, McIntosh, or even Granny Smith would be great as well)
Creamy peanut butter
Honey
Cinnamon
Gluten free Old Fashioned Oats
Gluten free Bisquick
Brown sugar
Butter
How do I make a gluten-free Apple Crisp?
This recipe is so easy. First I warmed the peanut butter and honey in the microwave to thin it out and make it easy to mix, then I tossed in the apple slices and half of the cinnamon.
In a separate bowl, I mixed the oats, bisquick, remaining cinnamon, and sugar for the topping. Once it was thoroughly combined, I cut in the butter to make it that perfect crumbly texture.
In the small pan, I added the peanut butter apple mixture and topped it with the sugary oat crumble. When it was finished baking, I topped both bowls with a scoop of ice cream!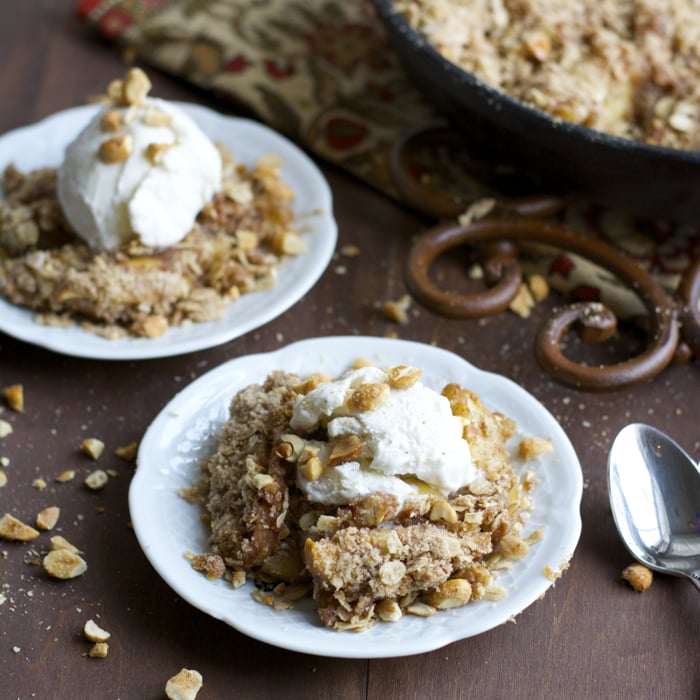 Can I make a Peanut Butter Honey Apple Crisp ahead of time?
Yes! This is a fantastic dessert to have on hand in case of unexpected company! This crisp can be frozen uncooked or cooked. You can even prepare and freeze these in individual-sized portions if you wanted!
To freeze uncooked, assemble the crisp as instructed, but wrap the entire thing in at least two layers of aluminum foil or plastic wrap. Store in the freezer for up to 6 months.
To freeze a cooked apple crisp, allow it to cool completely. Once cooled, wrap the entire crisp in at least two layers of aluminum foil or plastic wrap. This will also be fine in the freezer up to 6 months.
The easiest way to freeze individual portions is to assemble (and bake, if freezing after cooking) in an extra-large muffin tin or individual-sized ramekins.
How should I store and reheat this Apple Crisp?
This dish should be stored in an air-tight container in the fridge (up to 4 days) or in the freezer (up to 6 months).
To reheat, you can either microwave leftovers in 30-second increments until warmed throughout or bake (covered with foil to prevent too much browning) at 325 until warmed. The oven option takes longer, but it prevents the topping from getting soggy.
If you froze the apple crisp (before or after cooking), there's no need to thaw! If uncooked, simply cook according to directions + 10 minutes. You may need to cover the top with foil for the last 10 minutes or so to prevent the top from getting too brown. You may need to add more or less time depending on how thinly you sliced the apples and whether you froze individual portions or the entire crisp.
If reheating a cooked crisp, simply follow the reheating instructions + add extra time. The amount of extra time needed depends on how thinly you sliced the apples and how large the portion is.
More Gluten-Free Fall Dessert Recipes:
Prefer a lower-carb gluten-free treat? Here are some of my favorite keto fall desserts: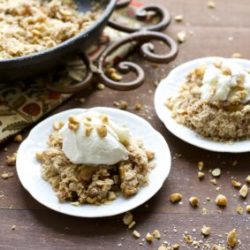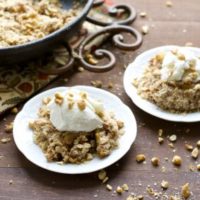 Peanut Butter Honey Apple Crisp
This Peanut Butter Honey Apple Crisp is a delightful dessert that can be whipped up in minutes! 
Ingredients
2 Ambrosia apples, sliced
1/3 cup creamy peanut butter
1 tablespoon honey
1 teaspoon cinnamon (divided into halves)
1/4 cup gluten free Old Fashioned Oats
1/8 cup gluten free Bisquick
1 tablespoon brown sugar
2 tablespoons butter
Instructions
Preheat the oven to 350.
In a mixing bowl, warm your peanut butter and honey in the microwave for about 20-30 seconds. Stir mixture and add apple slices and 1/2 a teaspoon of cinnamon.
Spay a small baking dish with cooking spray and place the apple mixture evenly in the dish.
In a small bowl combine the oats, flour, sugar, and the remaining cinnamon. Mix well, then cut in the butter so the mixture is course and the butter is evenly distributed.
Sprinkle the topping over the apples.
Bake 30-40 minutes until the apples are tender. (Cooking time will depend on how thinly you slice the apples)
Serve with ice cream.
Notes
You don't have to warm the peanut butter and honey if you don't want to--I just think this makes it easier to fully coat the apple slices.
Nutrition Information:
Yield:

4
Serving Size:

1/4th crisp
Amount Per Serving:
Calories:

212
Total Fat:

11.2g
Cholesterol:

0mg
Sodium:

92.7mg
Carbohydrates:

25.6g
Fiber:

4.1g
Sugar:

16g
Protein:

5.7g