Eggplant Mozzarella Stacks make a stunning presentation for an impressive, yet effortless dinner! Make this healthy dinner for your next summer dinner party!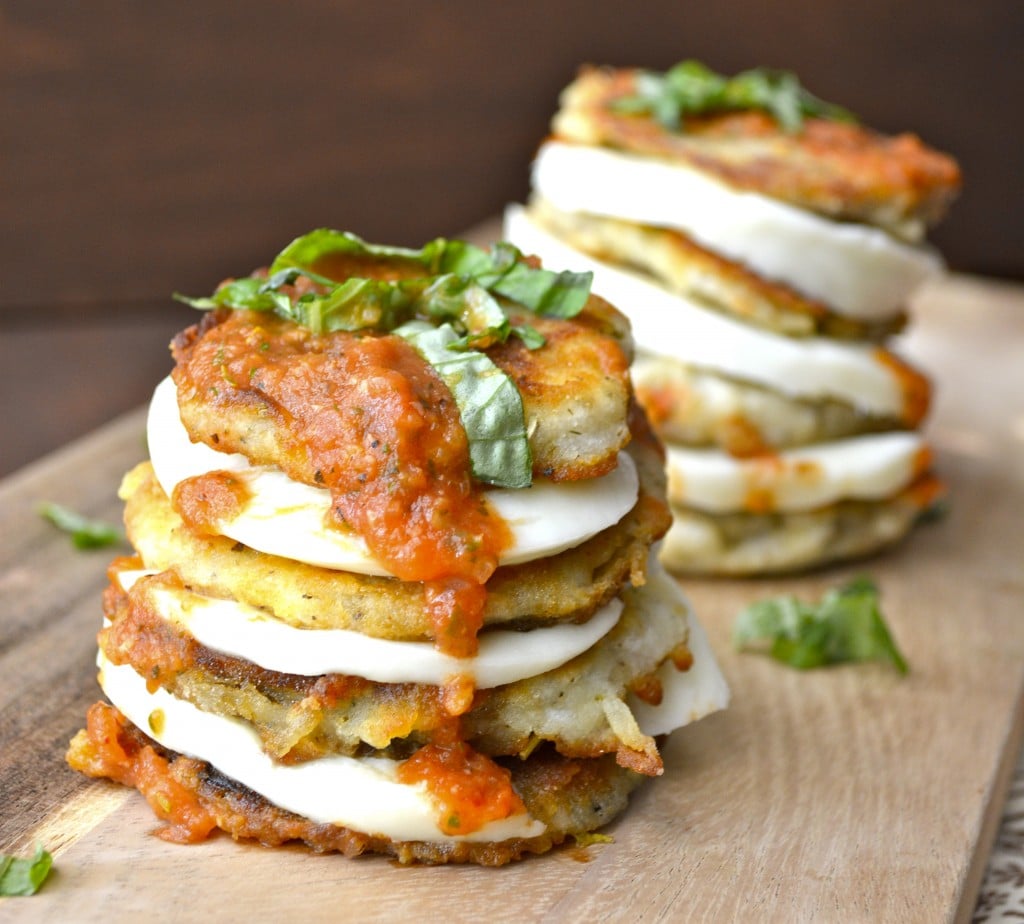 Sometimes my inner vegetarian just cannot be contained. Lately, I have been all about fabulous meatless meals, this is probably no coincidence that Mr. Maebell has been working long hours so it has just been me, myself, and I around this little house. Last weekend I made lunch for myself and I decided to experiment a little bit.
I haven't bought an eggplant since, oh I don't know, like 2008, but while I was at the market they were right in front of me with a big yellow .99 sticker on them. Okay sure, why not. Turns out, it was a great impulse buy. This lunch was a show stopper and done in about 15 minutes!
Ingredients for Eggplant Mozzarella Stacks
Eggplant
All-purpose flour
Egg
Milk
Fresh mozzarella
Marinara
Seasonings: Italian seasoning, garlic salt, garlic powder, onion powder, and red pepper flakes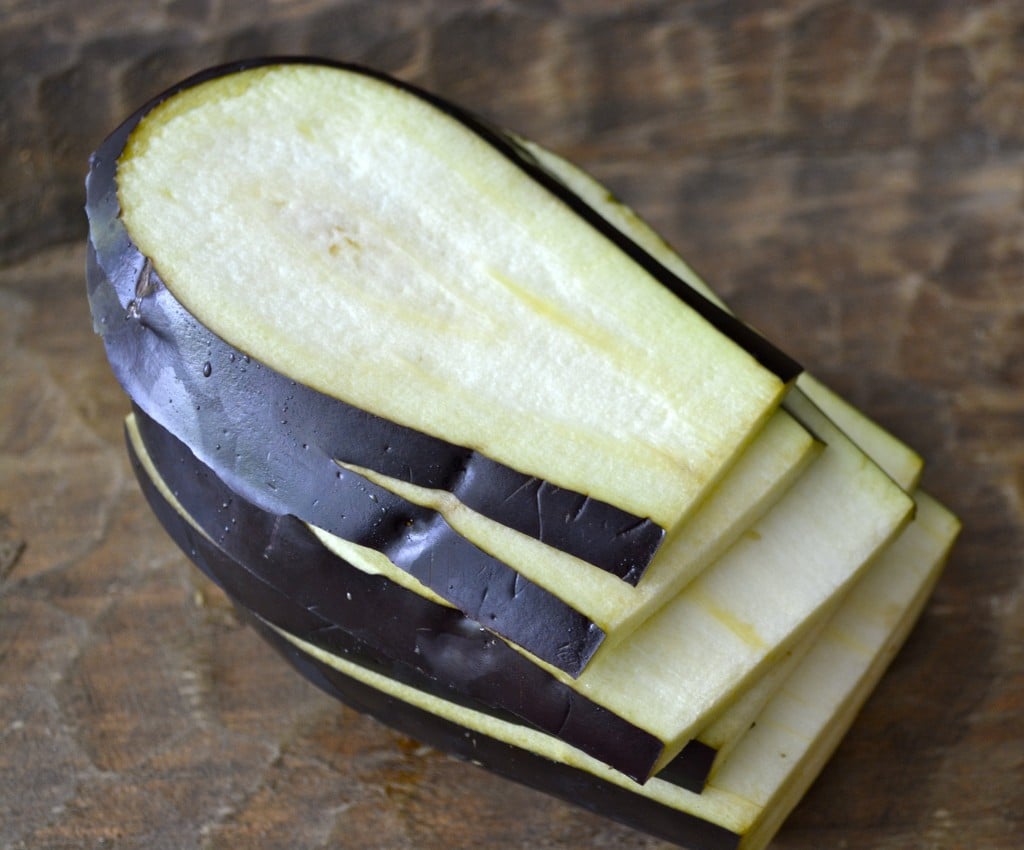 How to Make Eggplant Stacks
I saw the eggplant on sale and I already had a big ball of fresh mozzarella. I could envision these cute little petite stacks with alternating lightly fried eggplant and sliced cheese drizzled with fresh homemade marinara. Here's how you make them:
Slice the eggplant then use a biscuit cutter to cut out circles. I got 8 circles out of my eggplant. This method does mean you waste more of your eggplant than if you just sliced it, but I was only cooking for me, so I cut myself cute little stacks. If you want to create less waste, just cut each slice of eggplant in half instead of cutting circles out.
Toss some flour and spices together in a shallow bowl, and beat and egg with a little milk in another bowl. I created an assembly line and double-dipped each piece of eggplant before frying them. Fry up each piece and then stack everything right on top of each other. Top with as much marinara sauce as you'd like and voila! You have a beautiful and simple dinner ready.
If you want to make this meal for several people you may want to turn your oven on low and keep the cooked eggplant in the oven as you go, and then assemble while the eggplant is warm. Alternatively, if you want your cheesy gooey and melted assemble and let them sit in a warm oven for a couple of minutes. This is super easy to adjust based on your preferences! The next time you hear your inner vegetarian calling remember these Eggplant Mozzarella Stacks!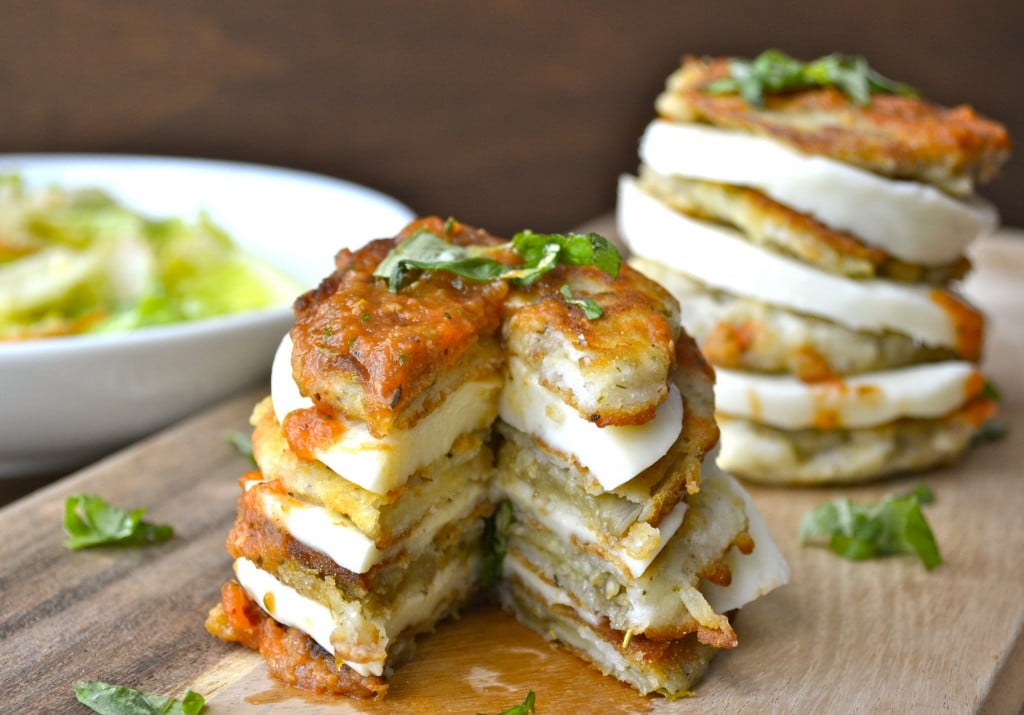 More Delicious Dinner Ideas: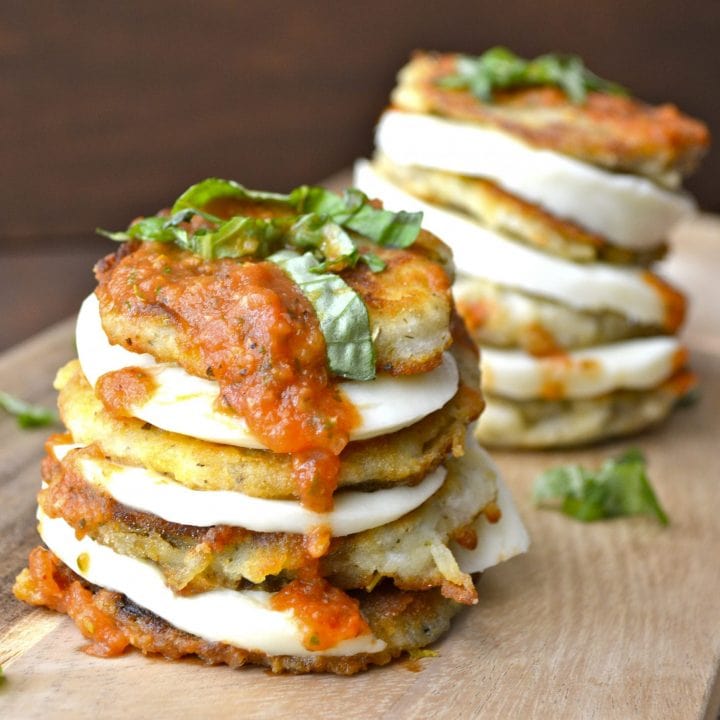 Eggplant Mozzarella Stacks
Eggplant Mozzarella Stacks make a stunning presentation for an impressive, yet effortless dinner! Make this healthy dinner for your next summer dinner party!
Ingredients
1 egg plant, sliced
1 egg, beaten
1/4 cup milk
1/2 cup flour (I used gluten free all-purpose flour)
1 teaspoon Italian seasoning
1 teaspoon garlic salt
1/2 teaspoon garlic powder
1/2 teaspoon onion powder
1/2 teaspoon red pepper flakes
1/2 ball of mozzarella, sliced
1/2-1 cup marinara
Instructions
Slice eggplant and use a biscuit cutter to remove circles from eggplant.
In a shallow bowl combine flour and all seasonings, in a second bowl combine the milk and beaten egg.
Dip eggplant into flour, then egg, then repeat so the eggplant is double breaded.
Heat oil in a large skillet over medium heat. Place cook eggplant 2-3 minutes on each side or until golden brown. Remove eggplant from skillet.
Assemble stacks alternating eggplant, cheese, and drizzle with marinara sauce and basil. Serve with additional marinara sauce for dipping.
I used
Balsamic Vinegar and Roasted Tomato Marinara
for this, but you can use whatever you prefer!
As always, I made this dish using gluten-free ingredients. I use Glutino Gluten-Free Pantry All-Purpose flour or Gluten Free Bisquick in place of flour.