Light and fluffy Apple Cinnamon Cupcakes are smothered in a rich homemade caramel sauce that is packed with flavor!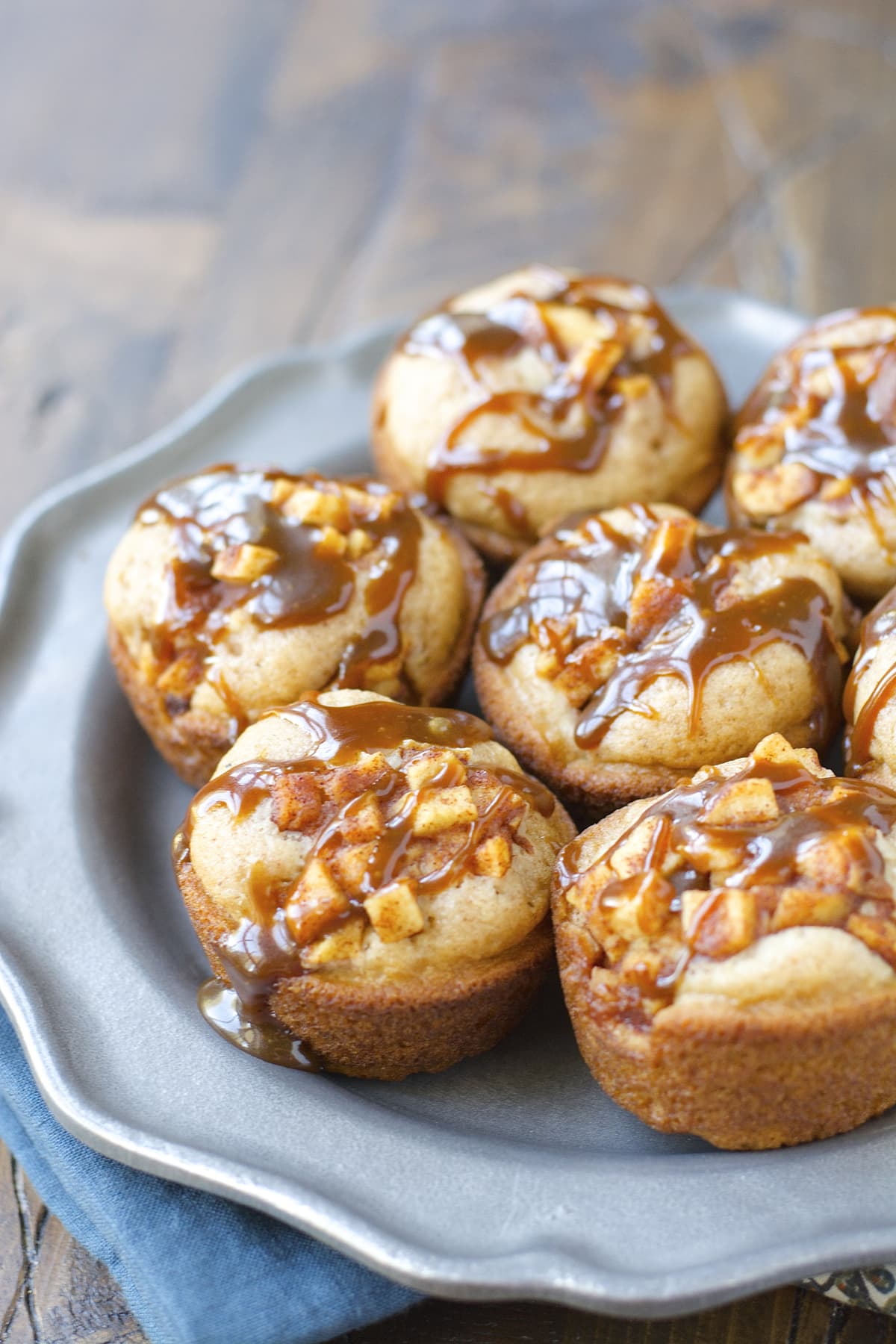 The last month has been totally crazy. At the beginning of October I left my job to work on Maebells and Gin Creek Kitchen full time. Less than a week later we went on vacation for 8 days, then one week later I went to Chicago for a blogging conference.
In the meantime, we were driving back and forth across the state to shuffle our dogs between my house and my parents' farm. To say it has been overwhelming would be an understatement (thank goodness for snacks).
I feel like I have been in a constant state of chaos. There has been no routine or normalcy, and as a person who NEEDS routine this just isn't working.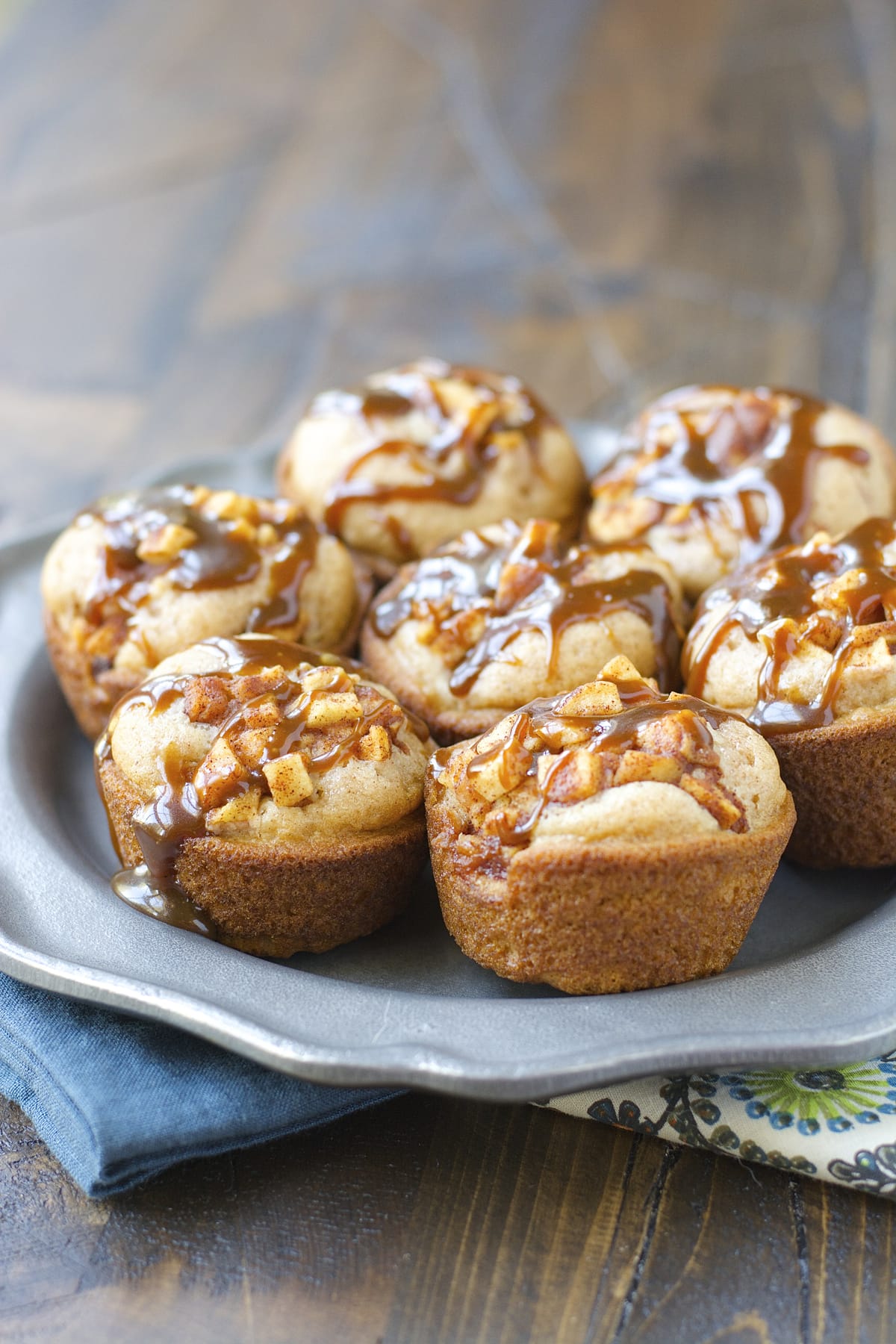 Fortunately, this week things have settled a bit. We are back at home and I am finally getting used to running both a blog and store. To celebrate I decided we needed cupcakes. Specifically, caramel smothered cupcakes!
When we were in Colorado on vacation we went into this little coffee shop for cappuccinos, and they had the most amazing and gigantic apple cupcakes. The whole shop smelled like cinnamon and it was so inviting!
Of course, they weren't gluten free so we couldn't taste them but I knew immediately I wanted to recreate them! For more fun fall recipes, check out this list of 20+ Easy Fall Desserts!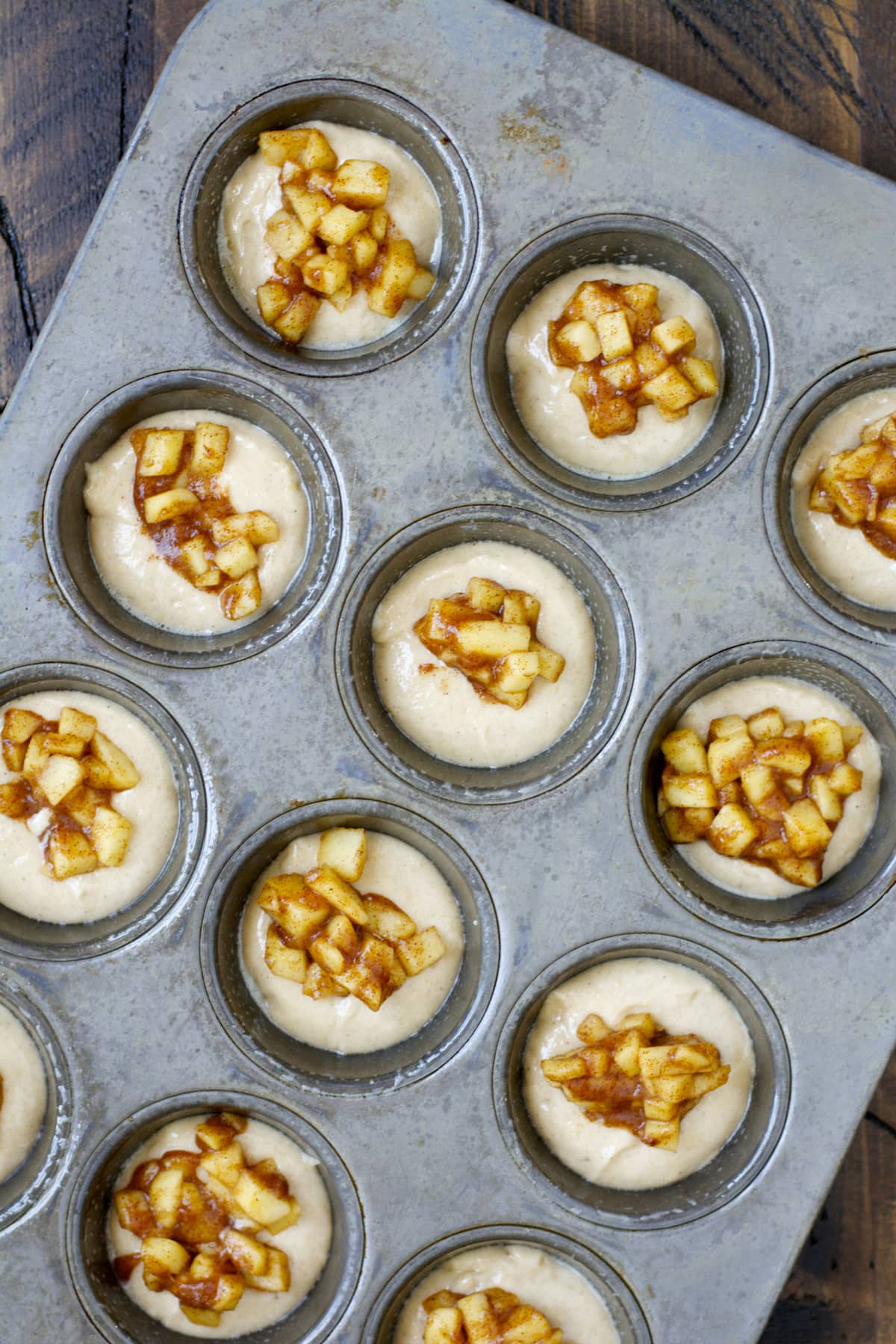 Ingredients for Apple Cinnamon Cupcakes:
Yellow Cake Mix prepared according to package directions (I used Glutino's Yellow Cake Mix)
Fuji apple
Apple sauce
Cinnamon
Apple Pie Spice
Butter
Coconut sugar
Heavy cream
Vanilla
Salt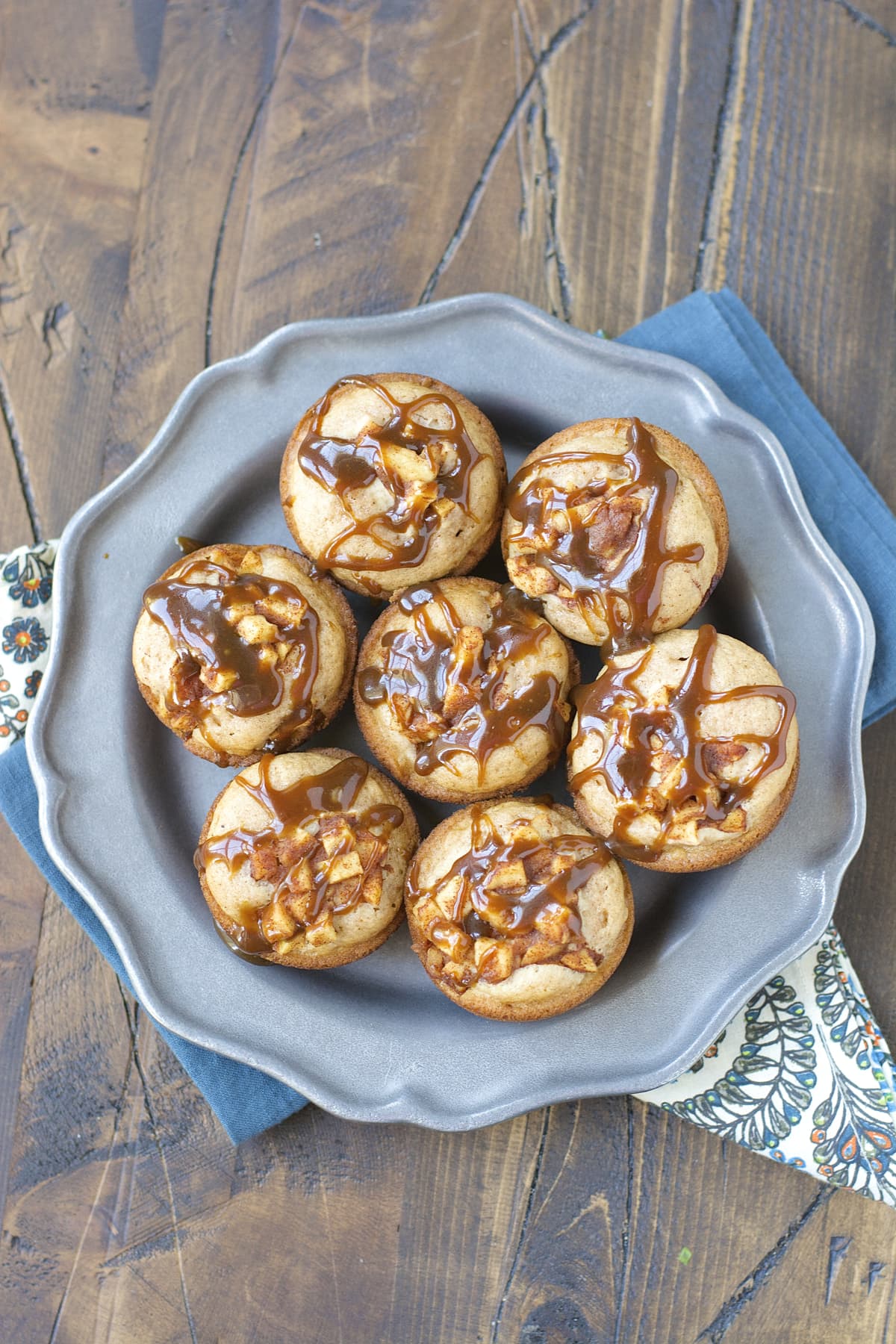 How do I make Apple Cinnamon Cupcakes with Caramel Sauce?
I actually tried this recipe a few different ways. At first I made a homemade cupcake recipe including the chopped apples and cinnamon, but it was lacking. They tasted more like muffins and I really wanted this to be like a cupcake.
So, I changed gears and used gluten free vanilla cake mix and doctored it up with little apple chunks that had simmered in applesauce and cinnamon, and then topped it with a homemade caramel sauce! This was just the ticket!
First you'll preheat your oven and prepare the cake mix as the directions guide you on the box. Pour the batter into the cupcake pan (each well only 3/4 full) and set aside.
Next, you'll want to make your apple cinnamon filling. Simmer the apple slices, seasonings, and applesauce in a pan for about 10 minutes. Then, spoon this mixture onto each cupcake. Bake these according to the directions (most are 20-25 minutes at 350 degrees F).
While these are baking, you're going to make the show stopper–The caramel sauce! It is rich and has a great depth to it because I use coconut sugar instead of brown sugar.
Of course, you can always sub brown sugar if you needed but I really prefer the richness that the coconut sugar gives, I just think the flavor is so much bolder! You'll simmer the butter, sugar, cream, vanilla, and a pinch of salt at a slight boil (stirring constantly) for about 3 minutes.
Once the cupcakes are finished, let them cool a bit and then cover with that delicious sauce! If the cupcakes are too warm, the sauce can just slide right off, so I recommend waiting 5-10 minutes after removing from the oven.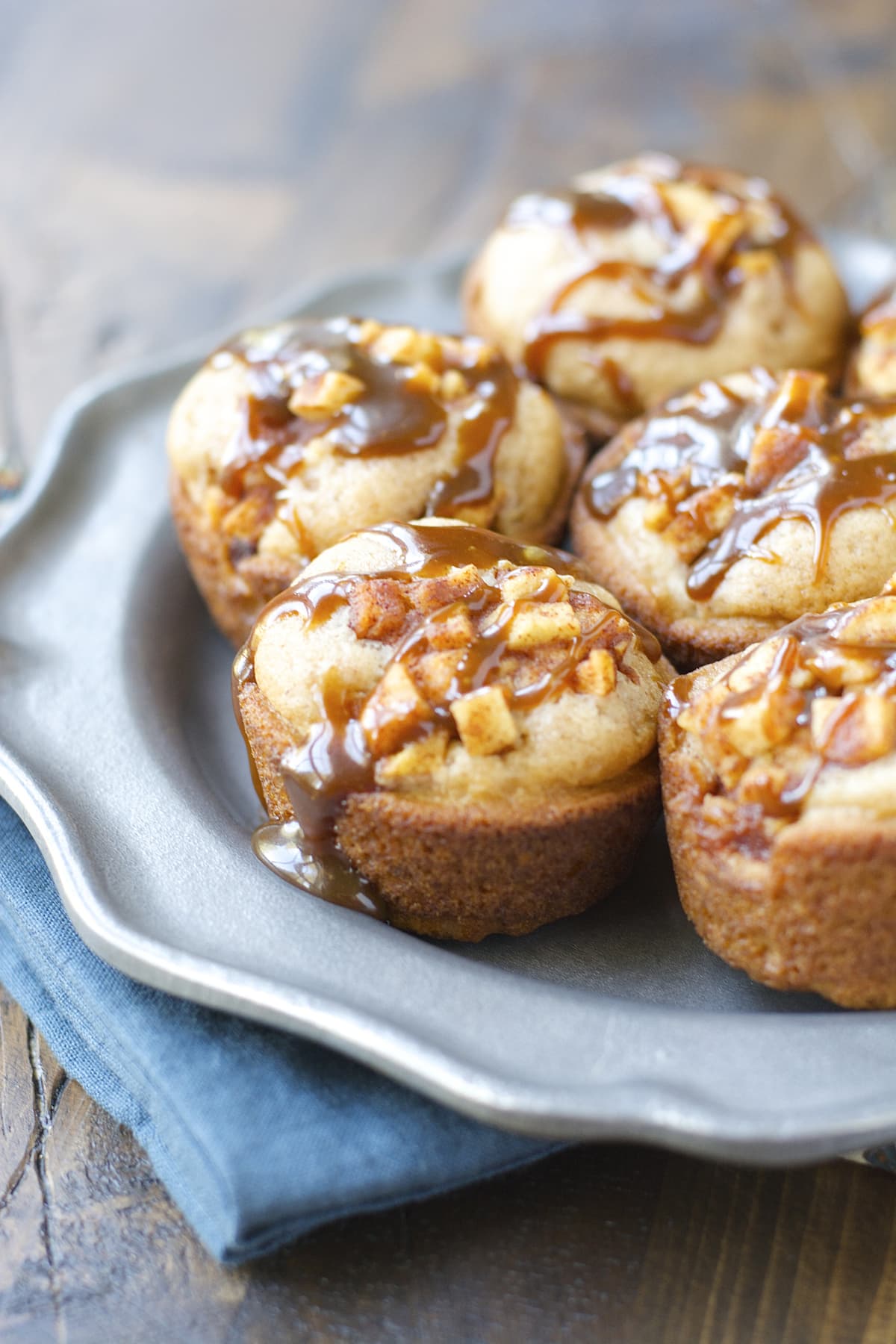 Are these good for meal prepping?
Yes, these cupcakes store and reheat beautifully! The apple mixture keeps the cupcakes nice and moist. To reheat, just place the cupcake in the microwave and heat for 30 seconds.
If you are meal prepping, I recommend adding the sauce when you're ready to serve. To store, keep these at room temperature up to 3 days.
More Gluten-Free Desserts: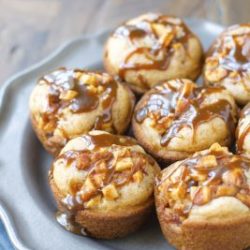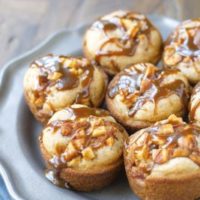 Caramel Smothered Apple Cinnamon Cupcakes
Light and fluffy Apple Cinnamon Cupcakes are smothered in a rich homemade caramel sauce that is packed with flavor! 
Ingredients
For Cupcakes:
1 box Yellow Cake Mix prepared according to package direction*
For the Apple Cinnamon Chunks
1 Fuji apple, peeled & chopped
2 tablespoons apple sauce
1/2 teaspoon cinnamon
1/2 teaspoon Apple Pie Spice
For the Caramel Sauce
3 tablespoons butter
1/2 cup coconut sugar
1/8 cup heavy cream
1/8 cup heavy cream
1 pinch salt
Instructions
Preheat oven to 350 degrees
Prepare cake mix according to the package directions and spray a 12 count muffin tin with cooking spray. Fill each well 3/4 full and set aside.
In a small sauce pan over medium heat combine the apple chunks, apple sauce and spices. Let the mixture simmer for 10 minutes stirring occasionally until soft.
Let the mixture cool slightly and place a spoonful of the apple cinnamon mixture on top of each cupcake (as pictured above).
Bake cupcakes as directed on package (about 20 minutes).
While your cupcakes are baking heat a small sauce pan to medium heat and melt the 3 tablespoons of butter for the caramel sauce. When completely melted add coconut sugar and stir until dissolved. Add the cream, vanilla and a pinch of salt and stir well. Bring caramel mixture to a slight boil, stirring continuously for about 3 minutes.
Remove caramel from heat and let cool.
To assemble cupcakes drizzle the caramel sauce over the cupcakes and sprinkle with extra sea salt if desired.
Notes
* I used Glutino's Yellow Cake Mix.
Nutrition Information:
Serving Size:

1
Amount Per Serving:
Calories:

389
Total Fat:

16.6g
Cholesterol:

92.4mg
Sodium:

516/1mg
Carbohydrates:

57.7g
Fiber:

0.3g
Sugar:

36.2g
Protein:

3.6g