Enjoy 5 keto dinners and a delicious low-carb dessert in this Easy Keto Meal Plan! Net carb counts, side dish ideas, meal prep tips, and a printable shopping list are included for the easiest keto meal plan ever.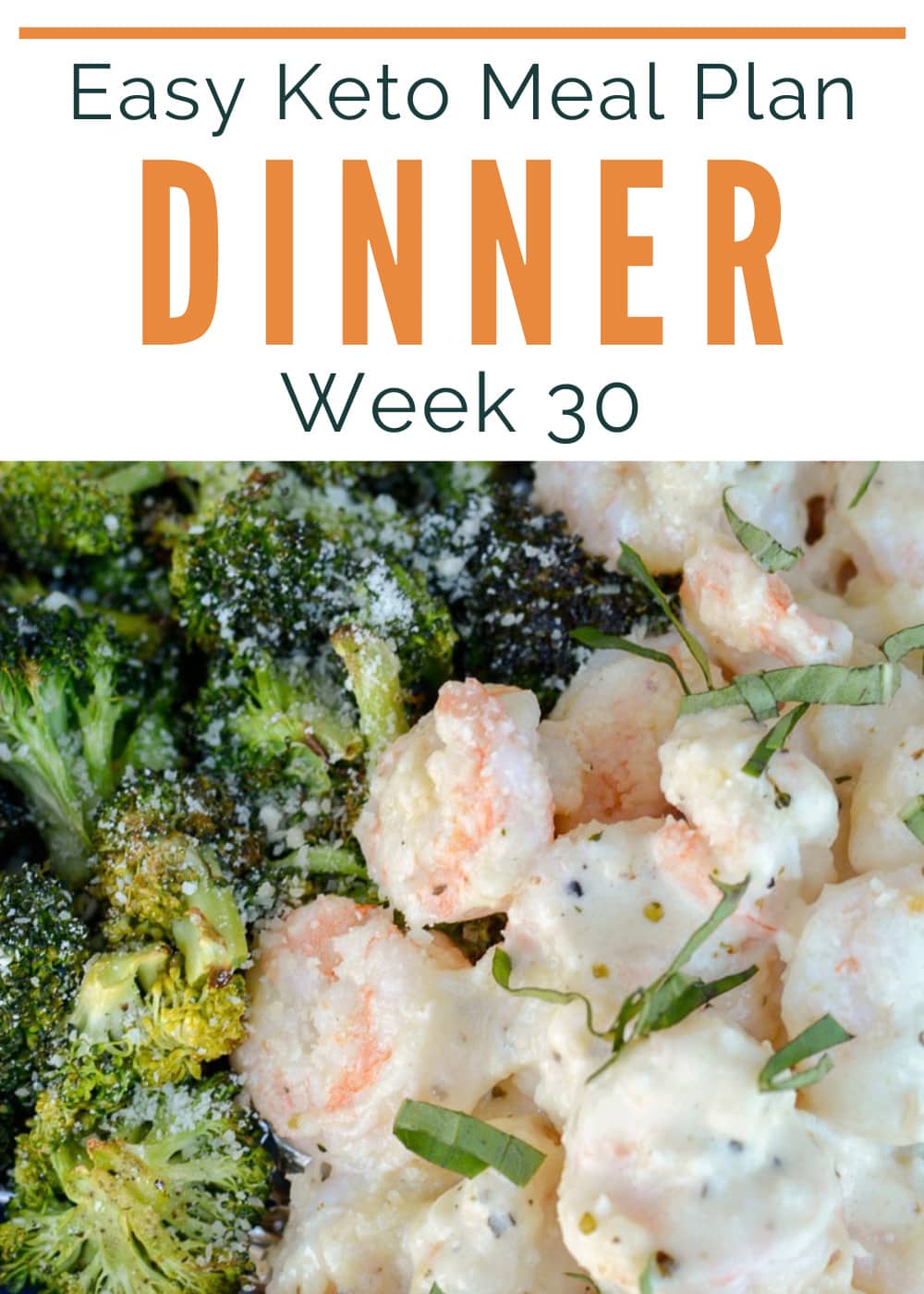 This week I have gathered five simple, quick keto meals perfect for busy weeknights. Every dinner is under 5 net carbs, making it easy to meet your low-carb goals. If you like to meal prep to make your evenings easier, I even included meal prep tips for every single recipe down below! You can happily skip the fast food, avoid the hangry attitudes, and get dinner on the table super quick with these easy, flavorful recipes.
When you click on each individual recipe, you'll find a printable recipe card with full step-by-step instructions as well as nutrient information at the bottom. To calculate net carbs by subtracting the amount of fiber from the amount of carbs. If you're struggling to print the recipes or the shopping list, make sure your ad blocker is turned off.
I also included an easy low-carb dessert you can meal prep. If you have a sweet tooth like me, having this Chocolate Almond Keto Candy on hand helps satisfy the cravings without sacrificing your keto lifestyle! I also included side dish recommendations in case you want to add more vegetables, textures, and flavor to your dinner. These ingredients are not in the shopping list, so be sure to check those recipes to add what you'd like!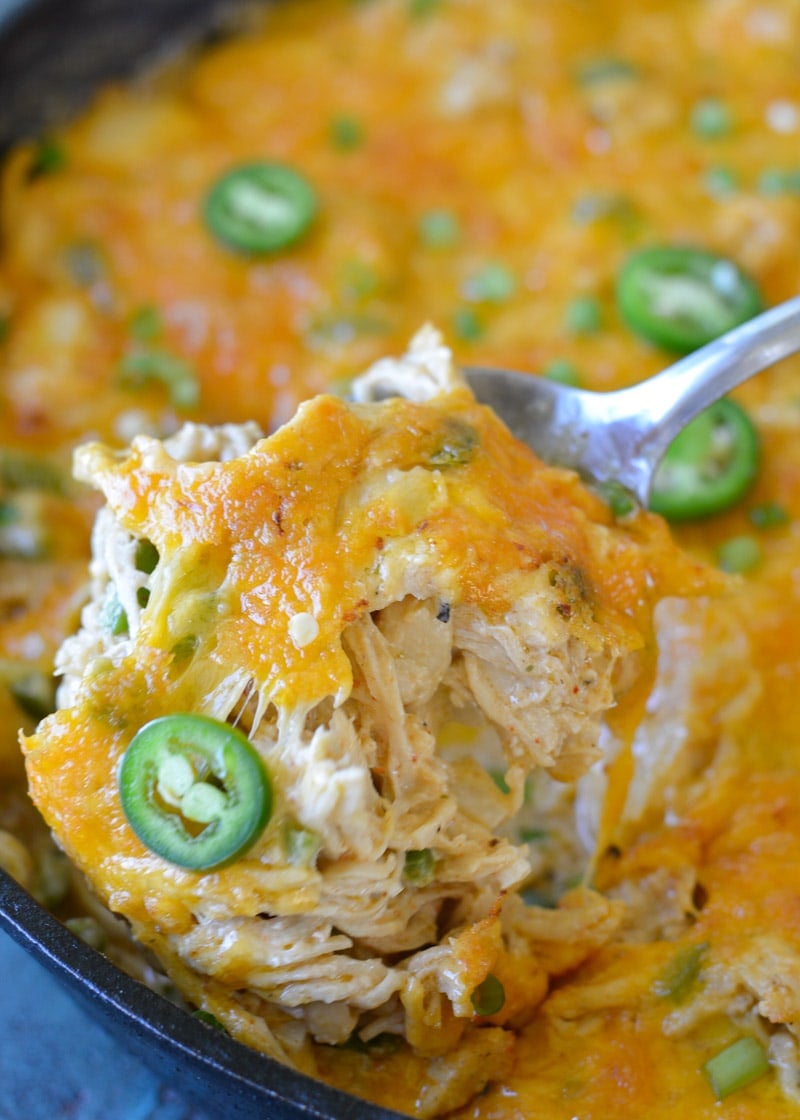 This Jalapeno Popper Chicken Skillet is a one-pan dish that's ready in 25 minutes! This recipe makes 6 servings at 2.9 net carbs each and is reheats wonderfully for leftover lunches. Side dish recommendation: Cilantro Lime Cauliflower Rice (4.1 net carbs) complements the flavors in this skillet and can be frozen for an easy meal prep, low-carb side.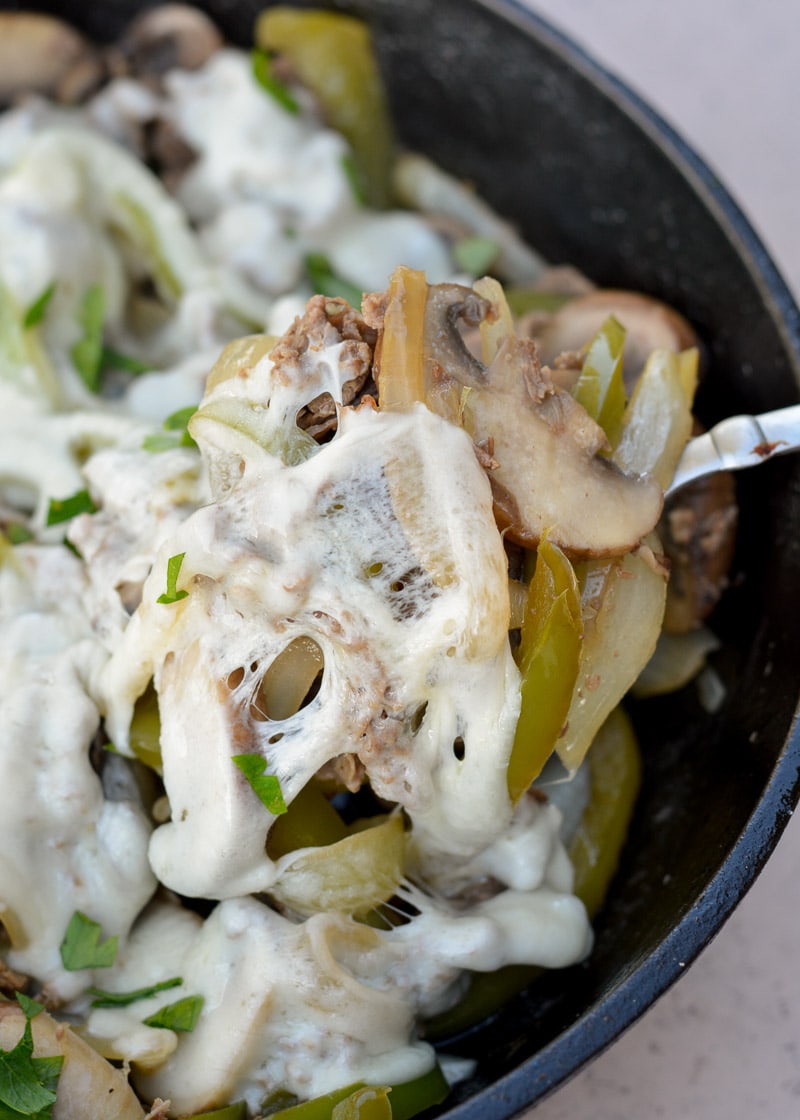 This Steak & Cheese Skillet is packed with vegetables and tender shredded beef for a super filling, keto-friendly meal! This recipe makes 6 servings at just 3.4 net carbs each–Even if you're really hungry and only get 4 servings out of it, that's still just 5.1 net carbs each! Side dish recommendation: Cheddar Garlic Keto Biscuits (1.9 net carbs each) are fluffy, cheesy, and freeze easily for a meal prep keto side.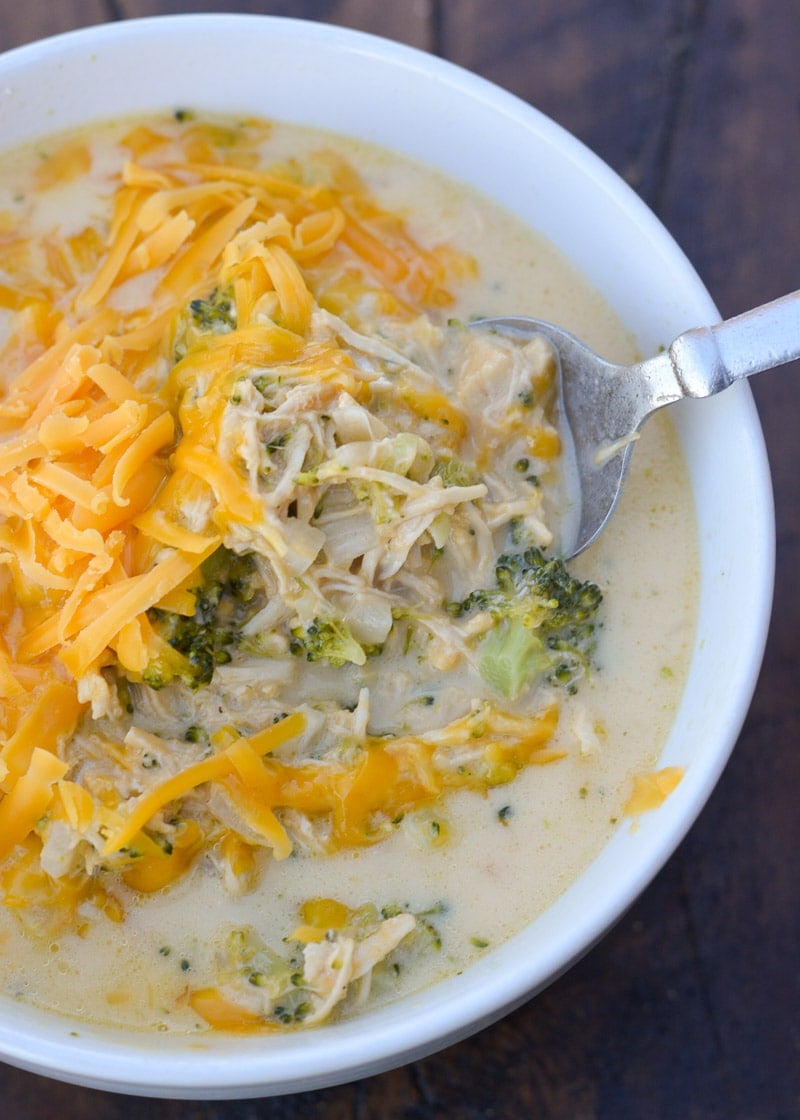 You'll love this comforting, filling Broccoli Cheddar Soup with Chicken! This recipe makes 8 servings at 4.3 net carbs per bowl. Side dish recommendation: 8 Keto Pretzel Bites can be toasted and used as croutons to add about 4 net carbs or you can get more Keto Soup Toppers ideas.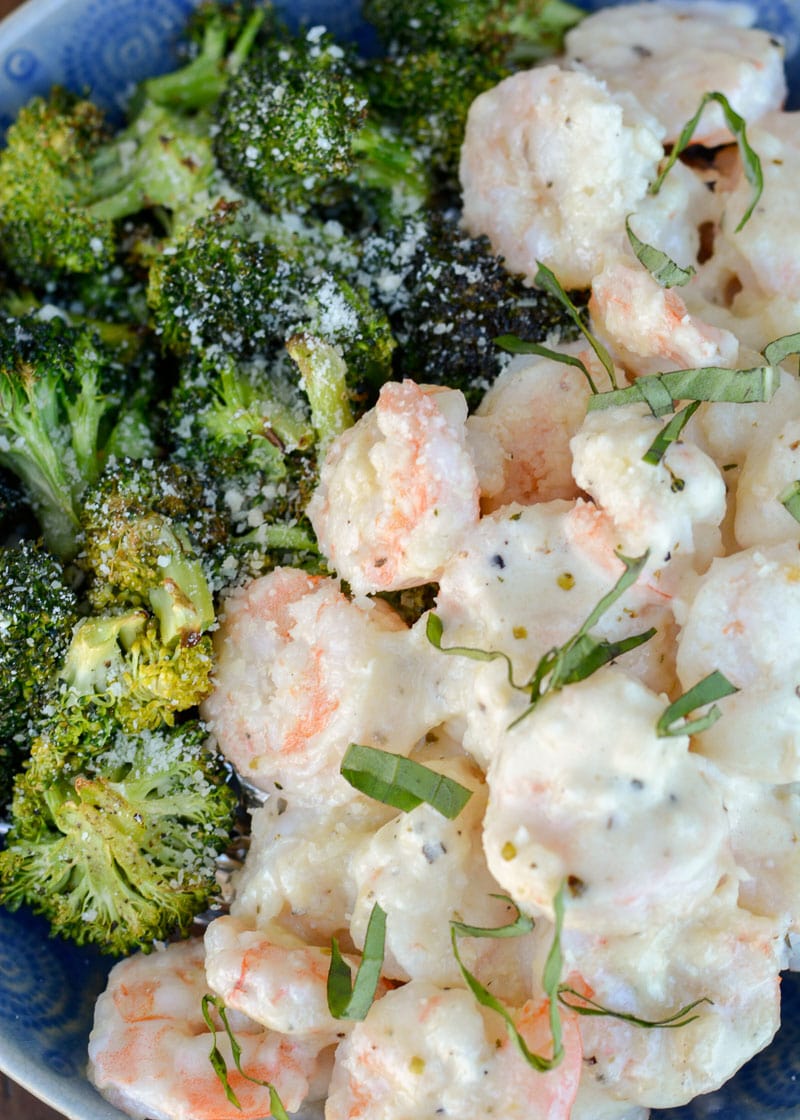 This Keto Shrimp Alfredo is an unbelievably fast meal because it uses pre-cooked shrimp! You just have to make the delicious, creamy sauce for 4 servings at just 2 net carbs each. Side dish recommendation: Air Fryer Roasted Broccoli (3.1 net carbs) is just as quick, and the crispy edges add wonderful texture to this meal.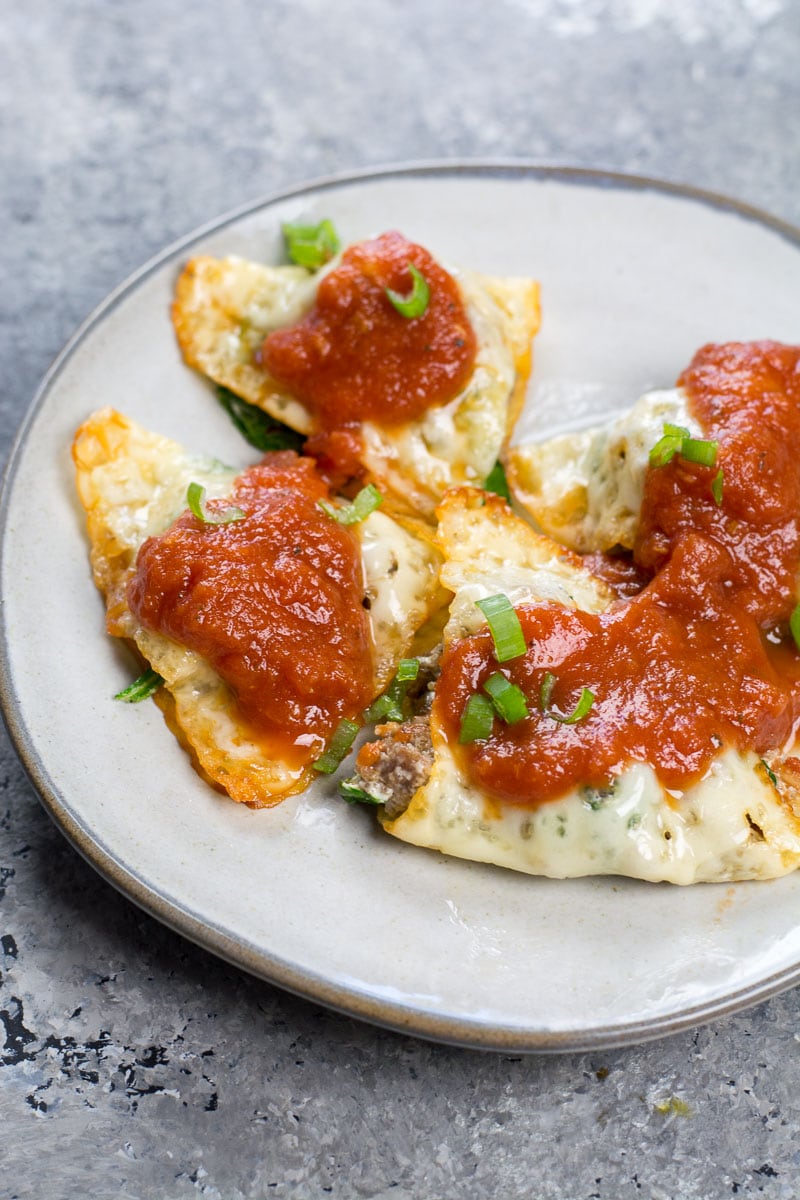 This Keto Ravioli is an easy 4-ingredient dish that you can pull together in a flash! This recipe makes 4 servings (of 4 stuffed ravioli each, 16 ravioli total) for just 1.3 net carbs. Adding low-carb marinara is optional, but I added it to the grocery list because it's just so good with it! Side dish recommendation: Cheesy Keto Zucchini Breadsticks (1.9 net carbs) have that Italian flair, and you can make the "breadstick" part ahead of time and freeze!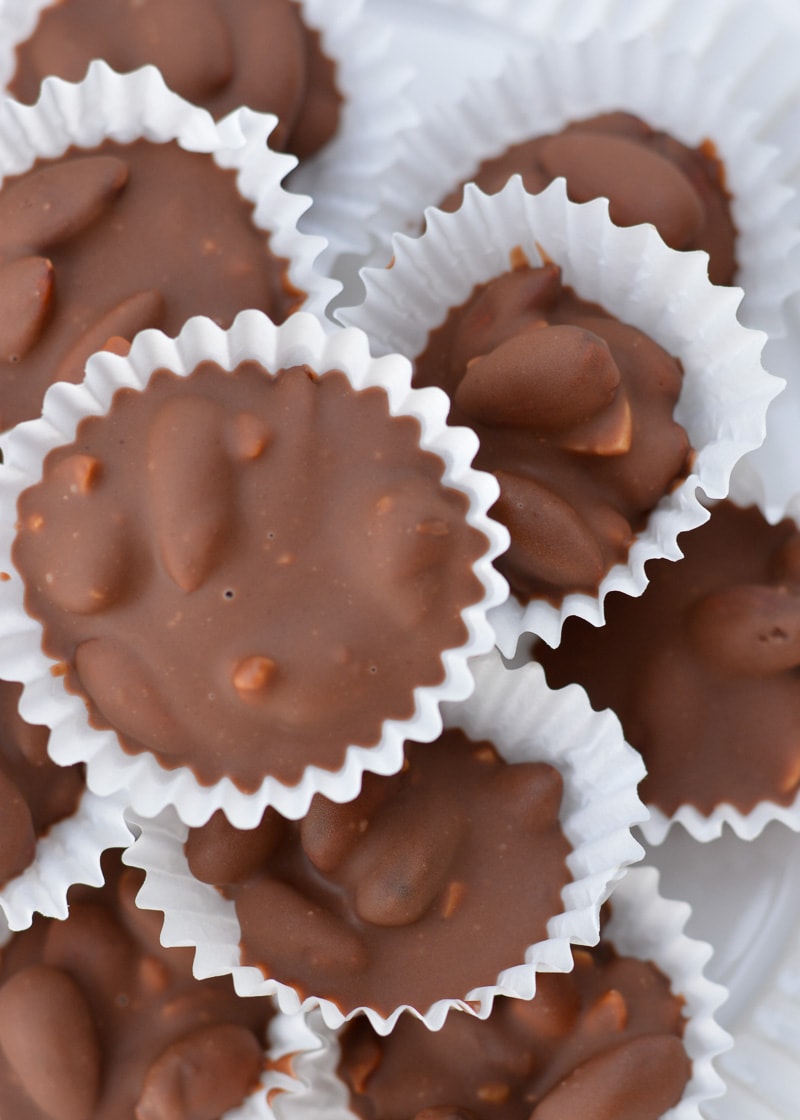 This Chocolate Almond Keto Crockpot Candy is SUPER easy and a great meal prep and giftable dessert! It makes 60 pieces in a mini-muffin pan, and each piece is 2.5 net carbs. You can freeze these for a long-term low-carb treat or pack up your extras into small baggies for friends and family!
Easy Keto Meal Prep Tips
Chicken Skillet –
This meal and Wednesday's soup both use cooked, shredded chicken, so the first step for meal prepping would be to either cook and shred chicken or shred two rotisseries from the store. Cooked chicken can be stored 3-4 days in the fridge or up to 6 months in the freezer.
This skillet is perfect for meal prepping 1-3 days ahead of time! You can cook the entire dish, store in the fridge, then simply put back in a skillet, cover, and reheat. Stir occasionally to make sure it is warmed evenly. You could also reheat this in the oven, microwave, or even a slow cooker if you wanted.
I would not freeze this dish as the cheese will likely change texture.
Steak Skillet –
This dish can be cooked and stored in the fridge up to 3 days, but I prefer cooking the steak fresh so it doesn't get overcooked. If you want, you can sauté the vegetables up to 2 days before you want to serve this and store them in the fridge. When ready to serve, heat up a pan, saute your beef with the marinade, then toss the vegetables back in and melt the cheese for a quick 5-10 minute dinner!
You could freeze this cooked dish up to 4 months, but skip the cheese. Thaw the meat and vegetables, warm them up in a skillet, then melt the cheese over the top for an easy meal prep keto dinner.
Soup –
This soup can be made up to four days ahead of time and stored in the fridge. Stir and reheat by the bowl in the microwave or in a pot on the stove. I wouldn't recommend freezing this soup because of all the dairy, but it is possible if you follow the directions in the post.
Alfredo –
You can easily make the sauce in this recipe ahead of time, making this a ridiculously quick meal! Because you use cooked shrimp, all you have to do is reheat the sauce and toss in the shrimp to coat. You could make the sauce up to a week ahead of time and store in the fridge in an air-tight container. You could also freeze the sauce up to three months. If the sauce separates during freezing, just add a pat of butter to a skillet over medium low heat, add the sauce, and stir until it becomes smooth again.
You could make multiple batches of this sauce and use it with cooked chicken, beef, pork, or enjoy it over zoodles for an easy, quick meal.
Ravioli –
I don't recommend making these ravioli ahead of time, but you can make the filling ahead of time and store it in the fridge up to four days in the fridge! Then when ready to serve, just toast your cheese, spoon your filling, and fold for delicious keto ravioli. These get hard as they cool, so it's best to serve fresh.