This Chocolate Almond Keto Crock Pot Candy is the perfect make-ahead dessert! Only 4 ingredients required, easy to store, and only 2.5 net carbs per piece!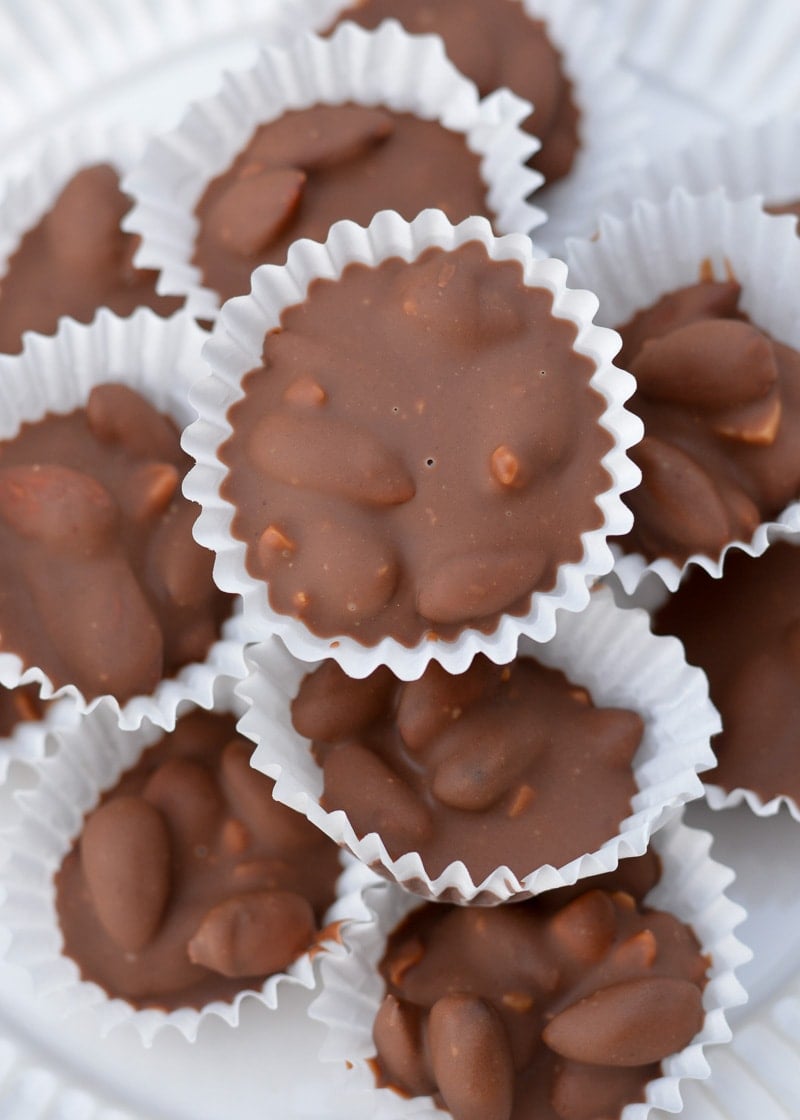 Winter is definitely the time for sweets… I really just want to make all the desserts, eating and gifting delicious candies and cookies and pies. So naturally, I immediately rejected the idea of a low-carb lifestyle at first. I'm just not the kind of person who can give up their treats!
Of course, amazing people have found the solution: sugar substitutions. I've gotten used to using golden monkfruit in my cookies, allulose in my Caramel Sauce, and now Lily's sugar-free chocolate in my candies (and even in my brownies). We've already cut the gluten out of our kitchen and survived, now we're cutting out the sugar and thriving!
This tasty Chocolate Almond Crock Pot Candy is a super low-maintenance recipe that just needs 4 simple pantry ingredients. It's fantastic for gifting to teachers, neighbors, and delivery drivers because it's delicious, easy to pack, gluten-free, and diabetic-friendly! Just skip the shopping this year and give this to pretty much anyone on your list for happy family and friends!
Feel free to make a giant batch because it's easy to store, too! It'll last 3 months in the freezer, a month in the fridge, or a few weeks on the countertop (if it's not too warm). This is an easy holiday dessert you can make ahead of time for a low-stress, delicious, chocolate-covered Christmas! For more fun seasonal recipes, check out this list of 20+ Easy Fall Desserts!
Chocolate Almond Crock Pot Candy Ingredients: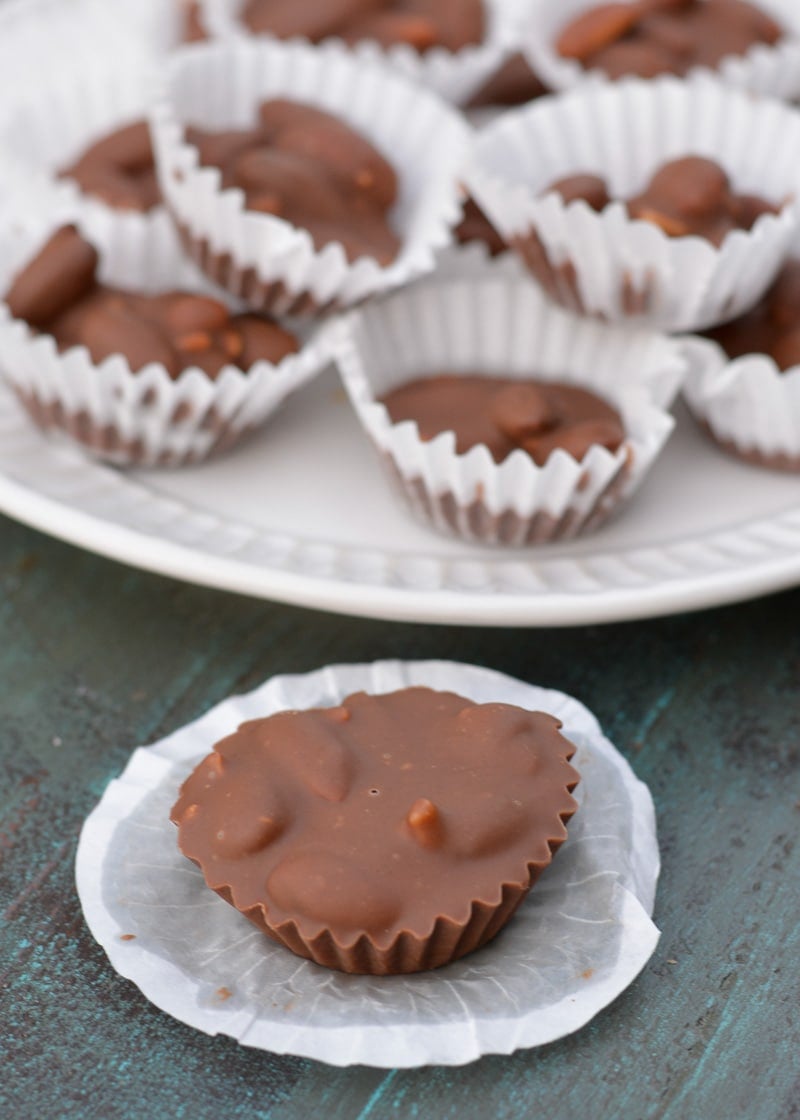 How to make homemade Keto Candy
This recipe is extremely simple–Kids could easily help out!
Place all of the ingredients in the slow cooker and let it cook on low for 1-2 hours. Stir occasionally to help the chocolate melt evenly and to ensure the almonds are well-coated.
While you could scoop these onto a silicone baking sheet for clusters, I instead filled a muffin pan with the chocolate almond mixture. This makes it easy to get uniform pieces of candy that fit in little gift boxes for holiday treats without worrying they'll fall apart! Allow the candy to chill in the fridge, then simply pop the candy out of the muffin tin when they have hardened into delicious chocolate almond cups!
To prevent the candy from sticking to the muffin pan, you can use silicone muffin pans or cupcake liners.


Do I have to make Low-Carb Candy in the slow cooker?
No, you can make this low-carb candy in a double-boiler or using a heat-resistant bowl that fits perfectly over a boiling pot of water. Add all the ingredients and stir while the chocolate melts over the boiling water. Be careful to not allow any water to sneak into the chocolate… Water turns smooth, delicious chocolate into a weird, gritty mess.
Once the chocolate has melted and the almonds are covered, continue as written with the muffin pan. There's no need to keep it on the stove for an hour–Once the chocolate and almond butter have time to melt and mix into a smooth coating over the almonds, you're ready to scoop into the molds.
How do you store Crock Pot Candy?
This keto candy can be stored in an air-tight container for several weeks at room temperature. They will melt if it is very warm, so keep them in a cool, dry place. You can refrigerate or freeze these for longer-term storage! Theoretically they should be fine in the fridge for at least a month and in the freezer for 3 months… But they've never lasted that long around here!
If freezing for long, you may want to wrap the candy in multiple layers of plastic wrap to keep condensation at bay and prevent freezer burn. Allow candy to thaw before eating or you might crack a tooth!



Tips & Tricks for Keto Candy
Don't allow the chocolate to get too hot! Chocolate burns easily, so keep the pot on low and stir every 15 minutes or so to prevent any hot spots from ruining the whole batch.
Make sure these are completely set before removing from the pan. These will take longer to cool and harden than clusters on a baking sheet, so be patient.
Keep these at room temperature or cooler. Just like all chocolate candy, this will melt if left in a hot car or out in the sun in the summer.
Customize for your preferences. If you don't like almonds, try peanuts, walnuts, pecans, etc.. If you don't like almond butter, try peanut butter, sunbutter, cashew butter, etc.. You can even switch out the chocolate chips and make your own combinations! If you are keto, just be careful with your carbs!
More Keto Desserts:
Want more? Check out this list of 40+ of the BEST Keto Desserts!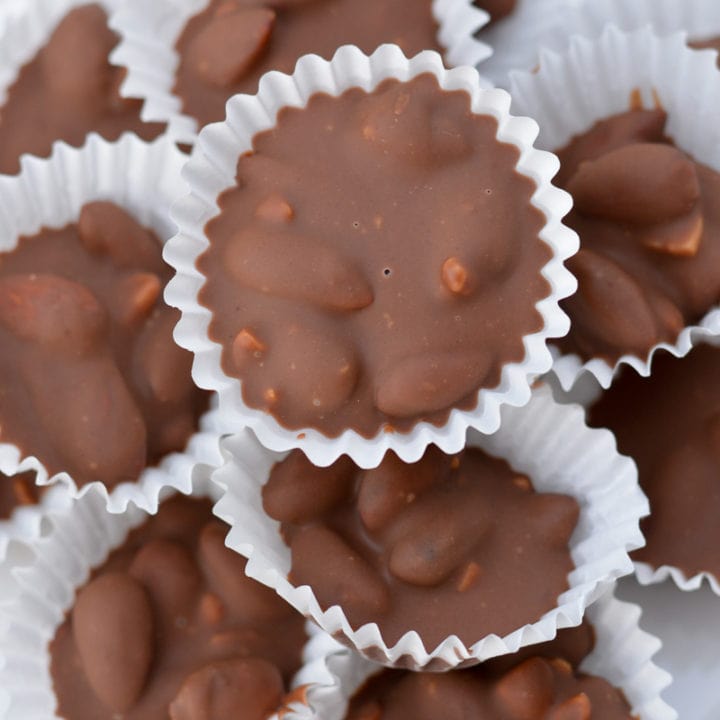 Chocolate Almond Keto Crock Pot Candy
This Chocolate Almond Keto Crock Pot Candy is the perfect make-ahead dessert! Only 4 ingredients required, easy to store, and only 2.5 net carbs per piece! 
Ingredients
1 (9 ounce) package Lily's Sugar Free Salted Caramel Chocolate Chips
1 (9 ounce) package Lily's Sugar Free White Chocolate Chips
1 (16 ounce) package roasted salted whole almonds
1/2 cup creamy almond butter
Instructions
Heat a 4 or 6 quart slow cooker to low heat. Add the chocolate chips, almonds and almond butter, place the lid on top.
Heat the mixture for 1.5-2 hours, stirring occsionally,until melted.
Scoop candy mixture into mini muffin molds (about 1 heaping tablespoon)
Allow mixture to set and top with sea salt if desired.
Notes
You can use other varieties of Lily's Chocolate and other nuts for different flavors.
Recommended Products
As an Amazon Associate and member of other affiliate programs, I earn from qualifying purchases.
Nutrition Information:
Yield:

60 candies
Serving Size:

Nutrition Calculated Per Candy
Amount Per Serving:
Calories:

83
Total Fat:

6.8g
Sodium:

8.6mg
Carbohydrates:

5.8g
Net Carbohydrates:

2.5g
Fiber:

3.3g
Protein:

2.5g