This Keto Antipasto Salad is the perfect no-cook lunch or dinner option! Under 6 net carbs for a large, packed salad with a tasty low-carb lemon vinaigrette!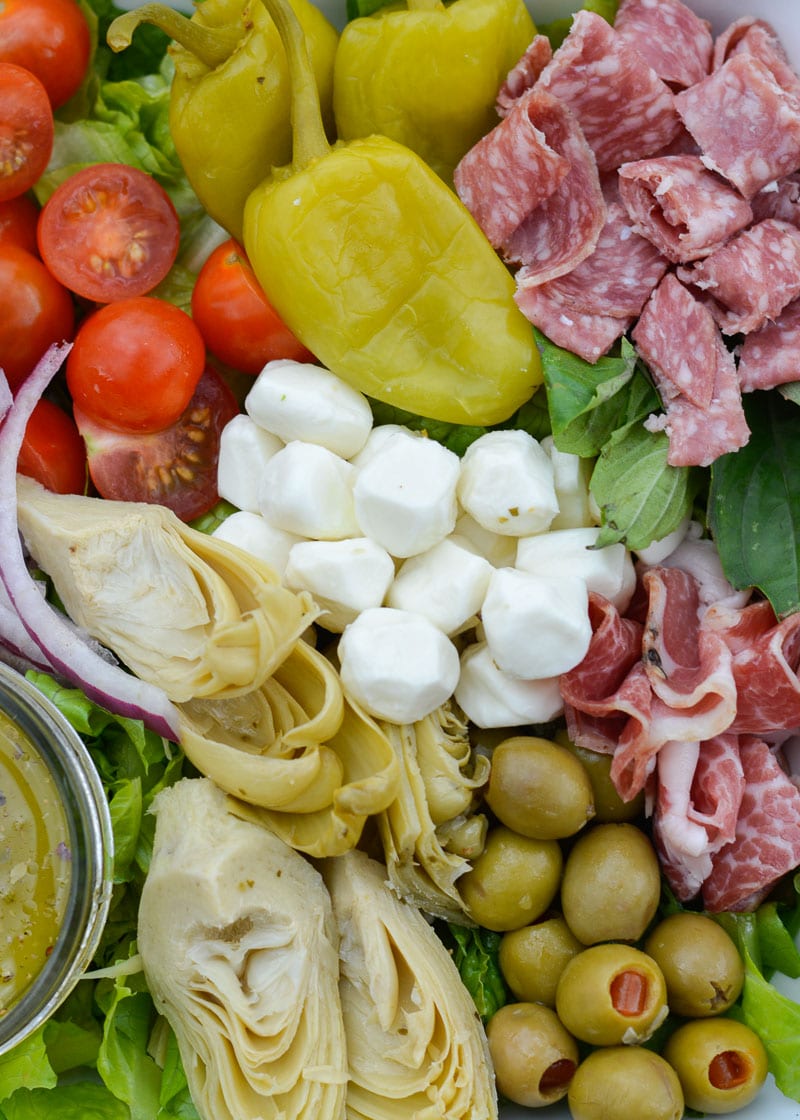 Salads are a great way to use up odds and ends in your fridge. One of my favorite easy dinner options is this Greek Chicken Power Bowl. I almost always have a variation of these ingredients on hand. Just pop some greens, left over grilled chicken, veggies and a few cheeses together and you have a healthy, hearty dinner!
This Antipasto Salad is the same concept. It can be very easily adjusted based on your families preferences. The ingredients are basic and you probably already have most of them floating around your pantry or fridge. The best part about this is that it is a great no cook dinner option. The proteins used in this salad are cured meats such as pepperoni, salami, and prosciutto so it comes together super quickly.
Keto Antipasto Salad Ingredients
Salad: this recipe uses a leaf salad base. You can use whatever greens you prefer such as spinach, kale, romaine or a mixture. I used freshly chopped romaine because I love the crunch!
Other Vegetables and Herbs: fresh tomatoes, red onion, and fresh basil
Canned Goods: Olives, green, black or Kalamata olives. You will also need pepperoncini peppers and artichokes.
Cured Meats: such as salami, prosciutto, capocollo, or pepperoni
Cheese: fresh mozzarella pearls, or fresh mozzarella slices. Smoked gouda, Parmesan or Asiago would also work well.
How do you make Homemade Italian Dressing?
You can use your favorite dressing if you prefer. This salad pairs well with an Italian, Balsamic or olive oil and vinegar dressing. However, we really love it with this Homemade Italian Dressing, it features freshly squeezed lemon juice that adds amazing flavor!
For this dressing you will combine olive oil, lemon juice, salt, pepper, Italian seasoning and minced garlic in a small jar. Simply secure the lid and shake well! If you prefer your dressings a little sweeter add about 1 teaspoon of Golden Monkfruit (if keto, if not you can add honey) at a time until it reaches your desired sweetness.
How do you make keto antipasto salad?
This is a no cook recipe! Simply add the vegetables, meats, and cheese in a large bowl and drizzle with the homemade Italian dressing! This is an ideal lunch or meal prep because it is easy to enjoy with very little effort.
Can you make antipasto with no pasta?
Traditionally, antipasto salad has no pasta in it! Antipasto is just marinated vegetables, cheeses and meats that are served before pasta. Antipasto salad is when you take all those delicious pre-meal appetizer goodies and turn it into a delicious, mouthwatering salad. The dressing eliminates the need to marinate the meats and vegetables ahead of time, too.
This antipasto salad includes no pasta and is low-carb, gluten-free, and keto-friendly!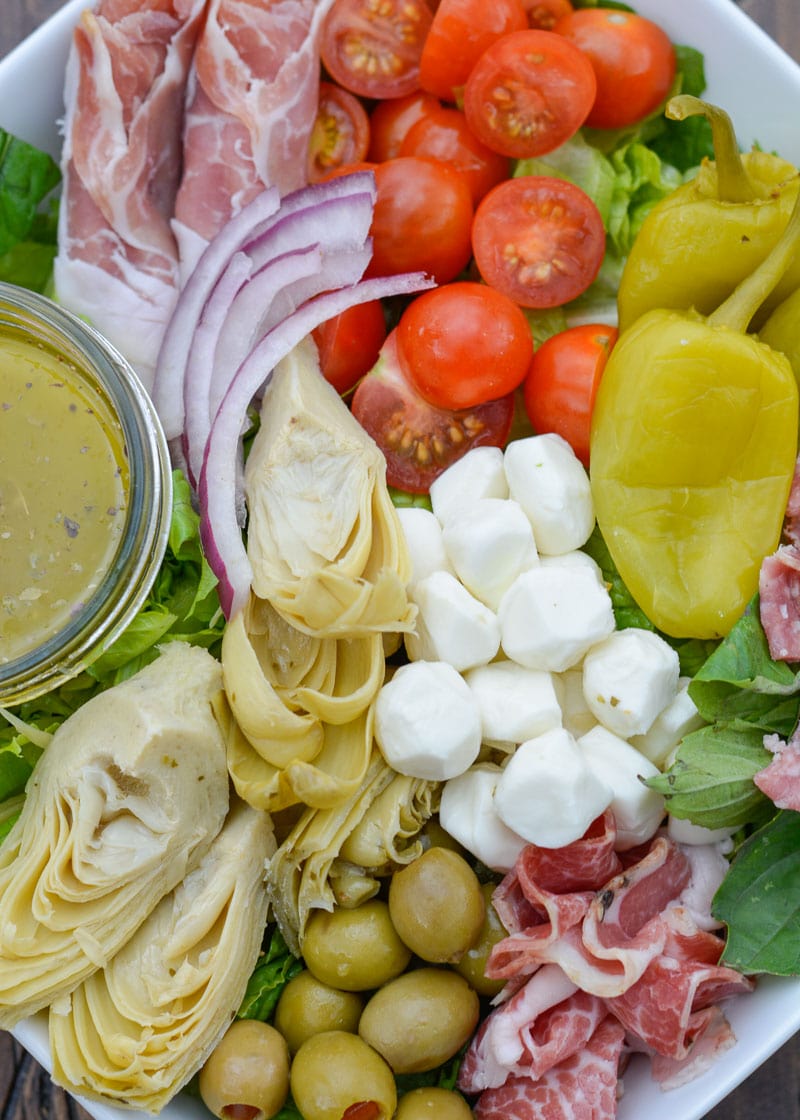 Can you meal prep antipasto salad?
Yes, antipasto salad is an easy meal prep option for lunch or dinner. You don't want to add the dressing until you're ready to serve, but you can make the dressing and store it in an air-tight jar in the fridge for 1-2 weeks. I would also store the wetter ingredients (cut tomatoes, canned ingredients, etc.) separately. If you carry your salads in jars, just store the wet ingredients on the bottom and your greens on top.
Meal prepping salad always comes down to how you store it. I stored the dressing in these disposable cups because it's what I had around the house, but these reusable cups seem super handy. I love that this handy Salad Lunch Container To Go includes several different compartments, making it easy to keep everything fresh.
Tips for the best antipasto salad
Pat any high moisture ingredients such as artichokes or peppers dry if meal prepping. This will help prevent the salad from becoming soggy.
Use a mixture of cured meats for an authentic flavor.
Dress the salad just before serving.
If you cannot find fresh mozzarella pearls use freshly sliced mozzarella instead of bagged, shredded mozzarella for the best flavor.
More Keto Appetizers: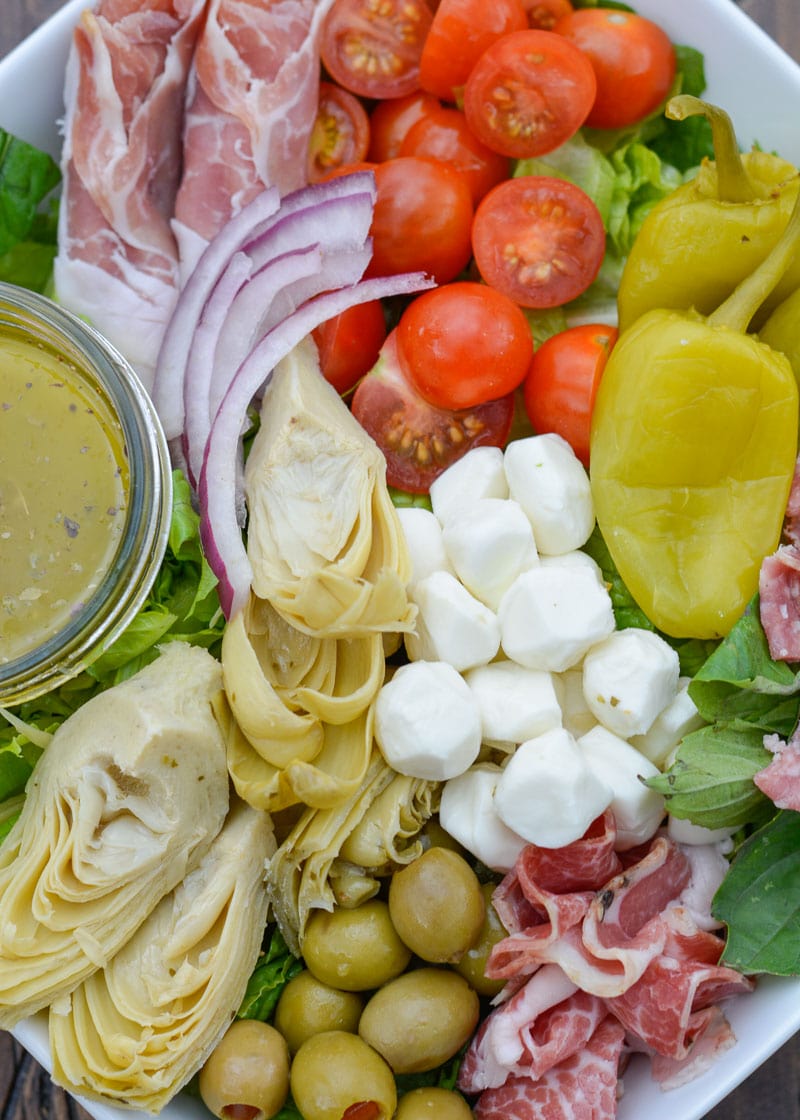 Keto Antipasto Salad
This Keto Antipasto Salad is the perfect no-cook lunch or dinner option! Under 6 net carbs for a large, packed salad with a tasty low-carb lemon vinaigrette!
Ingredients
Antipasto Salad
6 cups romaine salad, chopped
2 cups cherry tomatoes, sliced
2 cups canned artichokes hearts, rinsed
2 cups cured meats of your choice (pepperoni, salami, prosciutto)
1 cup peperoncini peppers, sliced
1 cup mozzarella pearls
1/2 cup olives, whole or sliced
1/4 cup red onion, very thinly sliced
For the Lemon Vinaigrette
1/4 cup extra virgin olive oil
2 tablespoons of lemon juice
1 teaspoon Italian seasoning
1/4 teaspoon salt
1/4 teaspoon pepper
Instructions
To make the Lemon Vinaigrette
Combine the ingredients in a small jar. Secure with a lid and shake until combined. If you prefer your dressing sweeter add 1 teaspoon desired sweetener until it reaches your desired level of sweetness.
To make the Antipasto Salad
Place the chopped romaine in the bottom of a large salad bowl, or serving platter. Top with remaining ingredients. Serve with lemon vinaigrette.
Notes
This recipe makes 6 servings of 2.5 cups each of dressed salad.
Nutrition Information:
Yield:

6
Serving Size:

2.5 cups dressed salad
Amount Per Serving:
Calories:

411
Total Fat:

35.4g
Cholesterol:

55mg
Sodium:

1141mg
Carbohydrates:

9.8g
Net Carbohydrates:

5.6g
Fiber:

4.2g
Sugar:

2.6g
Protein:

15g