This Keto Chicken Parmesan is breaded and fried until perfectly crisp and smothered in marinara and mozzarella! At just five net carbs per serving, this is a classic dish your entire family will love!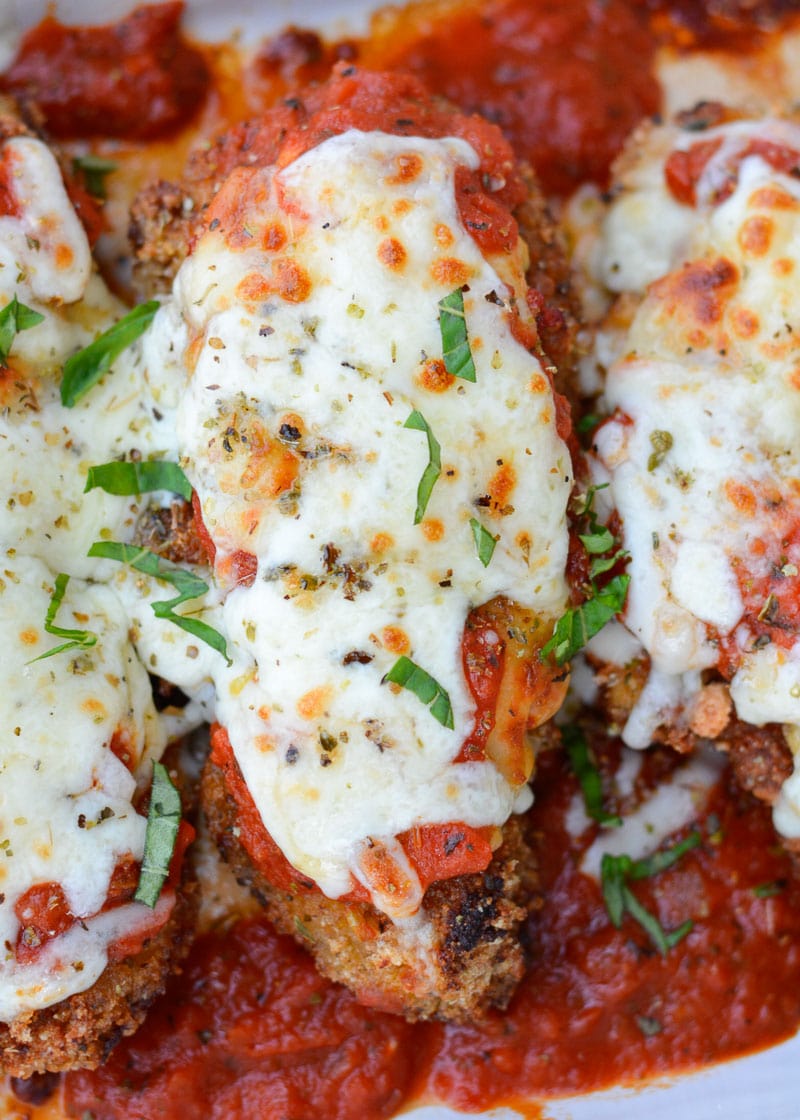 What is Chicken Parmesan?
Chicken Parmesan is a delicious dish featuring a crispy breaded chicken breast topped with savory tomato sauce and melted mozzarella and parmesan! This basically a meaty version of Eggplant Parmesan. Sometimes, you will see a slice of ham, bacon or prosciutto added and it is referred to as Chicken Parmigiana.
Is Chicken Parmesan Keto?
Traditional Chicken Parmesan is not keto friendly because of the crispy breading on the chicken. However, I use a simple keto hack to make this chicken ultra crispy and low carb!
Ingredients for Keto Chicken Parmesan
As always, this is a quick overview of the ingredients you will need for this recipe. For the printable recipe card just keep scrolling.
Chicken breast: cut horizontally so they are thinner and more uniform in size.
For the Breading: Eggs, garlic, heavy cream, Italian seasoning, garlic powder, onion powder, pork rind panko, almond flour, and grated parmesan cheese.
Low Carb Marinara Sauce: there are several brands available at most grocery stores now, this is a trusted brand I've used for years.
Cheese: shredded mozzarella, shredded parmesan
How do you make keto breadcrumbs?
In place of traditional breadcrumbs we use pork rind panko. This is a super simple, affordable option that is great to replace panko breadcrumbs. You can follow this tutorial to see exactly how to do it and to read more, but the jest is this. Place a bag of pork rinds in a food processor and blend until it resembles breadcrumbs. Voila! The perfect crispy, crunchy zero card breadcrumb option!
Is there low carb marinara?
Yes, actually this is becoming more common. Traditional marinara has added sugar which makes it a bit out of range for a keto diet. Just remember to check your labels.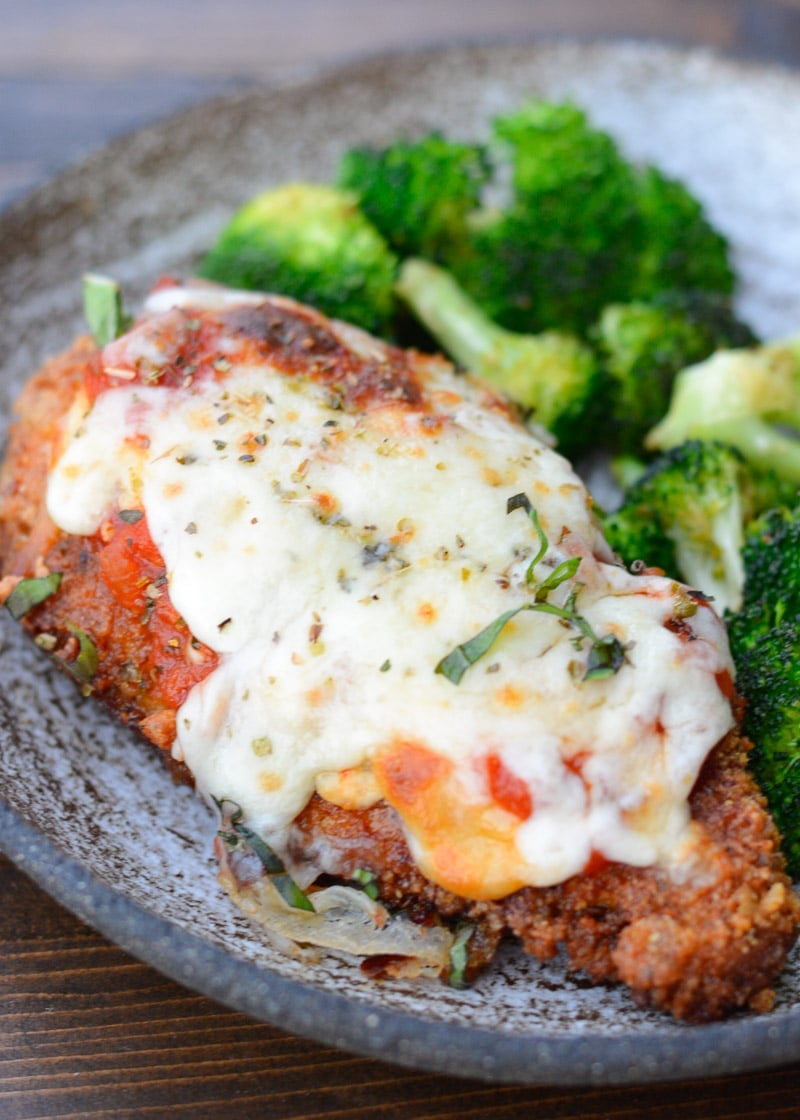 How do you make Keto Chicken Parmesan?
Slice the chicken: slice the chicken horizontally (as if butterflying, but actually cut it all the way through). This gives you thinner, more uniform pieces of chicken.
Set up the breading station: lay out two shallow bowls. In one bowl add the eggs, heavy cream and garlic. Whisk and set aside. In a second bowl combine the pork rind panko, almond flour, parmesan and spices.
Bread the chicken: place the chicken in the egg mixture and make sure it is completely covered. Then dredge in the breading until coated well.
Pan fry the chicken: heat a large skillet over medium heat, add enough oil to coat the bottom of the skillet. Fry each side of the chicken 3-4 minutes until golden brown.
Top: place the chicken in a baking dish, top with marinara (you can add additional marinara to the pan if you love your Chicken Parmesan saucy) then top with shredded mozzarella and parmesan.
Bake: Bake the chicken 20-25 minutes until the chicken has reached an internal temp of 165 degrees and the cheese is melted and bubbly.


The Best Keto Chicken Parmesan Recipe
Slice the chicken horizontally so the chicken is thinner and more uniform. If you use large chicken breast that are super thick they will be overcooked and tough on the outside before the internal temp reaches 165 degrees.
Bread the chicken thoroughly. Remember you want a bit of crispy, crunchy coating in each bite!
If you want crispier chicken, go easy on the sauce. If you really love a good saucy chicken parmesan, you can add a thin layer of the marinara to the pan before adding the chicken.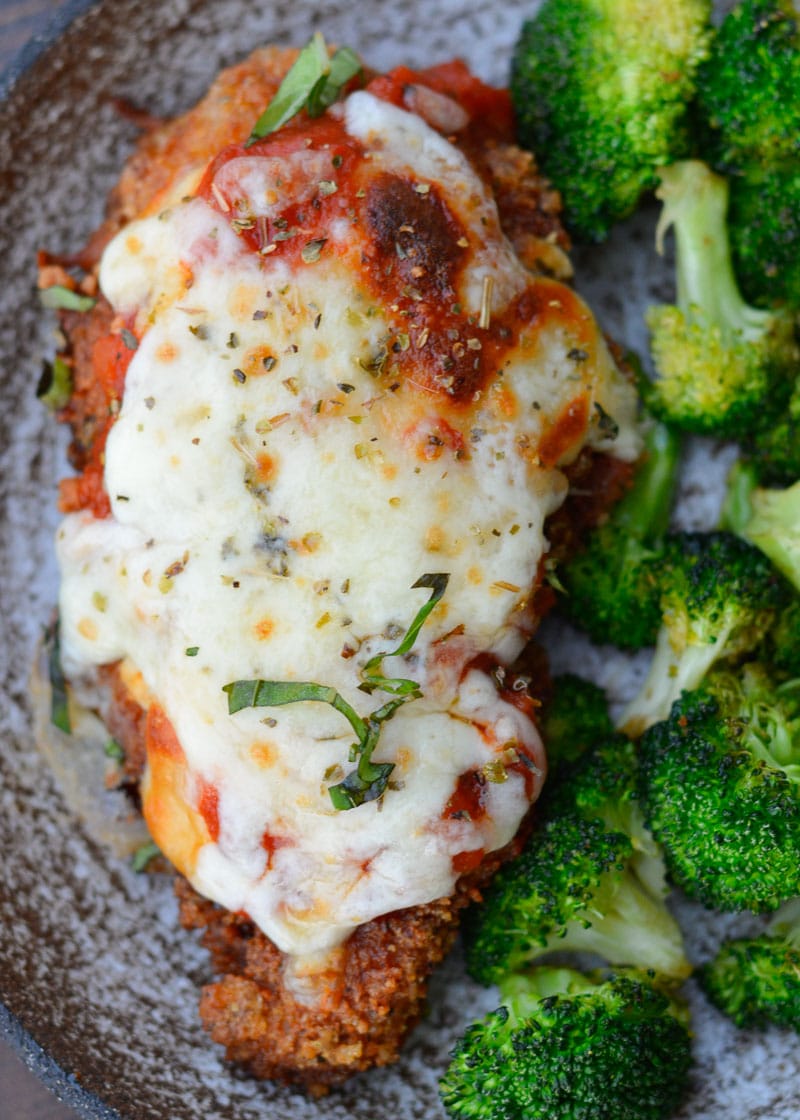 What should I serve with Keto Chicken Parmesan?
This low-carb Chicken Parmesan dish goes with SO many different side dishes, so you have a ton of options! I served this with Air Fryer Roasted Broccoli, but other roasted vegetables (like these Roasted Radishes) would be great too. The crispy chicken, marinara, and melty cheese also pair perfectly with Cacio e Pepe Zoodles. For a very classic keto chicken dinner, I love the Keto Cheddar Garlic Biscuits with Garlic Butter Mashed Cauliflower.
Keto Chicken Recipes
Want more? Check out this list of 25+ Easy Keto Chicken Recipes!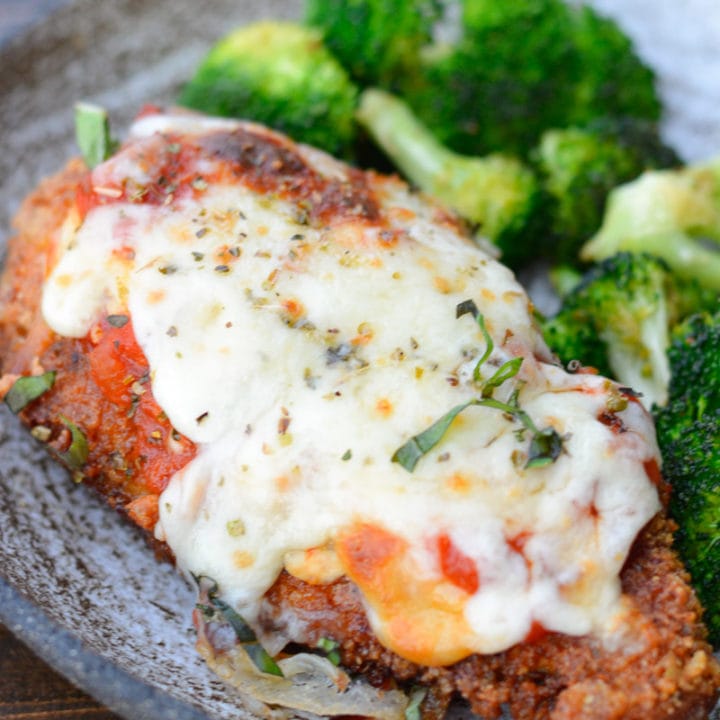 Keto Chicken Parmesan
Ingredients
2 large chicken breast, cut horizontally to create 4 thinner slices.
Bowl 1: Eggs for Breading
2 large eggs
2 tablespoons heavy cream
1 tablespoon of minced garlic
Bowl 2: Keto Breading
1 cup pork rind panko
1/2 cup almond flour
1/2 cup grated parmesan
1 tablespoon Italian seasoning
1 teaspoon garlic powder
1 teaspoon onion powder
For the Toppings
1 cup low carb marinara
1 1/2 cups shredded mozzarella
1/2 cup shredded parmesan
Instructions
Preheat the oven to 400 degrees F.
Bowl 1:
In a shallow bowl combine the eggs, heavy cream and minced garlic. Whisk the eggs until well combined.
Bowl 2:
In a second shallow bowl combine the pork rind panko, almond flour, parmesan and slices.
Place each chicken fillet in the egg mixture and completely cover. Next, dredge in the breading mixture until it is completely coated.
Heat a large skillet over medium heat. Add enough oil to cover the bottom of the skillet. Fry the chicken 3-4 minutes on each side until golden brown (chicken will not be cooked through).
Place the chicken in a baking dish. Top with low carb marinara, mozzarella and parmesan.
Bake 20-25 minutes or until the chicken reaches an internal temperature of 165 degrees F and the mozzarella has begun to brown on top.
Nutrition Information:
Yield:

4
Serving Size:

1 Chicken Parmesan
Amount Per Serving:
Calories:

247
Total Fat:

17.3g
Cholesterol:

136mg
Sodium:

996mg
Carbohydrates:

6.9g
Net Carbohydrates:

5.1g
Fiber:

1.8g
Sugar:

3g
Protein:

34g